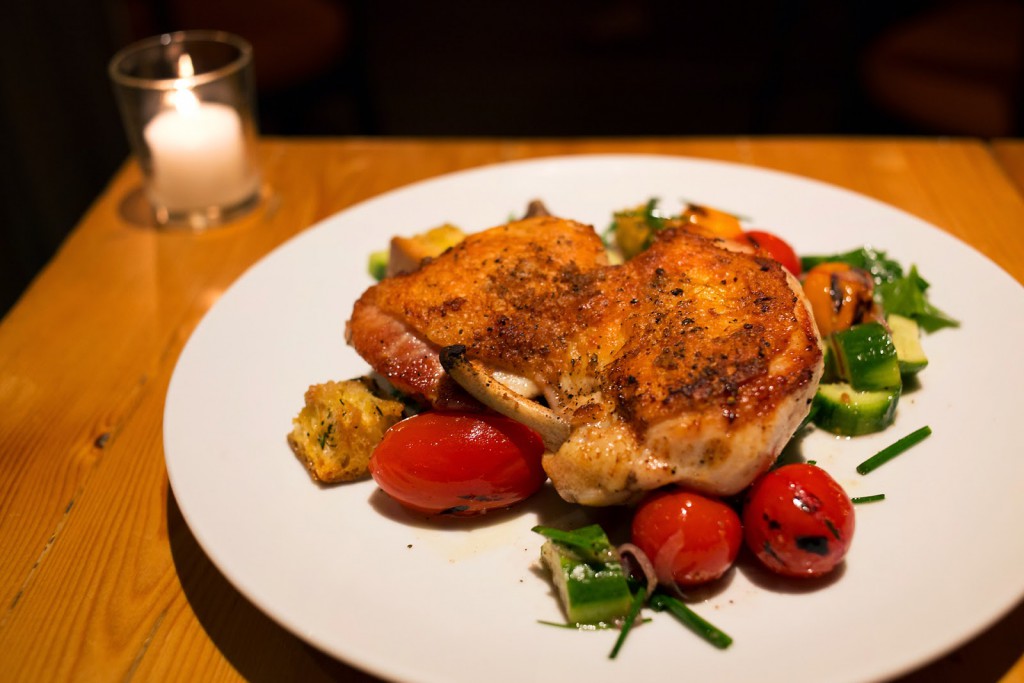 Day 15: Week 3 started out great. I had lost 5.4 lbs by then, I fit into so many of my smaller clothes, and I was feeling fantastic. My itchy-eye allergies had pretty much vanished, though admittedly I still had the sniffles regularly. I had 3/4 of a malted "milk" shake for breakfast, and it was delicious as always.
My legs were a teensy bit wobbly that day from running for an hour and 2 days of Tracy Anderson's leg workouts, but I did notice that the cuts on my legs were much more defined (only after a few days)! Now if only she'd work wonders with my arms too.
We decided to have dinner out on a whim, and I found myself again wondering what I'm supposed to do for juices at lunchtime. Luckily, this is New York City, and you can basically get things delivered wherever you are. I found a healthy grocery store that sold sooo many Clean Program friendly juices and basically most of the things you'd find at a grocery store. I bought the following juices for "emergency liquid lunch" situations:
A Kale, Watermelon, Apple, and Lemon Juice (fresh-pressed by the grocery store) called "Hail to Kale". I had this one first because it was clearly fresh/without preservatives so it wasn't going to last very long. I added about a 1/4 cup of pistachios (chewed very well lol) for protein. It was really good and I didn't notice any hunger or energy plummet after lunch.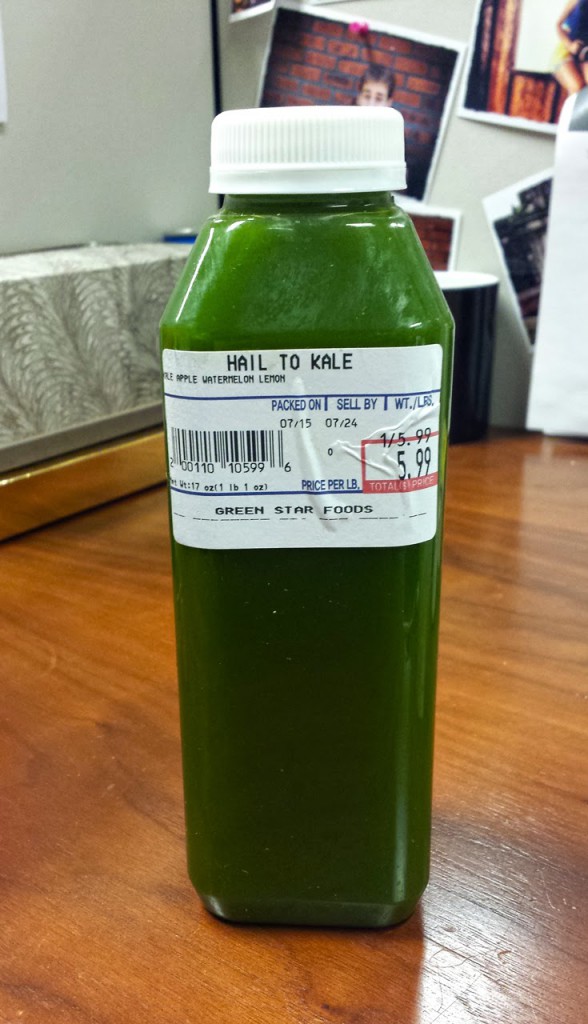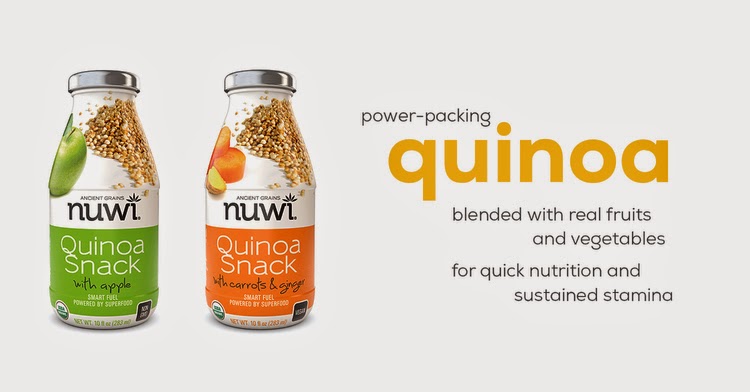 Nuwa Quinoa Smoothie with Apple (I later found out this one had agave nectar, so I left it in the fridge for after the cleanse). I found out when I finally had it that it was disgusting.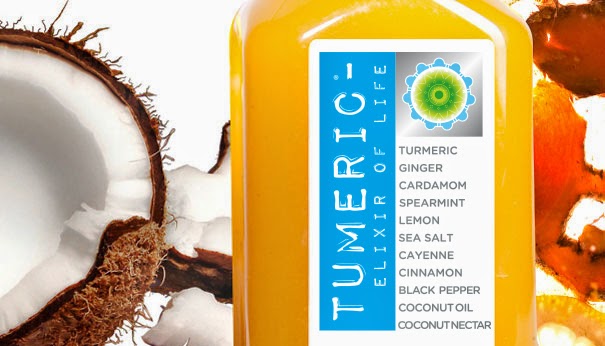 Tumeric Coco Nectar Elixir
I also stocked up on almond milk for clean "snacking" at the office as well. They even have vegan/gluten- free snack and food items!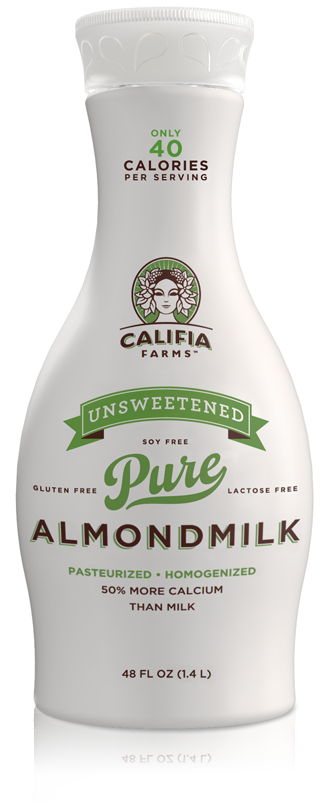 I didn't have a snack because we scheduled dinner early that day to make it to a 7:00 pm movie. We usually have it around 6 anyways in order to be able to eat by 6 or 7 the next morning for the 12 hour window. Dinner was at Amali on the Upper East Side. It's a sustainable and locally-sourced Greek/Italian restaurant. According to their site, their menu is inspired by the Mediterranean way of life, so it emphasizes vegetables, olive oil, cheese, grains, and fish. Since olive oil is one of only two oils allowed on the Clean Program, I thought it would be safe to go here.
Amali Restaurant

115 E 60th St
New York, NY 10022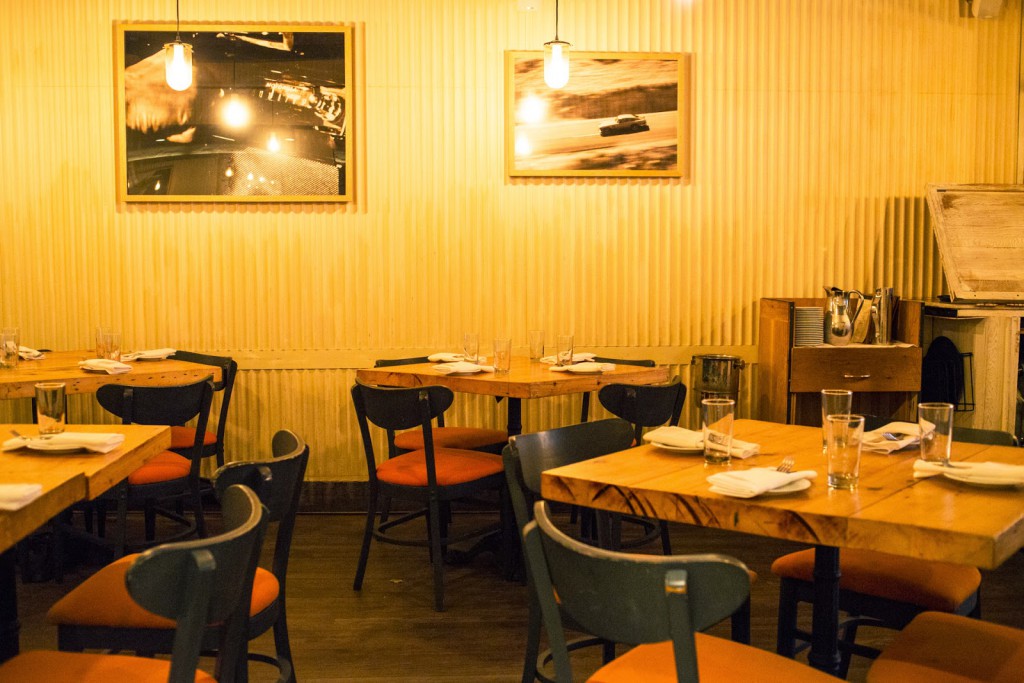 We decided to split two entrees and add a side of broccoli.
The first entree was the chicken under a brick. It was simple, but very flavorful and juicy. The skin was perfectly crispy. We left the potatoes and tomatoes alone because it's not allowed on the cleanse.
Chicken Under a Brick
The second entree was the braised lamb shoulder over couscous. We didn't touch the couscous, since it's not allowed on the cleanse, but the lamb was superb and super tender. The veggies that came with it were flavorful as well, and had a nice crispy texture. I'm actually not even sure what these were, since they changed the sides a bit (I assume to make room for what was available locally), but I think they were either some kind of plant or mushroom.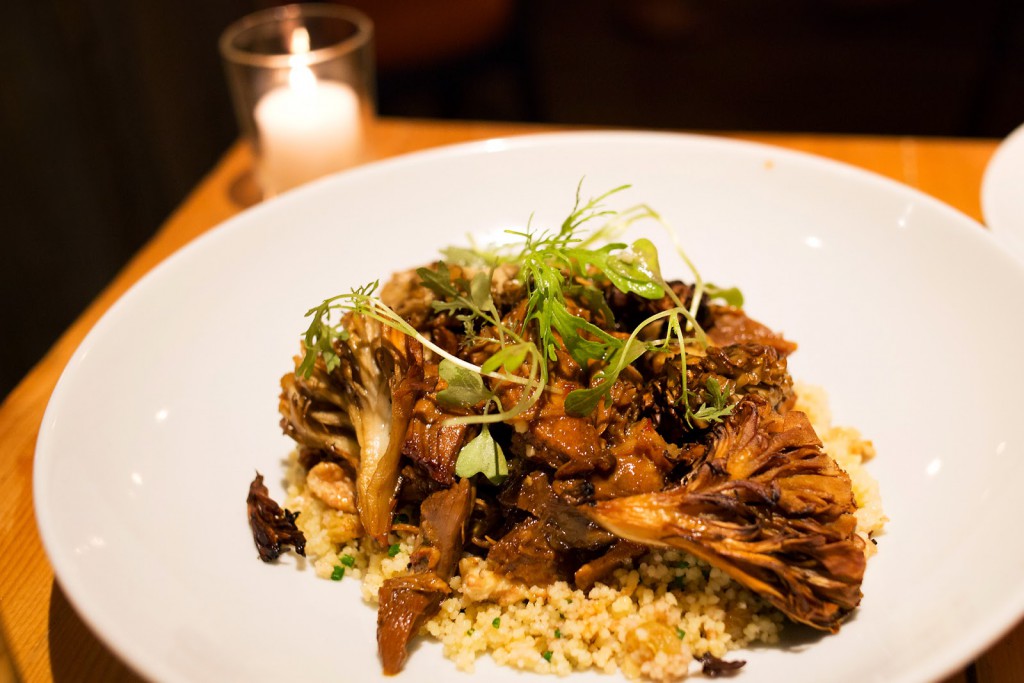 Braised Lamb Shoulder over Couscous
We forgot to bring our dinner supplements that day and felt bad, but I guess it still worked well, 'coz we still lost weight the next day.
Day 16: I lost almost a pound from the day before on Day 16. That day Michael discovered that he really likes beets. Our breakfast was the beet, apple, carrot, lemon, and ginger red juice from BluePrint juices (we'd clearly turned a bit lazy on our last week on the cleanse), and we mixed it with protein powder and flax seeds to bulk it up a bit. I finally took a Claritin that day because this cleanse wasn't helping my sneezing allergies.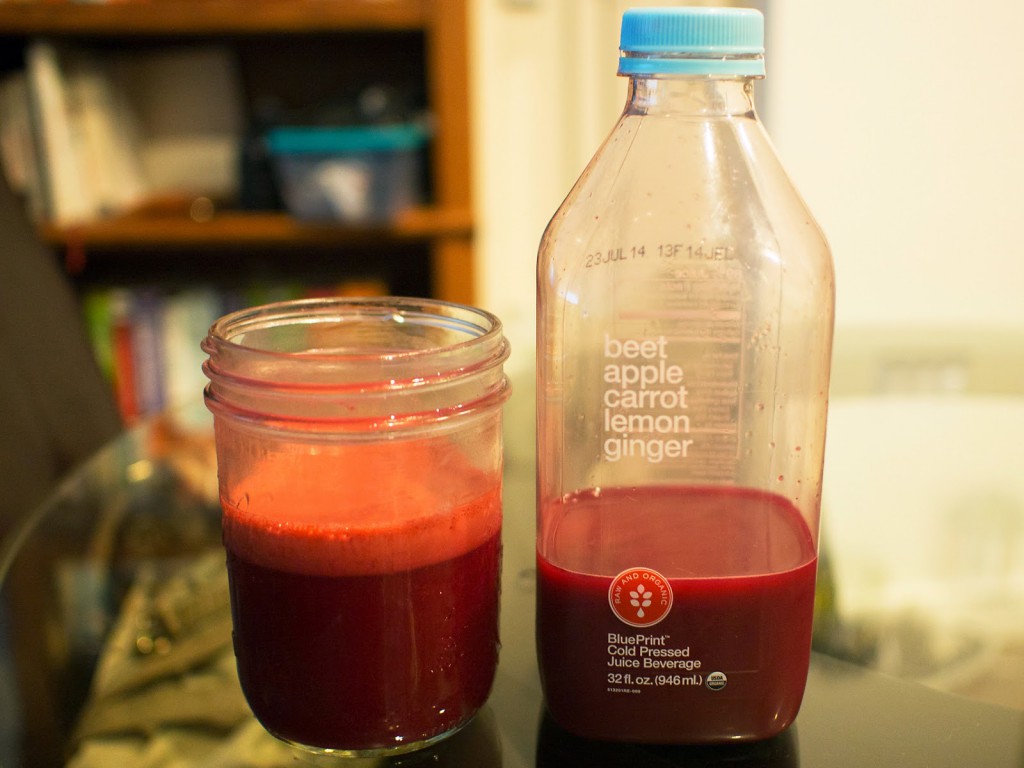 We were out and about that day, and had planned on going to a vegan place in Long Island, but the traffic was terrible so we finally gave in and had lunch at Grand Lux Cafe. They surprisingly had a menu full of items you can get gluten free. We started with the Manhattan Salad, which is a chopped salad made of romaine lettuce, asparagus, tomato (which we moved to the side), white beans, fresh beets, red onion, peas, lentils and assorted vegetables. Michael and I absolutely loved it, and I would probably re-create in or kitchen sometime).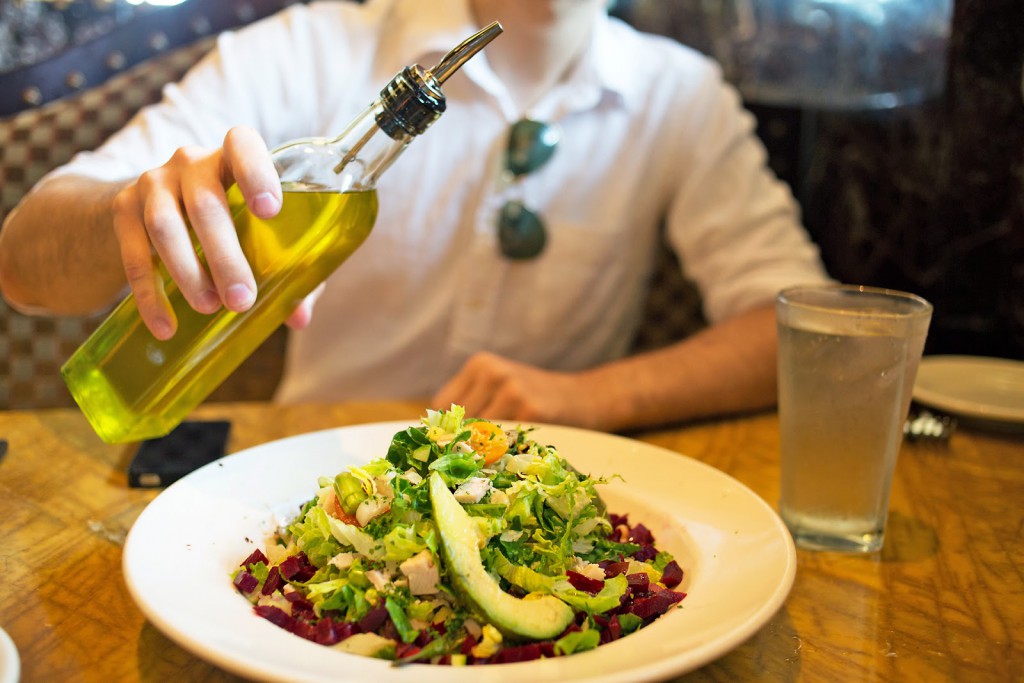 We also had the gluten free Mediterranean Mahi Mahi (I had them substitute brown rice for the mashed potatoes), and Pan Roasted Chicken Breast (Mike had them substitute broccoli for the mashed potatoes) , both of which were delicious. I had to brush aside the tomatoes and parmesan from my mahi mahi because I forgot to ask them to remove those, but it was still yummy.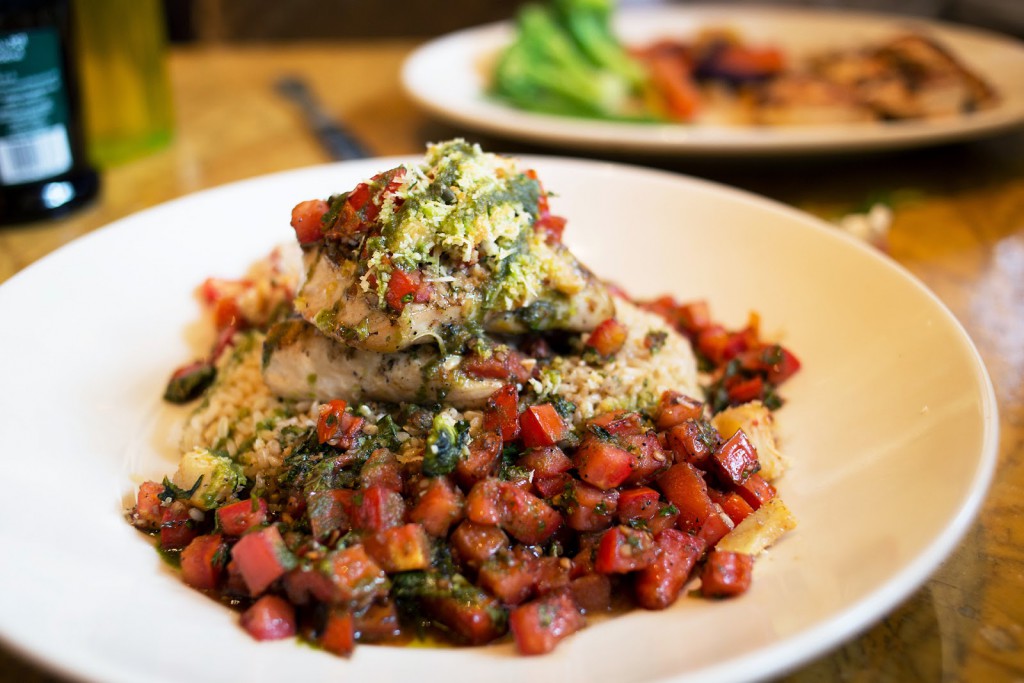 Mediterranean Mahi Mahi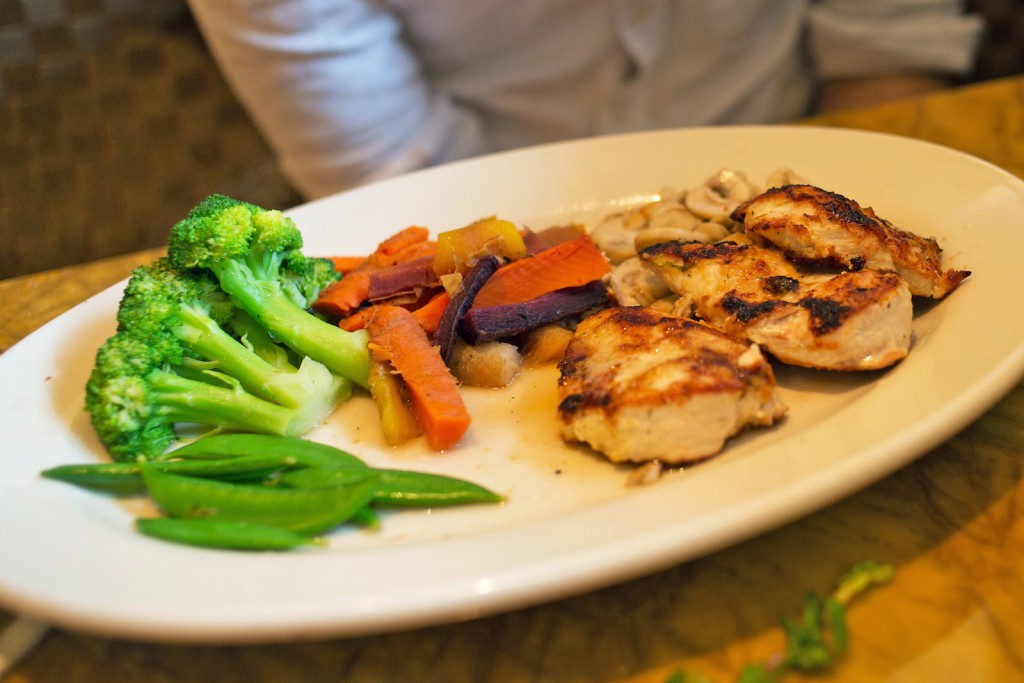 Pan Roasted Chicken Breast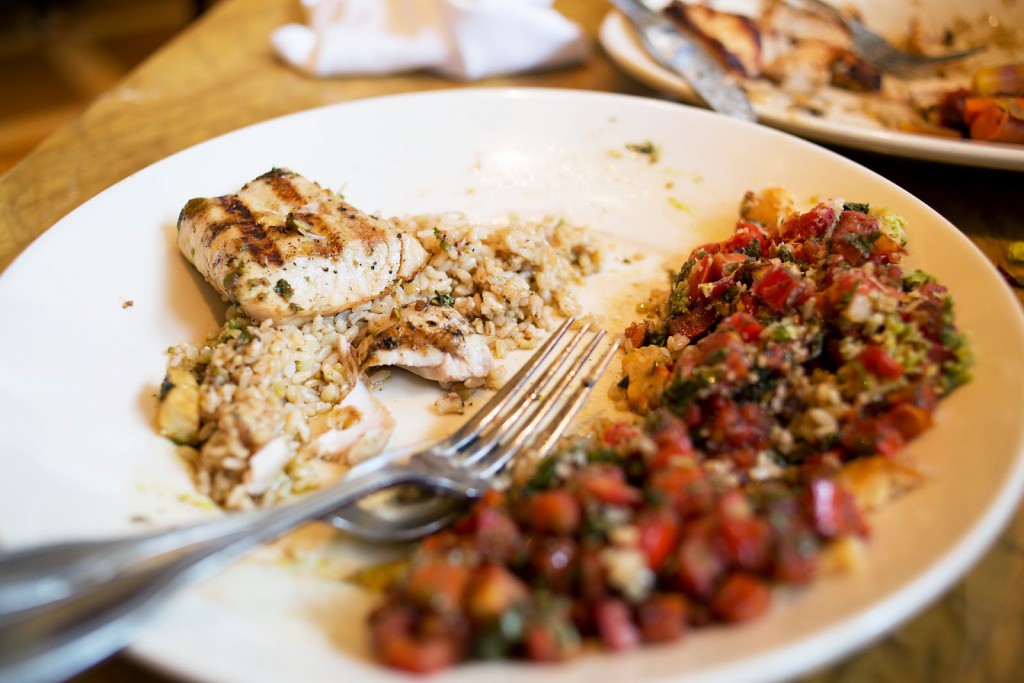 4 Bond St
Great Neck, NY 11021
For dinner we went to a place called
Bee Organic
for some smoothies. They had a lot of vegan and gluten free dishes, but we needed smoothies so we went for those. The inside of the cafe is cute and colorful, and they sell a lot of organic, natural, and vegan products. They were also selling some of the superfoods we'd been having with our shakes such as maca powder, rice protein powder, and raw cacao.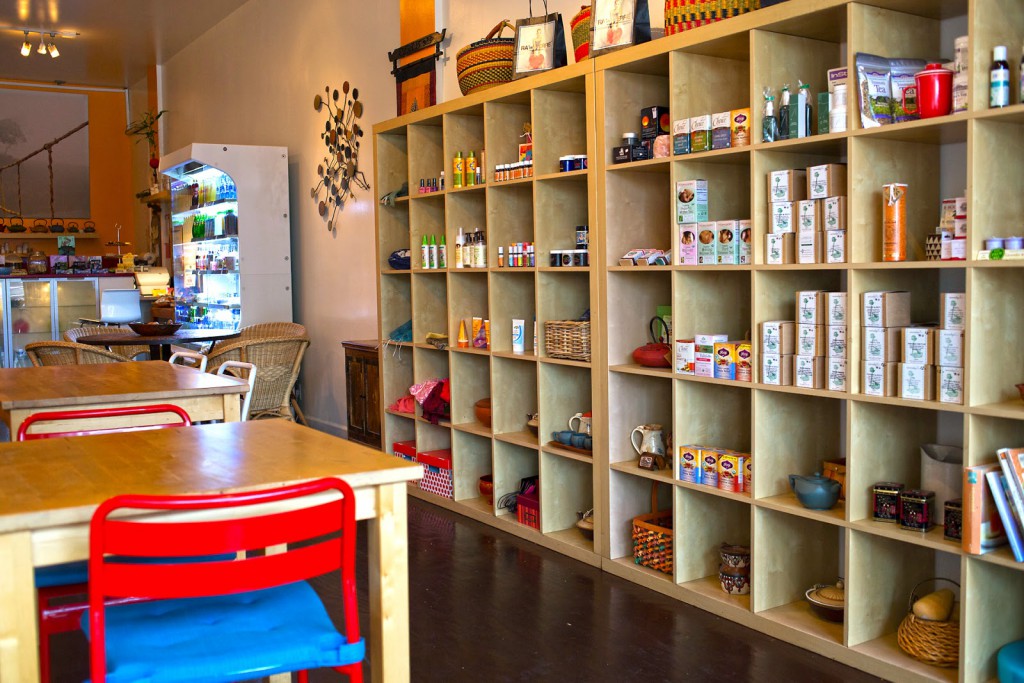 Michael had a berry and kale smoothie, while I had a maca energy shake (they allowed me to substitute coconut for the yogurt and blueberries for the fruit), which was so amazing I recreated it myself at home and it's become an absolute favorite of mine. It's great for energy, and since I couldn't have coffee, it was a fantastic substitute. It's also supposed to help your endurance in all things, like sports-related activities, and even your sex life haha!
I did Tracy Anderson Method Beginner's workout that night, complete with ankle and wrist weights.
Day 17: I lost another .4 on the morning of Day 17. I also noticed that the cuts on the sides of my legs were getting more and more defined, and my arms getting smaller. I attributed all that to Tracy Anderson's method, since my other workouts had never gotten my arms to shrink while doing strength workouts out at the same time.
I noticed all these things because we were headed for East Hampton Main Beach that day and I had to try on a swimsuit. Seeing these results strengthened my resolve to keep going with the cleanse, which was a great thing because I tend to go for the unhealthiest dishes when I'm away from home. For breakfast I tried to copy the maca energy shake from Bee Organic, using the following recipe:
Maca Energy Shake
1 cup almond milk
2 dates
1/4 cup shredded coconut
1 tsp maca powder
1 tbsp almond butter
1/4 cup blueberries
1 tbsp rice protein powder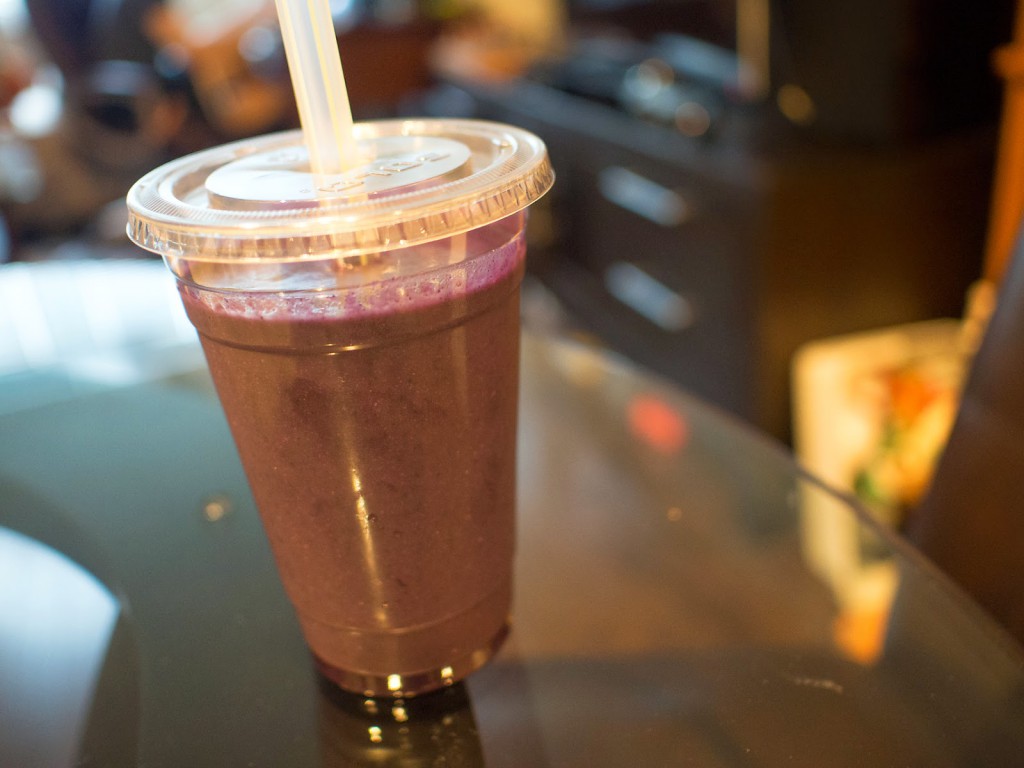 Maca Energy Shake
Michael made the Pumpkin Pie Smoothie for himself and for our friend Kim, who was also on a mostly liquid diet. We put all the shakes in to-go cups and headed out somewhat early in the morning.
At exactly 12:00 pm, Michael got extremely hungry. I was annoyed at us for not thinking of packing snacks, since everyone else wanted to stay at the beach, but we did find a health food/smoothie/juice store called Simply Sublime that sold juices, so we headed over there by ourselves to hopefully get some healthy juices. Instead, we found some cleanse-friendly ice cream in the form of frozen coconut cream. We were both insanely excited over this, because we hadn't yet found a cleanse-friendly brand of non-dairy dessert (most of them use agave). It was DELICIOUS, albeit a little high in fat and calories, so we each only had about a quarter of it.
I realized around that time that Mike and I had become pretty incorrigible when it came to discussing places to eat. We went over probably 20 food places, which all ended up being closed or too expensive by the time we all went out to lunch, so we finally went with a BBQ place called Smokin' Wolf. Luckily they had a whole roast chicken (allowed and even one of the recipes on the diet) and several clean-friendly sides like guacamole, quinoa, and a nice beet salad (we gave away the goat cheese croquettes that came with it). This ended up being a great choice because our low-carbing friends also had plenty of things to eat.
I had the maca energy shake again for dinner. I tried to do the P90X Kenpo with Michael but he became a bit nauseous a few minutes into it (we decided it must've been something from the BBQ place we went to). So I told him to just rest, which he did, and I did the aerobic section of another somewhat cheesy Deanne Berry dance-based workout called "Clubland Work It Out". Like "Pump It Up" this one is a bit out there (especially the costumes!) but it burns up to 700 calories for me (depending on how often I've been working out), so I love it. The music is also great, and the dance section is a lot of fun.


Day 18: I couldn't believe we had gotten to Day 18. We had 3 days to go, though we were planning on extending one more day since we had plenty of supplies and I had a Girls' Night planned on Day 21 that I wanted to prepare decent food for. I'd only lost another .3 that morning (exactly 7 lbs since I started the cleanse). At this point I was really happy with the cleanse, because despite not having lost that much weight, I looked and felt a whole lot better. Michael's energy levels soared, and he didn't get sleepy on the road or in the afternoon anymore. Plus Michael and I had managed to figure out how to eat cleanly when we're at restaurants, though we probably won't keep that up alllll the time, 'coz #YOLO.
We'd made it almost to the end of the cleanse, but unfortunately, our blender did not. It started leaking on Day 18, and we were forced to get another one in order to finish, and be able to push through with our maintenance plan of replacing one solid meal per day with a shake.
Despite the leak, we pushed through with having shakes for breakfast. We had something called "Favorite Green Shake", which is comprised of the following:
Favorite Green Shake
3 cups spinach
1 cup frozen blueberries (or raspberries, blackberries, mangoes, papaya, etc.)
1 tablespoon flax oil seeds
1 tablespoon maca powder
1 tablespoon spirulina or 1 scoop CleanGreens
1 cup almond milk
2 dates or a few drops of stevia to taste
Instead of CleanGreens, we used a packet of something called "Green Superfood". It's cheaper than the CleanGreens from the Clean Program, and it consists of several organic green food such as chlorophyll, wheat grass, barley grass, alfafa, spirulina, spinach, chlorella, broccoli, an energy blend of green tea and yerba mate, an antioxidant blend of acai, maca, beets, and rose hips (among others), and so many other super ingredients.
I was pumped about this smoothie due to all its healthy ingredients. However, it tasted weird and looked even weirder. It basically looked like death in a cup, or something that would transform me into a zombie. I probably would try this again without the Green Superfood supplement, and have that on its own as a replacement for coffee.
I had the leftover chicken and beet salad from the BBQ place we went to for lunch, while the rest of my coworkers had pizza. Honestly, I didn't feel bad for myself at all, since the chicken was delicious.
Dinner was something called a Greena Colada. I was so excited about it because it's of course inspired by one of my favorite frozen cocktails, a Pina Colada. Like all shakes I've gotten excited about on this diet, it was extremely underwhelming. I think the trick is NOT to expect anything to be delicious, and just be pleasantly surprised. I thought this one tasted more like a cucumber shake more than anything else.
Greena Colada
1 large cucumber, peeled and chopped
¼ cup water
½ cup parsley
½ cup frozen pineapple chunks
1 tablespoon coconut oil
5 drops stevia
4 ice cubes
1 packet Cleanse Shakes Vanilla (or other protein powder)
optional: 1 tablespoon ground flax seed
We did not have pineapple so we used frozen mango. Like I said, it was only ok, but we were excited about using our NutriBullet for the first time. It blended everything SO much better, and we found ourselves wishing we'd gotten it a lot sooner.
A few minutes after having the greena colada, I was craving something sweet so badly, so I had the "Mary's Gone Crackers" gluten free crackers (made with brown rice, quinoa, sesame and flax seeds), with a bit of Rawmio. I thought they were perfect (I love the taste of sesame and rice), even though Mike had earlier described them to be disgusting. I'm sure it won't come as a surprise to you that I also didn't do a workout that night.
Day 19: I lost another .8 on the morning of Day 19. Michael at that point had lost 17 lbs, so I immediately bought him some Clean-friendly protein bars to add to his snacks. I'd been concerned the entire week that he wasn't getting enough food even with 2-3 snacks, but he kept saying he hadn't felt that good and energized in a long time. Still, I planned for next week's menu (during which we would slowly add in the banned foods) to have plenty of protein shakes and bars for him.
We were out of the Balance and Ease supplements, so I decided to double the fiber and cleanse pills instead. Those actually needed to be doubled like 2 weeks ago according to the instructions from the supplements, but I'd decided to keep them at one each since that's how the Clean Program does it.
I miscommunicated to Michael that I wanted a beet smoothie, so he stole some beets from the leftover beet salad we'd kept and made me the Brilliantly Beet shake from the Clean Program recipes, when I actually wanted the BluePrint juice with some protein powder and flax seeds. It all turned out well in the end because the Brilliantly Beet shake was pretty good, and of course had fresh ingredients.
Brilliantly Beet Smoothie



1 medium beet, baked until soft, peeled and cut in chunks
1 cup mixed fresh or frozen berries
3 large or 4 medium kale leaves
½ medium cucumber, peeled and cut in chunks
juice of ½ lime
1 cup vanilla almond or hemp milk (unsweetened)
5-10 drops (or 1 packet dry) stevia (we used coconut nectar
1 packet Cleanse Shakes Vanilla (or other protein powder)
optional: 1 tablespoon ground flax seed
For lunch I had some of the leftover fish and salad from when we went to Grand Luxe. The salad was a tad soggy, and the fish a bit less delicious, but overall it was still a good lunch. I had a bit of an upset stomach after lunch, and wondered if it was related to taking two of the fiber/cleanse pills, or the leftovers. Either way, I couldn't know.
I "snacked" on the Tumeric Coconut Nectar Elixir, which tasted like a cold Indian soup with some weird crap in it. It was pretty disgusting. I realized upon reading it that it's supposed to give you energy for workouts, and since I was lagging and not allowed to have coffee, I tried to drink it anyway. I figured maybe the effects would last 'til my workout that night. But about a quarter into the bottle, I gave up. Drinking something that disgusting seemed like a total waste of calories.
Dinner was my usual malted "milk" shake, made even more awesome by the NutriBullet. I almost missed my workout because I was feeling lazy after doing some kitchen pantry organizing that night, but I was able to lace up and push myself to do the entire Tracy Anderson Beginner Workout. I told myself it was a sacrifice to be able to go out for dinner and a walk the next day.


Day 20: I gained .3 on Day 20, though I attributed it to water weight since I was definitely under my preferred net calories the day before. I was also not that concerned about it, since that morning I fit comfortably into an outfit (shirt and pants) that I couldn't even inhale and force myself into before I started the diet. Mike was now (thankfully) maintaining his weight as he snacked on "Mary's Gone Crackers" and dried cranberries, or apples with almonds between meals and shakes.
Confident in the fact that I was doing fine, I planned to have shakes for breakfast and lunch, then have dinner at a nice Greek restaurant in our neighborhood (which is THE place to get Greek food in NYC).
Zenon Taverna
34-10 31 Avenue
Astoria, NY 11106
I can no longer recall the smoothies I had that day. Clearly the only important thing to me was to have Greek food, because that's all I documented. We didn't even realize we'd been to the restaurant Zenon Taverna before until we got to the place. Our previous visit was all about getting the unhealthiest stuff possible, and we remember it as the day we were introduced to the richest, most decadent dessert wine we'd ever tasted. This time around, it was all about finding clean-friendly dishes. So, despite the fact that I was dying to try the Cyprus Meze (which is a TON of food for $21.95, see the menu
here
), we just picked a few things that fit into the diet.
For our starter, we had the Cyprus salad. It's a simple salad of romaine lettuce, tomatoes (which we picked out of it), feta (which we asked to be removed), onions, scallions, cilantro, capers, and olives. It was tossed in olive oil, vinegar, salt, and pepper.
We had the broiled lamb meatballs for our appetizer. You can also choose to get this with a white wine sauce, but we went with the simple broiled ones to be on the safe side. I thought these were perfect, especially dipped in the tahini sauce that came with the main dish.
Our main dish was the chicken combo. It was made with chicken kebabs, chicken meatballs, some vegetables (which we did not eat since peppers and tomatoes aren't allowed), and a side of tahini sauce. I loved the chicken "meatballs" (they looked like sausages), but thought the kebabs were only okay.
When we got home that night I was having insane cravings, so I had some more "Mary's Gone Crackers" and Rawmio. A couple hours after that, I ate more of the chicken meatballs from Zenon. I was definitely not having a great day, calorie-wise. Of course I picked the second to the last day of this cleanse to have a binge-eating session! My "time of the month" was also approaching, so I wasn't that surprised at this sudden onset of food cravings.
Day 21: I gained another .6 on Day 21. I was somewhat annoyed at myself, because I knew it was from that fiasco the day before. I had a malted "milk" shake for breakfast, a maca shake for lunch, then chicken tacos for dinner since I had guests over (I replaced the lamb with chicken from the recipe in week 2 of the cleanse). Of course, I got soft taco tortillas for my guests, because there was no way I was forcing people to do the diet with me. I didn't workout that night, because I guess I was pretty exhausted with dieting by the last day.
On the morning after the cleanse, I lost the weight I'd gained from Days 20 and 21. That put the total weight lost at about 8 lbs. This doesn't seem like a lot (and it didn't get rid of my KP or my allergies), but I knew I'd lost a lot of inches because I was fitting into clothes I hadn't fit into since I got married about 4 years ago. Michael lost a total of 17 lbs, which is almost twice what I lost in percentage of body weight. This got him to the weight he was at when we first met about 7 years ago (which made me feel better, because like I said, I was a bit worried I'd not been giving him enough food).
If you're curious, here are some before and after photos of me and Mike.
Before:
After:
Before:
After:
We both felt a lot better overall, energized, and clear-headed. My chronic fatigue was gone. In fact we liked it so much we're planning on doing this cleanse twice a year (once after the holiday season and once at the beginning of summer). After the cleanse, we're taking a week to slowly reincorporate a few things into our diets and figure out what our food triggers are, sandwiched by weekends full of gluten, dairy, and birthday festivities. #YOLO after all!
After that, I'm planning on doing 2 weeks of Bob Harper's Jumpstart to Skinny diet to preemptively offset all the food I'm planning to eat on my two week Asia trip to the Philippines and Japan in August. (I'm still on the fence whether I should blog about it or not.) If you're interested in that, stay tuned! Otherwise, I hope you've found this journey interesting (or at the very least, not annoying) and just enjoy the next few non-diet posts from me!
Related Posts:
The Clean Program 21-Day Cleanse: Preparation
The Clean Program 21-Day Cleanse: Pre-cleanse
The Clean Program 21-Day Cleanse: Week 1
The Clean Program 21-Day Cleanse: Week 2
The Clean Program 21-Day Cleanse: Week 3