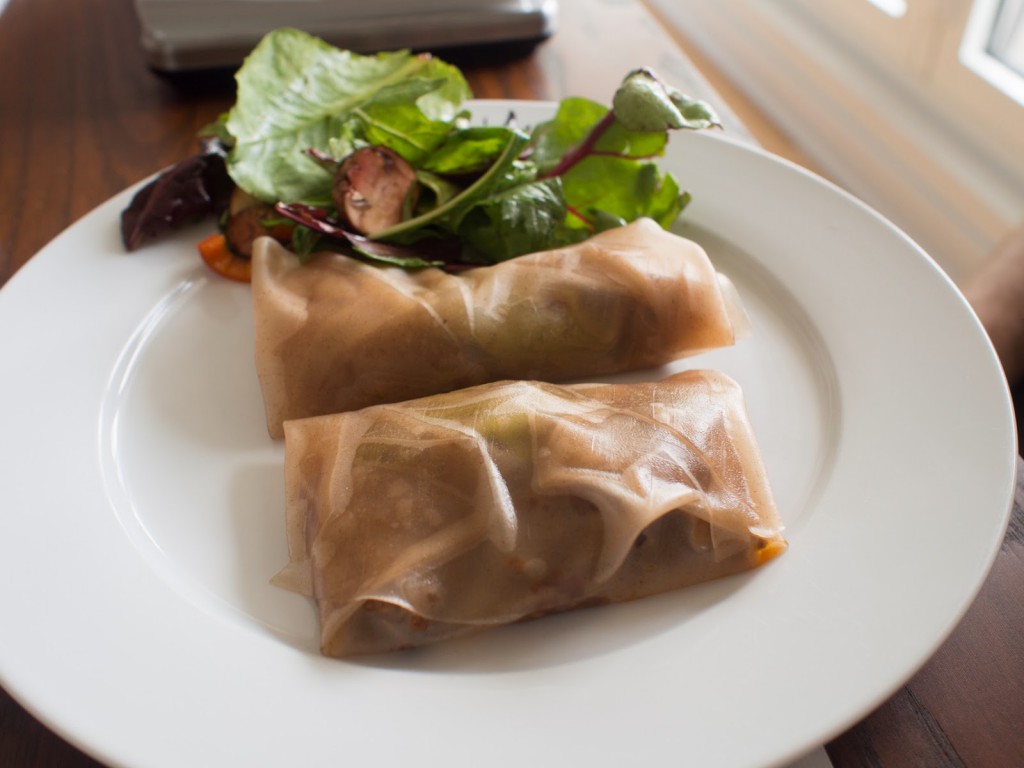 Day 8: I woke up and found I had lost .5 lb more on day 8, and was able to fit into some pants I'd bought last year in the hopes that I would lose enough weight to fit into it. If you're curious what they are, they're a similar pair to these pants in the blog Wendy's Lookbook. She's my favorite petite style blogger. She links to the Gap pants that I bought in the outfit description, though it's only available in pink now. I fell in love with how she was able to dress up camo pants, so I bought a pair, not realizing it had no ability to stretch at all. I'm actually dying to get the rest of that outfit, especially that Phillip Lim bag (almost $1000 eek!), but I haven't been able to find similar affordable styles. (Sorry, I'm not sure how this turned into me blogging about fashion.)
So, yes, the point is, I was happy with the results so far.
I was running late that morning so I forgot to bring the shake I wanted to have for lunch. I'd decided to switch my solid meal to dinner that day because I was meeting up with some friends. Looking for something to drink was quite a challenge, because even the "Naked" brand juices had bananas in them. I finally settled for a Vita Coco with peach & mango, plus a chia pod (this is made with chia seeds, blueberries, and coconut milk). I figured the chia pod was as close enough to liquid as I could get for allowed protein.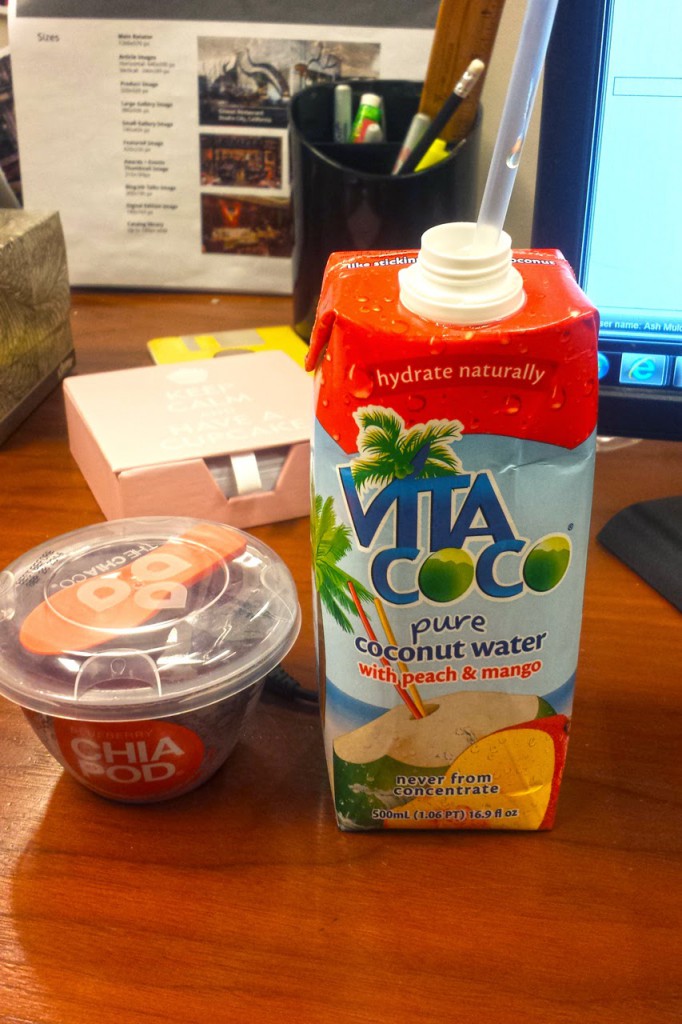 By the time I sat down to "eat", I had a throbbing headache. I assumed this was because I had spent too much time figuring out what to eat, and my body had gotten used to getting food earlier. The persistent headache continued past lunchtime, and I found myself wishing I had brought the lamb brown rice biryani I'd made the night before (more on this later) for lunch.
I noticed my KP flaring up that day, and wondered, again, if it was me having too much animal protein. Of course I ignored that, since I already had a set menu for the week
I had dinner at Teresa's (a Polish restaurant) in Brooklyn Heights with my friends. I questioned the waitress a bit about what was in the dill sauce for the poached salmon (she said it was very creamy, so I passed on that) and what was in the broiled salmon (nothing but salmon, and maybe some salt). I ended up ordering the broiled salmon served with lemon and capers, a side salad and no dressing, and a cup of green tea. Later on we moved to a The Heights Cafe where everyone ordered either a beer or an iced coffee, and I had another green tea. Pretty rough, but at least I was able to hang out with my friends despite this insane diet!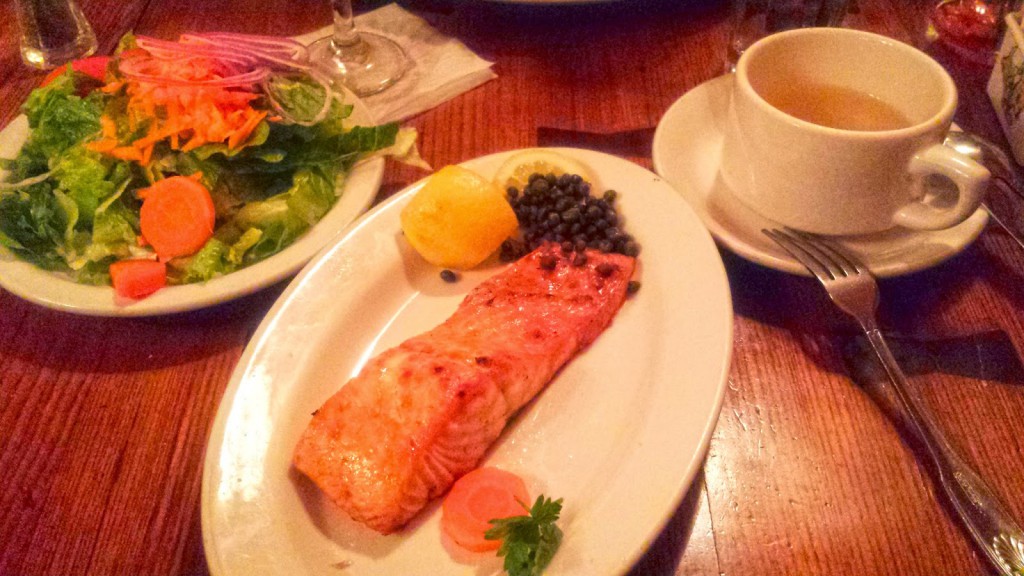 Day 9: We had a mango peach lassi shake for breakfast. It was very tart, but I still liked it. Plus I have an inkling the nectarine was not as ripe as we had hoped it would be.
Mango Peach Lassi
1 large nectarine
1 mango, flesh removed from skin – discard skin
ice
coconut milk
1 packet Cleanse Shakes Vanilla (or other protein powder)
optional: 1 tablespoon ground flax seed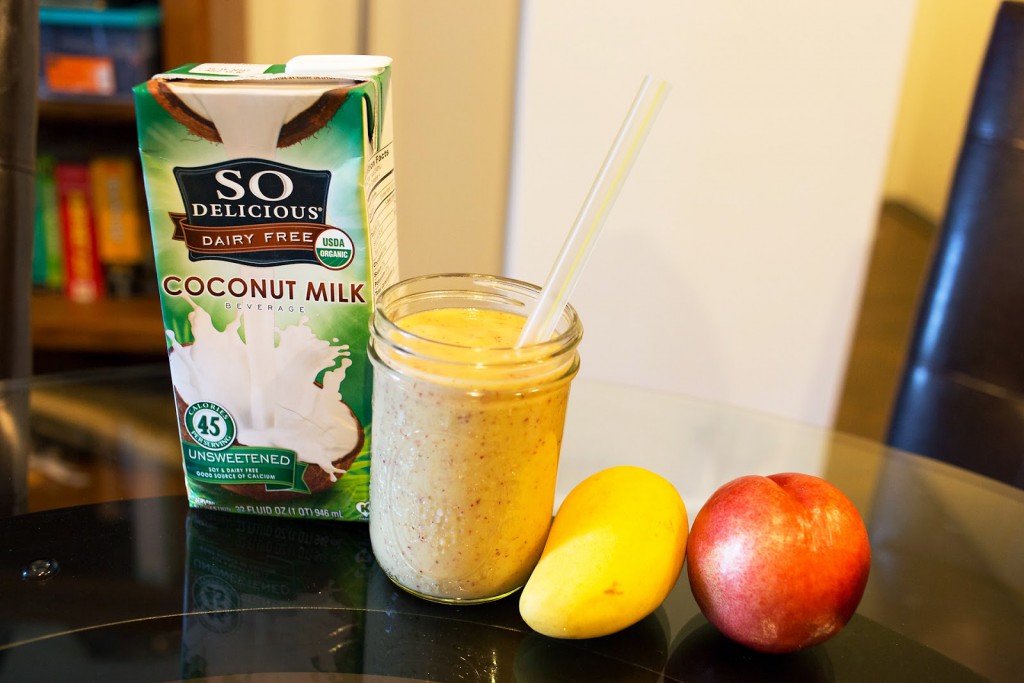 Lunch was lamb biryani and it was amazing. So rich in flavors due to the spices. This was something I converted into a clean recipe from a regular lamb biryani recipe. There aren't any vegetables in it though so you might want to have it with a side salad. Make sure to soak the brown rice overnight, otherwise it won't cook
Lamb Biryani (Clean Recipe)
Ingredients:

1/2 cup canned coconut milk (full-fat)

1/2 teaspoon fresh-ground black pepper

1 pound boneless lamb, cut into 1/2-inch cubes (or ground lamb)

3 tablespoons coconut oil

1 onion, cut into thin slices

1/2 teaspoon ground cardamom or ground coriander

1 cinnamon stick, broken in half

1 1/2 cups long-grain brown rice, preferably basmati, SOAKED OVERNIGHT

2/3 cup dried cranberries

1. In a medium bowl, combine the coconut milk with the garlic, cayenne, cumin, black pepper, and 1/2 teaspoon of the salt. Stir in the lamb. (Make sure to combine well if using ground lamb)

2. In a large saucepan, melt the coconut oil over moderate heat. Add the onion and cook until starting to soften, about 3 minutes. Stir in the cardamom, turmeric, cloves, cinnamon, rice, and the remaining 1 1/2 teaspoons salt. Cook, stirring, for 1 minute.
3. Add the lamb mixture to the pan. Stir in the water and dried cranberries. Bring to a simmer. Cover and simmer until the rice and lamb are almost done, about 45 minutes – 1 hour (keep checking, the water will have simmered down when it's about done). Remove from the heat. Let stand, covered, until the rice and lamb are just done, about 5 minutes. Stir in the cashews.

Variation

Other nuts, such as almonds or pistachios, can easily stand in for the cashews.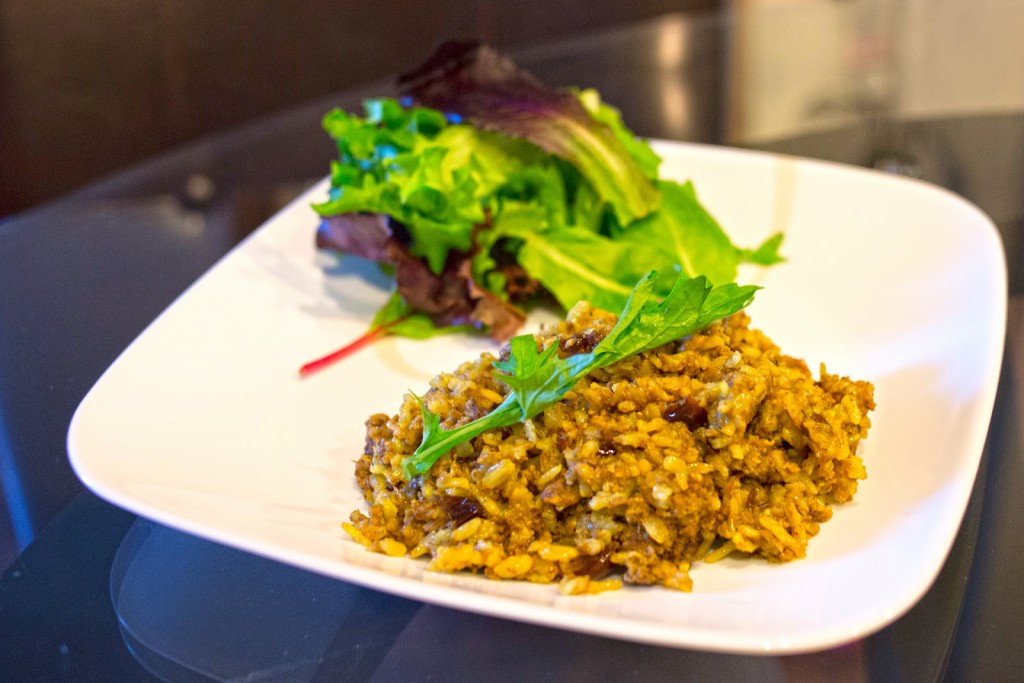 Dinner was a disgusting carrot cake smoothie. Never again. It tasted weird. Though I have an inkling it was because of the extra strength vanilla extract we've been using. After dinner I did half of one of my favorite workouts: Jillian Michaels' Banish Fat Boost Metabolism. Technically I should only be doing calming exercises like walks and yoga, but I'm really into HIIT so I decided to at least just do half.
Day 10: Breakfast was cinnamon rolls shake, because that's clearly our favorite shake and we weren't in the mood for something new.
Lunch was lamb "tacos", which were more like summer rolls since we use vietnamese brown rice wraps. We brought over the ingredients to my sisters' place and made them for everybody. They were delicious, and something I would definitely eat off the diet.
Lamb or Lentil Tacos

FILLING
2 tablespoons coconut oil

4 ounces ground pasture-raised lamb (flatten into 1 large round, roughly ½ inch thick) or 1½ cups lentils

1 medium sized summer squash (yellow and/or zucchini)

¼ cup minced onions + another 2 tablespoons for garnish

1 garlic clove, peeled and minced

1 tablespoon fajita/taco seasoning*

*Check and make sure there's no sugar in the seasoning. Jenny's tip is that the Indian spice Rogan Josh makes a delicious variation if you can't find a "clean" taco seasoning. We used this taco seasoning from allrecipes.com
GARNISH

2 tablespoons minced red onions

freshly chopped cilantro (a few tablespoons)

handful of sprouts (optional)

TACO SHELLS
romaine lettuce and/or brown rice tortilla wraps (these will be soft tacos)

Directions: Heat a large saute pan over high heat. Melt the coconut oil and continue to heat until lightly smoking. Add the lamb and allow one side to brown for 3 minutes before flipping over. Once the lamb is flipped, add the summer squash (and/or zucchini), garlic, onion, and taco seasoning. Stir vigorously to incorporate all the ingredients. Continue to cook until the lamb is cooked through and the vegetables are soft. Season to taste with sea salt.

To serve: Lay a few romaine leaves or brown rice tortillas on a plate. Cover with the lamb and vegetables. Top with the additional 2 tablespoons red onions and cilantro. Smear the shell edges with guacamole (we used the brand Wholly Guacamole) and garnish with optional fresh sprouts. Enjoy!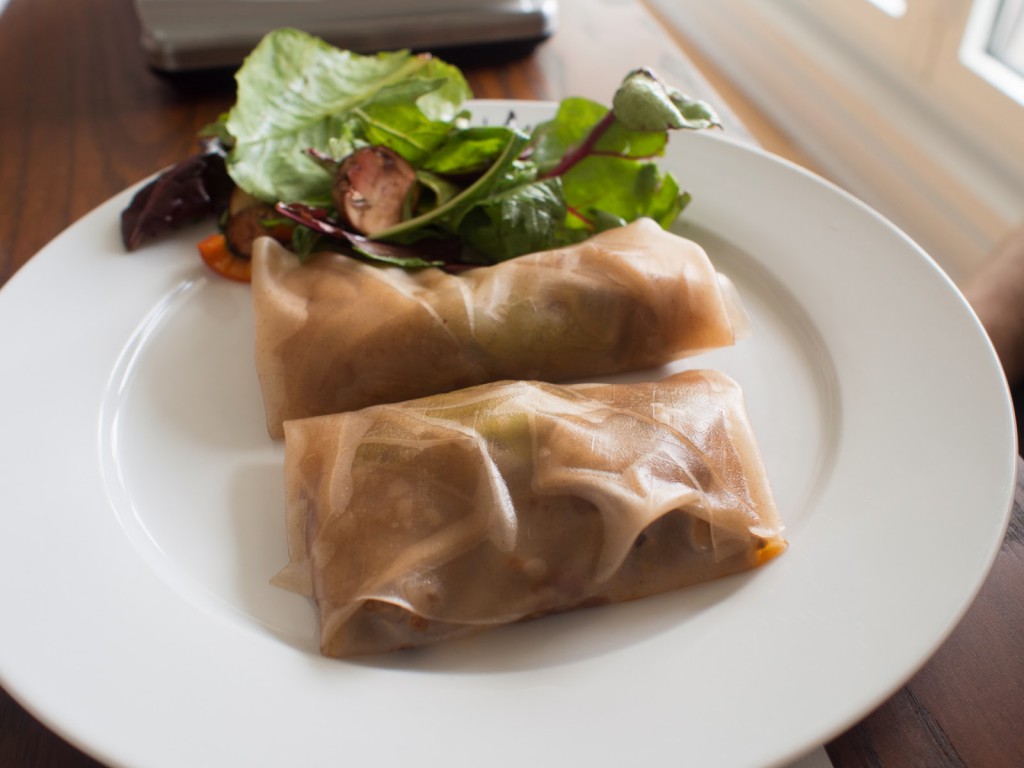 Snacked on a BluePrint juice of kale apple and lemon. Pretty good considering it has no added sweeteners.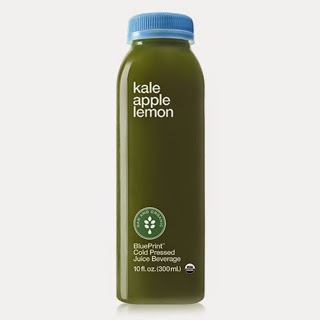 Dinner was euro nut shake using Rawmio raw hazelnut and chocolate butter, which I'm a huge fan of. It tasted like a chocolately treat from a coffee house.
Euro Nut



1 tablespoon vanilla extract
2 dates or stevia to taste
2 tablespoon raw cacao
2-4 tablespoon hazelnut butter
unsweetened coconut milk
ice
1 packet Cleanse Shakes Chocolate (or other protein powder)
optional: 1 tablespoon ground flax seed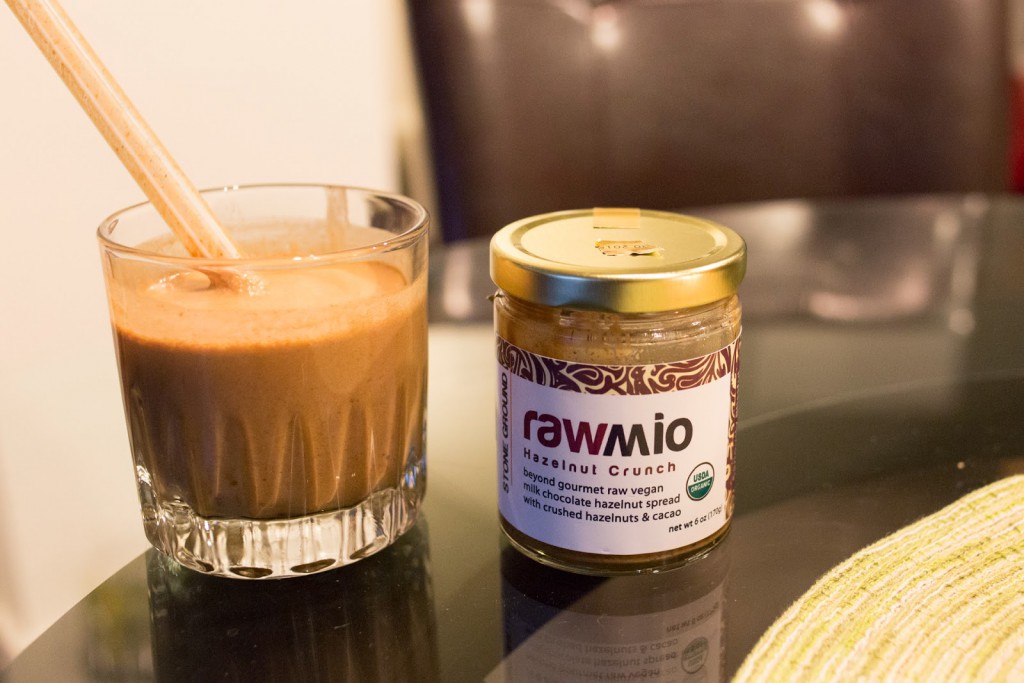 Day 11: I maintained my weight on Day 11. Breakfast was the peach mango lassi again. It was not as tart, but still not the best. Michael had the peach and apple cobbler shake. He said it was a lot better than the peach mango lassi. I was dying of hunger at around 9:30 am so I had freeze-dried blueberries (which I dubbed zombie berries due to how they look like they're decaying) for a snack, which seemed to satiate me for a while, but then by 11:00 am I was hungry again.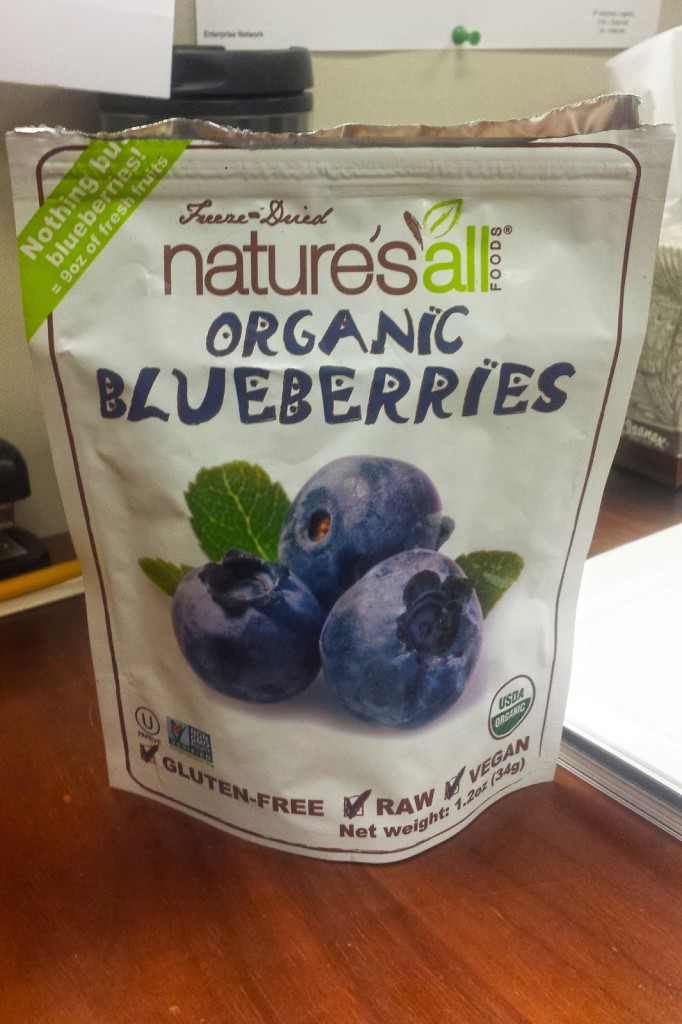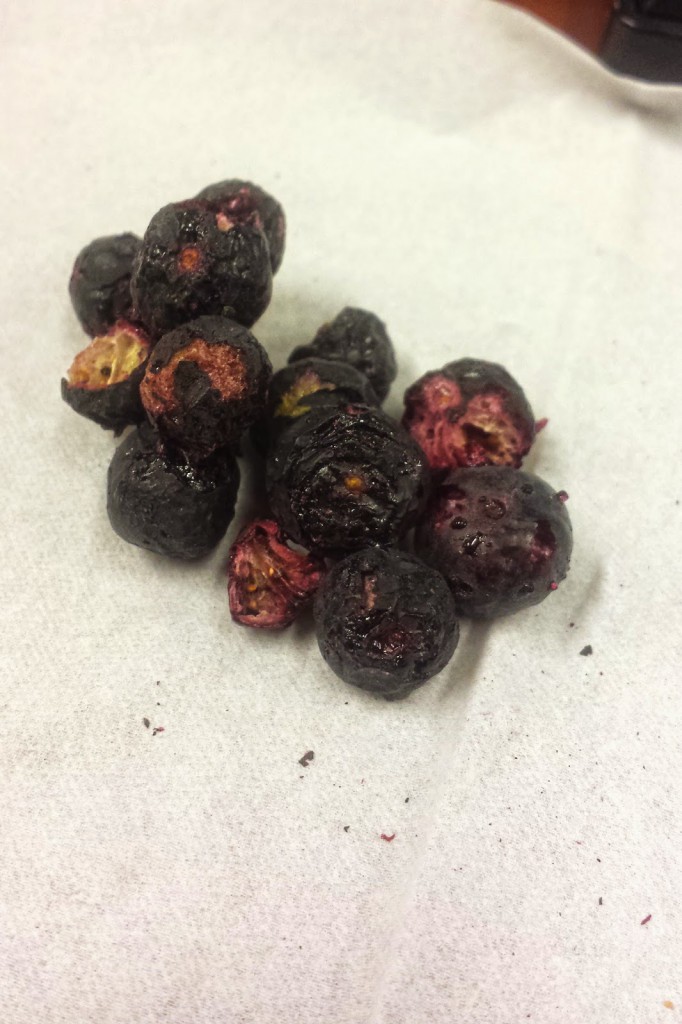 I kept drinking water, thinking it might be thirst, but it wasn't. Could it be that I was stressed from maintaining my weight from Day 10? Or could it be my body is fixing some muscles I used on Day 9? Either way, that last hour before lunchtime went reallly slow. I was also looking forward to having more lamb biryani, which we'd perfected the recipe of the night before.
The lamb biryani was very good, but I found myself slightly sleepy after lunch. Oops. Maybe there was a little too much meat or rice in the dish, so I decided to add some veggies in next time.
I had another serving of the freeze-dried blueberries at around 3. It seemed like it was going to be downhill from there, because I wanted to eat the last serving, but I tried my best to stop myself. It was surprisingly easier to hold back when I told myself I couldn't snack at all… I found a Disney playlist on Spotify and found that Julie Andrews belting out "A Spoonful of Sugar" made me feel a lot better (and less hungry). Then I thought, "Oh what the hell, it's blueberries." and downed the entire package. The entire thing was only 105 calories though, so I felt like I still hadn't done anything wrong.
For dinner that night, Mike and I had a creamy blueberry shake that he'd altered because it was too full of calories and we didn't have any almond butter left. Unfortunately, I can't find the recipe anymore, but I remember we used tahini butter for it.
It tasted more like a sesame, coconut, and blueberry shake, which sounds weird but actually tasted really good. After that I sat down and watched Karate Kid II with Mike, instead of doing a workout like he'd done that day (actually he did two, since he was on his first day of P90X). And then I proceeded to change quotes from the movie to incorporate food in the dialogue (like fried chicken, and ramen). Mike became a wall to hurl thoughts of food at that night, and he kept me on track and reminded me how I did the same when all he wanted was a Subway sandwich at the airport the other night. Somehow, I made it through the night with only a few more sips of coconut milk to add to my calorie-count.
Day 12: I weighed myself on the morning of day 12 and realized I had basically plateaued since Day 10. Whether it was post-workout water retention or having snacks again, something needed to be blamed. I read part of the Dr. Junger's "Clean" book again, and he said something about the weight loss slowing down for some people after Day 10, and maybe doing an all liquid diet for a day or two to jumpstart it again. I decided I would die (or be extremely irritable) if I had to do that at work, so I would just skip snacks again, workout, and try to do that on my work from home day.
Breakfast was a euro nut shake, as sort-of a congratulatory treat (but not cheat) for making it through to bedtime the night before without having anything solid. Lunch was lamb biryani again, which I loved as per usual.
Dinner was a semi-watery pumpkin/squash and coconut soup. Michael had made it with coconut milk beverage, instead of the one from the can, so I have a feeling it was a lot less rich than it needed to be. Also the recipe didn't call for it to be pureed, so there were chunks of squash (which is allowed to be used instead of pumpkin) and onion floating around in it. Despite all things that differed from the usual soups we'd had on the diet, it was still quite good.
That night I was cranky, tired, and hungry, so I went to bed really early instead of working out, like I'd planned. I slept for more than nine hours that night.
Day 13: On the morning of Day 13, I gained .2 lbs. In total, I had lost 5.1 lbs in 12 days (+3 days of pre-cleansing), which in a normal diet is completely fine, but in a cleanse as strict as this, was definitely not what I had expected. I didn't even have that much more energy, and my KP hadn't cleared, so I was extremely frustrated. However, I decided to go through with it, just to finish what I had started. Plus it was working wonders for Michael, and it's a lot easier to be on the same diet.
I had a euro nut shake for breakfast again, which I noticed did not seem to last long because my stomach was always screaming for food at around 10:30 am. I decided to have a healthier one the next day.
Lunch was baked falafel with salad and tahini sauce. Michael made it, and the recipe seemed incorrect because it did not list the carrot as one of the items to be put into the food processor, so the texture of the falafel was also a little off. I had him bake it a lot longer than necessary since it wasn't firming up. He was not a huge fan of it and chatted me disappointedly from his office saying it was terrible. I found that it was good enough. The texture was a little gummy, but I thought with a sprinkle of salt it tasted decent. We decided to do it again the day after for lunch and add in the carrots and a bit more salt and pepper to the mixture. I thought the tahini sauce could use a bit more salt too.
Baked Falafel with Tahini Sauce and Greek Salad

FALAFEL

1 small red onion chopped

2 large garlic cloves, chopped

4 tablespoons chickpea flour (can use brown rice or quinoa flour)

1 tablespoon ground cumin

1 tablespoon ground coriander

¼ teaspoon chili powder (optional)

ground black pepper to taste

1 tablespoon ground flax seed (or chia) + 3 tablespoons water (makes 1 egg)

2 tablespoons dried parsley

roll in ½ cup gluten-free bread crumbs (or ground flax seed)

Directions: Preheat oven to 400°F. Line a baking sheet with parchment. Combine the chickpeas, onion, garlic, flour, spices, carrot, oil and salt, pulse in a food processor until the mixture is well combined and smooth. Form the mixture into 8-12 small balls or patties with wet hands. Roll each ball in bread crumbs if preferred (or do half and half). Bake in oven for approximately 30-35 minutes or until crispy and golden. Serve these delights in a rice tortilla wrap with hummus, tahini sauce or on top of a salad.
HOMEMADE TAHINI SAUCE

2-4 tablespoons of water to thin out

Directions: Blend all together in blender – it can be as creamy or thin as you desire!
Serve with a salad of mixed greens, cucumber, olives, red onion with a dressing of lemon juice, olive oil, garlic, salt and pepper.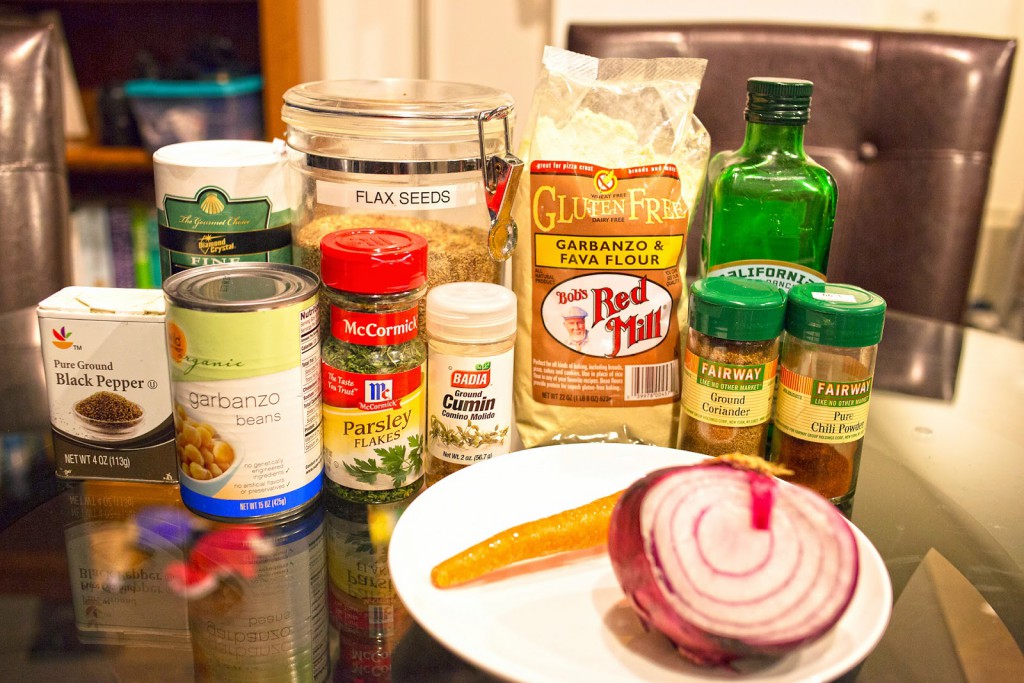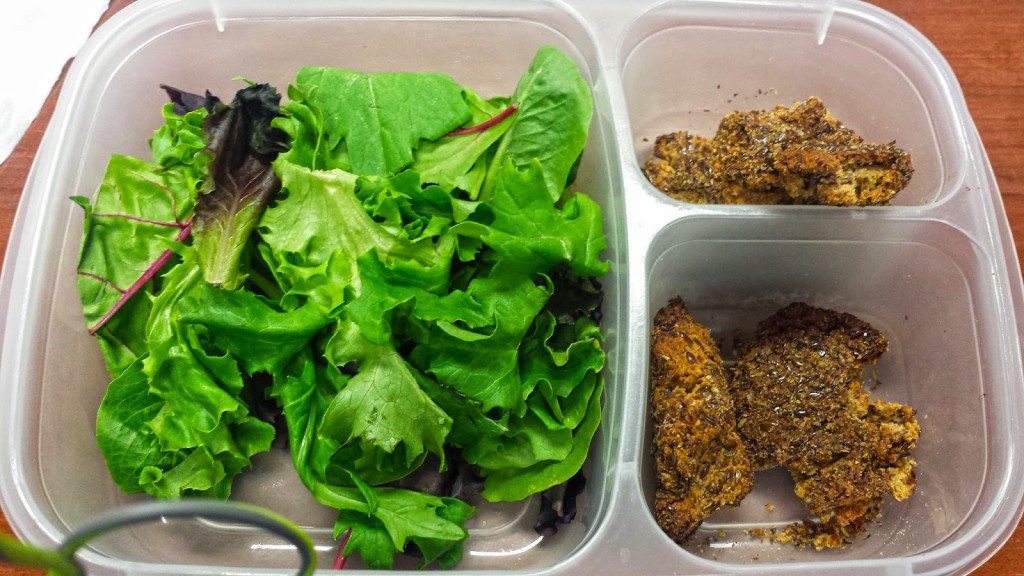 I cheated for the first time on Day 13, and it wasn't even planned (or that delicious). We were out of chicken stock, so I asked Michael to do what I usually do when I don't want to have to buy it: Use bouillon cubes. Of course, if I had been making dinner, I would have looked at the ingredients first, but since I wasn't, Mike just followed my instructions. Three quarters into my soup, I realized that the second ingredient in it was sugar, and the third was cornstarch. SO. I completely failed. I braced myself to gain plenty of water weight the next day. I wondered if I'd just ruined 2 weeks of strict dieting (I didn't even let beauty products that have soy or sugar touch me) by trying to do a recipe shortcut. But stressing about it sure wasn't going to do anything, so I just decided to keep going anyway.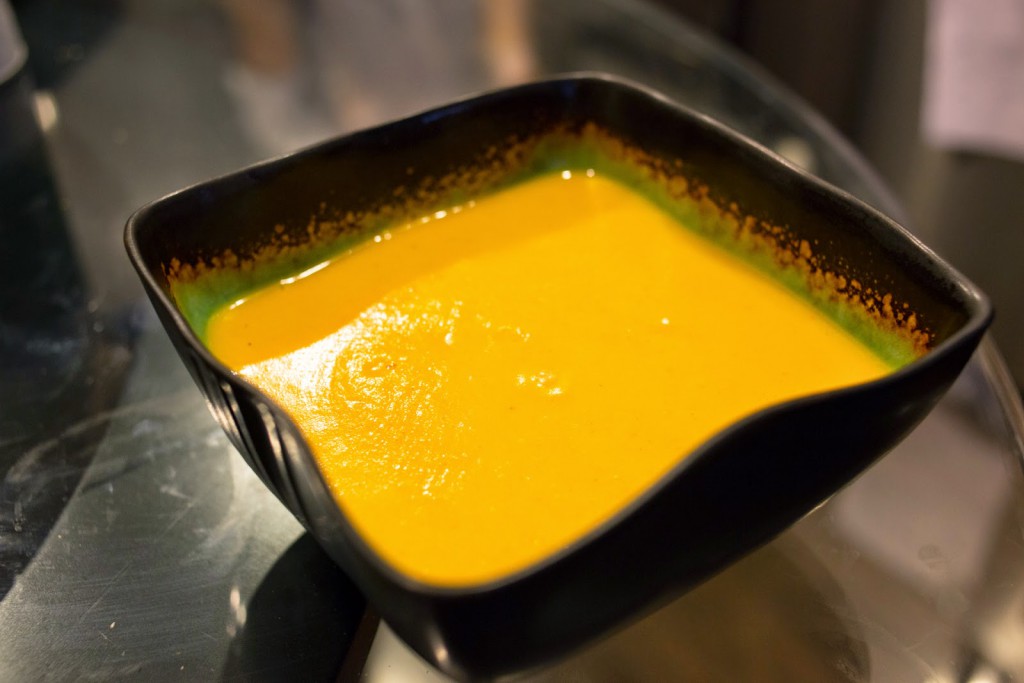 Surprisingly, I did not feel haggard or tired after that "cheat". Instead I felt somewhat clear-headed and ready for a workout. Since I seemed to be wavering on energy for workouts lately (I'd only done 1 so far that week), I decided to change up my routine. I switched to the Tracy Anderson Method Beginner's Workout. The Tracy Anderson method is a popular for women who want to be lean instead of bulky (like Gwyneth Paltrow, who inspired me to do this cleanse in the first place). I had done Jillian Michaels, P90X Plyometrics, and Deanne Berry's dance workouts for years, and thought I needed a change if none of those were really working for me in the long run. The beginner's workout seemed like the perfect way to start. The workout was a lot of toning work, so I figured I'd probably get post-workout water weight, in addition to sugar/cornstarch weight the day after, and just deal with it.
Day 14: Day 14 dawned with me gaining about a pound and a half of water weight. At this point I had given up on getting mad about me plateauing, since it was impossible that I was gaining weight from fat with the net calories I was taking in. I figured it was either some kind of hormone fluctuation or muscle gain, in addition to the slight cheat from the night before. But, just to be safe, Michael and I decided to go all liquid that day (this did not end well).
Breakfast was a euro nut shake (again)!
Lunch was the pumpkin coconut stew again, which was finally perfected by Michael. We even used vegetable broth this time.
Pumpkin Coconut Stew
Serves 2-4

1 pound pumpkin, butternut squash, or acorn squash, halved, peeled and seeds removed

2 cloves of garlic, peeled and minced

1 large thumb-sized pieces of fresh ginger, peeled and minced

3 sticks of lemongrass, outer leaves removed, minced

1 tablespoon curry powder

a generous splash or two of olive oil

1 white onion, peeled and finely diced

1 quart chicken or vegetable stock

sea salt and freshly ground black pepper

Directions: Roast the pumpkin at 350°F until flesh is tender. In a large soup pot cook the onion and garlic in olive oil until translucent and brown. Add the chili powder, curry powder, lemongrass, ginger, pumpkin flesh, coconut milk, shredded coconut and stock. Stir for a minute to coat and then bring to a boil. Once boiling, reduce heat and cover. Simmer for 15 minutes. Season with sea salt and pepper and season with fresh lime juice, tasting as you go. Serve in bowls OR add it back to the pumpkin shell for a beautiful presentation. Top with chili powder, some shredded coconut or cilantro leaves if you like.
I persuaded myself it was ok to have two snacks of rice milk, since I was having an all-liquid day anyway. This was technically not great calorie-wise, but I figured 300 calories was easy enough to burn through a workout later that day.
Dinner was the malted "milk" shake from my previous post. It was somehow more delicious this time around, and very filling.
I should have ended with that, but as Mike and I talked about burger commercials and the King of Shawarma truck a few blocks from us, I suddenly had a very strong craving for either fried falafel or a double cheeseburger with BBQ sauce and fried onions from Burger King. After a few hours of debating whether or not to get cheat food, I finally just made myself two brown rice wraps filled with the baked falafel Mike had made the other day, shredded cabbage and carrots, and tahini sauce.
I'm gonna be honest with you. At this point I was about a thousand calories over my daily target. I was a tad sorry, but not very, since I was at least able to stick to clean eating. Since Michael was doing his P90X, I decided to go for an hour on the treadmill. I came back in time to see Michael huffing and puffing as he finished the entire of P90X Yoga for the first time. I found out I was a couple hundred still over my desired calories for the day, so I tried Tracy Anderson's Mat workout for about 15 minutes before my legs gave up on me.
The workouts were worth it though, because by the next morning, I'd lost all the water weight I'd gained from the past few days, and was down just a bit more. Not only that, I realized my once massive arms now fit comfortably again into an XS-Petite cardigan I'd mistakenly bought from Ann Taylor LOFT. So I was down 5.4 lbs by Day 15. That's not much weight-wise, but since I was obviously losing inches and was already at a normal BMI before starting the cleanse, I figured I was still successful so far. And in honor of that, I'm ending this entry with one of my favorite songs for the treadmill, and a very 90's movie clip.
The Clean Program 21-Day Cleanse: Preparation
The Clean Program 21-Day Cleanse: Pre-cleanse
The Clean Program 21-Day Cleanse: Week 1
The Clean Program 21-Day Cleanse: Week 3