One wintry night in February, I went to see the play Rosencrantz and Guildenstern are Dead performed by the Acting Company with my friend Kim. I got to the city a bit early for dinner, which was a good thing since I had to wade through tourists and a lot of cigarette smoke (sometimes being blown directly into my face) to get to the restaurant we were meeting at. But, since I was early, I had to quickly look for some cafe to hang out at, and I found Schmackary's a few blocks away.
Schmackary's
362 W 45th St
b/t 9th Ave & 8th Ave
Hell's Kitchen, Midtown West
New York, NY
I hilariously picked Schmackary's to hang out at before our somewhat healthy dinner, which totally ruined my plan for that night to be a healthy outing. I forgive myself for it though because it was TOTALLY worth it, and spring still seemed so far away at the time. Plus their storefront was so adorable.
I originally just wanted to get a coffee and have a seat, but the unique-but-still-appetizing cookie flavors like Maple Bacon and Chocolate Diablo were calling out to me.
I ended up snacking on the Maple Bacon cookie there, and got a Red Velvet one to go. If you're on that bacon-in-sweets bandwagon, you should definitely check this one out. It was chewy in a half-cookie-half-jerky kind of way, and definitely hits that sweet and salty spot just right.
The Marshal
628 10th Ave
b/t 44th St & 45th St
Hell's Kitchen, Midtown West
New York, NY
I wasn't expecting to find any decent restaurants when I first Yelped the area we needed to be in for the play, so I was pleasantly surprised when I looked at The Marshal's menu. They boast farm-to-table fare, and the menu is a perfect balance between healthy food and comfort food. So, while there's a "Three Kale Salad" and a "Montauk Cod in Parchment", there's also a "Wood Oven Mac 'N Cheese" and a "Beef Winter Stew". Everyone wins! Plus it's dish after dish of comfortable basics with an intriguing twist, which is what I am most attracted to when I look at menus.
We started with their wood oven french loaf with homemade butter. I had a piece, and was dying to have more (I knew I shouldn't due to that cookie). It was served warm, with a lightly crunchy crust and a center that was nice and soft. Don't try even one slice if bread is your weakness ;).
We decided we would split an appetizer, a main course, and 3 of their farm sides. We figured since we were splitting them, all of those would be just the right amount of food for us. It ended up being so much more food than we could handle, but they were all very good. We started with an appetizer of shaved raw butternut squash salad (so gorgeous, and such an excellent idea), with NJ goat cheese, toasted walnuts, dried NY cherries, and a sherry vinaigrette. One of my problems with spaghetti squash has always been that despite it being a good substitute for pasta, it just looks unappetizing to me. Shaved butternut squash is similar and flavor, with slightly more crunch and ++ points for being a lot more presentable.
One of our three farm sides was the roasted rutabaga with spices. I was not a fan of this one. To be honest, I really have no other rutabaga dish to compare this to, because I'd never had it until that night. Their rutabaga tasted mostly raw to me, with a very (not in a good way) crunchy texture. It was also pretty bland.
Our second farm side was a roasted tomato on a bed of greens (I don't have all the details because it's not on their regular dinner menu). This one was a lot better. Everything was fresh, in the way that makes salads seem to be not so bad.
The winner out of all the farm sides was the Satur Farms sweet potato & kale au gratin, with Tonjes Farm parmesan and Pennsylvania Swiss cream. I mean, who am I kidding, this was definitely the least healthy, but at least we tried with the kale and the sweet potato ;).
Our main was the wood oven roasted Massachusetts spiral ham, with honey glaze, macintosh apple compote, Satur Farms braised red cabbage, and Berkshire bacon. This dish reminded me of holiday seasons back home, when we usually had honey glazed ham for almost every meal until it was gone, and I somehow still loved it every single time. Since moving here I haven't had a honey glazed ham that came close to all those hams back home, until this dish at The Marshal. I would recommend coming here just for the ham.
Pearl Theatre
Rosencrantz and Guildenstern are Dead
555 West 42nd Street
(between 10th and 11th avenue)
New York, NY
I took this photo super fast (can you tell?) before hurrying inside because it was basically 5 minutes to curtain-up. We were in the third row I believe (off-Broadway rocks).
If you're not familiar with this play, it's an expansion of the characters Rosencrantz and Guildenstern in Shakespeare's Hamlet, with most of the scenes happening in between those in Hamlet, with a little overlap. There's a movie version with Gary Oldman and Tim Roth in it, if you're really itching to watch it and don't know where to.
I'm not really equipped to review a play like this (slightly intellectual, non-musical), so all I'm going to say is I thoroughly enjoyed it, despite the woman behind us commenting that the original was so much better lol. To be fair, its original Broadway run won 4 Tony Awards including Best Play, so I guess I should probably give her the benefit of the doubt. I laughed a lot, got teary-eyed at the end, and it had the gears turning in my head the entire time, so all in all I would say it was money well-spent.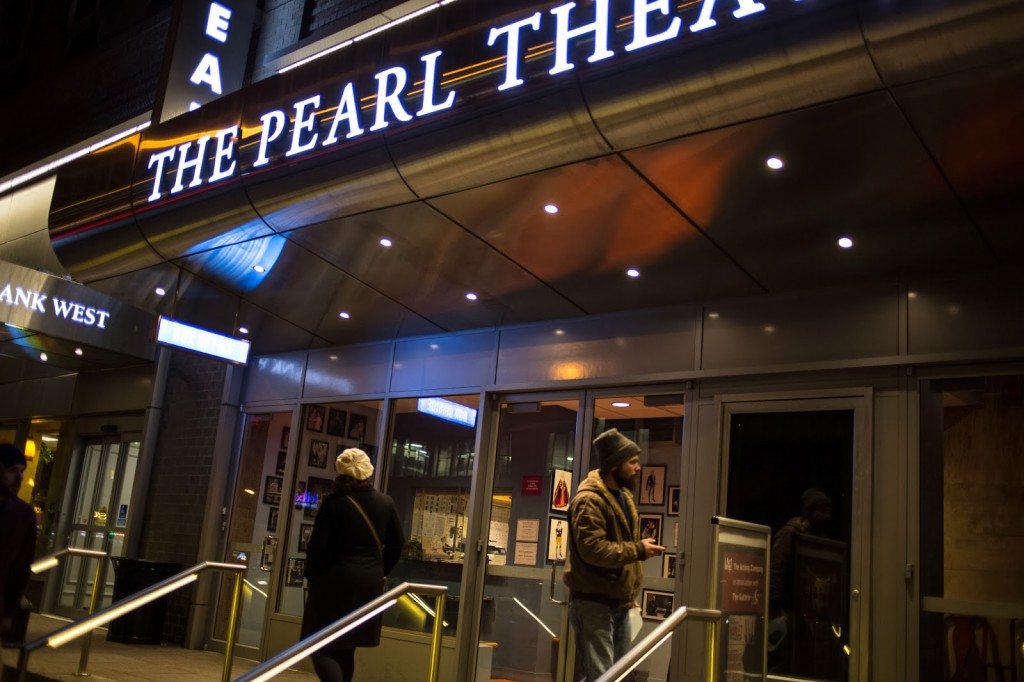 Map of this Walk