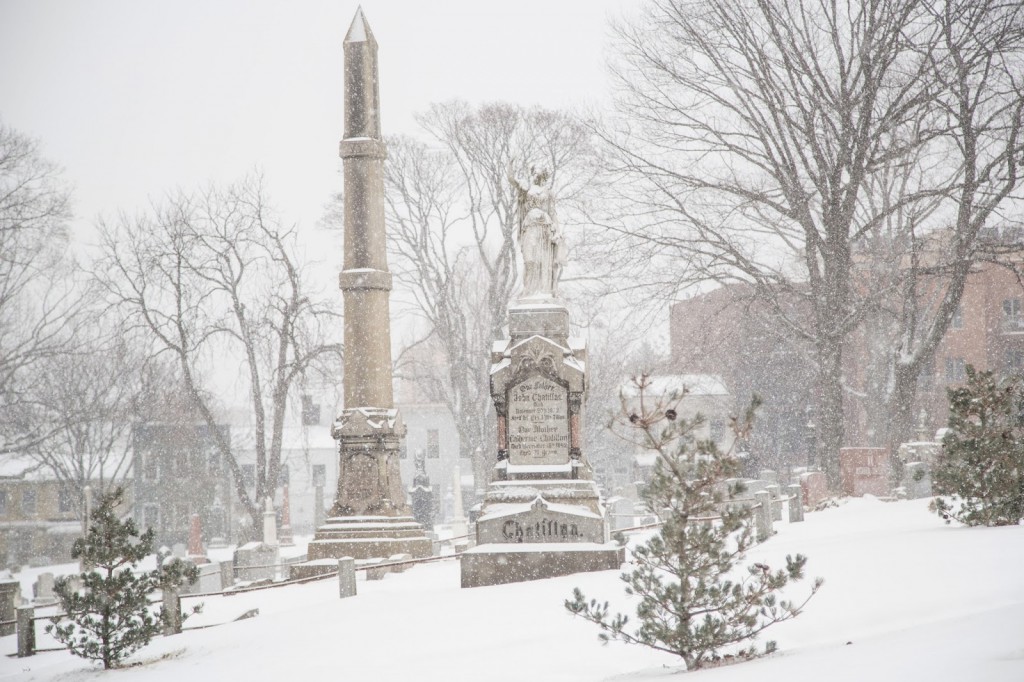 A few weeks ago, I found myself out of ideas for things to do in the city. Of course, "If you're bored in New York, it's your own fault." is just as true now as it's ever been, so I quickly browsed the internet for ideas of where I can take great photos, and I found Green-Wood cemetery in Brooklyn. Now, there are plenty of old, beautiful cemeteries in NYC (particularly in Queens), but Green-Wood appealed to me because I happen to have a few close friends (Katie and Kim) who live in Brooklyn, and I thought they would enjoy this walk as much as I would. And I was right.
Cafe Zona Sur
4314 4th Ave
(between 44th St & 43rd St)
Brooklyn, NY 11232
We started with a very late brunch at Cafe Zona Sur, which is listed under the category "American" on Yelp, but the menu is really a collection of dishes from of a whole bunch of cuisines (French, Mexican, Italian, and American).
We ordered some hot drinks to warm up our fingers, which were somewhat frozen from the cold and the snow outside. I'm gonna go ahead and tell you to order their Nutella hot chocolate if it's available (and if you like Nutella), because it is DIVINE. It's rich and creamy, but not overly sweet. And you can definitely taste the Nutella in there. Perfect for a wintry day such as the one we had on our walk.
I had the huevos rancheros, because I usually order eggs for breakfast, and I was craving avocado. It was delicious, and made me think I should start making huevos rancheros regularly for breakfast (with a smaller tortilla and a smaller portion of guac this would be pretty healthy).
Kim had the Zona Sur burger, which is topped with gruyere, caramelized onions, and a roasted tomato, on a brioche bun. I didn't have it, but it looks amazing.
Katie had the croque madame, which she seemed to love. This is one of my favorite French dishes (second only to duck confit, I think), and I would have ordered this if I hadn't had a killer craving for huevos rancheros that day.
The place is nice and cozy, though it has a decent number of tables. It wasn't crowded at all when we got there, though the weather could have discouraged other people from going, but we definitely talked about how we should start regularly going there. Whether or not we actually will, I don't know. 🙂 New York comes up with new (and old) places for us to check out everyday.
Green-Wood Cemetery
500 25th Street
Brooklyn, New York 11232
Since it was cold I got a little lazy about looking up the cemetery once we were out (our hats/hair were covered with snowflakes five minutes into the walk), so we just meandered in the general direction of the cemetery after eating. Because of this, we missed the entrance on 4th avenue and 35th street, and had to walk all the way to the main entrance on 5th avenue and 25th street (see the map at the end of this post). It was about 22 minutes of peeking between bars into scenery such as this one and wishing we were already inside taking photos. Needless to say, we were pumped and a half by the time we got to the entrance.
As soon as we spotted the entrance, we knew we had made the right decision in going despite the fact that it was snowing. I can imagine this place still being gorgeous any season you want to go, but the snow just gave it a beautiful kind of loneliness.
And then we also discussed how these geese should probably have flown further south.
And Katie checked to make sure she was taking amazing photos as per usual.
As we walked down 5th avenue, we saw several roses blanketed in snow from outside, and kept exclaiming how we should've been inside to see them close up, but I thought these more than made up for that.
The path going into the cemetery from the entrance is lined with these sad, creepy-looking trees. One of us remarked that whoever planned that had great taste. I say had because it was founded in 1838, and I assume whoever that was is no longer around, though they may be somewhere in Green-Wood. Here's a short description from their website:
Founded in 1838 and now a National Historic Landmark, Green-Wood was one of the first rural cemeteries in America. By the early 1860s, it had earned an international reputation for its magnificent beauty and became the prestigious place to be buried, attracting 500,000 visitors a year, second only to Niagara Falls as the nation's greatest tourist attraction. Crowds flocked there to enjoy family outings, carriage rides, and sculpture viewing in the finest of first generation American landscapes. Green-Wood's popularity helped inspire the creation of public parks, including New York City's Central and Prospect Parks.
The first few minutes of our walk was a lot of fun, despite the fact that we were in a cemetery and probably should have been contemplating our mortality. The "Girls" episode "Dead Inside" comes to mind. Don't worry, there was plenty of that towards the end.
Even the signs for the roads and paths inside the cemetery are beautiful.
I had used the words "weeping angel photo shoot" (from Doctor Who) when I originally tried to entice Kim and Katie into accompanying me, and we very quickly found this one.
And then we found a few more angels like the one on the right, but were too distracted by the fact that someone put a giant bear on top of their tombstone on the left.
A few minutes later, it started to get dark. We realized that the exit signs had disappeared, we were no longer walking on clear paths, and we hadn't seen any lights whatsoever since we lost sight of the entrance.
Around the time I was taking this photo, we were contemplating being trapped there and fighting over the half a scone that Katie had brought with her and "drinking" snow, before slowly freezing to death. Or having to force our way into mausoleums to find a warm place to sleep.
Katie texted her boyfriend (our good friend Jack) that we were trapped in the cemetery, and he replied that he hoped we were getting some good photos at least. Trollolol.
And then Katie pulled up Google maps on her phone (Google, preventing people from freezing to death in cemeteries since the year so-and-so), and we finally spotted lights, and the entrance in the distance.
And then one of the cemetery workers rolled up to us in his car and said someone would be along in a few minutes to open the gate, since the cemetery was already closed. I think he said something like "You will notice, the gate is closed", which either Katie or Kim later translated to "You will notice, you are idiots.", which would've been spot on. He also "encouraged" us to use the paths to walk on instead of the roads, because it's very slippery (Kim had apparently slipped and fallen while we were obliviously approaching his car).
Of course, we ended up still walking on the road, and even taking photos on it.
The one above is extremely brightened, because I wanted to be able to see my friends' faces, while the one below is more representative of what everything looked like by the time we walked out of the entrance.
Then we chatted for a few minutes by the gate as we waited for someone to open it for us. At one point, a bus was stopped right in front of the gate, and I think we were cackling about being stupid enough to get trapped inside while he stared openly at us. He was either wondering if we were ghosts or witches, or thinking how ridiculous it is that a bunch of women are trapped inside a cemetery and still cackling. We meant no disrespect, we were laughing at ourselves after all.
Baked in Brooklyn
755 5th Ave
Brooklyn, NY 11232
Right in front of the main entrance is a little baked goods store called Baked in Brooklyn. The actual store is small, but you can see the warehouse/bakery where they make the baked goods through a glass wall, and it's pretty cool. You can also grab packs of bread loaves for a dollar each at the end of the day.
They have a pretty good selection of donuts, muffins, cupcakes, croissants, brownies, and bars. They even have a few cakes.
We shared a chocolate chip cookie, this gorgeous cupcake, and a coconut bar between the three of us, as we sipped steaming cups of coffee to thaw from our walk. Everything we bought was delicious, so I highly recommend this place.
By the time I started taking photos of the food, my camera lens had fogged up really badly, so that soft focus effect isn't intentional. My camera survived though, which is what really counts.
All in all, it was a very successful walk. I only wish we'd had more time to explore the cemetery, but I have an inkling we'll back sometime this year.
Map of this Walk