The holidays are upon us, and I'm a little busy planning what to make for Christmas and where to go for Christmas Eve, but I wanted to get a post in before I plunge into a few days of food coma starting tomorrow. I also figured I might as well finish the Italy posts before ushering in the New Year.
Ravello was probably the town I was most excited about when we started planning our trip to the Amalfi Coast way, way back before our wedding (we didn't actually get to go until this year, obviously). It was mostly due to daydreaming about the amazing Palazzo Avino (previously known as Palazzo Sasso). But as we got closer to fulfilling the dream of making it to the Amalfi Coast, we realized it would be way too expensive, and a bit inconvenient to stay there. We were pretty happy about our decision once we'd made the very long and arduous drive up to Ravello, which is 1,000 ft above the Mediterranean. It's definitely not the easiest place to get to.
We drove from Hotel Excelsior in Sorrento to Ravello, which according to Google maps says can be driven in about an hour and 10 minutes. We probably took about 2 hours to get there. I'm not going to bore you with how intense the driving experience was, since I already discussed it during a previous post, but all I can say is, it didn't get any better. Despite all that, the views were breathtaking, and even though we had no time (or parking space) to stop at the towns of Praiano and Amalfi, that didn't prevent us from appreciating the drive.
Once we got to Ravello, we parked at the first lot we encountered (the travel books can't say enough about how little parking space there is). We walked up some stairs, and then up this gorgeous path.
At the end of the path is a little plaza with a small garden overlooking part of the town. There are a few hotels at the plaza, but when we got there it was mostly deserted, and very peaceful. I found myself wishing I had the time to just sit there all day, sipping a cup of coffee and reading a book, with the birds chirping in the background.
After taking a moment to enjoy the area we took a turn somewhere and followed a path that led towards Palazzo Avino. We had decided to have lunch at their Terrazza Belvedere (their casual dining restaurant) so we could at least take a look inside the hotel I had once dreamed of. The way there was certainly not devoid of sights either.
This garden, which also overlooks the town, is right beside Palazzo Avino. You can see I'm sporting a bit more weight here than in my previous photos from the trip. 😛 I don't think you can blame me, it had been over a week of heavenly mozzarella, fresh pasta, and more gelato than I'd ever had in my entire life!
Upon entering Palazzo Avino, you are given a peek at what's to come.
We made reservations at the Terrazza for about an hour later, and we headed back the way we came to visit Villa Cimbrone.  We passed by a few more "outside cats" on the way there. There are so many of them that one of our guide books concluded that during the off-season, there seem to be more cats in the Amalfi Coast than there are tourists. They all seemed to be well-fed and in good shape, and we noticed plenty of people feeding their cats outside as well.
On the way to Villa Cimbrone, there's a small farm which apparently provides fresh produce to one of the restaurants in the area. We didn't look up the restaurant, since we had already made reservations, but the farm was certainly lovely.
Villa Cimbrone is known for its gardens, which we did enjoy, but were certainly not its main attraction. If you're interested in epicurean delights, Villa Cimbrone is home to the restaurant "Il Flauto di Pan", which boasts 1 Michelin star. We made a dinner reservation there, but it was one of those things we didn't get around to doing.
We mostly came for the belvedere, or the "Terrace of Infinity". The sun was at its highest at this point, so we didn't linger for too long, but it was definitely worth seeing, and it's one of those things I wish I had been able to capture better.
I seem a bit frowny here, but it's mostly due to the sun.
We didn't have a lot of time to hang around Villa Cimbrone anyway, since we had to get to our reservation on time, so we headed back after seeing the terrace.
Terrazza Belvedere @ Palazzo Avino
The view at the Palazzo Avino was probably my favorite out of all the terrace-type restaurants we'd been to in the Amalfi Coast. It certainly helped that the hotel itself, which you can observe from the restaurant, is also gorgeous and well-mainted. The food left something to be desired, although their presentation was certainly delightful.


I believe I ordered a strawberry daiquiri, which I remember wasn't very good, though it certainly looks cute in the picture.
Mike and I shared a very simple pasta course, one of those olive oil and cheese affairs, with a few walnuts sprinkled on it. This one was actually good, and I kind of wish we had ordered two types of pasta.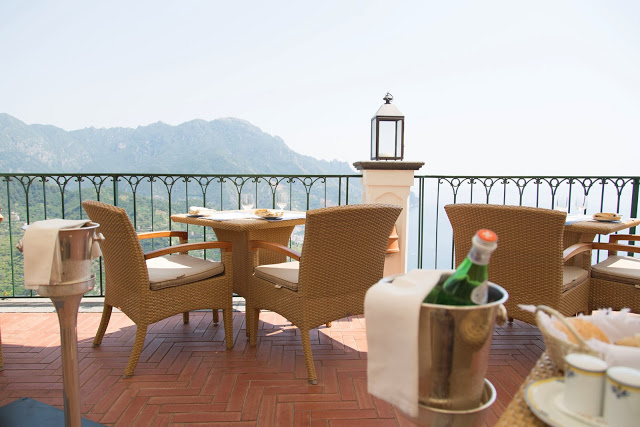 View from Terrazza Belvedere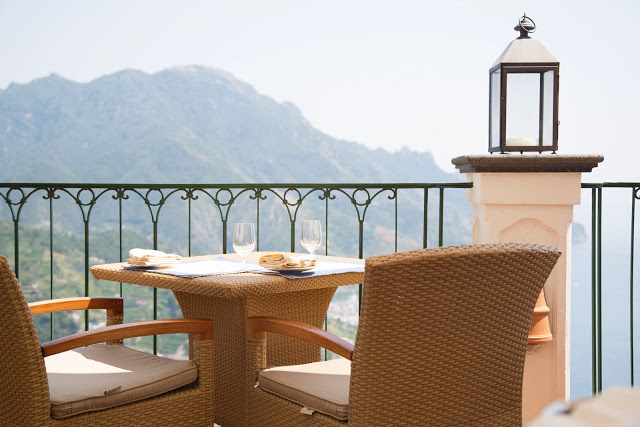 View from Terrazza Belvedere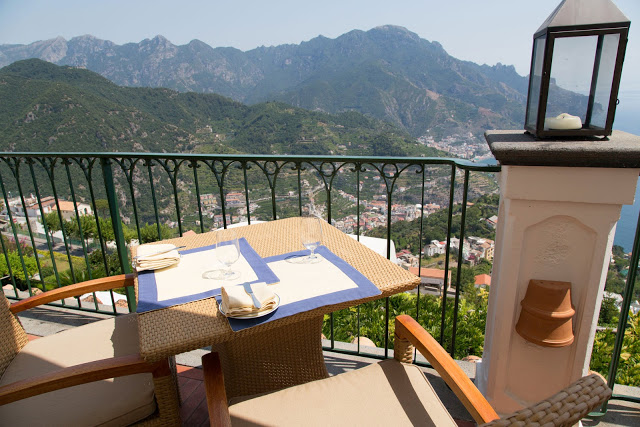 View from Terrazza Belvedere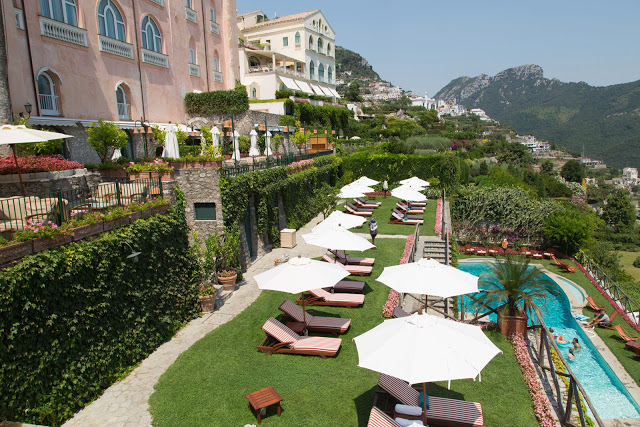 View from Terrazza Belvedere
I had a fried seafood dish, which was served on a cone perched on top of a glass full of blue salt.  This seems to be a popular way of serving it, because I saw a similar photo on a guide book, describing Don Alfonso 1890, one of the most popular restaurants on the Amalfi Coast. This was probably the best out of all three dishes we had, and I'm not surprised, since most of the seafood dishes I had ordered had been spot-on. Not so much the meat dishes though, as demonstrated by the next dish.
Mike had the chicken with a diavolo sauce, which he unfortunately hated. The chicken was dry, not very tasty, and they certainly did not make any effort with the presentation.
Still, we had this view at least!
On our way back we passed by a few more cats. This one was hunting a mouse, which it promptly captured and did things to that made it squeak (eep).
This one was eating a bunch of food which seemed to have been left there for any passing cats.
In the middle of the town is a very wide plaza. From here there are a variety of shops and restaurants you can visit.
Or you can just hang out underneath the canopy of these massive trees.
We went into a little store to grab ourselves a Ravello refrigerator magnet and a lemon-scented and shaped soap.
And then we went and sat inside a cafe which was extremely crowded outside and completely empty inside. We chose to sit inside since it was really hot and we were very tired.
I perked up with a little coffee granita (cafe freddo).
And we got a variety of pastries. We overdid it a bit and mostly just ate the blueberry cheesecake tart.
Villa Rufolo is also known for its gardens. In fact they are said to be so beautiful they inspired the garden scene in the second act of Wagner's Parsifal.


When we visited though, quite a bit of the garden was covered with a massive stage overlooking the sea, which they use for a music festival that they host every year.
We were a bit disappointed that we hadn't known about this in advance, since we obviously would have loved to see a performance there, but maybe someday we could come back and spend an entire week in Ravello and be there for this.
Though to be honest, there really wasn't much we could complain about. Even without the music festival, the town of Ravello was truly an unforgettable place.
Related Posts:
Not Bored in Rome, Italy, Day 1: Isa Hotel, Piazza Navona, The Pantheon, and Ad Hoc Restaurant
Not Bored in Rome, Italy, Day 2: St. Peter's Square, The Colosseum, The Roman Forum, and Food Shopping!
Not Bored in The Amalfi Coast, Italy: Positano
Not Bored in the Amalfi Coast, Italy: Capri
Not Bored in Italy: Sorrento