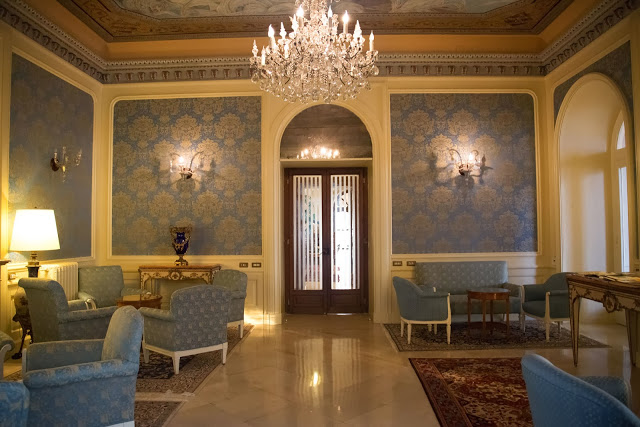 Hotel Excelsior Vittoria in Sorrento
On the day we left for Sorrento, we woke up bright and early so that we could have breakfast in Positano and enjoy the amazing view one last time.
The road was a few hundred steps up from our hotel, and right at the end of those steps sat Caffe Positano. It was one of the few places that seemed to be open for breakfast that early. I had my usual cafe freddo (coffee granita with whipped cream).
Most of the tables were on the cliff side of the road, while the kitchen and coffee bar was on the other side. During the day, they also have a little gelato cart.
They were serving "American-style" breakfasts, which seemed to have been designed with American portions in mind as well.
The drive back to Sorrento (which is between Rome and Positano) was pretty uneventful. We got to the hotel early, and had a bit of time to relax. We went around the grounds for a bit before hitting the poolside restaurant.
L'Orangerie @ Hotel Excelsior Vittoria
The restaurant setup was fairly simple, but it was nicely located in the middle of an orange grove, and right by the pool.
The food was simple but phenomenal. We started with some bruschetta pita. As was the usual in that area the tomatoes were so fresh and tasty.
I had a pina colada, just 'coz it seemed like the thing to order by the pool.
We had L'antipasto Sorrento (Sorrento's appetizer plate) which consisted of  local ham (or prosciutto), buffalo mozzarella, fried ravioli, salami, and bruschette. The salami over bruschette was my favorite, but the mozzarella and prosciutto (specialties of the region), were as always, fantastic.
We also ordered the fried calamari and prawns with orange flavored yogurt dressing. The batter was very light, and instead of flour I believe they use cornmeal or something similar.
Mike ordered a very simple gnocchi. The texture was so perfect that I couldn't stop stealing it off his plate.
After lunch  we went for a short swim and did some reading by the pool.
When we got back to the room, we found out the hotel had set up a few anniversary presents for us, in addition to upgrading us to a seaview room.
We went around the hotel a bit more after, and I had coffee in the balcony area before we set out since we had reservations at Don Alfonso 1890, supposedly the best restaurant in Campania.
We did not make it to Don Alfonso. We got so ridiculously lost (using a GPS device and Google Navigation), and ended up driving around for two hours, going up and down a mountain, and several inconceivably tiny "streets" before giving up. We were going to take a cab, but couldn't find an ATM to get the cash for it. We ended up looking for a restaurant near the main shopping area of town (Corso Italia), where the hotel is smack in the middle of.
Sorrento is far from being the one of the most beautiful of the Amalfi coast towns (though the views from Excelsior Vittoria were also gorgeous), but it's flat (and therefore easy to walk around in), and has a lot of choices for shopping, restaurants, and bars. We had several conversations about staying in Sorrento as a "base of operations" if we ever find ourselves vacationing on the Amalfi coast again.
I Giardini di Tasso


Via Santa Maria Della Pieta 30
80067 Sorrento, Italy
Since we had already gotten hopelessly lost, we wanted to find a restaurant that was near the hotel and easy to get to. We had no such luck. This restaurant is on Via Santa Maria Della Pieta, which is parallel to Corso Italia, so we kept walking around Corso Italia looking for it, but if you really want to get there, you need to slip into a little alleyway between the church and Corso Italia.
It was quite pleasant once we actually found it. It's in a lemon grove, and Mike even got hit on the head when a lemon fell from the tree right above us (and almost got into a fight when the guy in the table beside us started laughing hysterically).