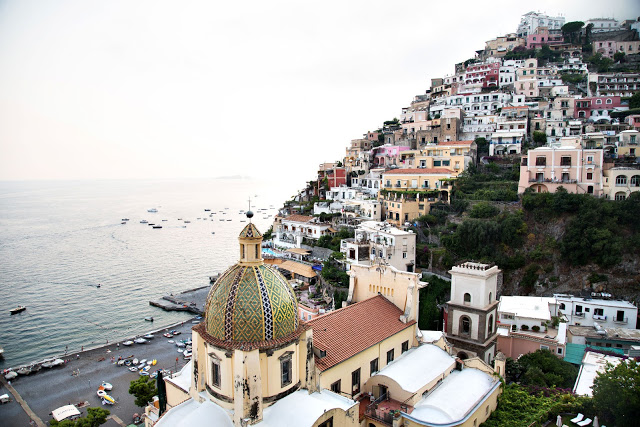 From Rome, we left bright and early for our 4-hour drive to the coast, and took a cab to the Termini railway station to pick up our rental car. On the way there, our cabbie entertained (and frightened) us with stories of Naples and how:
It's so dangerous there that people don't dare wear motorcycle helmets for fear someone would shoot them since they look "suspicious". (Why aren't you showing me your eyes? You're a killer, aren't you? I'll kill you first!).
Everyone is so wary of Napolitanos that they get held at immigration when nobody else is.
Policemen don't have much authority in Naples.
We shouldn't carry wallets at all and keep our money in our shoes, socks, etc.
Now, I'm not sure if any of this is actually true, but it sure scared us enough that we decided not to stop at Naples on our way back to Rome from the coast.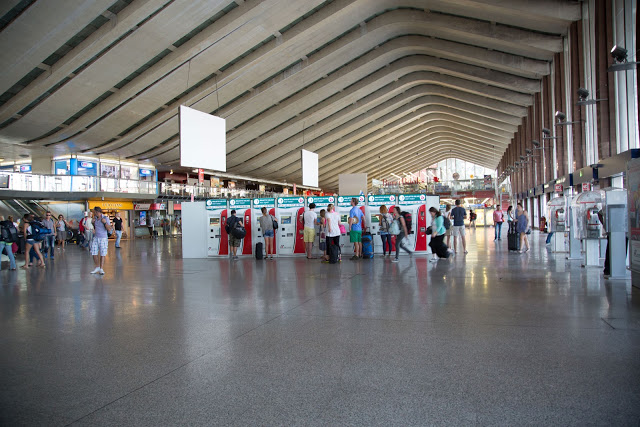 Termini station
After struggling with the GPS a bit and freaking out about how crazy the drivers were we were finally on our way. We took the A1 (or Autostrada 1) most of the way down. If you're ever planning to do this drive, you should probably know that this highway is super straight, which is good, but the cars in the passing lane go extremely fast, with absolutely no regard to the speed limit. We did not see a single cop car the whole way down and back up.
Auto Grill
We stopped at one of their rest stops, called "Auto Grill". This is the name of a chain of restaurant/cafe/mini-grocery store combos that service most of the Italian highways, and has become synonymous with any rest stop on their highways over the years. The restaurant is self-serve, and as you're paying, they ask you for your coffee order to be picked up after your meal (Italy = coffee after every meal). You can't exit without passing through the mini-grocery aisles full of Italian sweets, gourmet food, and even toys to give to your loved ones at the end of your trip.
Rest stops in Italy are not quite the same as rest stops in the US. For example, we had the following at the Auto Grill:
Pancetta, buffalo mozzarella, tomatoes, and olives on toast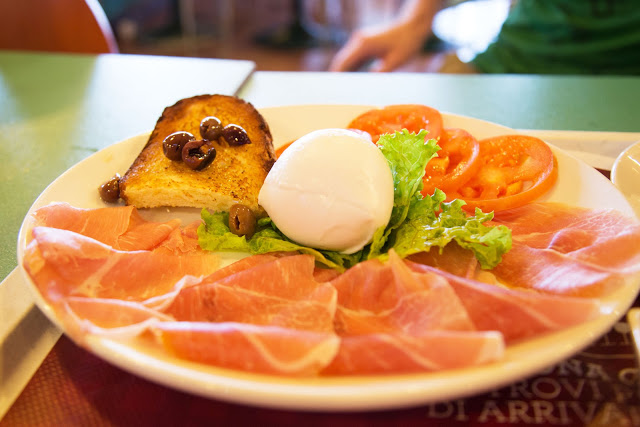 Cheese tortellini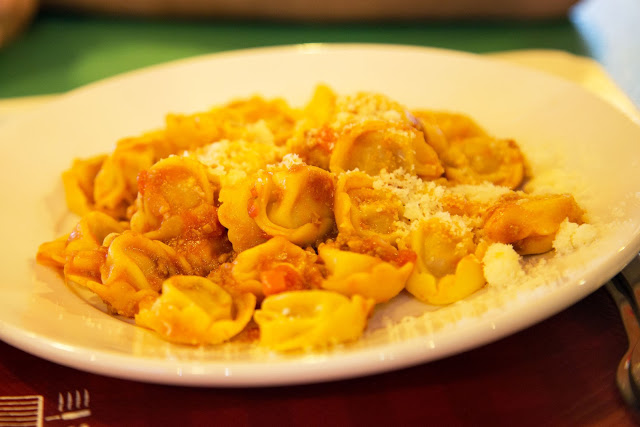 Strawberry shortcake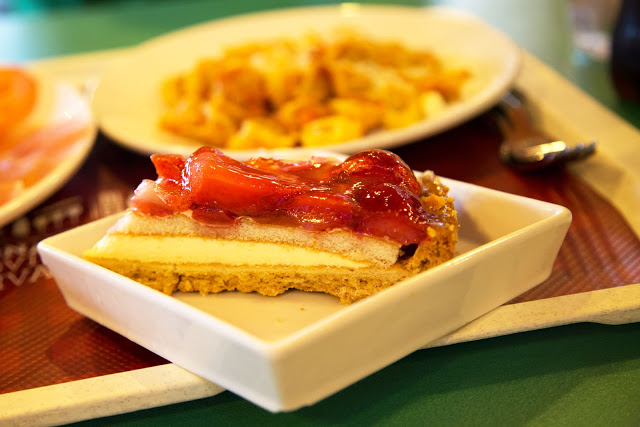 The proper plates and utensils encourage you to actually sit down and have a nice meal, and the condiment section has bottles of olive oil and balsamic vinegar. Everything we had tasted fresh and delicious. All in all it was quite a pleasant experience.
Driving the Amalfi Coast
The Amalfi Coast drive is listed on
National Geographic's "Drives of a Lifetime"
, and is "widely considered Italy's most scenic stretch of coastline", but they certainly make the driver work for it. I have to admit, I had a mini-freak out in Rome regarding driving the Amalfi Coast, so much so that Mike had to remind me that I wasn't helping his state of mind at all (and was actually in fact, driving him crazy). It was partly because of the persistent reminders in the travel guides we brought with us of how steep, scary, and dangerous it is.
Here's an example from Fodor's:
Rules for Driving the Amalfi Coast

The following empirical rules for driving the Amalfi Coast are not likely to be found in any of the standard tourists' guides:

1. Don't look down.
2. Don't look up.
3. Don't look–it's easier that way.
4. Forget about camels not passing through the eye of a needle.
5.Timidness will get you nowhere–literally.
6. The solid center line in the middle of the road is merely a suggestion.
7. Whoever gets to a lane first has the right of way–it doesn't matter whose side the lane is on.
8. Traffic mirrors are put there so that you can see what you are about to hit head on.
9. Tour buses WILL back up. (This one is true; they don't want a fender bender that will upset the itinerary of all their passengers.)
10. Garbage trucks WON'T back up.
11. Motorcyclists are fearless.
12. Pedestrians are fearlesser.
13.Five headlights coming toward you equal two cars plus one motorcycle, or one car plus three motorcycles, or five motorcycles, all equally probable.
14.The probability of an accident is very low; at 40 mph around a hairpin curve 1000 ft above the sea EVERYONE pays attention. (Same is true for the Autostrada: at 130 mph, nobody's attention wanders.)
15. Have plenty of limoncello on hand at the end of a day spent driving the Coast.
At the end of our trip, Mike commented that a few of these weren't true (especially the one about buses backing up), but it definitely was as stressful as the list suggests. Some areas are narrow for sure, so narrow in fact that they've installed stop signs in areas where only one car can pass. So if you're driving there and you see a stop sign in the middle of a road for seemingly no reason, you should stop to avoid a collision with oncoming traffic (or to avoid backing up awkwardly off a cliff).All the crazy driving seemed worth it though, as we pulled into a scenic point for our first glimpse of the coast. This one is right before Sorrento, but you'll find these all over SS163 (the actual name of the famed Amalfi coast road). You'll have to find one that has an empty slot to pull into, because these are often filled with tour buses and drivers wanting to see what their passengers are ooh-ing and aah-ing about.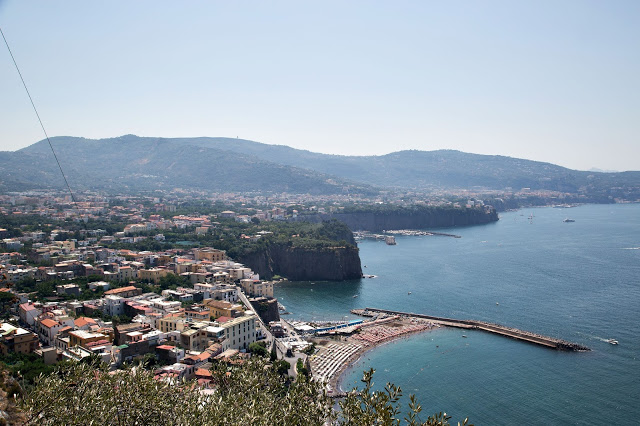 View of Sorrento from the Amalfi Coast drive
Hotel Miramare
We picked Miramare since it was #2 out of all the hotels in Positano at the time. The view is gorgeous if you pick any of the hotels that are facing the sea, so I think their ranking is partly due to the wonderful service and partly due to its location. It's close enough that it's within walking distance to the beach, but high enough that it's also within walking distance to the road, where you can find all the nicer restaurants and shops.Parking is incredibly difficult on the steep, one-way streets of Positano, which are full of cars already parked and pedestrians walking in the middle of the road, so if you don't want to keep making rounds driving up and down the hill, you should call ahead and tell your hotel when you're coming. We did not, but got lucky enough that there was a spot near the hotel's parking lot where we could wait as the hotel sent someone to open up a space for us. The sign for the parking area was really small too, and the hotel is a few hundred steps down from the road, so there's really no indication of where it is other than the tiny parking lot.
The room was simple but pleasant, and had a decidedly nautical theme. It made me think of the cartoon "The Little Mermaid", with its white, aqua, and brown colors, punctuated by the gold accents.
The view from the balcony was spectacular, topped only by the view from La Sirenuse hotel, where we had dinner later that night.
The bathroom was pretty normal, though I can say it had fantastic water pressure, and I loved the little mermaids on the shampoo and bath foam bottles.
The hotel is situated perfectly if you're somewhat fit (or looking to lose some weight/maintain during your vacation). But if you're ever planning to book there, keep in mind that there are still around 200 steps going up to the road, and around 100 steps going down to the beach. If you want to stay relaxed and not deal with hauling yourself up and down stairs during your entire stay, you should probably look to book one of the hotels that are right on the boardwalk/in front of the beach.
I was in dire need of coffee and Mike was in dire need of a drink after experiencing part of the Amalfi coast drive for the first time, so after setting down our stuff at the hotel, we immediately headed down to the beach for some drinks.
After some slight confusion when we were told we couldn't sit at certain restaurants if we were only having drinks, we finally were seated at a bar right where the path opened to the beach. I had a frozen cappuccino (not easy to find/order), Mike had a lemon sorbet and bruschetta.
At this point another American couple tried to make small talk with us, but Mike, still wound up after the drive, got immediately annoyed at the guy for pretending not to know where New York is as a joke ("New York? And that is… where?"). The woman immediately tried to escape from the awkwardness by writing on her little notebook. I have no doubt we will surface on some travel blog someday as that "really rude couple from New York".
Le Sirenuse Hotel
After drinks we hung out at the room to do some more planning for the week, and then prepped to go to Le Sirenuse hotel for dinner at La Sponda, a restaurant with 1 Michelin star. Since it was quite a bit of an uphill walk, we left pretty early. It was humid and we were dressed for a nice restaurant (Mike with a vest, me with a cropped blazer), so the walk was really exhausting and sweat was pouring off me as if I was in a Bikram yoga class by the time we got there. Note to the unfortunate people with over-active sweat glands like me: Do not attempt to walk around Positano in the middle of summer. Take the bus, or bring a towel.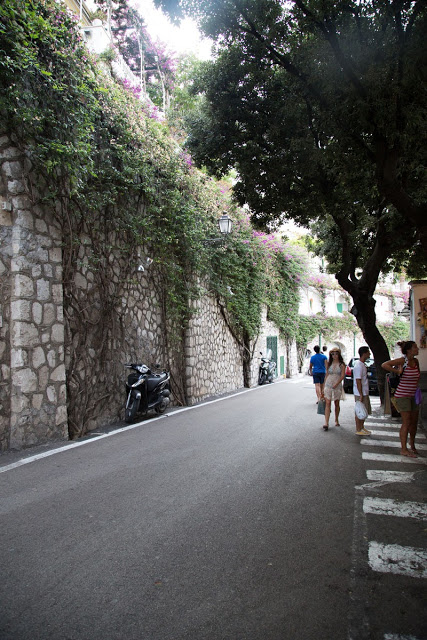 Le Sirenuse is known to the locals as the best hotel in Positano, though it seems Trip Advisor reviewers disagree (it is listed as #6 as I'm writing this). To be honest, I wanted to visit because this is where Faith (Marisa Tomei) and the two fake Damon Bradleys (Robert Downey, Jr. and Billy Zane) met up on the Amalfi coast leg of the crazy soulmate seeking trip in "Only You", but it was certainly a plus that they have a Michelin-starred restaurant and are clearly beloved in the area. It was quite a thrill walking up to the hotel, the facade of which hasn't changed since the movie was made.
Champagne and Oyster Bar @ Le Sirenuse HotelDespite the uphill walk and the insane humidity/temperature, we got to Le Sirenuse early. Since the restaurant was not open yet (it opens at 8:00 pm), we decided to have drinks at the champagne and oyster bar. The drinks were only okay and somewhat expensive, but if you're coming to Le Sirenuse just for the view, then it's totally worth it.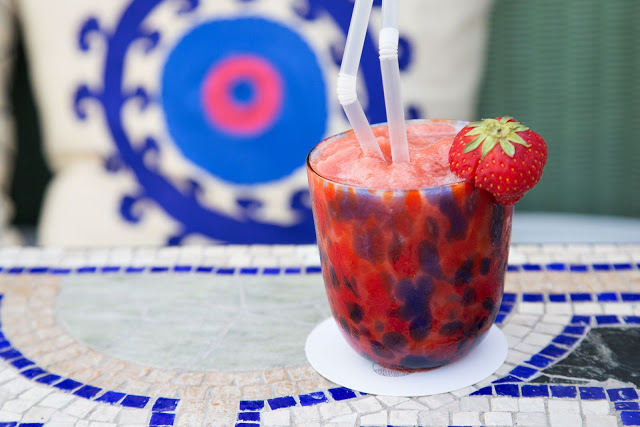 Strawberry Daiquiri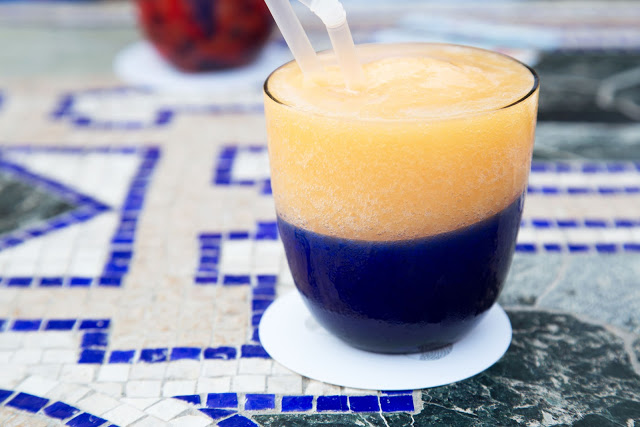 Mango Margarita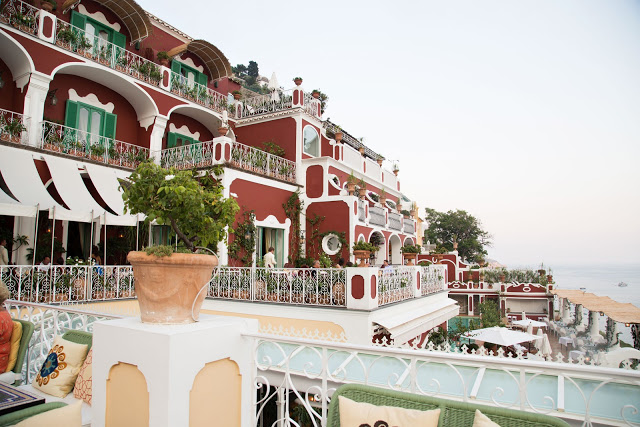 View of Le Sirenuse from the Champagne and Oyster Bar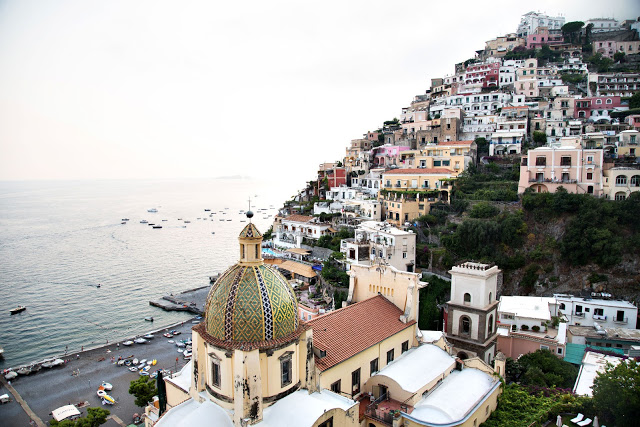 View of Positano from the Champagne & Oyster Bar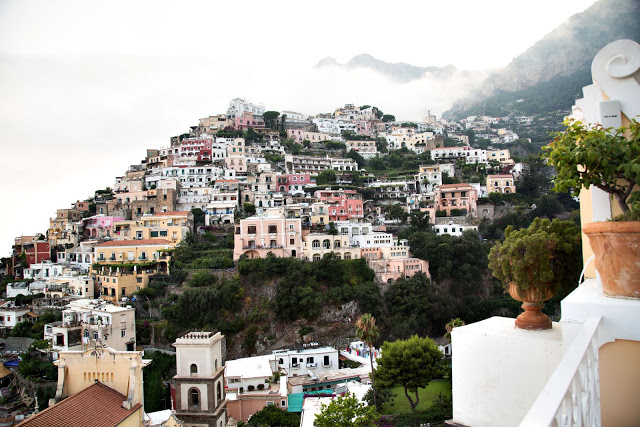 View of Positano from the Champagne & Oyster Bar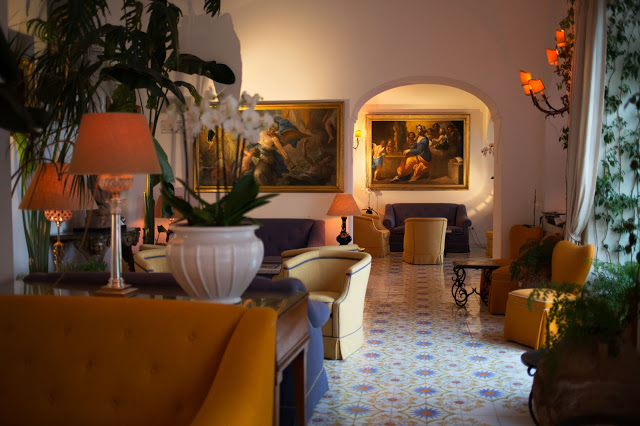 Sitting area at Le Sirenuse Hotel
La Sponda Restaurant @ Le Sirenuse Hotel
Here's how the restaurant is described on their website:
La Sponda restaurant (* guide Michelin) is lit, at dinner, by four hundred candles that create an unforgettable atmosphere. The cuisine is based on local, fresh ingredients and is inspired by the Mediterranean tradition.
The description is on target, and so much more. The candles do add quite a bit of romance to the atmosphere, but the fact that La Sponda is on a terrace on the side of the Sirenuse with a sweeping view of Positano, just took my breath away.
You will have to excuse my poor description of everything we ate there, since there is no menu for La Sponda to be found online, and I was having too good of a time to make notes that night. 🙂
They started us off with some bread and vegetable sticks, and glasses of prosecco.
The amuse bouche was something akin to an ice cream sandwich, but savory. The crumbly crusts and the frozen center were very cheesy, and I believe this was made with parmesan cheese.
Restaurants in Italy allow you to savor each course quite a bit, so I had a lot of time to take in the scenery and take some photos in between.
Amuse bouche #2 was shredded squid in ink. I remember it tasted like a swim in the ocean, which is either good or bad depending on how much you like seafood.
We ordered two appetizers, which we shared. One was a crab cake and the other was lobster. I loved that the crab cake was covered in a creamy jelly instead of sauce.
There was quite a bit of time between the appetizers and our primo course. So we had some time for sipping wine, light conversation, and settling into the idea that we were having dinner in the Amalfi coast.
As the sun set, the view changed, but this only added to the beauty of Positano.
We split the lamb tortelli with truffle shavings (and I mean SHAVINGS) for our primo. This was hands down the winning dish of the evening, and probably of our entire stay in Positano. The lamb was slow-cooked before being stuffed into the tortelli, and I remember the flavors being rich, but left me wanting more.
I'm not entirely sure what we had for secondo, but I believe it was short rib. I remember it being delicious as well, but it did not top the tortelli. At this point it was getting quite dark out, but I tried to make the most of what little light I had.
We had to order separate desserts, because, that's just how we roll. They gave us a raspberry sorbet as a bonus dessert, or maybe a palate-cleanser, before coming out with what we actually ordered.
I believe I had a coffee gelato inside a chocolate dome, which melted as they poured chocolate syrup all over it.
Mike had the lemon sorbet (again), which he enjoyed everywhere without fail, and we were served free shots of limoncello. These shots were given away everywhere we went, and kept us in a constant state of "buzzed" the entire trip.
After dessert, we were served some petit fours of macarons, little thumbs of chocolate cake, and fruit jelly.
Despite the tiny portions, three servings of dessert was too much even for us, so we decided to do a bit of walking on the coast to compensate for it.
If you ever find yourself in Positano and in need of beach attire, there are plenty of little boutique shops to choose from.
Ultimately we ended up going back to the hotel to hang out in our balcony and admire the view at night.
Related Posts:
Not Bored in Rome, Italy, Day 1: Isa Hotel, Piazza Navona, The Pantheon, and Ad Hoc Restaurant
Not Bored in Rome, Italy, Day 2: St. Peter's Square, The Colosseum, The Roman Forum, and Food Shopping!
Not Bored in the Amalfi Coast, Italy: Capri
Not Bored in the Amalfi Coast, Italy: Sorrento
Not Bored in Italy: Sorrento and Pompeii