We truthfully spent most of our days lounging around in Coron, doing things like getting massages, getting drunk by 3 pm, and other things that are the equivalent of bumming around. We did do two and a half days of activities though, which sort of made up for all the non-active days.
On our second day (I think), we went on a boat tour hitting some of the most popular spots in Coron. It was a perfect day to go out. The weather painted the sea all sorts of blue and green (I should probably point out that the next few photos needed little to no processing, certainly not color-wise).
Before anything else, we took a boat/ride back to the main town, and waited for another boat to take us on the tour.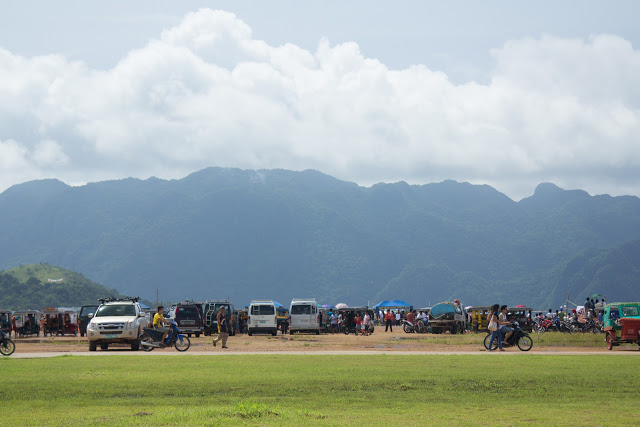 Near the dock in Coron Town
Snorkeling


The first stop was an island surrounded by coral and all sorts of marine life, and our boat was anchored a few hundred yards off of it. I don't remember what the island was called, but that was certainly the most interesting snorkeling I've ever had a chance to do, more interesting than the basic scuba diving area we saw in Boracay. So if you're looking for a great scuba diving spot, you might want to check out Coron at some point. (Following underwater photos by Mshel Reyna, processed by yours truly)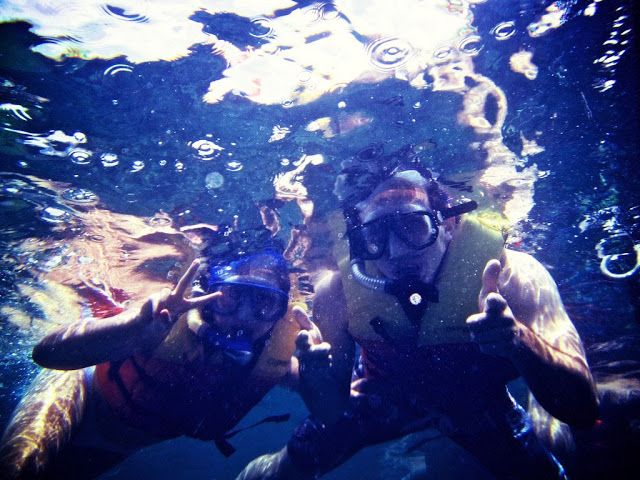 Michael and me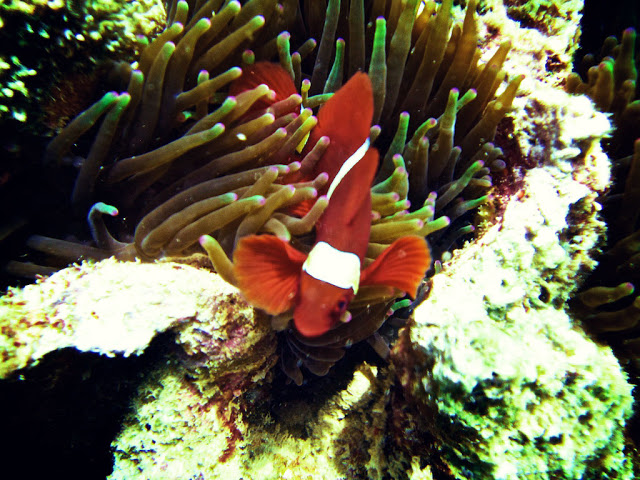 Nemo!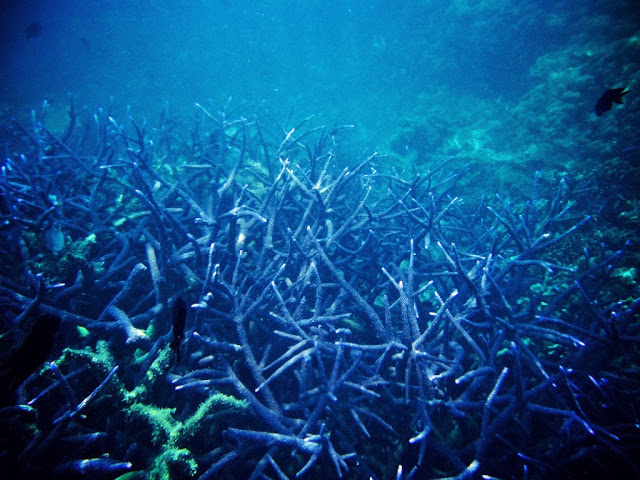 These corals had glowing tips, though it's not as obvious in this photo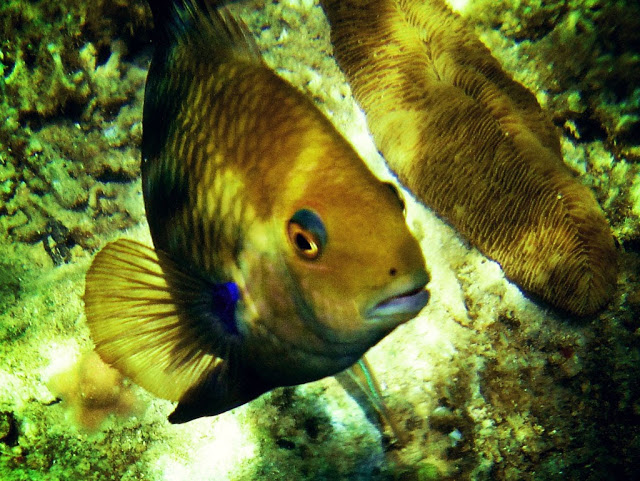 I see you.
Cayangan Lake


Our next stop was Cayangan lake. It gets pretty busy here, since somewhere on the trek up the hill towards the lake area is one of the most photographed spots in Coron.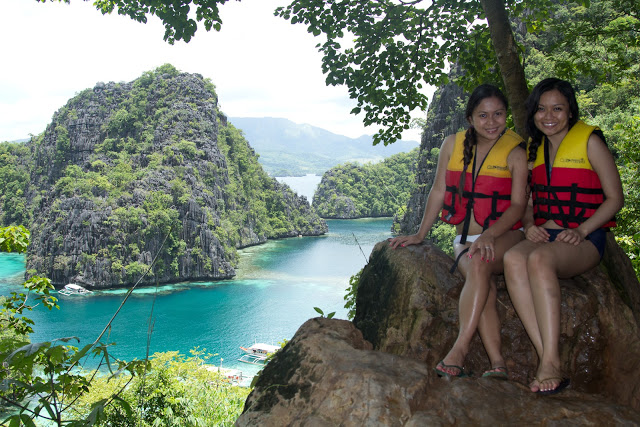 If someone's been to Coron, they've probably had this photo taken.
This is me and my bestie, Mshel.
The crowd also meant there were quite a few boats on the dock, but despite this, it looked quite beautiful.
After walking up many steps, and then down a few more, you get to Cayangan lake. The water here is such a gorgeous emerald green and so cool and refreshing that you could swim around for hours and hours. There are no shallow areas other than the jutting corals, so the tours boats provide people with life jackets
Though not as obvious as in the snorkeling areas, there are still some fish in this lake. They're friendly and tiny, so nothing scary here.
There's also a tiny cave here that you can swim into. Mike and Mshel braved the crowd and tiny opening to take this.
On our way back to the boat, I spotted a curious little fella.
Oh, and there might be a monkey just hanging out there.
We got back on the boat and munched on simple fare of chicken, shrimp, mushrooms, and rice, with a little side salad and some cookies, on our way to our next destination.
Barracuda Lake


The entrance to barracuda lake looks as menacing as its name, with the black, jagged, spear-like rocks jutting out behind a narrow pier.
You walk up and across some rickety wooden steps/path, seeing more jagged rocks as you go.
And then the path opens onto a serene lake. If you hurry up and get here before everyone else who's still at Cayangan lake, you can have it all to yourselves.
Maquinit Hot Springs


The last stop on our tour was Maquinit Hot Springs. The boat took us back on land and then we took a van to the springs. There's not much to be said here. We dipped into one of the giant overflowing tubs of warm water for a bit, relaxing and giving our legs much needed respite from all the walking up and down stairs.
We admired the big not-quite-infinity pool, and took a photo of some strangers.
Then it started to rain, so we left a bit earlier than expected, but not before I noticed all the "wildlife" in the area.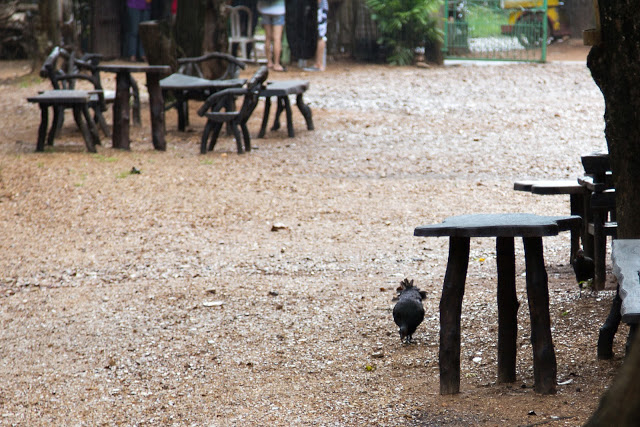 Chicken #1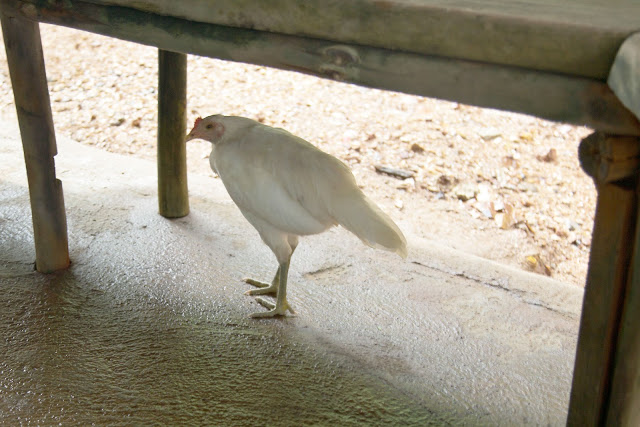 Chicken #2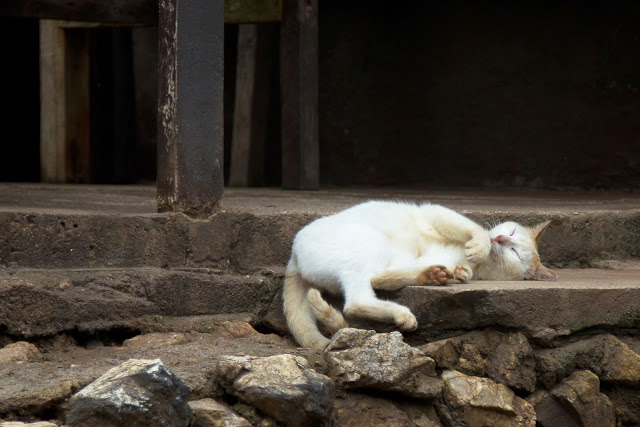 Cat #1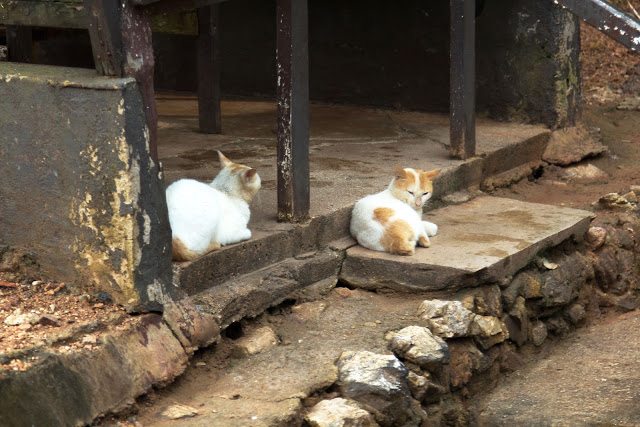 Cats #2 and 3
And I leave you with that. Because cats are awesome.
Related Posts:
Not Bored in Manila 2012, Day 1 – Mesa Filipino Moderne, Fort Santiago, and Travel Woes
Not Bored in Jeju Island 2012, Day 1 and 2, Part 1 – Airport and Hotel Food, Jetlag, and Jeju Olle Trails Route 7
Not Bored in Jeju Island 2012, Day 2 Part 2 – Loveland Museum
Not Bored in Jeju Island 2012, Day 2 Part 3 – Dongmun Market, Han's Deli, and Gwang Won (Korean BBQ)
Not Bored in Jeju Island 2012, Day 3 Part 1 – Hallim Park and Jeju Olle Trail
Not Bored in Jeju Island 2012, Day 3 Part 2 – Spirited Gardens, Locadio World, Mt. Sanbang, and Cheonjeyeon Falls
Not Bored in Seoul 2012, Day 1 – Myeongdong, More Korean Food, and Hangang River Park
Not Bored in Seoul 2012, Day 2 Part 1 – UNESCO World Heritage Day Tour
Not Bored in Seoul 2012, Day 2 Part 2 – Hwaseong Fortress and Insadong
Not Bored in Coron, Palawan, Philippines: Part 1: Club Paradise