I'm taking a break from blogging about Italy to keep myself from getting sick of writing about it. The good thing about this is I get to write about a spot of paradise in the world that truly did not deserve to be a victim of said blog exhaustion last year: Coron, Palawan.
I spent three days there with Mike and my BFF Mshel right after spending a week in Jeju Island and Seoul, South Korea, going on back to back flights from Seoul to Manila then Manila to Busuanga. I know. I have a tendency to be crazy when it comes to traveling. I may have said this before, but it's worth saying again, that trip made me feel like I was on the Amazing Race.
Despite wanting to spend a month sleeping after all that, it was totally worth it. Coron is one of those spots that make you want to wish time could stand still, and that you didn't have real life waiting at home.
We stayed at Club Paradise, located on an island that has nothing else on it except for the resort, and maybe several thousand fruit bats. During the day, you can spot them hanging down from some very tall trees a few hundred yards from the resort paths, lazily moving a wing or two to let you know they are indeed bats, and not fruits. At night they do fly bys at the resort restaurant, but since they're not carnivorous, the best they can do is scare you to death. I'm going to admit all the nature sounds that were NOT coming from a sleep machine had the opposite effect on me at night, but it was quite an experience nevertheless. To be fair, the nature-type experiences don't stop at the bats and the nighttime sounds. On certain days, you can snorkel right by Club Paradise's beach and see some sea turtles.
Since the resort is on an island, they load you up on a van from the airport, and whisk you away to one of a few little docks for boats heading out to the smaller islands. Then a long boat ride ensues through a river lined with mangrove trees, and then out on the open sea. Along the way you can check out the local houses, some built right on the water on stilts. I have to admit I was afraid that my massive luggage would fall from the tiny boat at several points during the ride.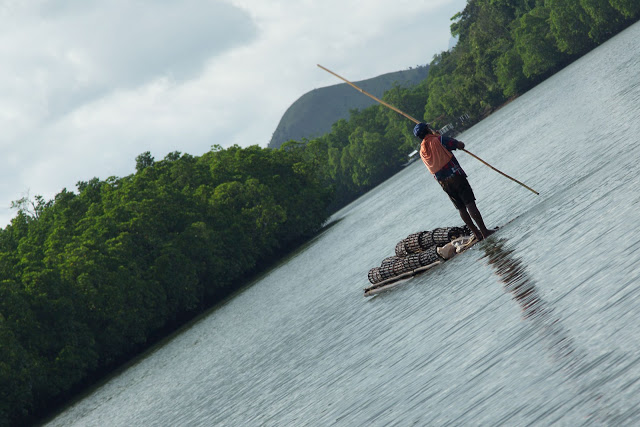 Not quite a gondola.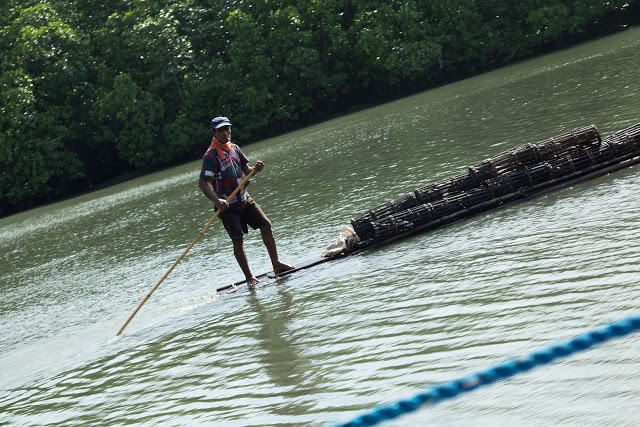 This guy was a bit surprised when all of a sudden 10 or so cameras were pointing at him.
Once you get to the resort, they greet you with a band and welcome drinks as you check in.
We were given two adjacent huts on the beach. They're simple, but cute and air-conditioned, with hammocks on the porches and small stone tubs to wash your feet in filled with flowers.
We spent a lot of time on the lounge chairs on the beach a few steps in front of our huts, enjoying the view.
They have a nice lounge too.
We spent some time there just drinking by the bar,
playing pool,
and drinking some more.
If you're staying on the island, there really is only one choice for food, and that's their buffet-style Ocean Restaurant. Their food is simple but good, and is a mix of Filipino food and some international cuisine. I have to admit, food wasn't the main focus of this trip, and I guarantee you there are many more interesting restaurants to go to near the town of Coron on the main island, if you're planning to visit Coron someday. But the food was decent enough, and we certainly had no complaints.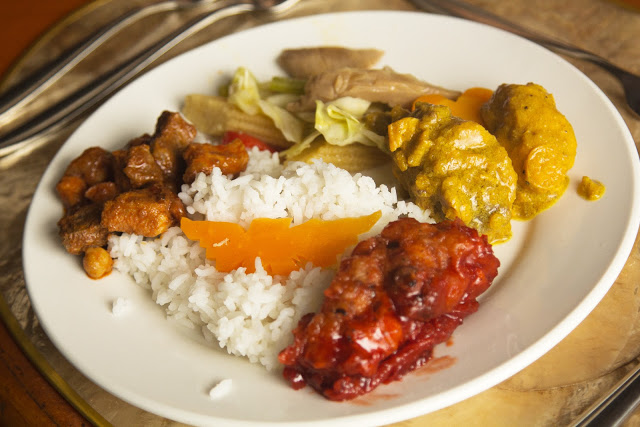 Bat-shaped carrot.
You can request a romantic dinner out on the beach if you so desire, and you will have a specific server just for your table. This was certainly one of the highlights of our trip, and quite unforgettable. You may or may not get serenaded by the the band making the rounds at dinner, so make sure you have a song request in mind for when you do!
The resort is quite lovely, too, so if you're not the type who's interested in snorkeling and island hopping (though those things are really the whole point of going to Coron), or if you want to hang around while the rest of your group goes for some of those activities, you certainly won't find it lame to stay behind.
Overall, our stay was really made more exciting by our island hopping adventures (Part 2!), but Club Paradise certainly wasn't something to sneeze at.
Related Posts:
Not Bored in Manila 2012, Day 1 – Mesa Filipino Moderne, Fort Santiago, and Travel Woes
Not Bored in Jeju Island 2012, Day 1 and 2, Part 1 – Airport and Hotel Food, Jetlag, and Jeju Olle Trails Route 7
Not Bored in Jeju Island 2012, Day 2 Part 2 – Loveland Museum
Not Bored in Jeju Island 2012, Day 2 Part 3 – Dongmun Market, Han's Deli, and Gwang Won (Korean BBQ)
Not Bored in Jeju Island 2012, Day 3 Part 1 – Hallim Park and Jeju Olle Trail
Not Bored in Jeju Island 2012, Day 3 Part 2 – Spirited Gardens, Locadio World, Mt. Sanbang, and Cheonjeyeon Falls
Not Bored in Seoul 2012, Day 1 – Myeongdong, More Korean Food, and Hangang River Park
Not Bored in Seoul 2012, Day 2 Part 1 – UNESCO World Heritage Day Tour
Not Bored in Seoul 2012, Day 2 Part 2 – Hwaseong Fortress and Insadong
Not Bored in Coron, Palawan, Philippines, Part 2: Snorkeling, Cayangan Lake, Barracuda Lake, and Maquinit Hot Springs