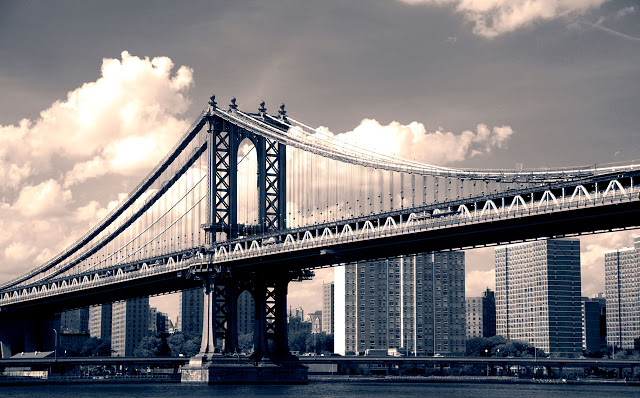 Over the weekend I invited my friends
Katie
and Jack for a walk on one of the hottest days I've ever decided to do a walk on.
I was going to meet them at Brooklyn Bridge Park by the carousel, but I was about an hour and a half early and starving, so when I passed by a brunch place that seemed popular, I didn't hesitate to go in and check it out.
76 Henry St
(between Orange St & Pineapple St)
Brooklyn, NY 11201
Siggy's boasts 100% organic food and they have healthy options whether you're on a vegan, low carb, low calorie, or even gluten free diet. They have a decent amount of seats indoors, but they also have outdoor seating for those who are willing to brave the elements. On this particular day, I certainly wasn't. I was given a choice between two tables inside, after being asked first whether I was here for something to go (proving yet again that single people are somewhat discriminated against when they try to go to brunch ;P), and I settled myself in the corner so I don't disturb other patrons while I struggle to take decent photos.
I was on a diet break but feeling a bit guilty, so I went with a few things that sounded delicious despite being healthy. I ordered their buckweat pancakes with bananas and jam. For those who are curious, buckwheat is gluten free, high in protein, and high in fiber. I had a tiny bit of maple syrup and scraped the jam off to the side. These were certainly delicious, but denser and less fluffier than pancakes. I really liked the texture though, and if I forever traded regular pancakes for buckwheat pancakes I don't think I would ever have a complaint.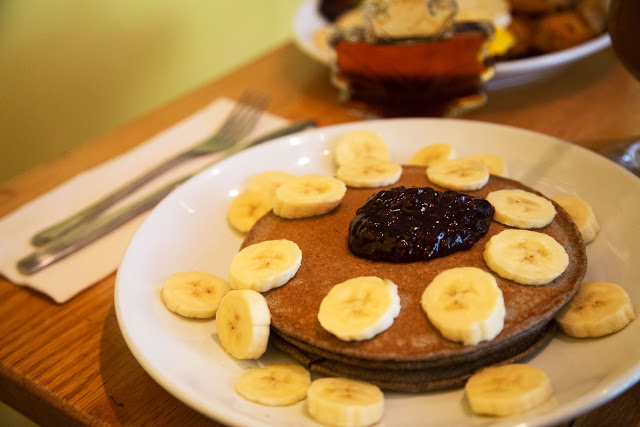 I ordered two eggs over easy on the side for a bit more protein. They graciously gave me some salad greens and home fries as well. Both additions were delicious, and I was certainly thankful since they made the photo more interesting at the very least.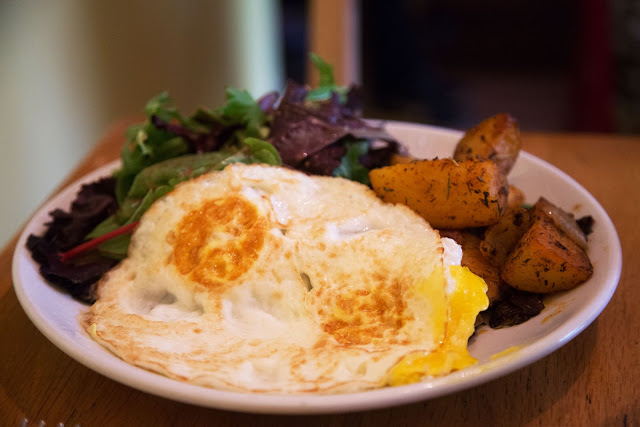 It was a quick and easy meal for me, and service was certainly good. The place is somewhat small but note that they have a restroom located in a little entrance between two tables, if you're here and have a need for one like I did. Also, if you're going for food even healthier than what I went for, they have some raw salads and juices, just go check out their
menu
. I certainly thought this was a good find.
Brooklyn Bridge Park
After my unplanned stop, we met up Brooklyn Bridge Park, which I visited on my
first walk in Dumbo
, but can never get enough of. Despite the sun beating down on everyone and the sweat pouring off people's faces, there were still plenty of couples on dates, families on picnics, and as per usual, wedding parties doing photo shoots. We took a few photos then marched off to Brooklyn Roasting Company for some iced coffee and airconditioning since the heat was very quickly sapping the life out of us.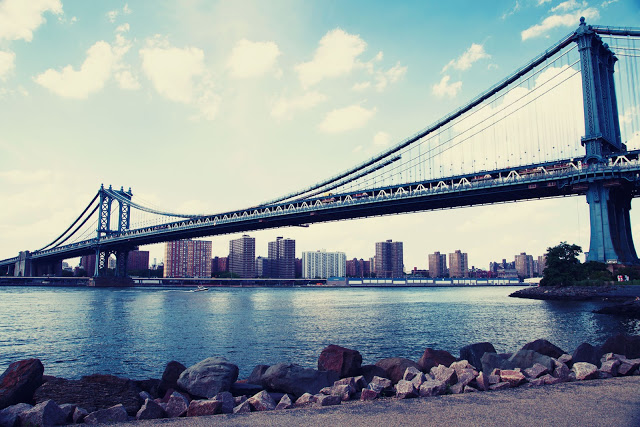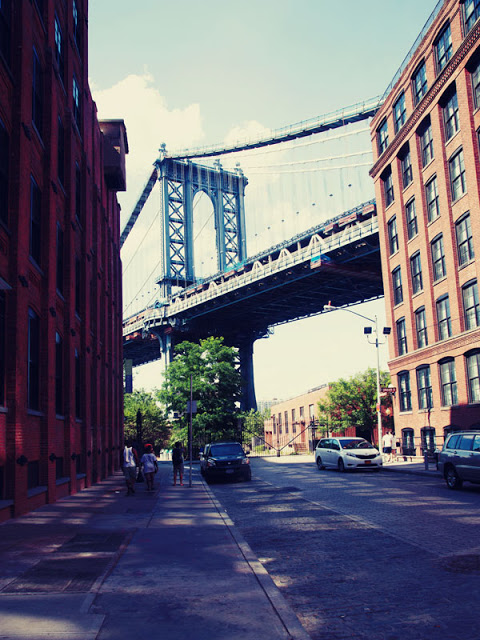 25 Jay St
(between John St & Plymouth St)
Brooklyn, NY 11201
This location is really a roasting plant with a cafe in front. It's huge, very industrial-looking, and also seemed a bit run-down when we went. The pics on Yelp are a little nicer, so I'm assuming they probably just move things around and that it's usually cleaner. There's always one stop on my walks that will convince me I shouldn't even try ordering healthy food, and for this one it was the "Maple Shay Shay", which I got iced. If you think about it, it really doesn't seem like anything new (espresso, whole milk, and maple syrup, so really a maple syrup latte), and I guess I should agree with you, but it was just sooo delightful, refreshing, and energizing, that I really don't regret having it.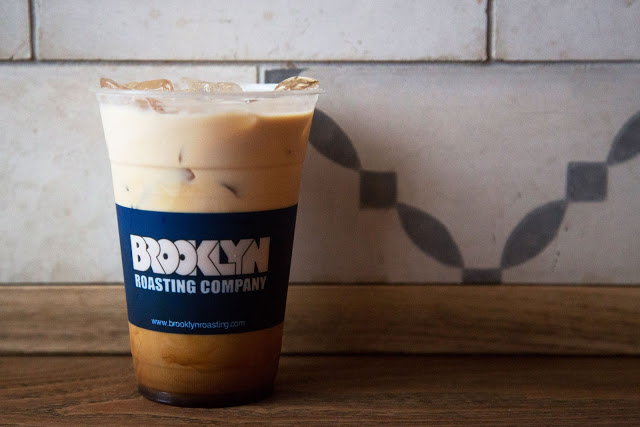 Since we were so exhausted from the ridiculous heat outside, we spent quite a bit of time at BRC discussing photography and whatnot, and since it was empty, we didn't get any grief from the baristas. One of the best things about Dumbo is that it's never as crowded as it is in other neighborhoods, which makes it so much more comfortable to hang out in.
Jack was a bit "meh" about shopping, so I tried to incorporate some stores that didn't involve me trying on outfits for an hour (to be honest I was kind of on a tight budget too so it worked out quite well). We went into Dabney Lee since it's a stationery/gift shop, so I figured I'd find one or two small things and carry on.
They had a few cool items for parties (utensils, invitations, napkins) and the usual things you would find at stationery stores (greeting cards, gift wrapping paper), but they also have a few other items like this personalized pillow, which I adore:
And some NYC related items like this Manhattan signpost print (they have a Brooklyn one too):
The overall aesthetic of the place reminded me of CWonder. Lots of primary and secondary colors, chevrons, and cool typography.
The West Elm Market is the "general merchandise" store of the somewhat expensive furniture store "West Elm" (although this really depends on how you define "expensive"). I was a little bit confused about the fact that they sell tents and gardening stuff, furniture and cookware, but also sell coffee and pastries, but I'm all for stores that will feed you while you're perusing their stuff so it was a-ok.
I was immediately drawn to these t-shirts printed with "Kale Oh Yeah!", though I had to think about it a bit since it seemed a bit pretentious, depending on which part of my eating habits you're more familiar with. As I was thinking about it I found this tote version of it instead, which seemed more useful, so I ended up getting it.
Katie had some fun posing with this old-fashioned phone:
and took a photo of this "Totes!" tote for our friend Nik, who hates it when people say "Totes!".
Happy with my purchase, we decided we were ready for snacks but not quite ready for dinner, so we headed towards Almondine, a French patisserie (redundant) and had some snacks. I ordered something that looked to me like a dacquoise, though I can't be too sure since it wasn't labeled. It had layers of pistachio cake, lemon mousse, rasperry jelly, and meringue. They had a big and small version of it.
Katie ordered an apricot flan and a macaron:
Jack ordered a turkey and swiss foccacia sandwich, which he later regretted as he tried to nudge the little poppy seeds out of his teeth.
66 Water St
Brooklyn, NY 11201
After Almondine we crossed the street so I could buy these big daddy bars (2 pounds) of chocolate at Jacques Torres Chocolate to eat while I watch TV (j/k they're really for chocolate dipped madeleines, one of my go-to recipes):
and a set of European tourists exclaimed over all the chocolates in the store (I'm not sure why, since they're from EUROPE).
Happy with our not-so-light snack, we decided to take a walk on the pier as the sun slowly set, basking in the gorgeous and calming beauty of the golden hour (except for when we saw a pasty older gentleman bend over in nothing but a bright yellow thong, that was quite shocking).
We stopped at the corner of the pier for a bit while we discussed what the point was of these big logs bobbing in the water, made assumptions over what they were trying to build on the water near the pier, and discussed how gorgeous the buildings were on the Brooklyn Heights promenade, which we had a full view of. Jack tried to take some emo photos of us, a few of which were really good (it's fantastic to have other photographers go on walks with me BTW).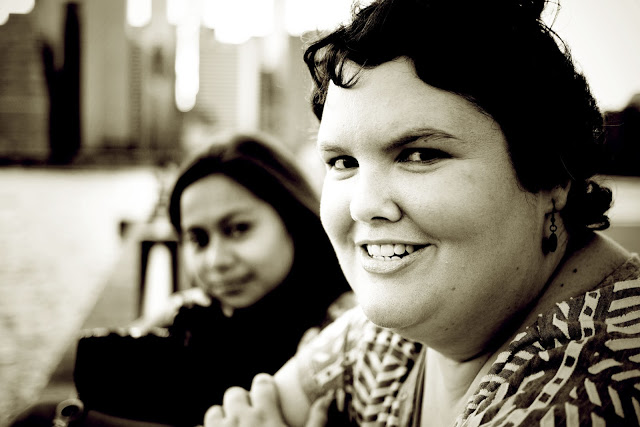 Katie and blurry me (photo by Jack Marczewski)
As it got dark we got a bit quieter, and so did the rest of the pier, and it seemed like the perfect time to go and have dinner. I had planned on going to Superfine, but they were closed for vacation, so since we were exhausted and sweaty, I decided it was fine to just go back to Almar, the restaurant we had brunch at the last time I did a walk in Dumbo. We easily got a seat for three, and they even graciously accommodated us and moved us to a table for four when Nik arrived to join us.
We started with a special drink the bartender had mixed just for the weather (which was extremely hot and humid). It was made with melon and prosecco, and was perfectly refreshing. We were discussing what to order when this gentleman at the table beside us started exclaiming that their short rib and pork ribs are fantastic, so Katie and I, both rib lovers, had no choice but to order the two dishes. Jack, ever the healthy eater, ordered some kind of whole roasted fish (the one on their online menu is different, which I know because we googled what the fish looks like).
The braised boneless beef short rib came with white polenta and some kind of salsa. They were pretty good, though I've had more tender and more flavorful short ribs before.
I appreciated the Italian style roasted pork baby ribs more than the short rib (I was able to try some of Katie's). They were subtly flavored and had a good ratio of fat to meat. They surprisingly came with a pesto sauce, which isn't common, but was actually a good combination.
Jack's fish came out whole, head, tail, collar, eyes, and everything. This is common enough in the Philippines (in fact I would say we had whole fried tilapia almost every other day at our house), so it was of no significance to me, but everyone else at the table exclaimed about how they LITERALLY meant the whole fish.
It was a pleasant meal, despite the mugginess following us inside the restaurant. That, together with the ambiance of Almar becoming more and more "Brooklyn" as the sun went away, made for a very good experience (though not necessarily good photos, as you can plainly see).
While having dinner, I remarked how much I was dying to have ice cream, and Katie replied "Brooklyn Ice Cream Factory!" with gleaming eyes. Again, I'd already tried it the last time I was at Dumbo, but I certainly did not protest. We urged Jack to move along with eating his fish so we could make it, he tried to eat it as fast as he could without choking on fish bones, and we headed towards the pier again for the ice cream.
There was still a long line by the time we got there, despite there being only minutes left before closing time. Luckily we got in before the line was cut off, and Katie and I were able to each purchase a scoop of peaches n' cream and a scoop of coffee ice cream. They tasted great separately. Together, not-so-much.
We had our ice creams as we stared at the city lights, and Katie lingered a bit to take some night photos of the downtown skyline (I was too exhausted at this point). Then we walked towards the 4 and 5 train station at Borough Hall, discussing which brownstone buildings in Brooklyn Heights we would buy for ourselves if we somehow each had an unlimited amount of money. I forget the choices everyone else made, but I remember thinking I wanted the one that looked like Wendy Darling lived there, and Peter Pan would open the massive window at any moment and fly in.
This was the hottest, most brutal walk I've ever been on, and I still found myself having a good time.