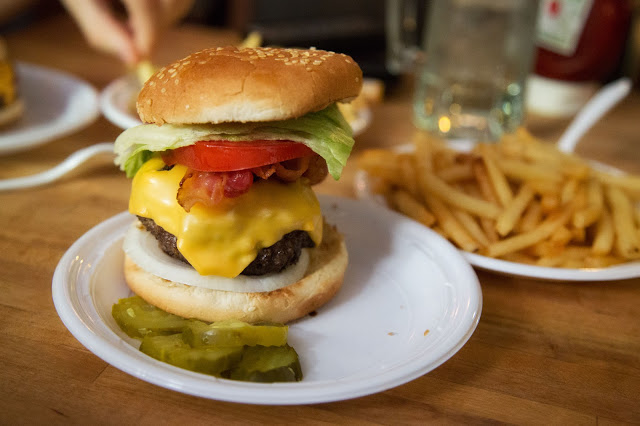 Corner Bistro Burger
This is one of those walks where, I had a GREAT time, I ate so much and shopped so much, yet inexplicably took photos that are not-so-great. For example, this photo: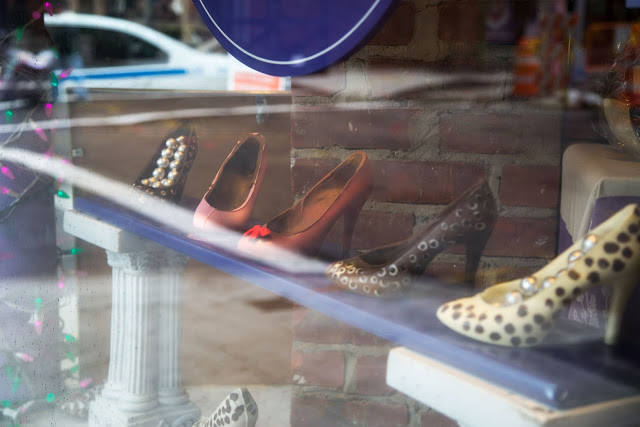 Shoe-shaped Chocolate @ Li-Lac Chocolates
I mean, you can still kind of make out that they're chocolates in the shape of shoes, but clearly taking a great photo was not my goal. I think I was mostly excited to have come out of the store bearing a bag full of chocolate treats. I may have taken this photo with one hand whilst chewing on a chocolate-covered Oreo, not gonna lie.
I'm still posting this because I feel as though I owe great days like this to my blogging. I secretly just want to sit around in my apartment and order Thai food and watch Korean dramas (with a bit of Sherlock and Dr. Who in there) every weekend, but somehow I've kept my blog chugging along (albeit rather slowly at times), for almost two years now, and it has given me so much… LIFE in return. And so, I apologize for the photos, but hope I can still somehow convey to you what a great day this was.
331 W 4th St
(between Jane St & 12th St)
New York, NY 10014
I almost always center my walks around a particular restaurant, cafe, or shop that I want to go to, but this time I just decided that I hadn't spent quite enough time in the West Village, and looked up places to go in Timeout New York. As I perused the list of restaurants in the neighborhood, I found Corner Bistro. According to the show "How I Met Your Mother", this was Zagat's #1 ranked burger joint in the city when the episode "The Best Burger in New York" came out. Despite Marshall's violently negative reaction to someone suggesting that this was the burger joint he had been looking for for years, I figured since we were gonna be in the neighborhood anyway, it was worth a try. To be honest I'm not very picky with burgers, as long as it has NO PICKLES.
We made this our first stop, since it was already around 3pm and we hadn't had lunch yet. I was fully expecting a line, and we were somewhat intimidated at first when we opened the door and there was a big crowd of guys just sitting in front of a TV and not even eating. A few seconds later I realized these guys were just watching a football match, and that there were several empty tables in the back. From what I've gathered, this is not normal, and there's usually at least a 30-minute line. We happily slipped into one of the booths and checked out the menu.
Clearly they want to make things simple for you. I picked the bistro burger and Mike picked the cheeseburger. My patty was definitely a bit thicker, and with the lettuce, tomato, onions, and bacon, it was quite big. It was definitely a challenge to bite into it, but I sure didn't mind tackling it.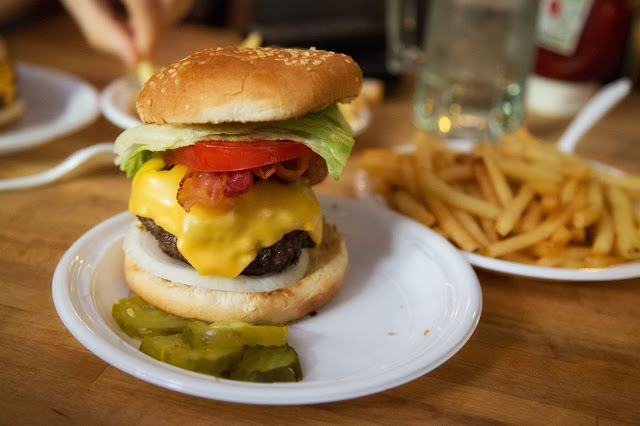 Corner Bistro
I've read quite a few reviews since I was there that discuss how overrated it is and how there was "no charring" on the burger and how the fries are soggy and so on. I guess they're not very consistent, but in all honesty Mike and I thought the burgers were fantastic, and certainly one of the best we've had (Mike liked it more than Shake Shack's). This could probably be attributed to the fact that we had lunch at 3pm and there wasn't a big crowd or even a line, but the burgers were perfectly cooked (mine medium well, Mike's medium rare), I thought there was a decent amount of charring on the outside, and the french fries were crispy and not at all soggy. The burger is definitely on the simple side, so don't come here if you're expecting anything fancy or earth-shattering. But if you're looking for a really good no-frills burger, it just might be worth it.
Right across the street from Corner Bistro is Li-Lac chocolates. I was not expecting much from this place, since it wasn't on my list, but I realized after looking it up online later that it is quite popular. New York Times describes their chocolates as "so good they can be consumed with the same delirium that accompanies the best caviar, truffles, and champagne", and I have to say I'm going to have to agree on that one. To be fair, I don't think there's much chance of anyone not liking their chocolate-covered Oreos or All American bars (which are basically s'mores that have not been melted), but still, these are some pretty damn good chocolates.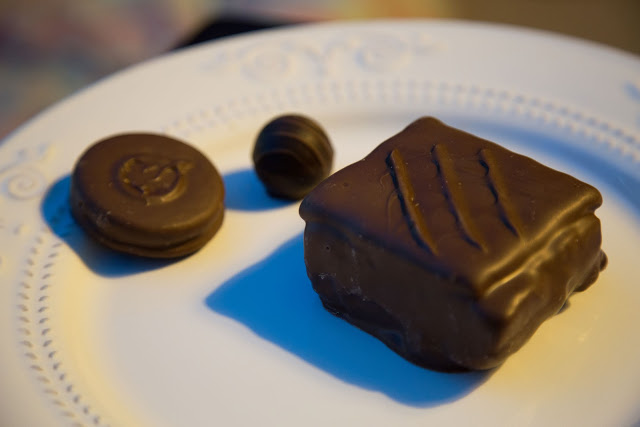 Chocolate-covered Oreo, truffle, and All American bar from Li-Lac chocolates
Their chocolates come in all sorts of shapes and flavors too, and if you're looking for good chocolate mints, apparently Martha Stewart has only good things to say about them. They have some shaped like the Empire State building if your looking for something New York-y to give to your friends back home. Here are some shaped like musical instruments:
After the great burgers and getting a bunch of chocolates, I figured our stomachs needed a rest and headed over to Bleecker st. for some "shopping". To be honest, I wasn't really into shopping in that neighborhood, because that stretch is full of stores like Marc Jacobs, Ralph Lauren, Cynthia Rowley, Juicy Couture, etc… at retail prices. All stores I cannot frequent since my top priorities in life are: 1) Having a nice apartment 2) Traveling 3) Good food. Believe it or not, extremely expensive shoes and clothes are not in there. I'm certainly no Carrie Bradshaw.
329 Bleecker Street
New York, NY
However, I did find this one stationery store I wanted to check out (closed), and this one accessories store that originally seemed just full of cheap stuff when I first came across it in Rooseveltfield Mall, but I realized had some great items for a decent price, especially at buy two get the third off on jewelry and 40% off on bags (when I was there). In fact the Accessorize brand was originally born in London, so I'm not sure why I even thought their stuff was cheap. Probably because they always have some kind of sale going on. I ended up getting some bangles with matching earrings (which I will not bore you with), a backpack which will henceforth be known to me as the Cape Cod bag: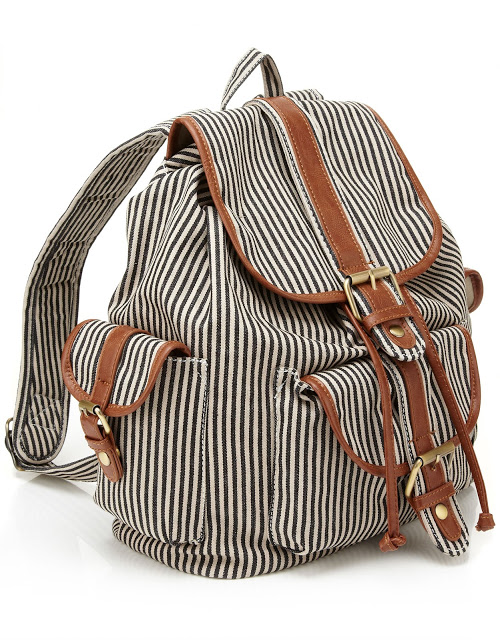 From us.accessorize.com
And the best set of rings I've ever bought in my life (not including my wedding/engagement rings, which, I did not buy):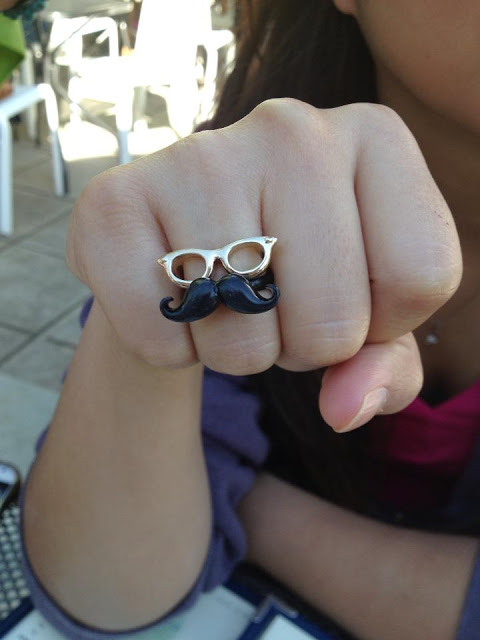 Clearly I'm more interested in being silly rather than being fashion-forward
I also bought an umbrella from Accessorize because by the time I was finished stressing over what bag to buy (there were three that I wanted), it had started raining pretty hard. Hard enough that we needed another umbrella. I bought this adorable one full of dogs: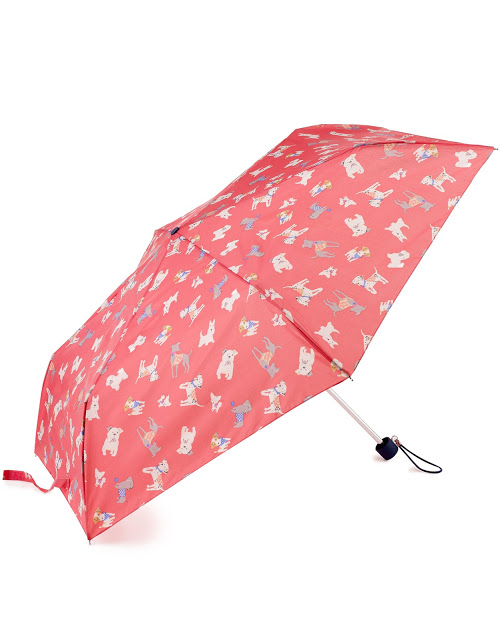 From us.accessorize.com
Then I lost it a few hours later, probably at one of the 5 bakeries we went to (lol).
243 Bleecker St
(between Carmine St & Leroy St)
New York, NY 10014
We passed by Pasticceria Rocco on the way to Amy's Bread, and Mike was drawn to the sign boasting fresh cannolis. The place was jam packed with people wanting their Italian pastries, and the shop window was full of cookies and pastries in the way that the usual tourist-trap type Italian bakeries are here in New York, so I stayed outside and wasn't that interested. Turns out this bakery has a legit 4 stars/407 reviews on Yelp, and has one of the better cannolis Mike has had in the city (I'm more the let me have some of the cream and I'm happy type).
I didn't take any other photos here because I was too stressed out by the crowd, but here's a drool-worthy one from their site:
250 Bleecker St
(between Leroy St & Cornelia St)
New York, NY 10014
A bit further up Bleecker, we passed by Sugar & Plumm. The storefront is enticing, with its adorable purple bench and clean red brick facade.
The inside is also cutesy, with items like:
Shimmer Gumballs
Macarons (some also shimmer!)
Interesting chocolate sculptures like this "World's Best Mom" award, which I had wished we had found earlier, chocolate clutch bags, and chocolate pumps.
We ended up getting the macarons, which were decent enough. The dark chocolate covered banana one was different, and pretty good. We also bought some milk chocolate salted caramel truffles decorated in gold specks (AMAZING). I would say if you're not looking for a specific sculpture, either stick to the truffles if you're in the neighborhood, or just go ahead and buy your chocolates from Li-lac instead.
266 Bleecker St
New York, NY 10014
113 W 10th St
(between Greenwich Ave & 6th Ave)
New York, NY 10011
For our last stop, we hit Bees Knees Baking Company, which sells cake cups. These are more like traditional cakes in that they are layered, and the flavors can get as complex as regular cakes (as opposed to cupcakes). The cake layers are really made with crumbs. In fact, you can think of the cake cups as fatter cake shots. We tried the Honey Bourbon (Bourbon Cake with Burnt Honey Cream and Candied Ginger) and Carrot cakes. There was way too much bourbon in the first one (I should have known I would hate it), but the carrot cake was fantastic. I would say the best part about these cake cups is that the packaging keeps it moist, and they're ideal for those who like to "save some for later", since they're a lot more convenient to carry around.