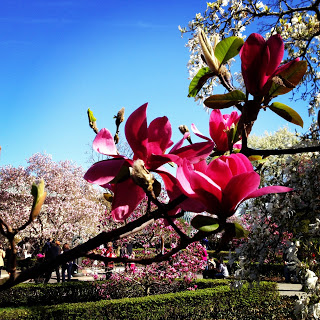 For years Michael and I have been talking about going to the "Sakura Matsuri" festival at the Brooklyn Botanical Garden, but have never actually gone. This year, I made it a point to put it in my calendar, but I noticed the cherry blossoms blooming prematurely in Stamford, so I decided we should go a week early. As you probably know, I'm not very good at dealing with crowds, so it wasn't that difficult for me to decide that I'd rather take photos of nature than portraits of strangers dressed up in kimonos/cosplay.
Brooklyn Botanical Garden
1000 Washington Ave
Brooklyn, NY 11225
For the second time in a row, I brought my camera but had no battery charge (I did try to charge it recently, but realized that either my charger or my battery is broken), so I had to settle for using Michael's iPhone. I know, I really haven't been doing well in the photography department recently. I was pissed at myself for about 5 minutes, then decided this was a great chance to experience the walk more, rather than stressing about taking photos the entire time. As you probably know if you have ever used a DSLR, it's a lot less worrisome to just use a camera phone. In any case, you'll probably notice the Instagram-ish quality of my photos for this walk, and that's the reason why.
Half the cherry blossoms were already done for the season, and half were crowded with photographers, people doing engagement/child/family photo sessions, and couples lying down and canoodling under the shade as if there weren't hundreds of other people there. I positioned myself to take photos in areas where there weren't too many people.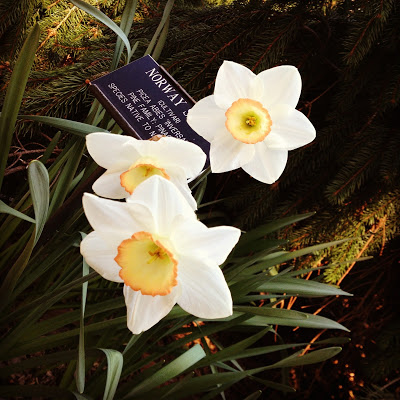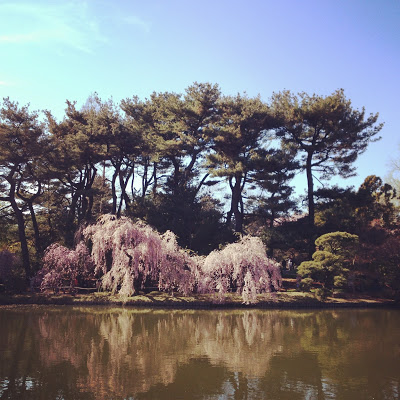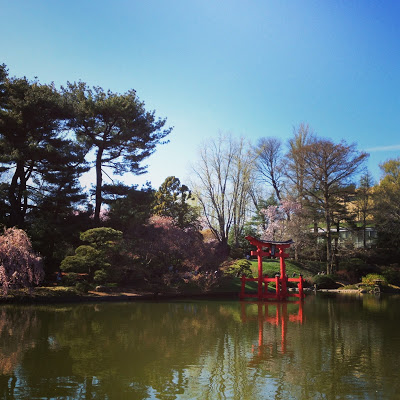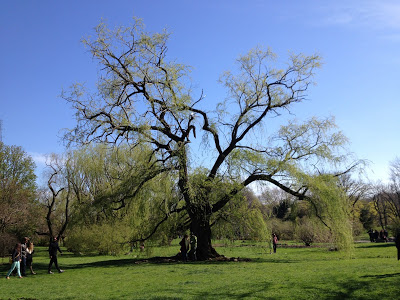 This tree made me think of the poster from the movie "Big Fish"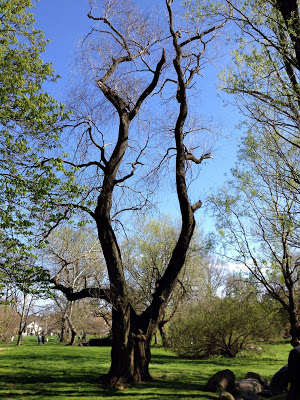 Glass Shop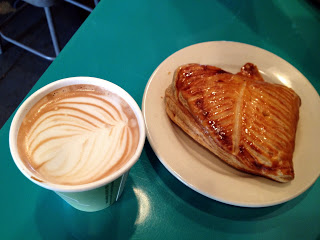 766 Classon Ave
(between Sterling Pl & Park Pl)
Brooklyn, NY 11238
Neighborhood: Crown Heights
After the park, we stopped by Glass Shop, which is a hipster-ish coffeehouse, for a quick mocha. The reviews on this place are mixed. People seem to like the food and the coffee, but there are many complaints about the baristas being snooty or rude. I found the guy working there at the time wasn't rude, but not super friendly either. I've found this to be true for most NY establishments anyway, so I really have no complaints, especially since the mocha was superb. If you need me to be more specific, it was creamy and almost hot chocolatey. I had planned on getting their olive oil cake, but they were out. Michael couldn't stop himself from getting the apple turnover, which also turned out to be good. They also serve healthier snacks like hard-boiled eggs and oranges. The interior of the place is very plain and almost hole-in-the-wall-ish, but it was still crowded. I'm not surprised, since they also have free wifi. I would recommend this place as long as you're not planning on annoying the baristas.
After hitting the Glass Shop, we walked around Crown Heights and went to a few stores, none of which were all that interesting to me. Owl & Thistle General Store was somewhat interesting, in a Brooklyn-y/Etsy kinda way, but I didn't feel a desire to buy any of their stuff.
The walk wasn't completely lame at that point though, because some areas of Crown Heights were quite nice.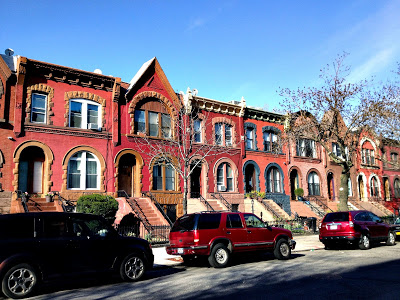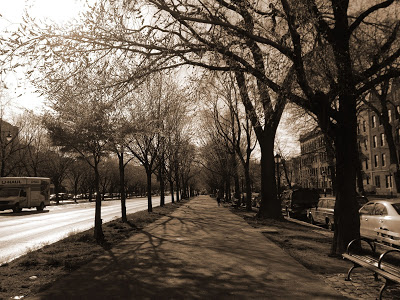 After Crown Heights, I convinced Michael to drive us to Brooklyn Heights for dinner, and I chose Jack the Horse Tavern for their 4 stars on Yelp, and because their menu had both yummy and healthy-sounding food.
Jack the Horse Tavern
66 Hicks St
(between Middagh St & Cranberry St)
Brooklyn, NY 11201
Neighborhood: Brooklyn Heights
I'm not quite sure how I feel about JtH. Food-wise, Michael had what I think was a 2-star experience, while I had a 4-star experience (more on that later). The ambiance is cozy, with exposed brick walls and vintage-style clocks. The clientele is a bit on the middle-aged side, though it might be because we were having a bit of an early dinner (6 pm). Service was pretty bad. It took forever for each of the courses to get to us, and THEY FORGOT TO GIVE US OUR ENTREES. What?! They went from appetizers directly to dessert. This has never happened to me in my life. We waited for about an hour for our entrees to appear, and during this time the waiter took our dessert order. We assumed he was just taking it in advance, but then we got the cake a few minutes later. We told them about the error of course, and they seemed somewhat apologetic. They removed the cake from our bill, though in my opinion they should've removed the entrees.
For my appetizer, I had the Red & Golden Beets Salad with Cabernet Vinegar & Walnut Oil Marinade, Tango, Radish, Goat Cheese & Oranges. I loved the colors in this, and any meal that is (naturally) colorful usually means it's good for you. However, the greens were a bit too bitter for my taste, which isn't new since I'm very picky with greens. The radish was also a bit too much on the sour side for me, so I found myself just enjoying the fruit, beets, and cheese.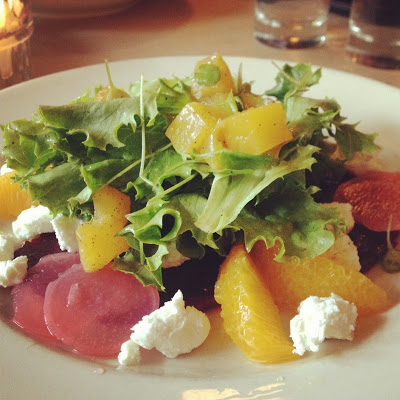 Red & Golden Beets Salad with Cabernet Vinegar & Walnut Oil Marinade, Tango, Radish, Goat Cheese & Oranges
Michael had a first course of Ricotta Ravioli with Mixed Mushrooms, Brown Butter & Parmesan. It looked extremely weird to me, because it seemed more like giant gnocchis, with some purple crap on top. As weird as it looked, Michael liked it even less. He said the purple stuff tasted "strange", and the ravioli didn't taste like anything.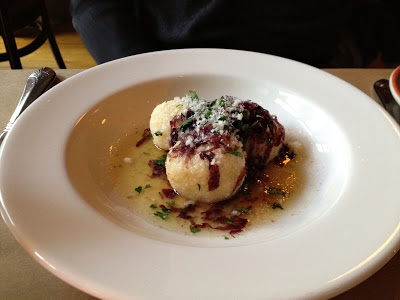 Ricotta Ravioli with Mixed Mushrooms, Brown Butter & Parmesan
For my entree, I had the Risotto with Spinach Pesto, Spring Kale & Asparagus. This dish looks (and sounds) pretty boring, and to be honest risotto is one of the most boring dishes to photograph. However, it tasted really good for something decently healthy. I don't usually order all vegetarian anywhere, but I saw kale and was instantly drawn to the dish. It was creamy and flavorful, so I definitely enjoyed it.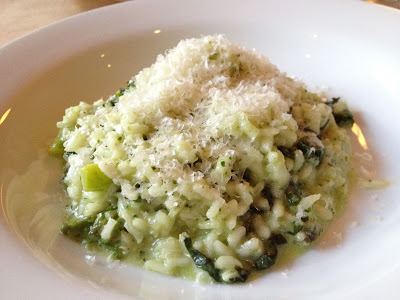 Risotto with Spinach Pesto, Spring Kale & Asparagus
Michael had yet another blah dish for his entree. He got the Grilled Boneless Pork Loin, with Slow Roasted Pork Shoulder, Smoked Celery Root & Escarole. As a healthy meal, I wouldn't have minded this, however it cost $24, and I would've expected something a lot better for something that cost that much and had the words "slow roasted" in the description. The pork was a bit on the dry side, and the whole dish just lacked… something. Maybe some sauce, or maybe some herbs? In any case, it was not good.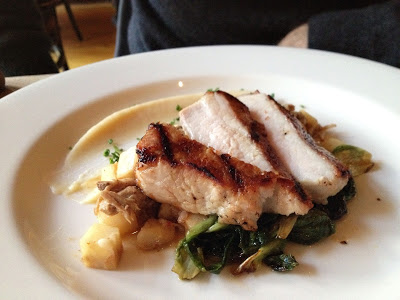 All in all, that dinner was one of the lamest we'd had in so long. To top it all off, the woman sitting at the table beside us spilled an entire glass of water right on Michael's shoes. Of course, the restaurant had nothing to do with this, but it put him in an even darker mood than he was already in.
We felt a bit better about them when we got home and tasted their olive oil cake. It came with a citrusy custard, creme fraiche, and orange pieces. It was so good Michael requested I make it at some point, since I had mentioned that I saw a recipe in a South Beach cookbook years ago. To be honest, I still wouldn't go back there, but at least it wasn't all bad.