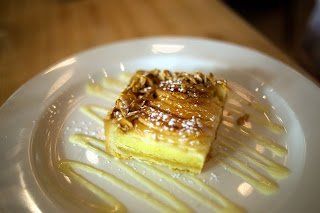 Yours truly recently moved to Stamford, Connecticut, in a fit of rage over the fact that the 7 train has basically not been crossing to Manhattan every weekend for an entire year. At least, that's what it felt like. And I'm not sorry either, because until now I still get messages from my NYC transport app that the 7 train is delayed every single morning. Many of my friends and family were at first shocked, and I'm sure if anyone out there reads my blog semi-regularly, you'd probably be thinking, "So that means the end of your New York City adventures, right?". Well, the thought did cross my mind once or twice, but after about a month of living in CT I've realized it takes me about the same amount of time to get home as it did when I lived in Queens, plus it is now possible for me to do walks around the Stamford area too. Not a bad deal, in addition to my apartment and neighborhood being much, much better, and the majority of my commute being so comfortable it doesn't feel like a commute (padded seats I can ALWAYS get, outlets to plug power-greedy tech gadgets, Internet access since the train is above ground, and I can actually move my arms). So here's my first Connecticut post as a Connecticut resident.
Harlan Social is a bar/restaurant just a few minutes from Downtown Stamford (near Fairway Market, which I love, but I'm not going to talk about that here). The restaurant has a bit of a New York feel in that the interior decor is part industrial part rustic (which I've seen in countless NYC restaurants). It is NOT like NYC in that it is very spacious, with high ceilings, and tables that actually allow you to have a conversation that won't be overheard by other people if you talk at a reasonable volume.
We booked Harlan Social for Valentine's Day because we were stupid enough to think we could get a table at Momofuku Ko in Manhattan (apparently the only way to get in is to be online at 10 am and start clicking away at their reservation site to get a spot exactly 1 week ahead), and by the time we realized that would be impossible, everywhere else worth the trip to the city was booked solid.
So we decided to have dinner at Harlan Social, which we'd accidentally discovered while doing some grocery shopping.
I started with a "Drunken Palmer". It's made with sweet tea vodka, lemonade, and iced tea. It's fairly simple, but very good. It was probably the longest I'd ever taken to decide on what cocktail to order, since everything sounded perfect for a wintry night. Most of them sound very all-American too, with mixtures like apple and cinnamon, and honeycomb and bourbon. It's also worth noting that they have a "mozzarella bar" and a variety of cheeses and charcuterie, if you're into that sort of thing.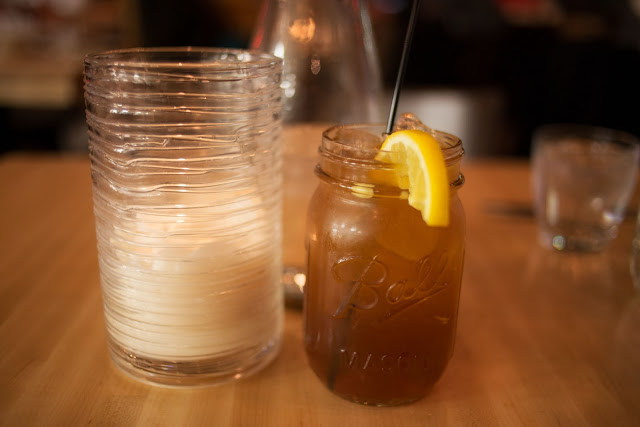 Drunked Palmer
For our appetizers, we got the Braised Veal & Foie Gras Ballotine with Caramelized Figs & Raisin Walnut Bread, and the Rock Shrimp Tempura with Yellow Curry.
Mike thoroughly enjoyed every bit of the braised veal & foie gras dish. Sweet and salty, soft and crunchy, it was a good balance of texture and taste. He even loved the bread despite his usual distaste when it comes to nuts.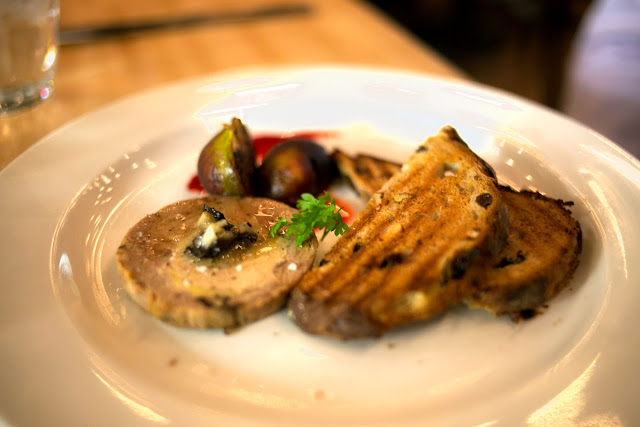 Braised Veal & Foie Gras Ballotine with Caramelized Figs & Raisin Walnut Bread
I was expecting the rock tempura to be more… tempura-ish? Despite that, the dish was still decent. The texture was perfect, lightly crunch on the outside, succulent on the inside. The yellow curry was on the sweet side, which I'm usually a fan of, but I would've liked it to be a tad more salty to offset the sweetness.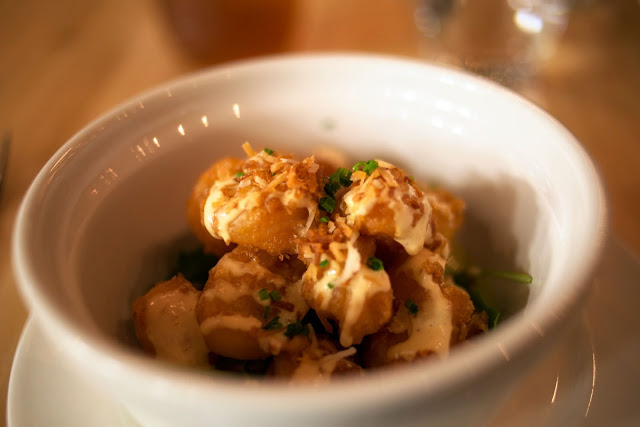 Rock Shrimp Tempura with Yellow Curry
For our entrees we had the Parisienne Gnocchi with Puttanesca Sauce & Smoked Mozzarella and the Braised Beef Short Ribs with Parsnip Puree & Caramelized Brussel Sprouts.
The gnocchi was very good. It was flat instead of the more traditional thumb-shaped, and "Parisienne" is made with choux pastry. Honestly I didn't notice much of a difference texture-wise, but the puttanesca sauce was delicious. The smoked mozzarella tasted fresh, and took the whole dish up a level. This is good enough reason to try their mozzarella bar at some point.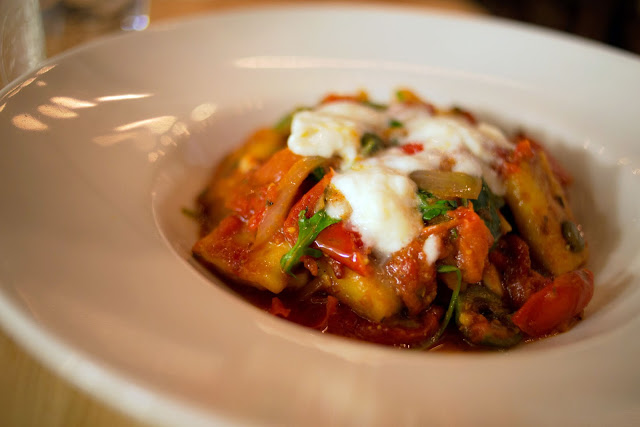 Parisienne Gnocchi with Puttanesca Sauce & Smoked Mozzarella
Any short rib dish that does not cut like butter is a failure to me, and this one was definitely on-par with the best of them. The texture was perfect, however it was just a tad too much on the sweet side for me, which might have been because the dish had both pureed parsnips and caramelized brussels sprouts, both of which are naturally sweet. Like the rock tempura, a bit more saltiness would've gone a long way with this dish.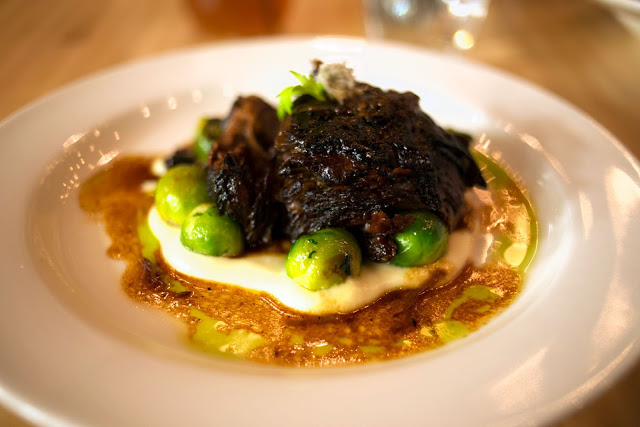 Braised Beef Short Ribs with Parsnip Puree & Caramelized Brussels Sprouts
For our desserts we had an apple tart (which was actually not on the menu, and replaced the lemon raspberry tart) and warm cinnamon donuts.
The apple tart was gorgeous and delicious. It had a soft crust and center, with thinly sliced and glazed apples on top.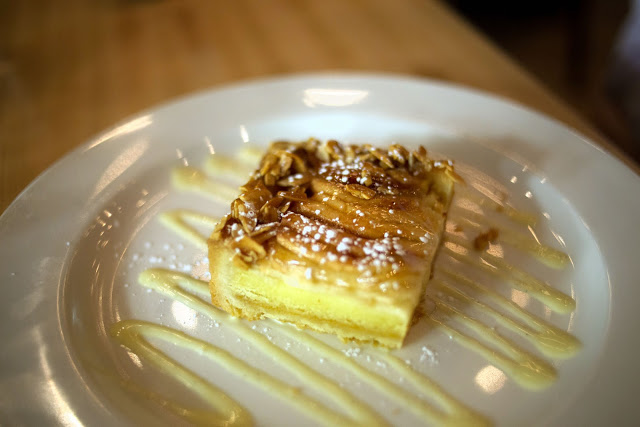 Apple Tart
The warm cinnamon donuts were a disappointment to me, but Mike ate three of them, so I think it's safe to say he liked them. I wanted them to be a lot sweeter than they were, but the texture was very good. The bittersweet chocolate did not help with the lack of sweetness either. If this came in a bread basket with some whipped butter at the beginning of the meal instead of as a dessert, I probably would have loved it.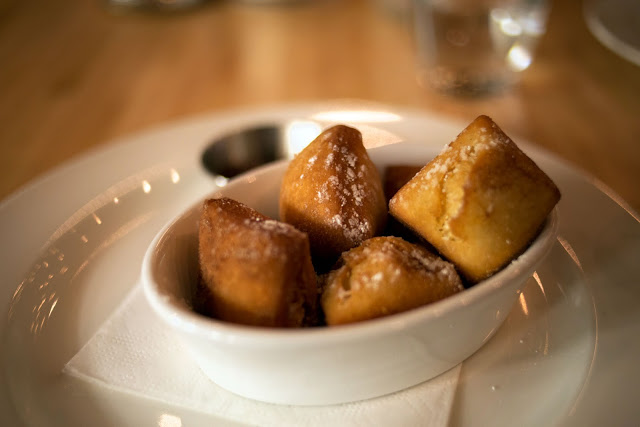 Warm Cinnamon Donuts with Bittersweet Chocolate Sauce
Overall I wasn't floored by Harlan Social that first time, but it was a good experience, and I left wanting to try more. We returned for fantastic brunch a few days later, which I'll hopefully write about sometime this week.