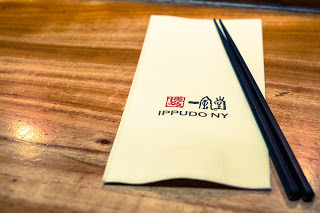 Recently I've been on a mission to hit all the well-known restaurants in the vicinity of of where I work in the East Village because soon, we will be moving to the very boring financial district. Ippudo has been on my list for a very long time, so earlier this week I made plans with my co-worker to keep the winter chill at bay by diving into bowls of ramen. I very rarely eat so much I could explode anymore because over the years I've learned the very useful skill of stopping when I'm full. So it's a testament to how great the food is on those rare occasions when that happens. Today, I definitely had one of those moments at Ippudo, a ramen restaurant in the East Village.
The very first Ippudo was opened in Fukuoka, Japan. Over the years they've expanded quite a bit and it's supposedly a really well-known ramen chain there, but Ippudo NY was their first attempt at expanding overseas. And boy, it's been quite successful. I gathered from Yelp reviews I've read and a discussion with my friend Katie that there's usually a long line to get in (more than a block long according to one Yelper), and they don't take reservations. Either this is only true after work hours, or my co-worker and I were extremely lucky. We waited for only 10 minutes to get seats for lunch, and we didn't even have to stand while waiting.
During our 10-minute wait, we didn't have to be bored. The wall to the right of the entrance is lined with many, many ramen bowls, which I thought was adorable, so I spent a few minutes admiring them. The decor in there is modern-meets-traditional in a way that makes one comfortable enough to try their food whether you're a ramen newbie or veteran. The employees are very cheerful, and greet all the diners in Japanese as they're entering and leaving. They're all smiles and seem very friendly, despite how busy the place is.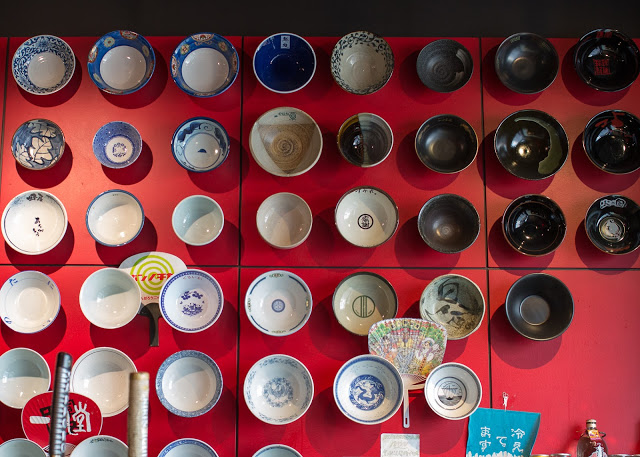 Their lunch menu is pretty simple. They have a few appetizers, and I have been told to DEFINITELY GET THE PORK BUNS next time, but the rest of them sound just ok. As for their ramens, they have some limited edition ones (for those fond of variety), and they have 6 regular types on their menu. You can have them in a set with salad and a rice bowl for an additional $3, and you can also add additional toppings for $2 – $3 each. I ordered the lunch set with the mentaiko (spicy cod roe) over rice, and the Akamaru Modern ramen.
The "spicy cod roe" was not very spicy, but DEFINITELY tasty. it comes with thin strips of seaweed, some cabbage, and what tasted like Kewpie mayo. If you're a fan of any type of fish + mayo over steamed rice, this is a good choice.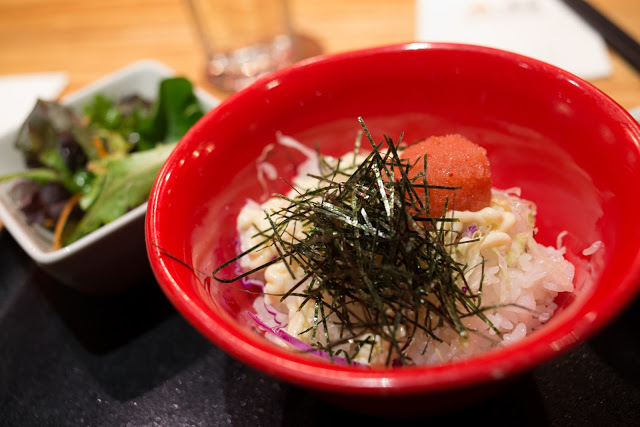 The Akamaru Modern ramen is made up of "the original silky 'Tonkotsu' (pork) soup noodles topped with Ippudo's secret "Umami Dama" miso paste, pork chashu, cabbage, sesame kikurage mushrooms, scallions, and fragrant garlic oil". Many of the ingredients are similar to their "Shiromaru Hakata Classic", with the difference being that the Akamaru has garlic oil and miso paste, while the classic has red pickled ginger and menma. I LOVE garlic, and I am not big on ginger, so I picked the Akamaru Modern. I should probably get the classic next time, just for the heck of it, but the broth that I had was sooo tasty that I'm pretty sure I will regret getting anything else. For toppings I added kakuni (braised pork belly) and nitamago (seasoned soft boiled egg).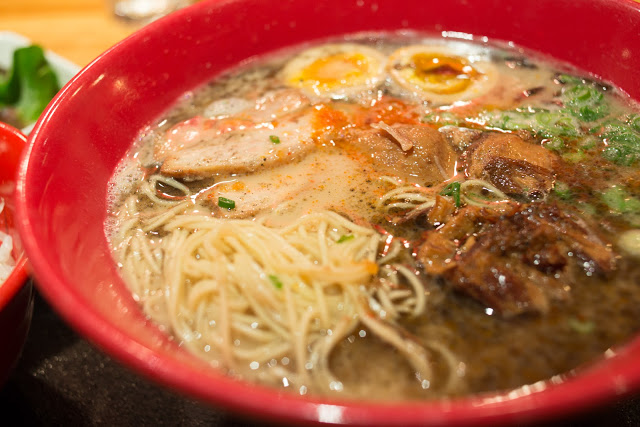 Dishes like ramen are very tricky because to get it perfect the ingredients have to be delicious by themselves, and all together. This bowl of ramen was perfectly balanced. All the toppings were good individually, eaten with the noodles, eaten with the soup, and eaten with both. It is also HUMONGOUS, especially if you're ordering additional toppings. In fact the soup spoon they serve with it looks more like a serving ladle. So you might want to keep that in mind if you're looking to have dessert or drinks afterwards. The kakuni topping was easily a quarter pound of juicy, melts in your mouth pork. More often than not, I enjoy any meat that's "braised" and this definitely was no exception.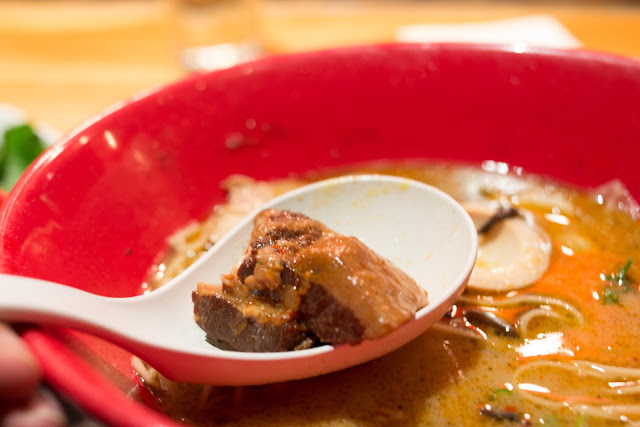 The chashu is the more traditional topping, and was also delicious, so if you don't want to fill up too much, I believe it will be enough to satisfy your meat quota without getting the kakuni as an additional topping.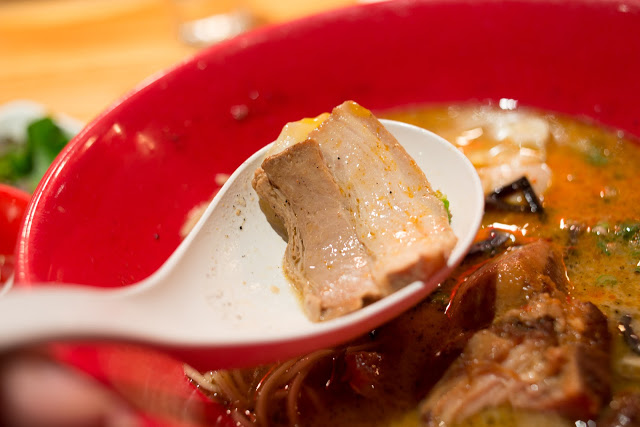 The soft boiled egg! Oh, the egg. I will eat everything with a side of eggs, done in any style, but this one was such a treat. The gel-like center was soft but not runny, and the seasoning makes the egg delicious by itself, and also with the ramen, without seeming too salty. It was soo good I devoured it before I could take a photo. Oh, well.
Our bellies were bursting by the time our server came around with hot tea and a dessert menu. We should have given up at that point, but the desserts sounded interesting. We split the Lady M Mille crepe cake. For those who haven't tried this, it's layers upon layers of crepe and cream. Not exactly a Japanese-sounding dessert, but it was fantastic nevertheless. Since then I've gathered that it actually comes from Lady M Confections, a French bakery, also in Manhattan. The cake was light but creamy, and I would buy an entire one in a heartbeat.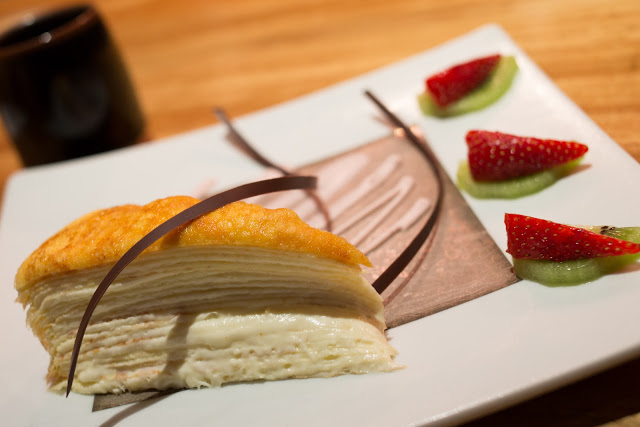 If you haven't already guessed, I would recommend this place to anyone. The only regret I have is that I didn't get the pork buns, which is supposedly one of the (if not THE) best in the city. I've promised myself I will come back for it before my office moves downtown.