We got to Seoul early in the morning and took a cab to the JW Marriott, where we were staying for free thanks to my year of staying in Marriott hotels as a consultant.
The hotel was in an area south of the Han River, so we had a bit of trouble letting the cabbie know where we wanted to go. Eventually I was able to find the hotel address on my phone, and we were off.
We spent quite a bit of time getting situated at the hotel in the morning. Our room was gorgeous, albeit small.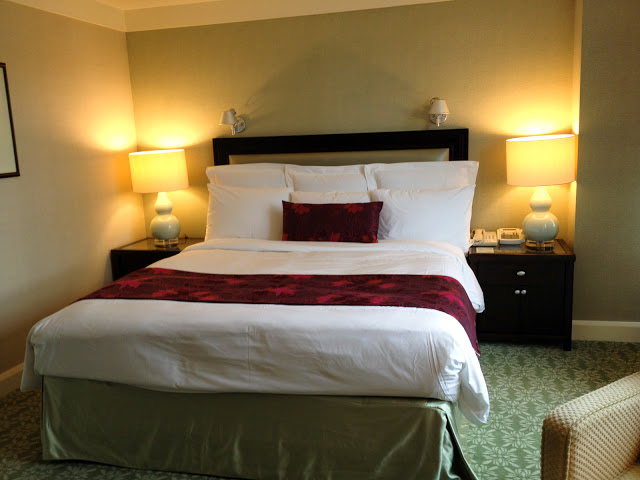 @ JW Marriott
Yet another bathroom self portrait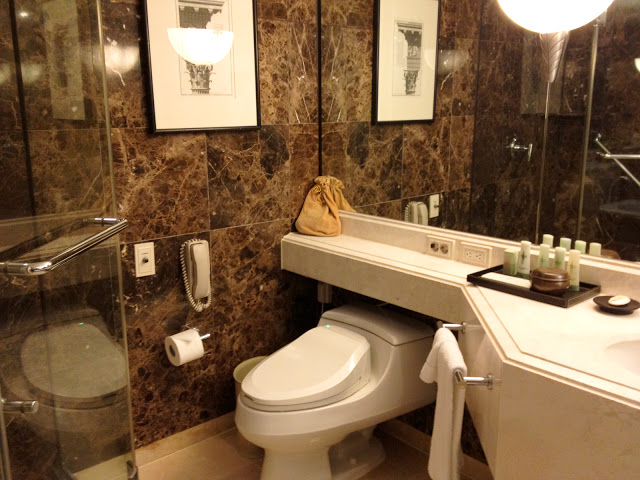 @ JW Marriott
We wandered around the shopping area of the hotel a bit, discovering that there was no way we could (responsibly) afford items from any of the shops there (Chanel, Jimmy Choo, etc). Besides, they were all stores that can also be found in the US. It didn't occur to me until later that the crazy expensive stores made sense due to the hotel's proximity to the extremely affluent Gangnam area.
Soon we were starving, and wanted to head out to eat. But first, we needed to find a camera store that sells chargers for my DSLR (which had run out of juice on Jeju Island).
I-Park Mall
We took a cab to the I-Park Mall, one of the many huge department stores in Seoul. It's known for its big electronics department. We took a bit of time to find the floor we needed, but once we got there, it was easy enough to ask for a charger for my Canon 60D. It was a generic brand and cost us $20. Likely it would have been around $5 on Amazon, but it was definitely priceless while on a vacation like this.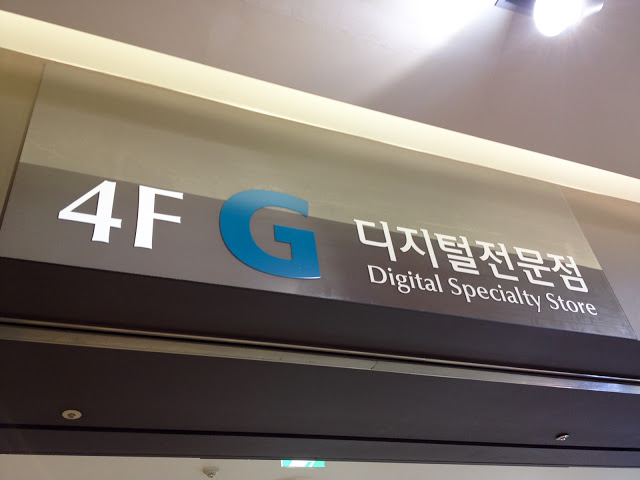 I-Park Mall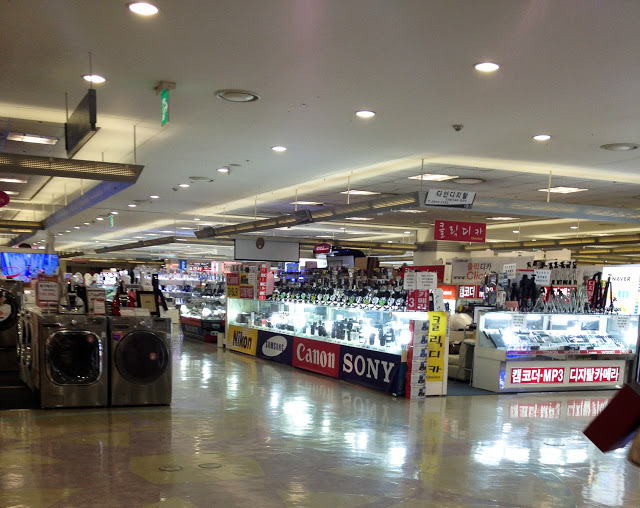 I-Park Mall
We had decided to spend most of our first day shopping, so after getting the charger we headed to the train station connected to the mall to brave the subway to get to Myeongdong. The station was massive and quite confusing, but eventually we figured out where to go.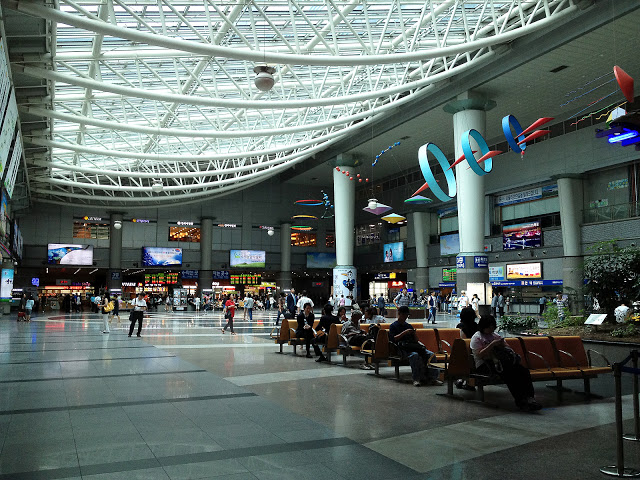 Definitely not a New York City subway station LOL
Myeongdong

Myeongdong is one of Seoul's main shopping districts, and one of the spots I wanted to check out since there are quite a few dramas that have shot in this location, including one of my favorites, "You're Beautiful". Of course, since it's also a haven for shopping, it was doubly as entertaining for me.
We walked around ogling the ads and shops for a bit as if we didn't live in a place 30 minutes from Times Square. Then we slipped into H&M before Mike could explode from the annoyance of having no belt to tighten his then loose jeans, thanks to our endless hiking on Jeju.
Belt acquired, we wandered around some more to look for a place to eat. There were a lot of American chains to be found, but we couldn't make up our minds until we found this little place packed with people. I had no idea what the translation was, but the fake food display made us hungry.
Thankfully they had a menu with pictures and translations, so we were able to order without having to guess at what we'd get.
We ordered a few things. But first we were served side dishes, which we realized are served pretty much everywhere with meals except probably for at the street vendors. These ones were very simple: tofu strips in some sort of soy marinade, salted tiny shrimps, pickled radish, kimchi, and what tasted like miso soup.
I ordered dukkbokki (can be spelled tteokbokki), which I'd become obsessed with ever since I came across a scene in a drama where someone was eating it steaming hot right off a street cart by sticking a wooden stick into the little rice cake tubes (similar to how some street food are eaten in the Philippines). This dish is usually made with just the rice cake tubes, tossed in a sweet and very spicy sauce. Sometimes they add in fish cakes and other seafood. This one had the tubes, fish cakes, noodles, and even a whole boiled egg. It was one of my favorite dishes on this trip, considering how much food we ate.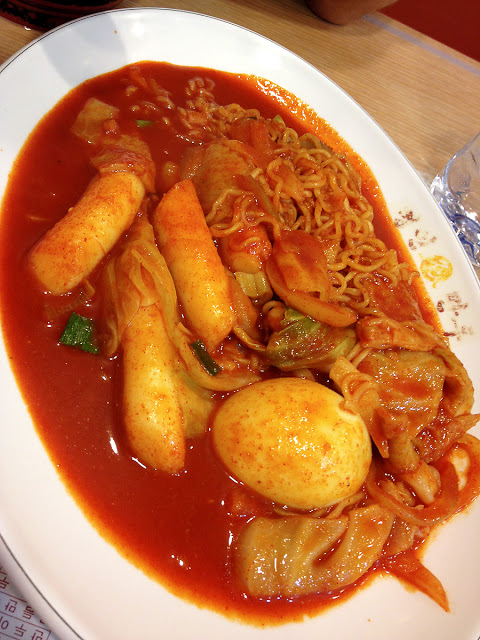 Dukkbokki (tteokbokki)
Mike ordered something that looked like spicy ramen. It looked like plain old instant ramen with eggs, but for $2.50 it was still delicious and not a bad deal at all.
It's rare for Mike to see a chicken cutlet dish without ordering it, and this time was no exception. It was very similar to the one he had at Han's Deli on Jeju Island. Very, very crispy, despite being smothered in gravy.
We ordered another dish because everything was cheaper here than everywhere else we'd been. This one was jap chae (glass noodles and vegetables sauteed with sweet soy and sesame sauce).  There were also some fried dumplings on the side.
This restaurant proved to be perfect for satisfying my hankering for street food. In fact Mike and I had argued regarding the importance of preventing stomach problems vs my desire for some dukkbokki from the cart outside, so I was extremely happy to have found this place.
After eating we walked around a bit more, then we headed over to Myeongdong cathedral. It was quite pretty, but we didn't hang around too long since we had plenty more places to go to.
After quite a bit of  window shopping we headed back to the hotel because we had made dinner reservations at the JW Marriott and I wanted to finally take photos with my decent camera.
Man Ho @ JW Marriott

Man Ho is an upscale Chinese restaurant at the JW Marriott. We figured we'd be too tired to go elsewhere that night, and we were craving something other than Korean food (after four days straight of it), so we settled on Man Ho. I was also itching to try jjajangmyeon (black bean noodles), another popular Korean dish, which can usually be found at Chinese restaurants there, and which I'd spotted on their menu earlier. Jjajangmyeon is based off of a Chinese dish originally, but made unique by Chinese migrants to Korea
The restaurant was cozy, but not crowded. I loved everything about it. The lighting, the classy decor, and even the service.
They started by giving us some side dishes, as per usual.
We decided on having the peking duck first, which is common enough in NYC, but we couldn't stop ourselves from ordering it anyway. It was delicious, but served in crepes, not in buns, which we prefer.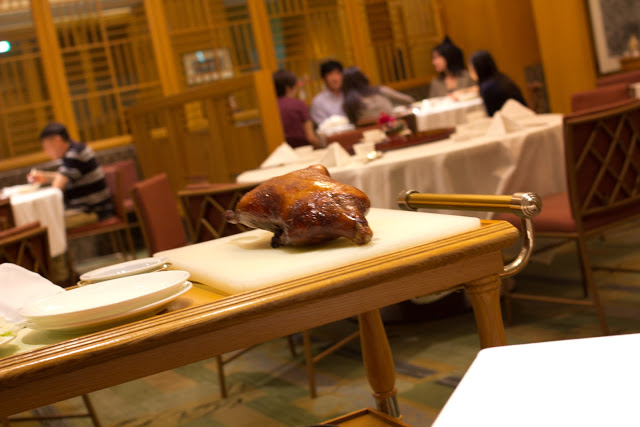 Peking duck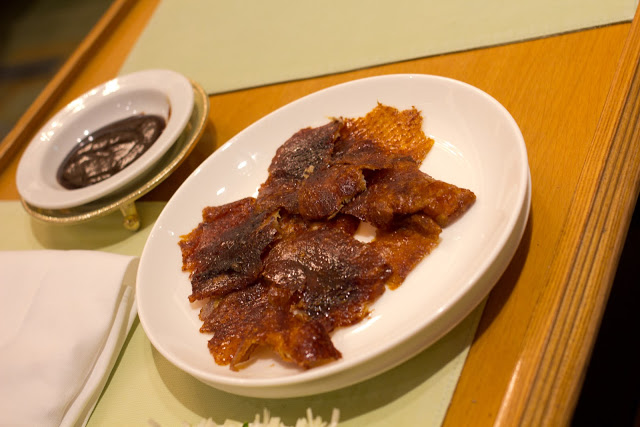 Peking duck skin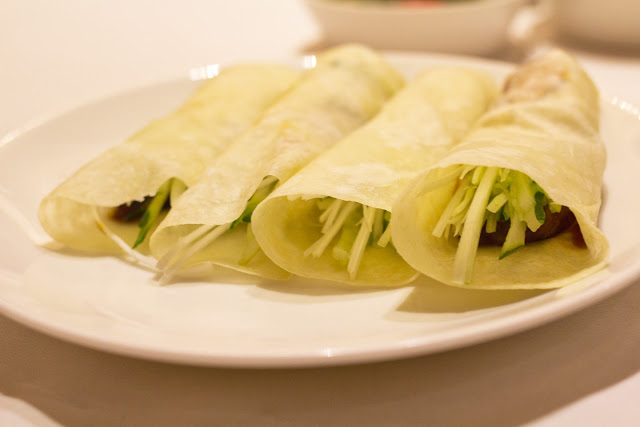 Duck crepes
Thin slices of the duck  including the skin were used for the crepes, then the rest was made into a gorgeous duck and vegetable saute.
I added an eggplant and ground pork saute, just to add some more vegetables.
One of these came with a side of steamed bun. I've always loved these things, and would sometimes eat just the bun without the filling, and this one was probably the most perfectly steamed one I've ever had. It was warm, soft, but not soggy.
Our last order was the jjajangmyeon (black bean noodles on the menu). Our waitress seemed amused that we had ordered the most expensive thing on the menu (the duck) together with the one of the least expensive (and least fancy) dishes (jjajangmyeon). This was delicious, and I could imagine why it's a popular dish. It's greasy and comforting the way only Chinese food could be, with a Korean twist.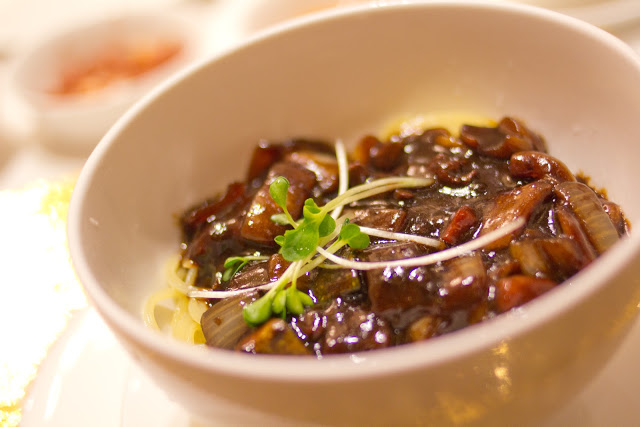 Jjajangmyeon
We didn't order any dessert, but we got mango pudding for free anyway. It was refreshing, and delicious.
Banpo Bridge
After dinner we were tempted to fall into bed in a food coma. Instead I forced Mike to go for a (very long) walk with me to the Hangang park near the Banpo bridge so I could practice taking night shots. There were so many people that it took me 30 minutes to take one photo because people kept walking into my shot. There were lovers on dates, families walking around, people with their ipods on going for a run, and many many cyclists. I was such an idiot that I didn't check out the times when the bridge becomes a big water fountain, but I'm still pretty happy with what I got.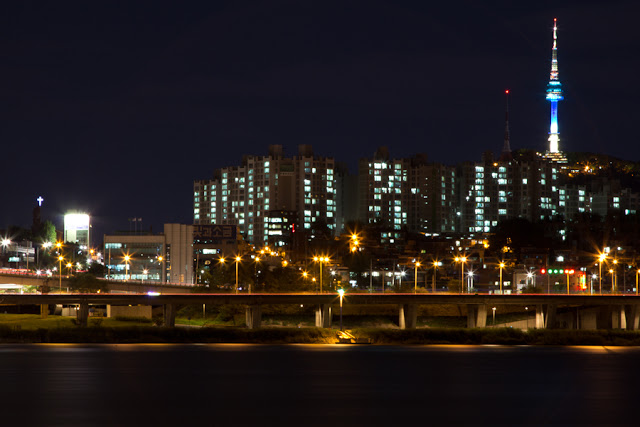 Seoul at Night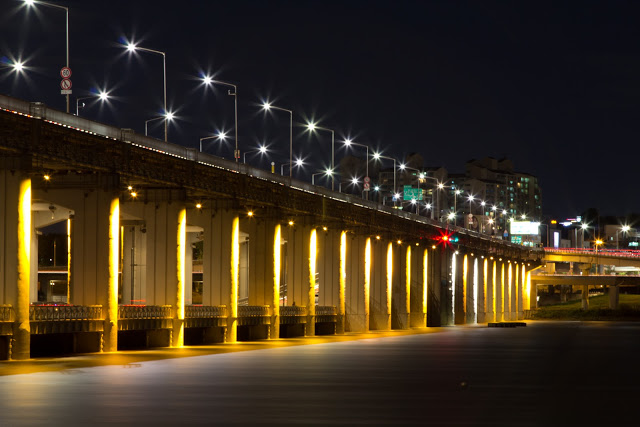 Seoul at Night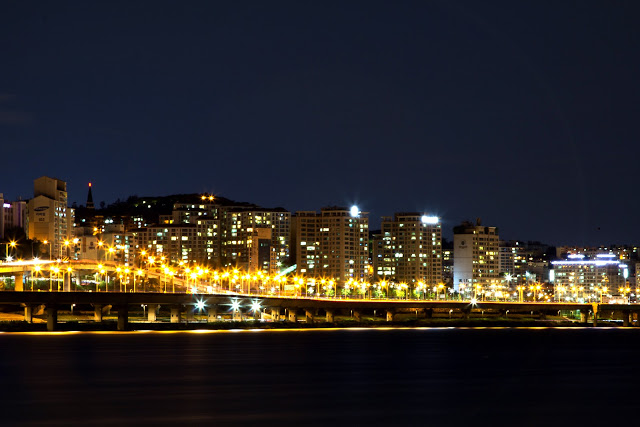 Seoul at Night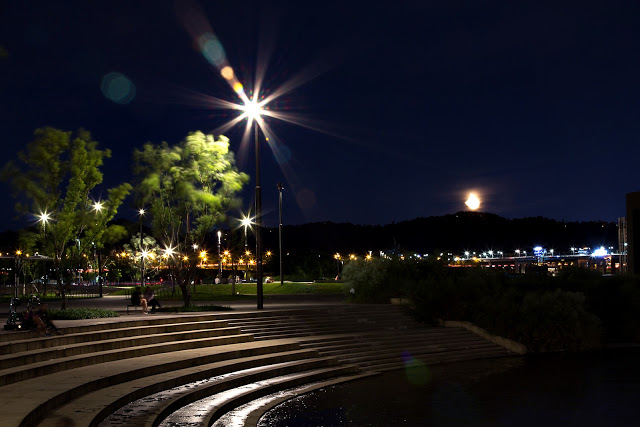 Seoul at Night
It was gorgeous, and at the end we felt like the walk was worth it. As we headed back to the hotel, I kept thinking about how I was going to be sad to leave, even though we still had another day to experience Seoul as best we can.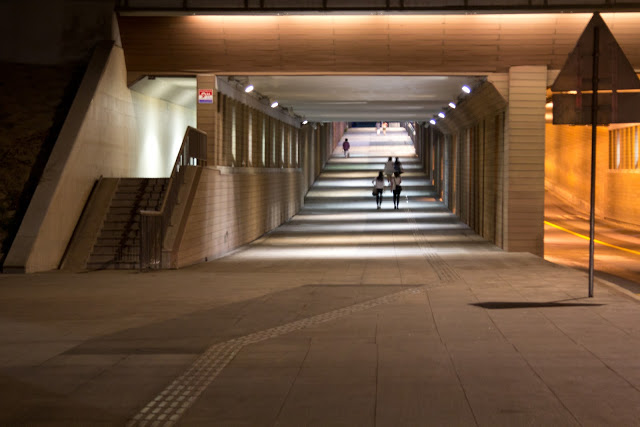 Seoul at Night
Related Posts:
Not Bored in Manila 2012, Day 1 – Mesa Filipino Moderne, Fort Santiago, and Travel Woes
Not Bored in Jeju Island 2012, Day 1 and 2, Part 1 – Airport and Hotel Food, Jetlag, and Jeju Olle Trails Route 7
Not Bored in Jeju Island 2012, Day 2 Part 2 – Loveland Museum
Not Bored in Jeju Island 2012, Day 2 Part 3 – Dongmun Market, Han's Deli, and Gwang Won (Korean BBQ)
Not Bored in Jeju Island 2012, Day 3 Part 1 – Hallim Park and Jeju Olle Trail
Not Bored in Jeju Island 2012, Day 3 Part 2 – Spirited Gardens, Locadio World, Mt. Sanbang, and Cheonjeyeon Falls
Not Bored in Seoul 2012, Day 2 Part 1 – UNESCO World Heritage Day Tour
Not Bored in Coron, Palawan, Philippines, Part 1: Club Paradise