I recently had the pleasure of having dinner at Otto with some of my old coworkers. The restaurant is one of the many that Mario Batali has in NYC, and we actually happened to see him there that night! I haven't had many celebrity sightings living here, mostly because I really don't pay attention to other people on the street, so I was pretty happy about it.
They have a really good group dining menu, with fare that won't make you feel like taking a very long nap right after. Italian Italian, and not Italian American food (chicken parm, tiramisu, etc.) as some would say.
The meal started off with some mixed vegetable antipasti: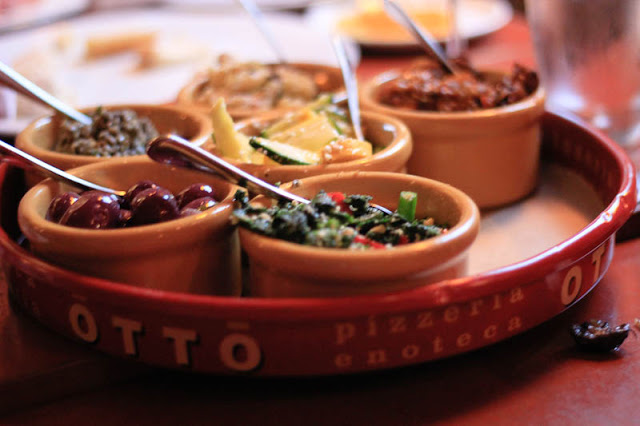 an arugula and tomato salad: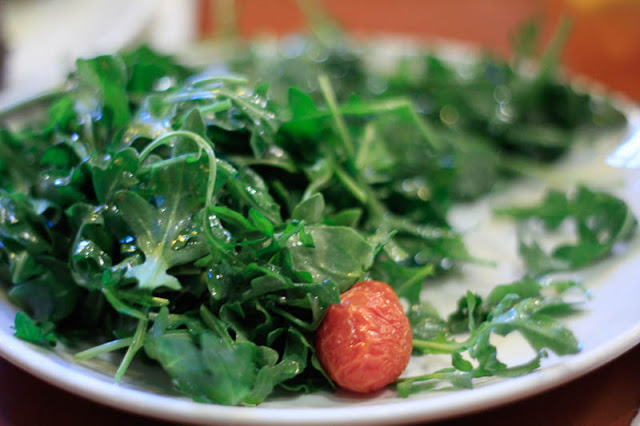 bruschetta del giorno: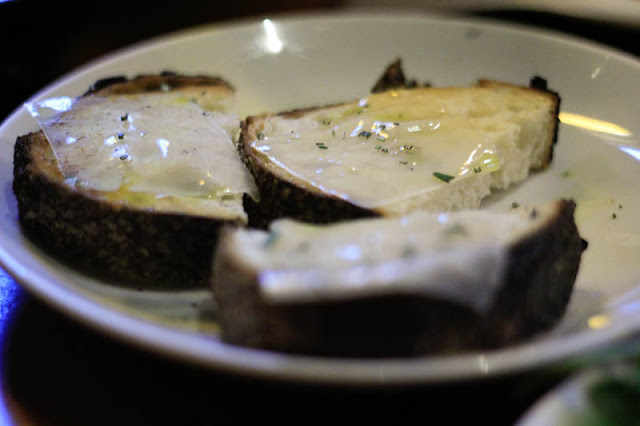 and several other items I did not take a photo of since I was too busy eating already such as mixed house cured meats, romaine & red onion salad, and a selection of artisanal cheeses. I kind of wish I had asked about a particular cheese that tasted like an Italian version of brie (very triple-cream like in texture, but had a saltier taste). Oh well, maybe next time.
Oh wait, I forgot that I actually did take a photo of that romaine & red onion salad, when Katie pretended to eat it like a burrito: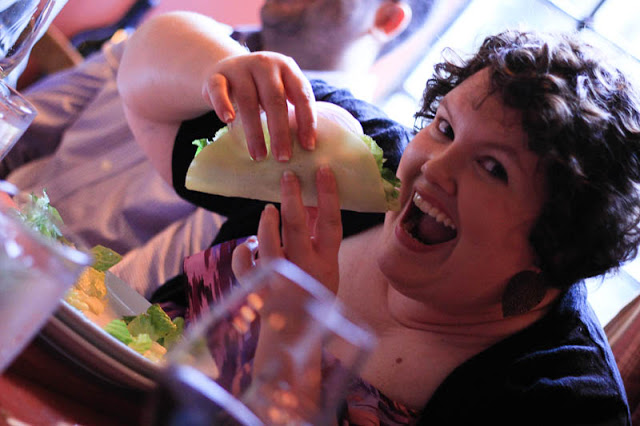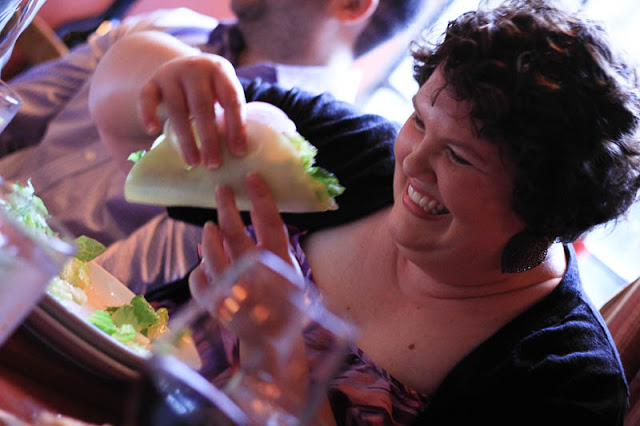 I'm not going to go into the vegetables that much. They were were about as good as vegetables could be.
The entrees were great as well. Filling, but like I said, not coma-inducing. My favorite was (what looked like) penne with sausage and some greens (might be escarole). There was a good balance between the richness of the sausage and the pasta and greens.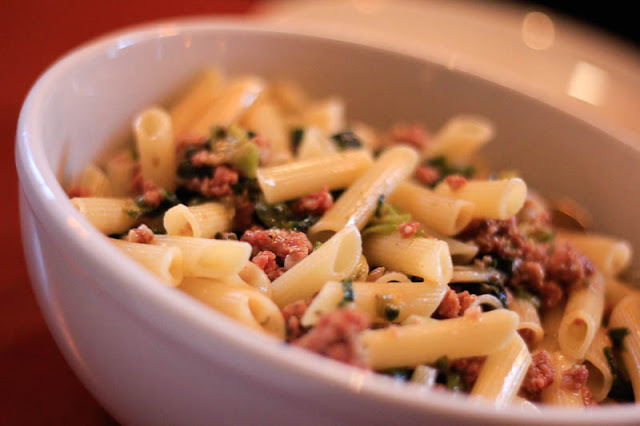 There were also several pizzas. I had a slice each of two of them. One of them was the pepperoni, which I seem to always get, but I end up always thinking it's only okay. I think my issue with pepperoni is it has a sourness to it that I'm not fond of.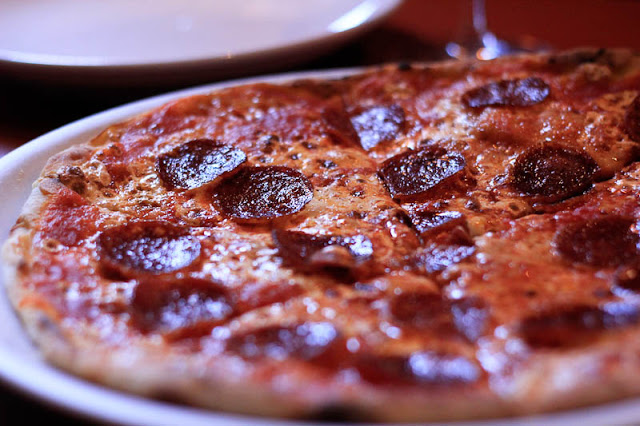 The other slice I had was the one with mushroom, swiss chard, and some kind of meat similar to ham. I preferred this to the pepperoni, which wasn't surprising because I've always been a fan of ham.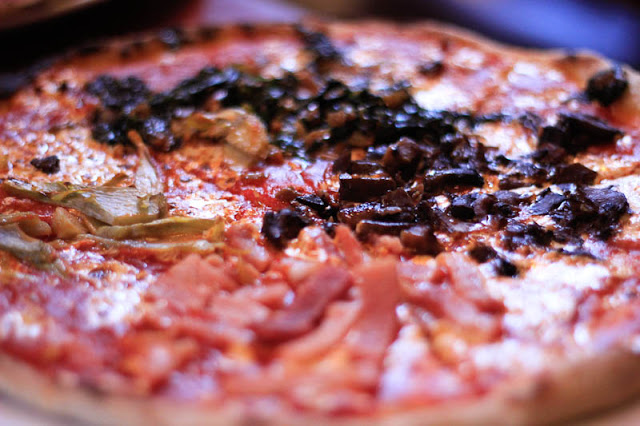 There was also a margherita pizza, which I didn't have because it looked way to healthy for me. I'd rather eat at home for healthy stuff.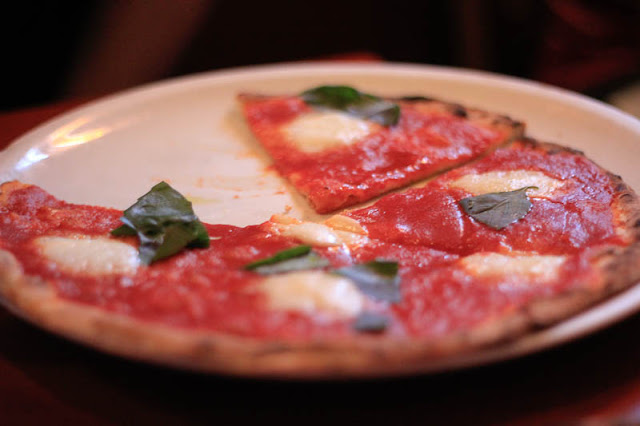 The fourth pizza was devoured very quickly before I even had a chance to take a good photo of it. All I know is that it appeared to have prosciutto, and Mike loved it.
Dessert is my favorite part of any meal, and this was true more so in this particular instance. They served a variety of gelati and one sorbet. Katie and I were a bit sad over the fact that they don't list the flavors in the menu, because this was actually the most interesting part of the meal. I tried a few of these, and my favorite was probably the banana one. It tasted like banana cake, in gelato form. YUM. I had another one that tasted like mint and chocolate chip, which I wasn't that fond of. Mostly because, I don't like mint with my chocolate unless it's Andes. Don't ever give me a pack of Andes chocolate mints. They will be devoured in one sitting and I WILL blame you for gaining a pound.The one sorbet was undeniably grapefruit. It really tasted like taking a huge bite of grapefruit, bitterness and all. I was amazed at how they were able to perfectly incorporate the flavor of the fruit in this sorbet, but honestly it tasted a bit too healthy for me.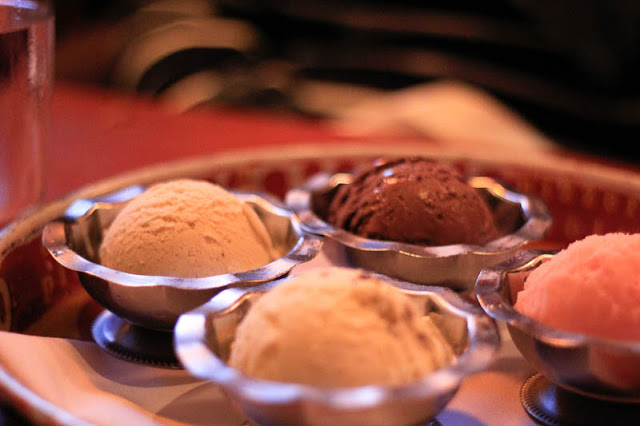 They also served a variety of tiny pastries. The only ones I could identify were the pignoli and biscotti. I tried something that looked like chocolate shortbread. It tasted WONDERFUL. I'm always pleasantly surprised when a cookie turns out to have the texture of cake, which was what happened in this instance. I also noted what appeared to be rock or sea salt in it, which intensifies the taste of chocolate.
As per my usual M.O., I had a cup of coffee with dessert. It wasn't anything spectacular, but it still completed the meal for me.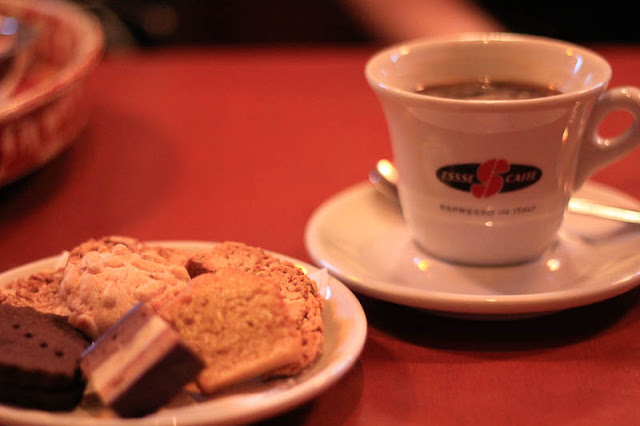 Overall this place is great. I've actually been here once before, and my judgement is that I prefer their pasta over their pizza, and I love their desserts.
Otto Enoteca Pizzeria
1 5th Ave
New York, NY