Fueled by the fact that Mike won't be around all of July and our desire to do some hiking on our upcoming trip to Jeju Island in Korea, we set out to do our first practice "hike" somewhere in Long Island. We decided to check out the Bayard Cutting Arboretum, which is one of those estates-turned-public-parks that seem to be scattered all over New York (much like the Old Westbury Gardens where we did a walk sometime ago).
It seemed (and proved to be) the perfect blend of nature and civilization, especially since we hadn't done something this active in a long time.
The place opens at 10 am, and we had timed it so perfectly that we got there just as 10 rolled around. Unfortunately, we forgot to bring the $8 they charge per car, so we drove a little further up the road and found a gas station where we got some bottles of water and some cash. As we drove past the entrance there was already a line of cars waiting to get in. It seems to be pretty popular with families.
We started off a little slow because I was in need of some coffee. On our way to the manor I snapped a few photos of this pretty tree.
They have a nice little cafe in the manor where you can get some pastries, salads and sandwiches. It usually opens at 11 am but they were kind enough to brew a pot of coffee just for me! Mike got a chocolate chip cookie which was actually pretty decent. They also had some cakes and pastries on display which looked yummy.
They have plenty of seating for the cafe inside the manor and on the deck outside. We didn't go there to sit around all day though, so after I got my coffee we headed out to get to the trails.
I'd read about and seen some good pictures of the Rhododendron Walk so we tried looking for that at first. Unfortunately the flowers were not in bloom at the time so there wasn't much to see. The signage also isn't very clear around the paths (in fact most of the time there aren't any signs at all). The area isn't large though and there are benches EVERYWHERE, so if you get tired of looping around and getting lost you can at least sit down and take a rest.
Despite the absence of the rhododendrons, the greenery was still very beautiful. At times I felt as though I was in an old-style adventure game (anyone ever played King's Quest or Kyrandia?).
Since there obviously wasn't much going on on that side of the park, we decided to do the river walk instead. On the way there we passed by the lilacs area, where there was a group doing a photography class. It was definitely the perfect place to play around with a camera, what with the abundance of flowers and butterflies flitting about.
We also passed by the carriage house, which appeared to be closed. There was a nice little bridge towards it though.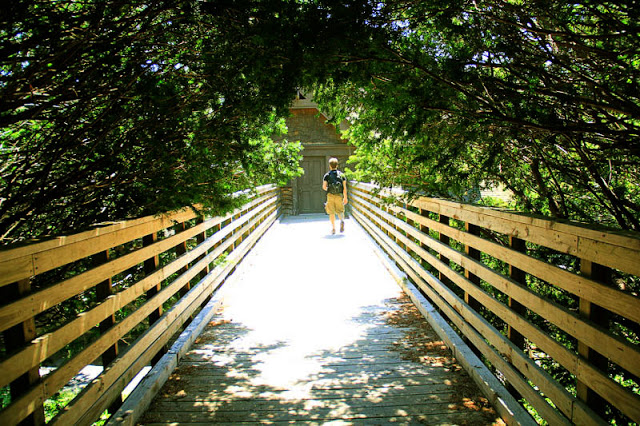 Mike inspecting the carriage house
After going past meadows, trees, and more trees, we finally got to the river walk…
… where Mike spotted some ducks and demanded I take a picture of them.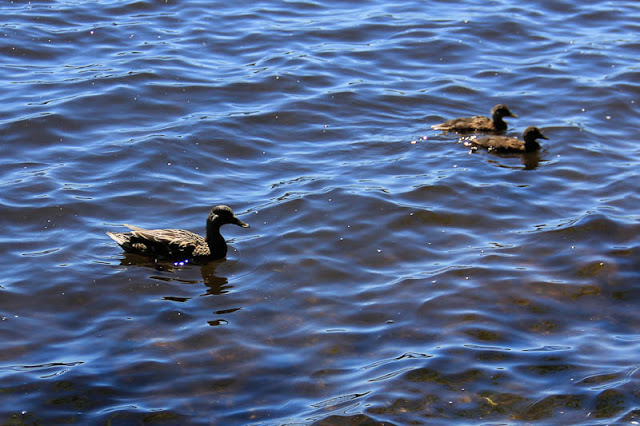 Mommy duck and little ducklings
And then we walked further along the river, where we drooled over the houses across it and stared enviously at the people on their jet-skis and sailboats and paddle boards.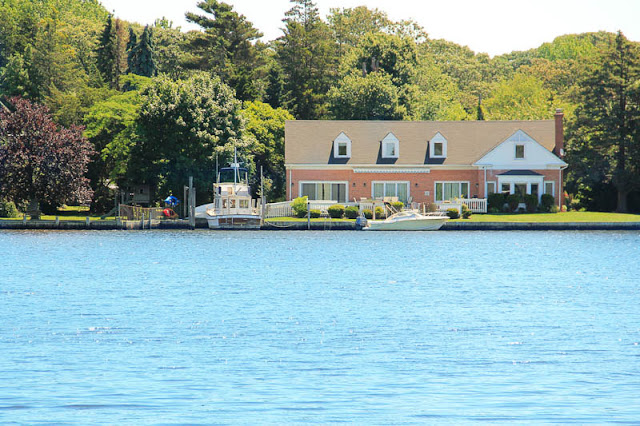 One boat just wasn't enough for this family
The path was so relaxing that Mike kept telling me this was not a hike. Hey, I wasn't complaining.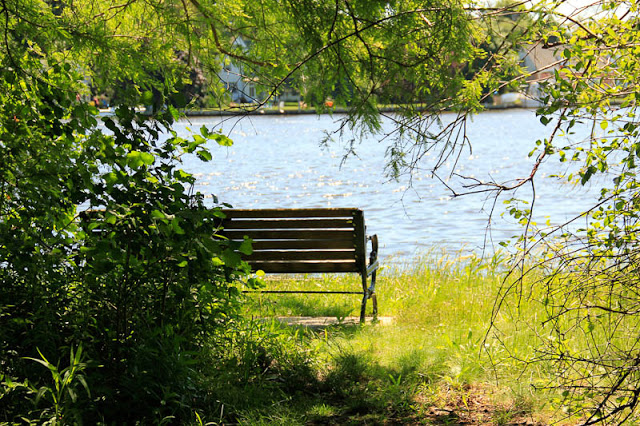 Seriously, there were benches everywhere
There were some interesting things to see as well, such as these strange tree roots Mike disgustedly pointed out.
The weather was perfect, sunny with a nice breeze. We couldn't have asked for a better day to be walking around.
Along the trail Mike pointed out an osprey nest with an osprey sitting on it. There was even a sign about it. Of course I had to take a photo, but honestly it was too far away for me to appreciate how "amazing" it was. 🙂
The trail stretched out quite a bit, and there's not much else to say about it but here are a few more photos.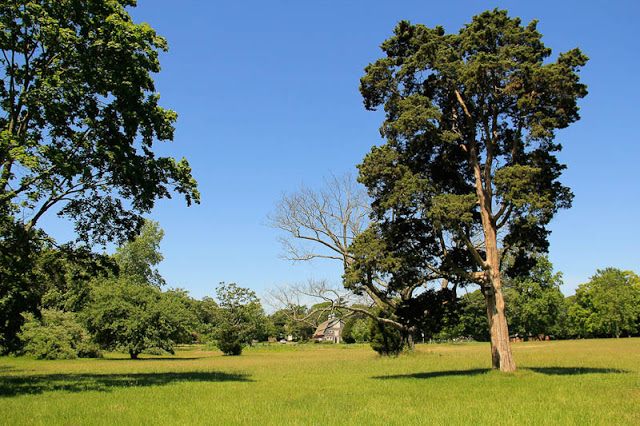 The Meadow, on the other side of the river trail
Mike convinced me to cross a bridge into an area called the "Native Wood and Bog", which I thought didn't sound very enticing, but it did end up being a nice walk. Plus we got close enough to this guy:
And then Mike found an old eagle scout project in the native wood and immediately went to pose by it.
This part of the arboretum was more like an actual hike than any of the others, and I have to say I enjoyed the parts of the bog where it seriously didn't feel like I was in New York anymore.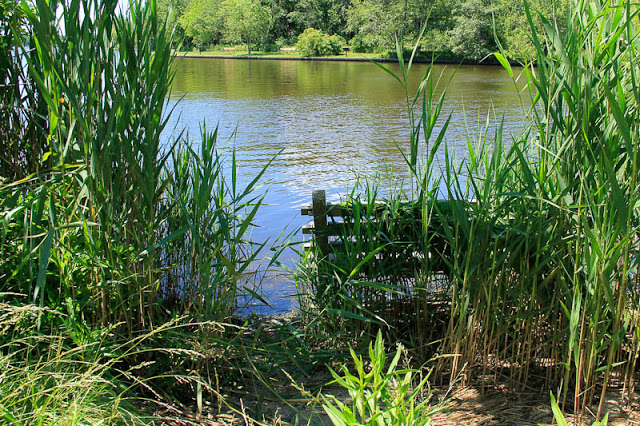 This bench was actually partly in the water. Seriously. Benches EVERYWHERE.
It took us quite a bit of time to get through the wood and bog. Once we got out, I decided it was time for Mike to take a photo of me pretending I wasn't paying attention.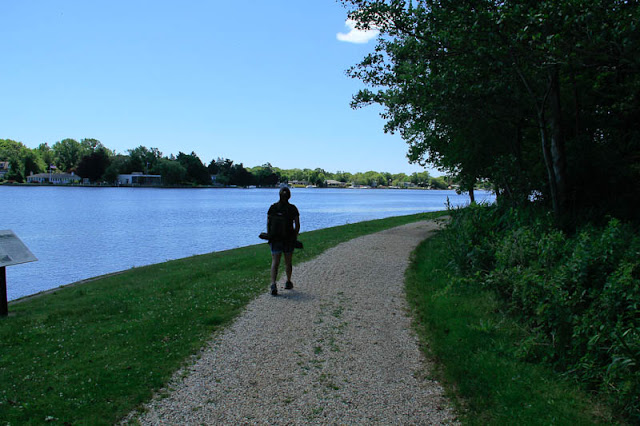 That's me!
And then I made a face at him for another photo, so he decided he would make an inappropriate gesture and cover my face.
Which a man passing by saw and thought was hilarious, so he offered to take a proper photo of the two of us.
At this point we decided to get back to the manor and hangout at the expansive backyard overlooking the water. But first we had to pass by some freakishly tall trees that could be seen as either creepy:
Or enchanting:
You can take your pick. 🙂
And then I had to go to the restrooms, which were so old I kept imagining a Japanese-movie looking ghost popping up and scaring me.
Of course the sepia tone kind of makes it creepier but here's what the area looks like in broad daylight, with Mike on the side Yelping our lunch options. I admit I really am just a scaredy-cat.
There was even a scattering of hydrangeas and other gorgeous flowers, which I of course took way too many photos of, as per usual.
After that all that was left was the ridiculous "back yard" and the back of the house.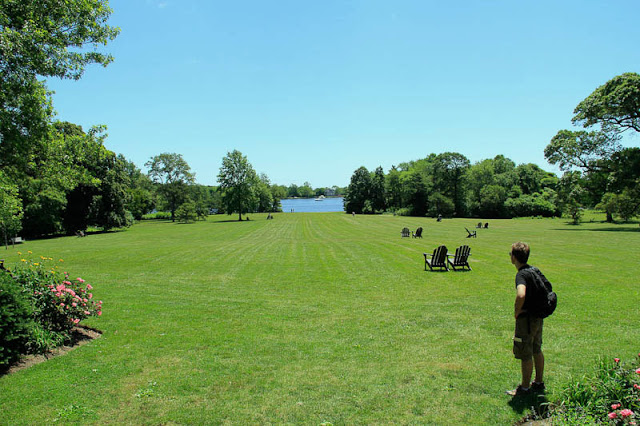 Mike probably thinking he's too lazy to walk all the way over there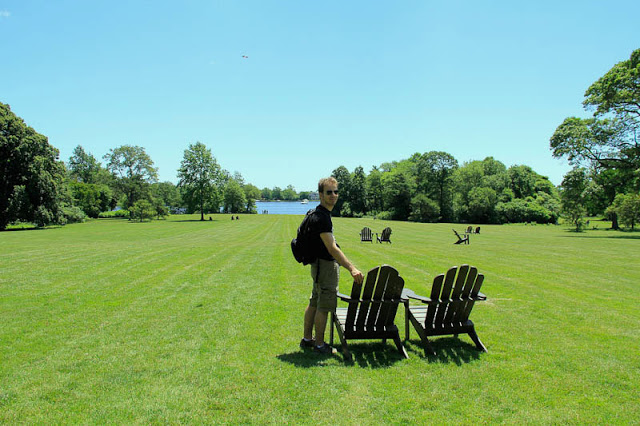 Can I sit now?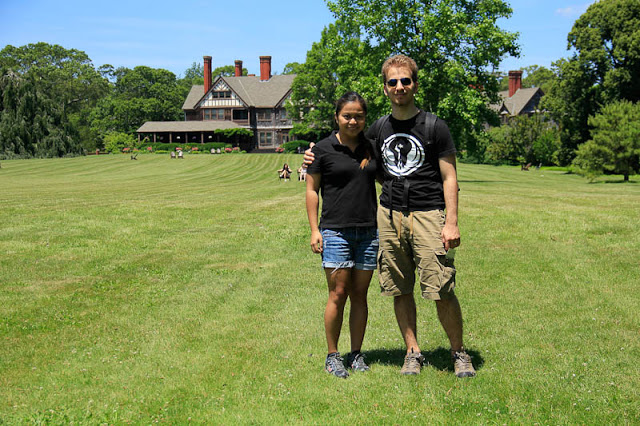 Finally made use of the tripod I'd been carrying the whole time
After that we were too exhausted to go on, so we headed over to Snapper Inn for some lunch, and apparently also to be stared at by rich people wondering what the hell we were doing there. The back of the inn is also a marina of sorts, which is probably why we were judged to no end in our hiking clothes and backpacks.
Still, the view at the place was great.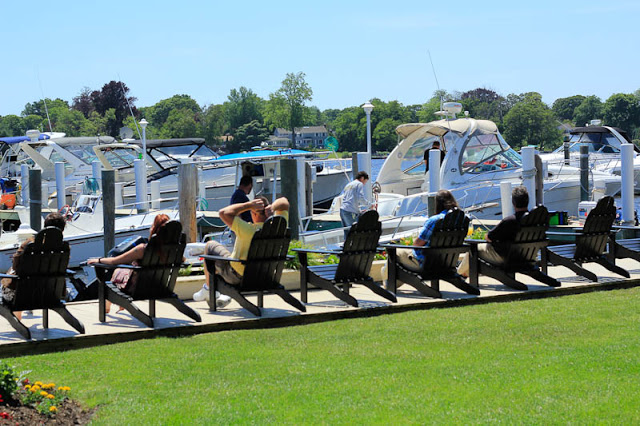 Folks chillin' at the Snapper Inn
And the cheerfully huge lobster sign was cute.
Mike ordered their clam chowder to start. It supposedly won some kind of award in Long Island, but after having had the clam chowder in Cape Cod, we couldn't really rate it more than ok.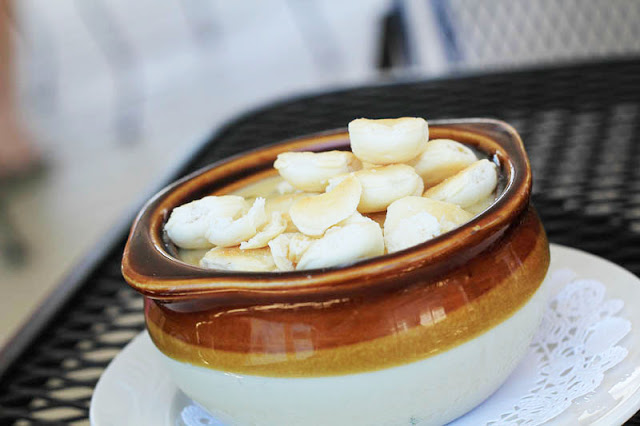 Clam Chowder at Snapper Inn
For his main course Mike had fusilli pasta with chicken, which looked WAY too healthy for him to have actually ordered it. As expected, he was not a fan. He just had a few bites then stopped eating. I actually thought it was decent, although my palate is a lot more forgiving about healthy food.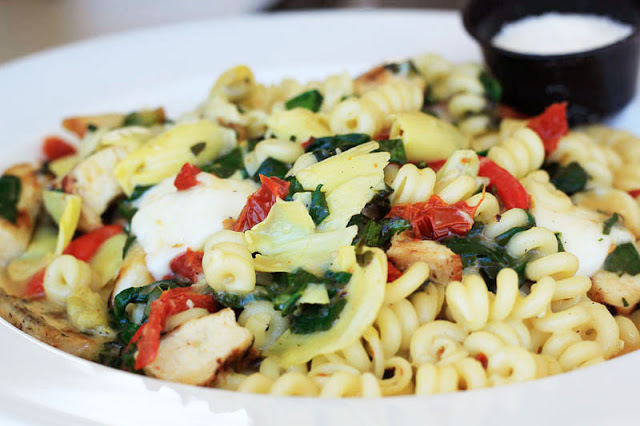 Fusilli chicken pasta at Snapper Inn
I ordered a special that had pan-seared salmon, lobster ravioli and lobster-truffle sauce. I was a bit irked that it took forever for them to give us our order, then gave me the wrong order. But they took it back and gave me the right one, and the lobster ravioli and sauce were to-die-for, so I guess I can forgive them. The salmon was a bit dry, but I didn't eat that much of it anyway since I was already full from the ravioli.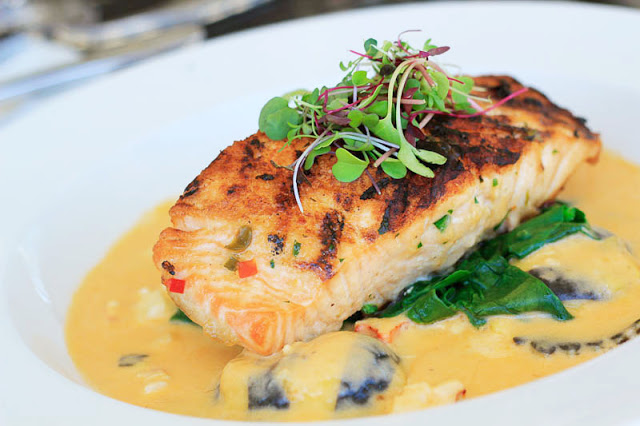 Pan-seared salmon, lobster ravioli, and lobster-truffle sauce at Snapper Inn
Since we weren't extremely impressed with the food, we decided drive around and look for an ice cream parlor for dessert. We couldn't find any places for ice cream but we did pass by Jackson Hall American Bar and Grille, which looked like it would have decent desserts. It certainly did not disappoint.
I had the homemade caramel popcorn sorbet, which I thought seemed exotic at first but ended up really just being lots of berry sorbet topped with caramel popcorn. It may not have been exotic, but it was absolutely DELICIOUS. The texture of the sorbet was better than any I've ever had. It was sooo smooth and creamy. The portion was also insane. There were easily 8 scoops of sorbet in there, which we barely made a dent in.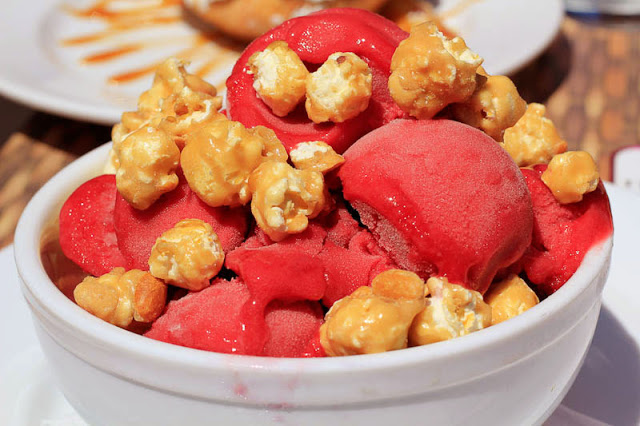 Caramel popcorn sorbet at Jackson Hall
Mike had the banana cream pie, which was also huge and super rich and banana-ey. I think he got through a quarter of it before giving up and stealing my dessert instead, which was much more appropriate for the warm weather.
After half a day of walking, lunch, and crazy desserts, it was time to go home. Hopefully all of our other hikes turn out like this one did. I guess one can only hope.