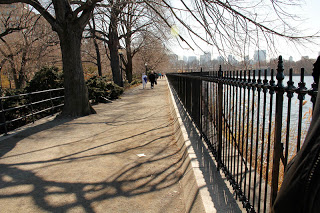 My first walk in the Upper East Side was not as successful or long as I wanted it to be. It was mostly my fault, since I didn't plan it well enough. Considering how popular this neighborhood is, even to non-New Yorkers (there's a ridiculous number of movies and TV shows that have been filmed there), I thought I should give it the attention it deserves.
Since it was a nice Sunday morning it was imperative that we have brunch somewhere. I already had an idea of what shops I wanted to go to, so all that was left to do was to go on good old Yelp and find a place near them. I'd had my eye on Park Avenue Winter for sometime, so it was no surprise we ended up there.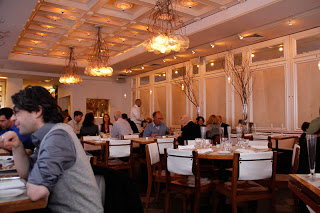 100 East 63rd Street
at Park Avenue
New York, NY 10021
The unique feature of this restaurant is that it changes its menu (a little bit) AND its decor (drastically) as the seasons change. As I'm writing this post it is now called "Park Avenue Spring", but when we went for brunch it was still "Park Avenue Winter". I was a bit concerned it might be too sterile and dreary from the photos I saw on their website, but the lovely lights warmed up the place nicely. There was a very lively crowd in there too (lively but not obnoxious).
They started us with a lovely bread/pastry tray for the table which consisted of the following: spiced sugar doughnut, golden raisin and walnut roll, pistachio scone, winter cranberry muffin, brioche and pecan sticky bun, and glazed banana bread. This was quite a lot of bread for two people, and I honestly would have been perfectly fine having just half of these for breakfast, so I was very careful not to over-stuff myself with pastries. I tried the spiced sugar doughnut, which was as good if not better than any yeast doughnut I've had,  and had that comforting cinnamon-sugar taste that will always make me think of fall. I've been a fan of banana bread ever since I can remember, and theirs was no exception. What really won me over though was the pistachio scone. I'm not usually fond of scones, since they can be rather hard and tasteless, but this one was soft and crumbly as only scones can be, and the pistachio flavor was something new to me. It helped that I more often than not like anything with pistachios anyway. Overall this is probably one of my favorite bread baskets ever. Right now the only one I can think of that could have been better was the one at  Mesa Grill in Las Vegas. Funny how I've been to Mesa there and not here in NY!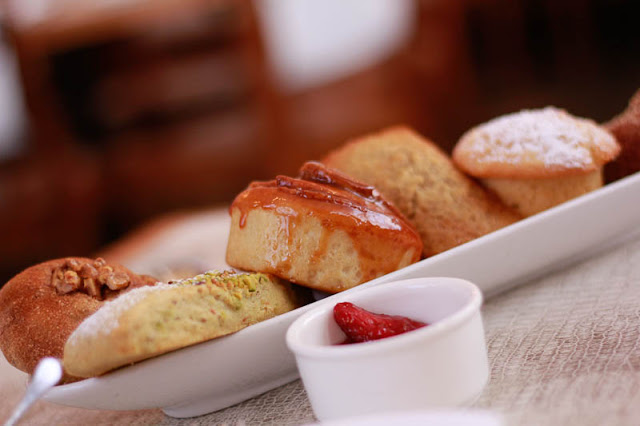 golden raisin and walnut roll, pistachio scone,  brioche and pecan sticky bun , glazed banana bread and winter cranberry muffin @ Park Avenue Winter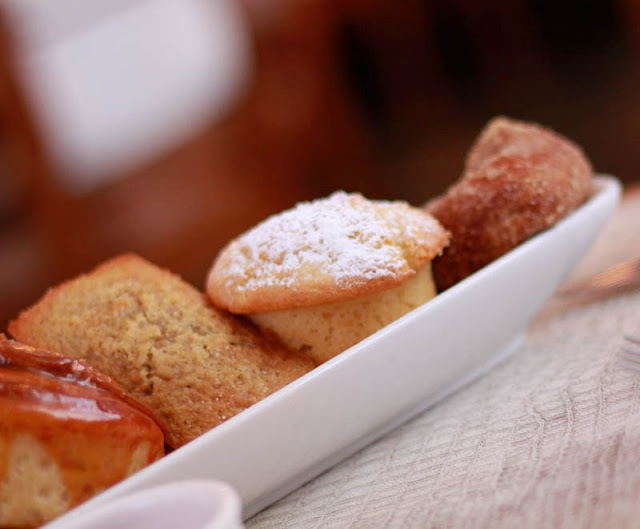 glazed banana bread, winter cranberry muffin and spiced sugar doughnut @ Park Avenue Winter
I had the smoked salmon & bucatini with wasabi caviar and creme fraiche for my appetizer. This dish blew my mind, which is funny considering how subtle it was. The only strong taste in this was the smoked salmon. The rest of it was mild and blended together marvelously to show-off the taste of the salmon somehow.  I loved the texture of the wasabi caviar together with the bucatini.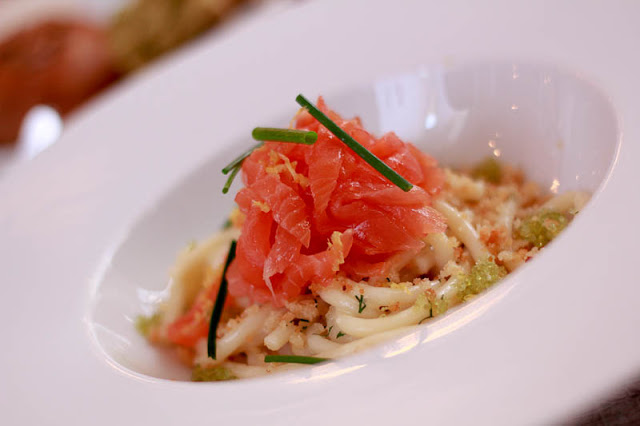 smoked salmon & bucatini wasabi caviar creme fraiche @ Park Avenue Winter
If you had any doubts about how much I loved this dish, this next picture should get rid of those: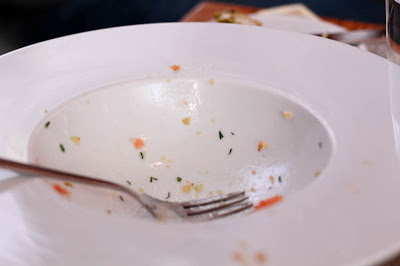 I have to admit that Mike may or have stolen a few forkfuls, though.
He had the thai chicken and lime soup with coconut-chicken dumplings for his appetizer. We both weren't huge fans of this one, although I honestly am very rarely satisfied with any soup that isn't a chowder or a bisque. The dumplings were also a bit strange to me, and reminded me of the fake vegan meat I used to get delivered back when I was trying to be vegetarian.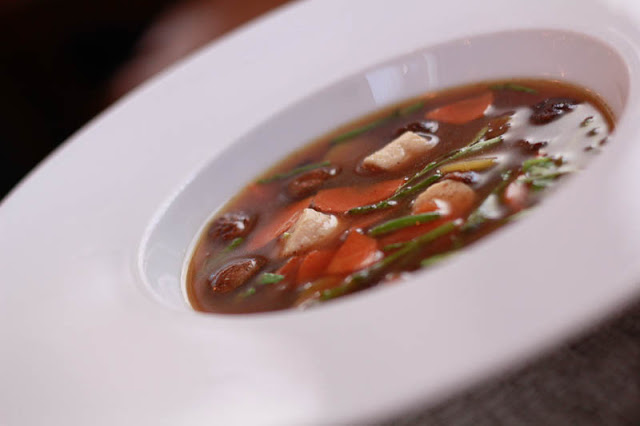 thai chicken and lime soup coconut-chicken dumplings @ Park Avenue Winter
My main course was the fried chicken 'n waffle sandwich, which I appear to be very happy with in this picture. In reality I thought it was only okay. The waffles were too thick to work as a decent sandwich, especially in a place as nice as this where it is probably frowned upon to devour your food like a gorilla. The fried chicken cutlet had that very nice crunchy on the outside tender on the inside texture I always look for in any type of fried chicken, so that's one plus. However I still thought it was lacking in taste. It might have been that I'm not a fan of mustard in general, and the honey mustard sauce that was supposed to go with it was really more mustard then honey. Looking back I think I deserved it for trying to order a dish like this there in the first place. I should have gone with the peekytoe crab. 'Coz I like the word peekytoe.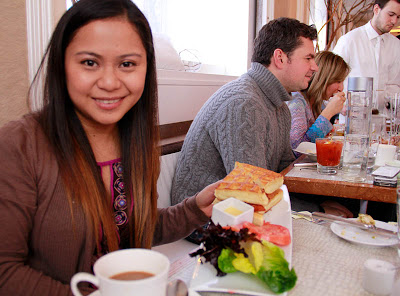 Me and my fried chicken 'n waffle sandwich @ Park Avenue Winter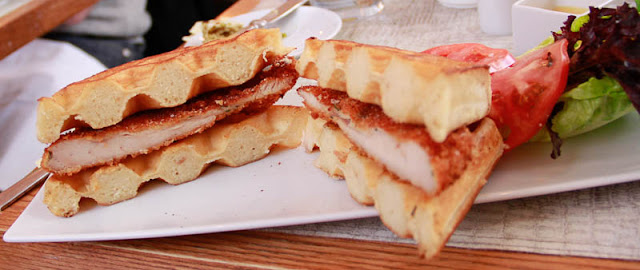 fried chicken 'n waffle sandwich @ Park Avenue Winter
Mike had the maple french toast with butterscotch apples. This one was VERY good, especially the butterscotch. In fact I may have eaten more of this than my sandwich. The french toast was also perfectly cooked, without any soggy bits.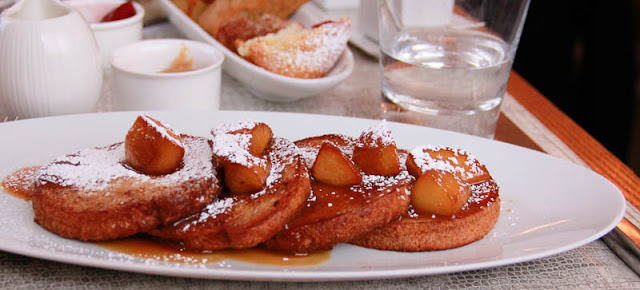 maple french toast butterscotch apples @ Park Avenue Winter
Overall the brunch was pleasant, and I definitely want to go back here for lunch or dinner to try out their seasonal desserts. It wasn't a perfect meal, but I suspect I would've been more satisfied if I had ordered better.
The shops we hit were a bit far from Park Avenue so we drove a bit to get to our next stop.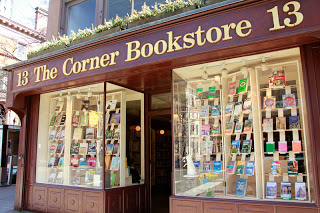 1313 Madison Ave
(between 92nd St & 93rd St)
New York, NY 10128
This small bookstore was the inspiration for "The Shop Around the Corner" in the movie "You've Got Mail". My love for books and for that adorable movie brought me here. Like most small bookstores, they have a very specific and well thought-out selection. I found that I was most impressed by their children's and travel sections.
Mike was very excited about the book "Goodnight iPad", which I guess is based off of the classic "Goodnight Moon". I keep thinking I should've bought it for my nephew, who loves playing iPad games. I almost bought "Paris versus New York" which is an adorable little book that compares the two cities via words and cute little drawings (cupcake vs macaron, bagel vs baguette, Carrie vs Amelie), but I barely have enough room for books I actually use in my apartment, let alone one I could only show off only when we have visitors.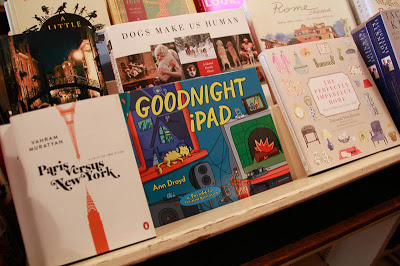 I was interested in actually buying three books. One of them was the "Zagat New York City Restaurants 2012". This one is pretty self-explanatory.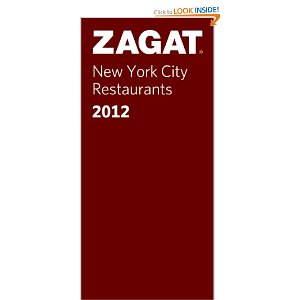 The next one was the "NFT Not for Tourists Guide to New York City", which I first saw in the hands of one of my friends. I've been heavily dependent on Yelp and Timeout NY for my walks, but I figured adding to my list of references wasn't such a bad idea. This guide is very ideal for walks because it lists not only good restaurants but also bars, coffee houses, shops, museums and other entertainment venues grouped by neighborhood.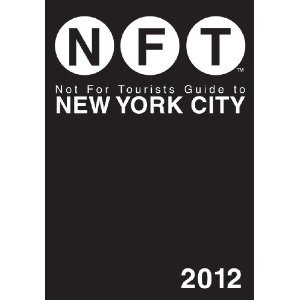 The last one was "The New York Times 36 Hours 150 Weekends in the USA & Canada". The price was a little steep, so I passed on this one, but I'm still dying to have it. I think it's a must for someone like me who can't travel as much as I'd like to. Plus I need to expand my awareness of places to go in the US.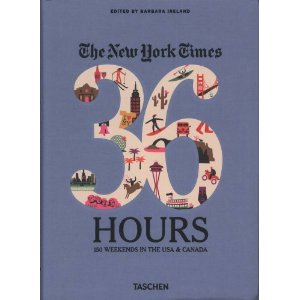 My experience at The Corner Bookstore was a very pleasant one, and I had a pretty great time browsing through the books. The lighting was perfect. Great for reading without feeling too sterile (I'm talking about you Barnes & Noble).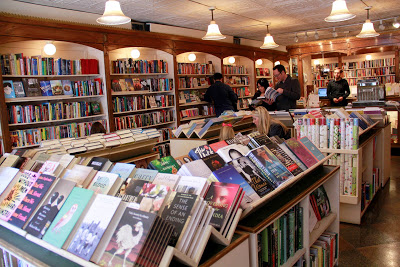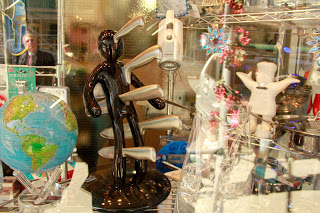 S. Feldman Housewares
1304 Madison Ave
between 92nd and 93rd Sts
New York, NY
This kitchen store has some crazy adorable kitchenware, one example of such being this "knife block" on the right. Is it disturbing that I find it cute and not scary in any way?
It wasn't the kitchen ware that I loved best in this store, though, but their other random knick-knacks such as: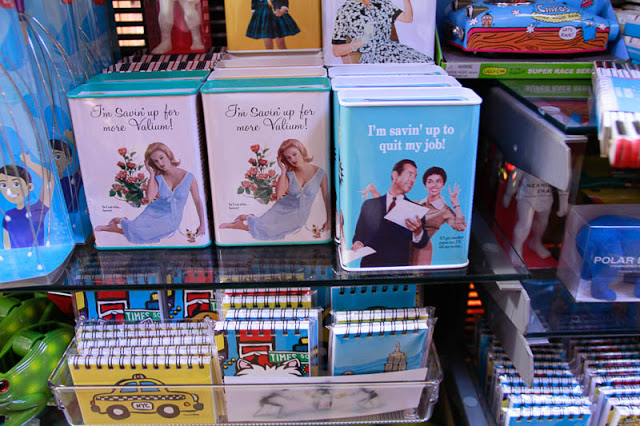 Inspirational coin banks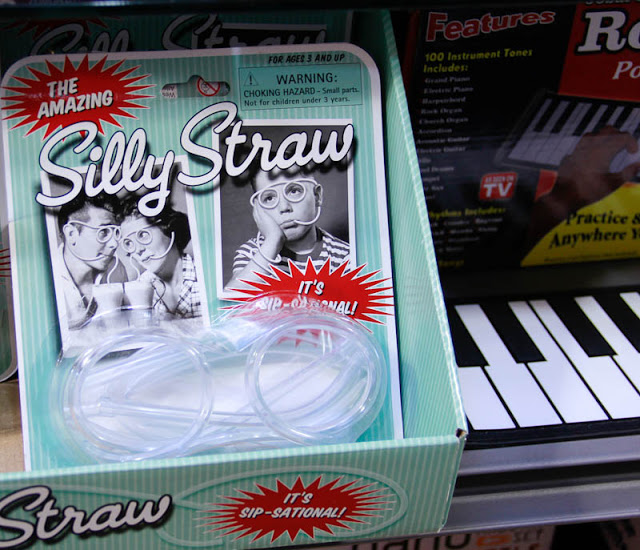 Silly Straw haha! It is pretty silly.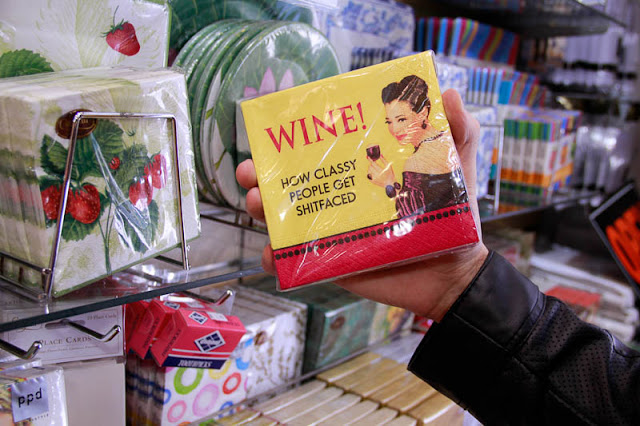 Perfect for the Upper East Side? 😛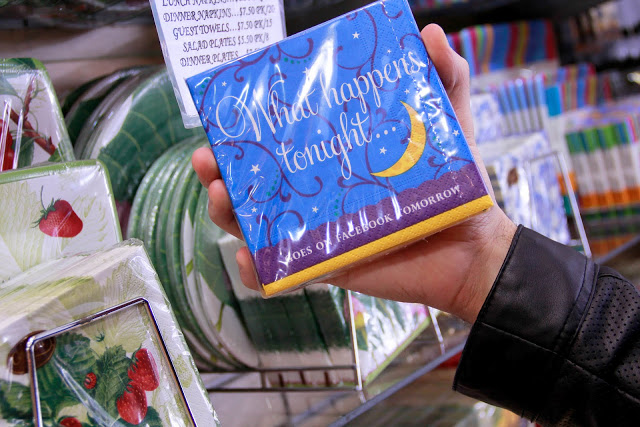 Haha win. If you can't read the bottom and are not good at context clues, it says "Goes on Facebook Tomorrow"
Central Park East Jacqueline Kennedy Onassis Reservoir
We then decided to take a short walk in Central Park, since we'd never been in this area of the park before. There's not much going on, but it's definitely a great area to go walking or jogging around in.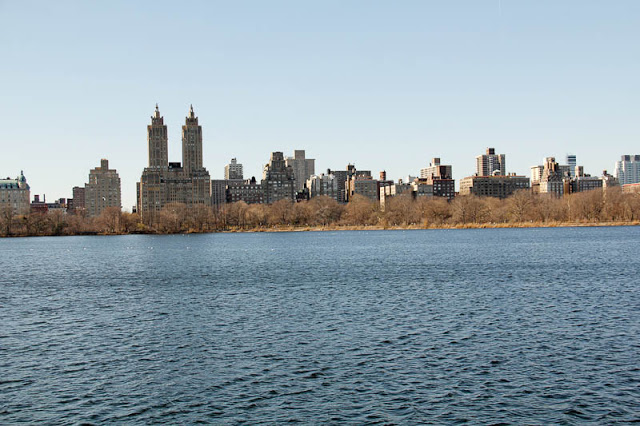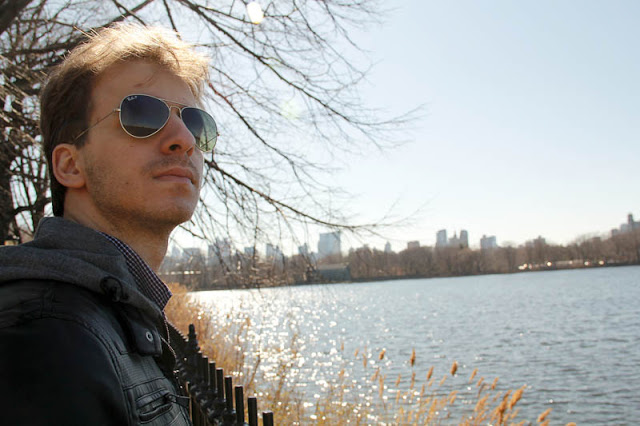 Mike looking as though he's doing some deep thinking. I think he was just wondering where we could get dessert.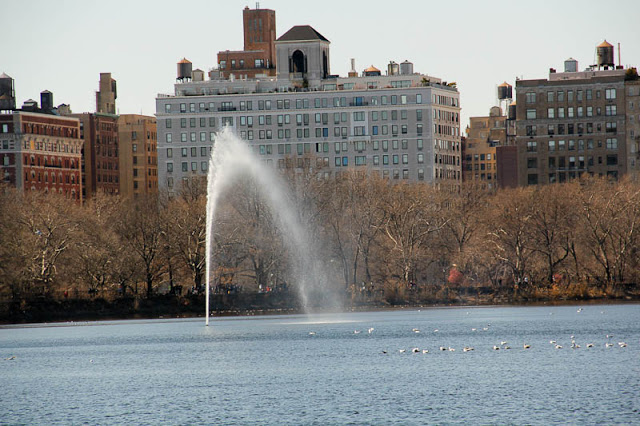 This fountain reminded me of the jet d'eau in Geneva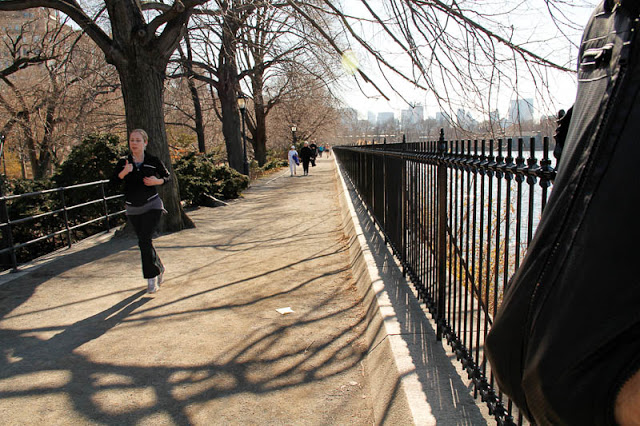 There were plenty of people jogging/walking on this path, which I feel I've seen on Sex and the City at one point
1270 Madison Avenue & 91st Street
New York, NY  10128
Jackson Hole is well-known for its 7 oz. (that's almost half a pound) burgers. Of course, silly, silly people that we were, we just couldn't force ourselves to eat burgers. The reason we came in was that Mike was dying to have dessert and I was thirsty from all that walking. So, despite having come from a nice brunch, Mike ordered a waffle and I had a nice rootbeer float.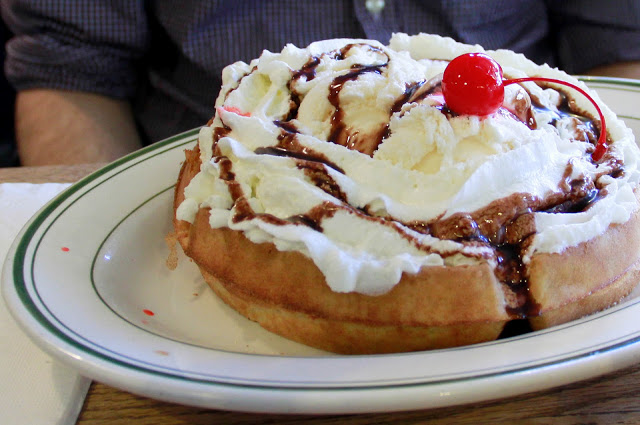 Nothing fancy about this waffle, but Mike devoured it like there was no tomorrow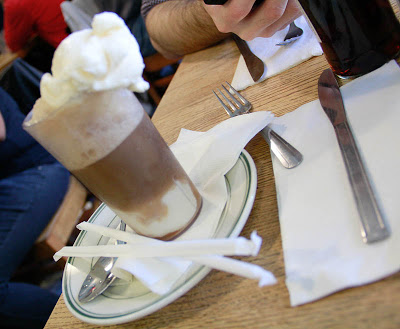 Mmmmmmmm…
Overall I got exactly what I wanted from this walk: a nice brunch, a cozy bookstore and some fun shopping. I would definitely recommend this neighborhood if you're looking for a leisurely shopping trip. Make sure you plan to come early so the stores don't close on you.
The Best Thing About This Walk: The smoked salmon & bucatini appetizer at Park Ave Winter. I still drool a little bit thinking about it.
The Worst Thing About This Walk: The thai chicken and lime soup at Park Ave Winter. Haha! Don't order that unless you're on a diet.
Would I Come Here Again? Sure, though maybe not anytime soon.
What Would I Do Differently? Have a burger at Jackson Hole
Map of this walk

A: Park Avenue Winter – 100 East 63rd Street at Park Avenue New York, NY 10021
B: The Corner Bookstore – 1313 Madison Ave, New York, NY 10128
C: S. Feldman Housewares – 1304 Madison Avenue, New York, NY
D: Jackson Hole – 1270 Madison Avenue & 91st Street New York, NY 10128