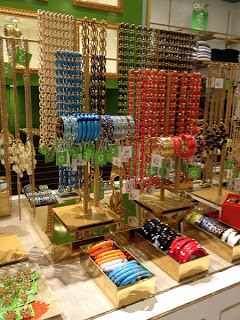 Roosevelt Field Mall
Level 2 (space 2084B)
630 Old Country Rd.
Garden City, NY 11530
Cwonder is a new NY-based brand conceptualized and owned by Tory Burch's ex-husband Chris Burch. According to the saleswoman I interviewed at their brand spanking new store at the Roosevelt Field mall in Long Island, the brand opened for business in October of 2011 and has had much success so far. I can't say I'm surprised if this is indeed true because the brand has much of the adorable preppiness that made the Tory Burch brand successful, adds so much more, and then sells everything at a price that won't require you to stand for 3 hours at a sample sale line just to get what you want.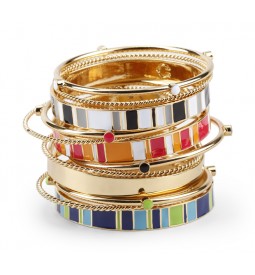 Bangle set
If you read a lot of fashion magazines or like to window shop, you're definitely going to pick up on a lot of the other brands that influenced this one. I saw some items that would have been just as perfect sitting/hanging inside of a Coach, Kate Spade, Nautica, Ralph Lauren, or Lilly Pullitzer store. I've noticed that C. Burch has been getting a lot of flack from others for lack of originality, but honestly, I'd rather pay $80 than $400 for a similar looking bag :). I see a lot of the same stuff being sold by different brands anyway, often at ridiculous prices, so I don't understand why this one is getting berated that much. Forever21 is well-known for taking inspiration right off designer runways, so really what is the problem?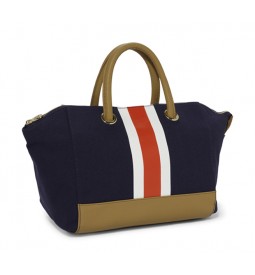 I was drawn to the store when I was shopping with my hubby and in-laws, and I almost didn't go in. Thank goodness my mother-in-law was interested as well, otherwise I probably wouldn't have discovered this brand that early. The store was so colorful I just couldn't take my eyes off of their displays. I was like a kid in a candy store in there. I saw a bunch of things similar to stuff in magazine pages I've previously ripped off for inspiration but couldn't find anywhere at a reasonable price. The colors are really what drew me in. They're loud enough to make a statement, but they're tempered by classic cuts and designs.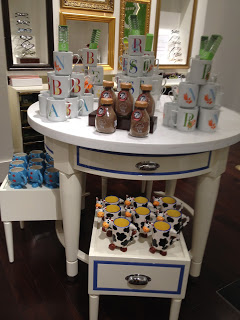 They even sold hot chocolate mixes!
Also, that cow mug has my name written ALL OVER IT.
The thing that makes the brand unique is that it doesn't focus on just apparel. You can find home goods and decor, sporting goods and even electronics in there. The craziest thing I saw was a floral scooter (actually for sale!) that I instantly imagined Zooey Deschanel on (see it here). That half of the store actually reminded me of other indie stores I've walked into for this blog. They have gorgeous dinnerware and adorable mugs as well.

Here are some of the items I would have loved to get but did not (since I was, as per usual, trying to rein in my shopaholic side).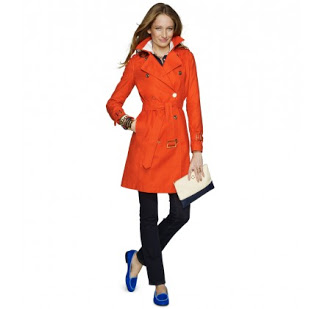 I'm in love with this trenchcoat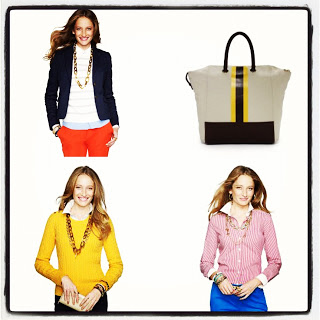 I'm all about color right now.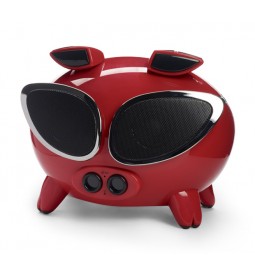 iPig docking station. LOL. ON SALE! Too bad it doesn't go with our apartment.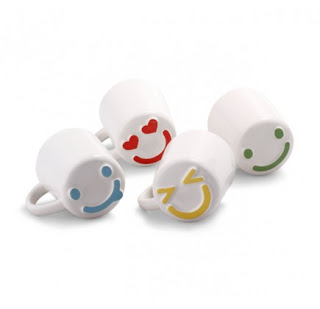 Smiley mugs. Also on sale right now.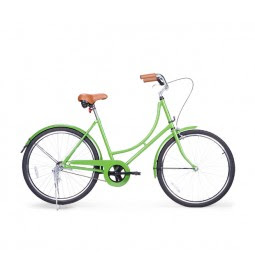 I really can't describe this as anything other than a hipster bicycle. But I think it's cute.
I ended up buying two sunglasses, only because I rarely find ones that don't make me look like a bug or fall off if I move my head even slightly. These were a great fit, and the aviators are very matchy-matchy with my hubby's real Ray-bans (for the more reasonable price of $68 :P). Even the case is cute!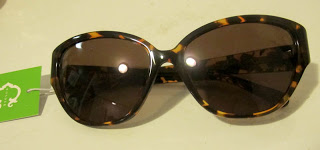 If you're really interested in this brand, I would definitely suggest going to one of their stores instead of browsing online because they had a lot of items I couldn't find online (either that or I'm terrible at browsing).
Until my next post, happy shopping!