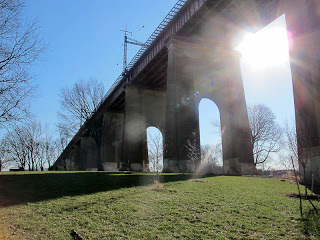 This is my first "walk" for the year (I used quotes because it was actually a drive), and since I've missed writing about New York, it's only fitting that I write about one of my old neighborhoods.
This walk was built around my desire to see a movie, and the fact that the nearest decent theatre to us is the Kaufman Astoria theatre. It wasn't hard for us to decide what else we could do, since I used to live in Astoria and have been longing to do a walk that includes Astoria park for quite some time.
We started on a nice sunny morning with abnormally warm winter weather, perfect for a walk. It took me quite some time to decide where to go to brunch, and couldn't make up my mind until hubby suggested we go to Igloo cafe, which I was a frequent customer of back when I lived in the area. It's hard to decide where to go for brunch in this neighborhood, because there are definitely plenty of  places to choose from. Some other top choices are: Martha's Country Bakery, which I featured in  my Austin street walk and there's also Brooklyn Bagel & Coffee Company where you can find whole wheat everything bagels.
Igloo Cafe – a diner/cafe/brunch place
2226 31st St
Astoria, NY 11105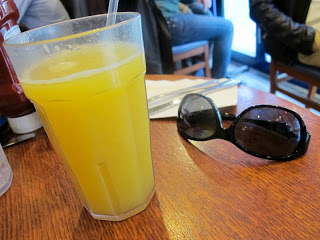 Freshly squeezed orange juice @ Igloo Cafe
Igloo is probably my favorite place in Astoria to have a nice decent brunch. They have plenty of healthy and unhealthy dishes to choose from, so whether you're on a diet or out to indulge yourself and induce a carb-coma, you'd probably find something here. They have smoothies, breakfast sandwiches, 3-egg omelettes, salads, waffles, french toast, pancakes, wraps, sandwiches, and PLENTY of other things. I guess you could say it's diner food, but everything is well-made, and judging from how full the place was when we went, that hasn't changed.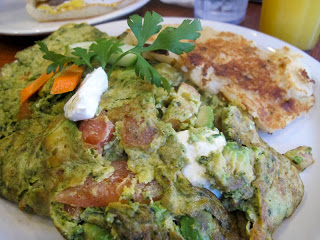 I've got the green eggs, just need some ham.
California omelette with pesto @ Igloo Cafe
I ordered their freshly squeezed orange juice, which I had been craving for that morning (you can even see their juicer contraption thingy behind the bar), then I had their California 3-egg omelette (avocado, tomato and fresh mozzarella), and requested that they make it with pesto. I guess I didn't really think that one through, and that dish will henceforth be known to us as "alien-eggs". Yes, they were green. However they were still delicious, and as per usual everything tasted fresh. The omelettes come with home fries and your choice of white or whole wheat toast. I usually don't eat the two, but thought it was worth mentioning if you're looking to have a big breakfast.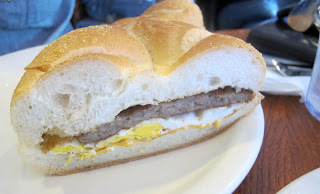 Sausage egg and cheese on a roll @ Igloo cafe
Hubby had their sausage, egg and cheese sandwich on a roll. When asked what he thought of the sandwich he told me something like "I've never had a breakfast sandwich that tasted awesome, they're all good, but never awesome." to which I answered "That's the difference between you and me, ALL sausage egg and cheese sandwiches taste awesome to me." So there you go. The funny thing is, he orders these sandwiches half the time anyway, so I guess despite the fact that they're never awesome, he still likes them.
Astoria Park
Queens
New York 11105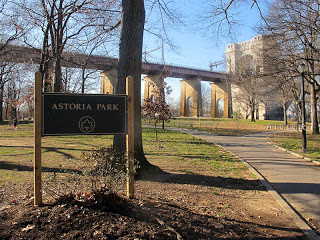 Astoria park is probably one of the things I miss the most about living in this neighborhood. It's perfect for jogging, sunbathing, picnics and whatever else you usually do at parks. It's never as crowded as Central Park, either, so it's good for when you want a peaceful walk. It's right near the water, so you can jog across from it and enjoy a nice view of the East River. I was pretty fit back when I lived near the park and come to think of it, it might have been that the park was so inviting I would go and jog even in the winter, with snow on the ground. The most amazing thing was, I was never alone. There were always 2 or more people jogging there as well. These photos are not the best, since this walk was in the middle of winter, but I still think the park was nice.
It's really difficult to write about parks, and even when I read my favorite fantasy books I struggle not to fall asleep whenever the author dedicates several pages to just describing landscape, so I won't inflict that on you. Instead I'll just give you some captioned photos.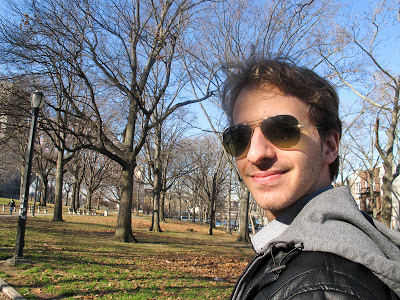 Hubby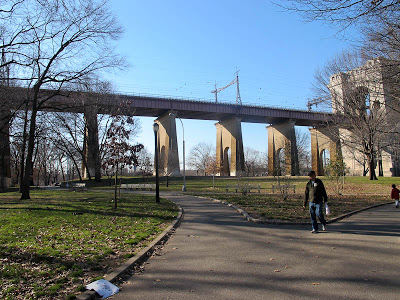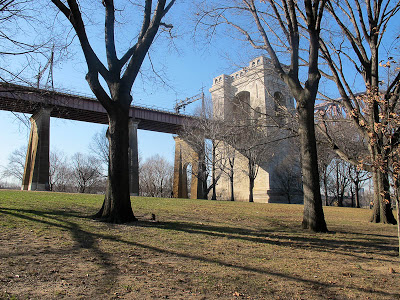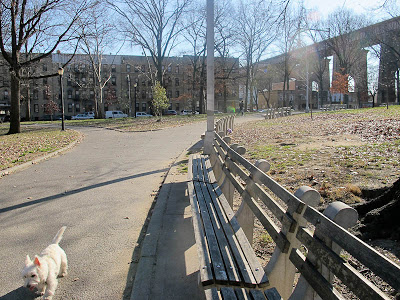 This adorable dog was walking without a leash with its owner and several
other dogs. It was a bit of a slow-walker, and we found ourselves cheering it on as it tried to catch up.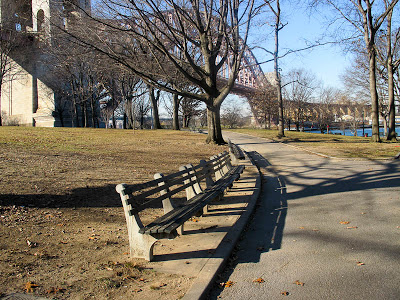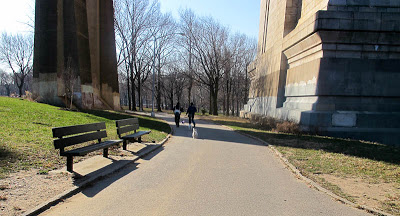 He's almost there! 🙂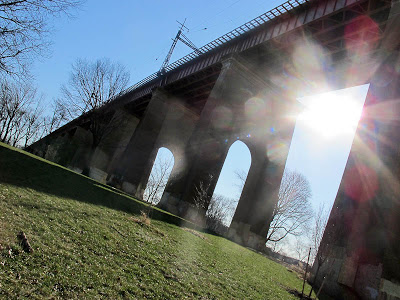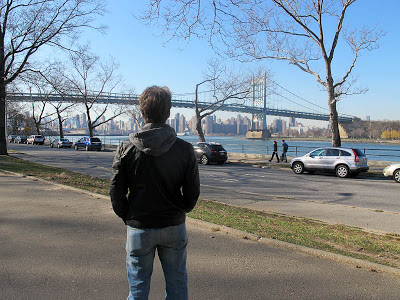 Hubby enjoying the view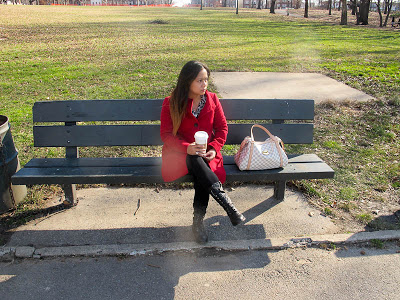 Keeping the chill away with my Starbucks coffee. Yes there is one right off the subway station.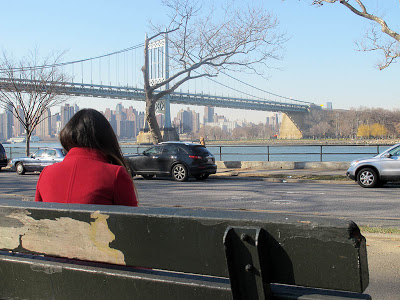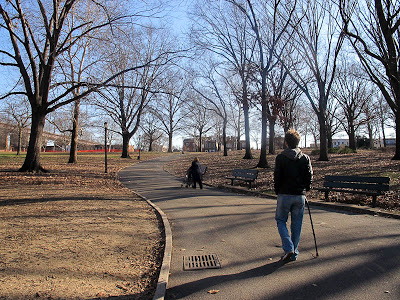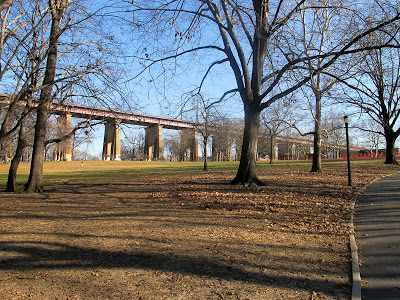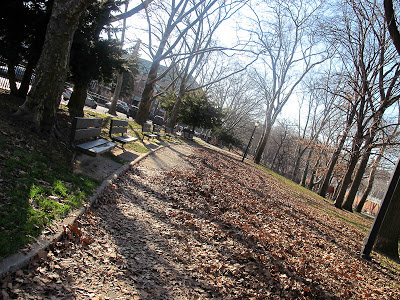 I think squirrels are cute, despite how much hubby and Carrie Bradshaw try to
convince me they're just as bad as rats.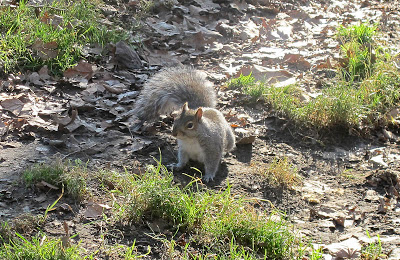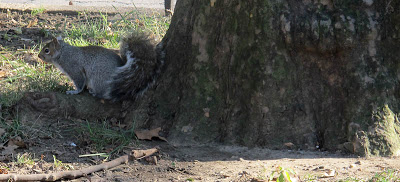 UA Kaufman Astoria Stadium 14 – a movie theatre
35-01 37th Street
Long Island City, NY
We saw "Sherlock Holmes: A Game of Shadows". I'm not going to review the movie, except to say that Robert Downey, Jr. rocked the role, despite how far his character is from the original Sherlock Holmes. If you haven't seen it yet, GO! NOW!
I've been to this theatre many, many times. At first with my sister, who used to live in Astoria, and then with my hubby, since I used to live in Astoria back when we first started dating, and now live in Elmhurst, which is near it. The outside of it isn't pretty, since it's basically one giant grey box. But there's parking, the place is huge so there are plenty of movies showing, and it's usually not that crowded (unless there's a new Harry Potter-like movie, in which case you'll have to get ready to sprint alongside teens waiting in line to get seats).
Zenon Taverna – A Greek restaurant
3410 31st Ave
Astoria, NY 11106
We were in a bit of a hurry to go on this walk, so I didn't have time to plan for where to go to dinner. Luckily, I had Yelp on hand on my iphone, and so I found a Greek taverna with good ratings that I had never tried before.
The decor is reminiscent of a Greece I've only ever seen in movies and pictures. I hope one day to be able to see the real thing, but for now I'm happy just to be able to sample their cuisine from the many tavernas in New York.
We started with ordering drinks, and I wanted to try the retsina wine, which was highly recommended on Yelp by someone. Right off the bat our waitress showed us she actually cared what we thought. She was a little concerned that I might not like it, because apparently retsina wine vessels are sealed with pine resin, which gives it a very strong pine after taste that not all people like. She gave me a small amount of it to try first, and I actually ended up liking it and getting a real glass.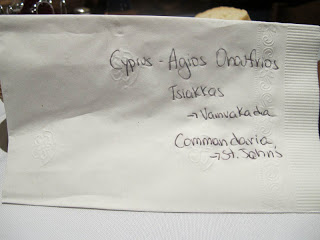 This kind of attention became the trend for the entire evening. In fact, after serving us a bread basket and cucumber and tomato salad for starters, we asked her to give us some suggestions for good Greek wine, and she wrote some names on a napkin for us. Then she went on to say she's a huge dessert wine fanatic, and that the best dessert wine she's ever had was Greek (she wrote this one on the napkin), and sold by the glass at Zenon. It's called "commandaria", and though it might seem like she could have just been talking it up so we would get a glass, she proved that wasn't true when she set me up with a very generous sample of said wine, which actually did end up as the best dessert wine I've ever tasted as well. Needless to say, I ordered a real glass of that also. If you're curious about what it tastes like, it has a more brown sugar/caramel-ey taste, as opposed to the usual fruity taste dessert wines commonly have.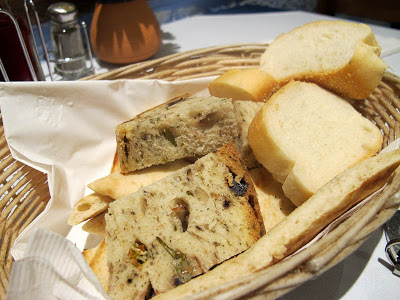 Bread basket @ Zenon Taverna (includes olive loaf)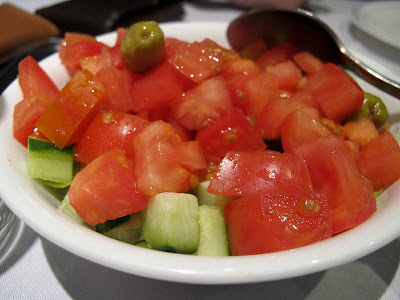 Cucumber and tomato salad @ Zenon Taverna (served with bread basket)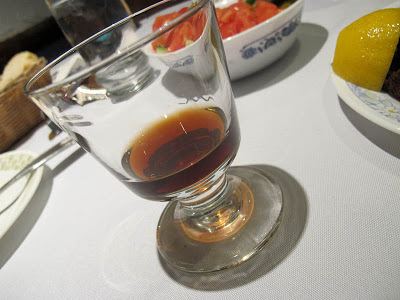 Commandaria dessert wine @ Zenon Taverna
Next, I asked about which dish on the menu was better: the spanakopita (spinach pie) or the keftedes (Fried meatballs made with chopped pork and shredded potatoes. Seasoned
with onion, parsley, black pepper and mint). I was told they were verrry different, and they both are offered as appetizers if I wanted to try both, which is exactly what I did.  I was a huge fan of the spinach pie, although I thought the keftedes were just ok. They actually reminded me more of hash browns than meatballs, and they were as good as any other fried potato dish, but nothing special.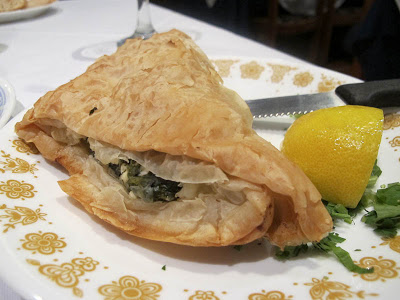 Spanakopita (spinach pie) @ Zenon Taverna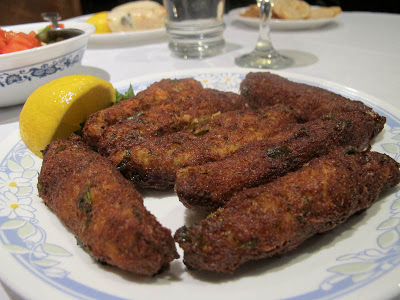 Keftedes (Greek meatballs) @ Zenon Taverna
Hubby had one of their Saturday specials, the stuffed chicken cutlets with spinach and feta. He liked them, and thought the chicken was tender and the stuffing was good, although it could have used a tad more flavor.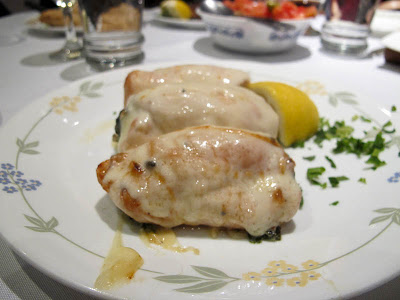 Stuffed chicken cutlets with spinach and feta @ Zenon Taverna
He also ordered some Cyprus fries (fried potatoes), which looked like thickly cut potato chips, but had that natural potato texture. We were both huge fans of these.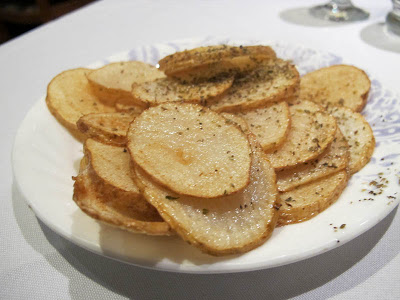 Cyprus fries @ Zenon Taverna
They have a good selection of desserts, and they actually show you a tray of them, complete with explanations of what they're made of. I of course had the commandaria dessert wine, and I also ordered something called "lady fingers". This dish isn't similar at all to the Italian ladyfingers we all know and love, aside from the fact they both look like fingers. This one is made with fried dough, filled with a mixture of almonds, sugar, cinnamon and (sometimes) cream cheese, and then dipped in syrup. It was heavenly, and definitely fit for anyone who has a sweet tooth. If you're into food like peanut brittle, but hate having the darned things stuck on your teeth, this one's a good dish to try. It's also a lot softer, so it's much easier to eat.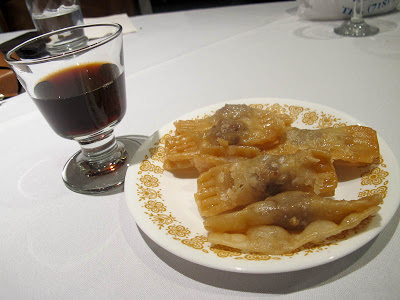 Commandaria wine and lady fingers @ Zenon Taverna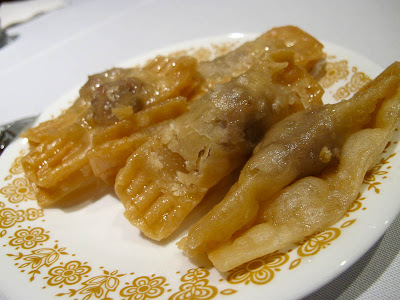 Lady fingers @ Zenon Taverna
Overall this was a very pleasant walk for me. The only sad thing about being in this neighborhood is I always want to come back and live here. But I'm too happy with my apartment right now, and I can always do walks like this when I miss Astoria.
The Best Thing About This Walk: Service and dessert wine at Zenon Taverna
The Worst Thing About This Walk: No complaints here.
Would I Come Here Again? I will always love Astoria and come back many, many times.
What Would I Do Differently? I'd probably try some of the other desserts at Zenon.
Map of this Walk
A: Igloo Cafe – 2226 31st St  Astoria, NY 11105
B: Astoria Park – Astoria Park, 21st Street, New York, NY
C: UA Kaufman Astoria Theatre – 35-01 37th Street, Long Island City, NY
D: Zenon Taverna – 3410 31st Ave Astoria, NY 11106