I was planning on heading home early tonight to confront the mountain of chores I still have leftover from vacation/holiday madness, but my sisters invited me out to dinner in K-Town, and I couldn't resist the urge to pretend I'm in a Korean drama as I eat dukbokki and bibimbap. So if you want to blame anyone for jump-starting this Korean craziness entry, blame it on them (and not the author lol) :P.
Kum Gang San
49 W 32nd St
(between 5th Ave & Broadway)
New York, NY 10001
 
I was once a stranger to most cuisine other than Filipino and American, and my very first decent experience with Korean food was back when I had first moved to New York and I went to dinner at Kum Gang San with my sisters. Tonight, many years after my first experience, we went back to K-Town to do the exact same things we did back then: had dinner at Kum Gang San and ate some frozen yogurt. Of course, this time around, I knew exactly what to order and what to expect.
As in most Korean restaurants, we were given a bunch of side dishes in addition to what we actually ordered. These came before any of the other dishes, although I think they're usually served with everything else. I've noticed the more common ones are: tofu with some sauce, bean sprouts, fish and kimchi. They're always good for starters, and always make me feel like the meal took some effort to make.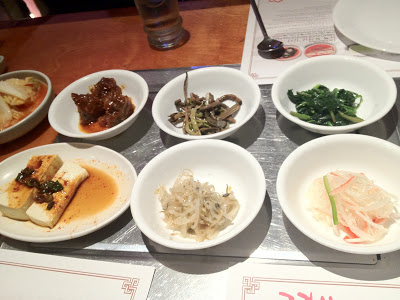 Side dishes @ Kum Gang San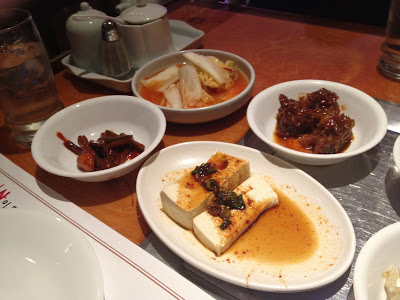 Side dishes @ Kum Gang San
We also ordered some more appetizers, and one of them was the dukbokki (spicy rice cakes), which I've been dying to try since I first saw it in one of the many Korean dramas I've seen (I forget which one). This was actually my favorite dish of the night, even though both my sisters deemed it too spicy. I loved the texture of the tubular rice cakes, which were also a bit sweet, and made me feel like I was eating an appetizer and dessert at the same time. The sauce was very spicy, but also had a hint of sweetness. From watching dramas I've noticed this dish is usually served by street vendors, but I guess here in NY you can find it in many Korean restaurants. This particular one was mixed in with seafood, although I really just ate the rice cakes. If you're not in NY and have no access to these things, check out this recipe I found online.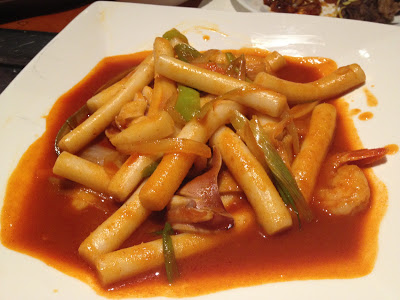 Dukbokki @ Kum Gang San
I had the tofu gop dol bi bim bap (bi bim bap served in a hot stone bowl) for my main course. I honestly found this a bit lacking in taste compared to the other bi bim baps I've tried elsewhere (even the one from Boka/bon chon is better than this), or maybe it just paled in comparison to the dukbokki. It was still pretty decent, so I took most of it home.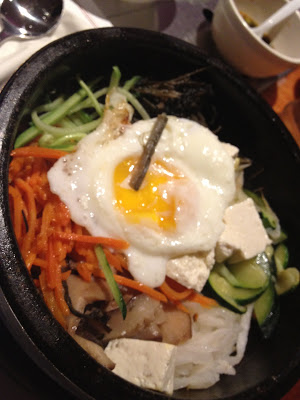 Gop Dol Bi Bim Bap @ Kum Gang San
My sisters split another bowl of bi bim bap (beef) and a kal bi jim (beef short ribs steamed with chestnuts, radish and carrots in a sweet soy sauce). I didn't try it, but the kal bi jim looked ridiculously good, and my sisters definitely liked it.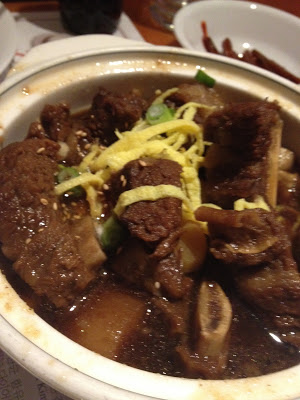 Kal Bi Jim @ Kum Gang San
As always, our dinner was enjoyed with various discussions about books, tv shows, movies and childhood anecdotes, which always makes for a fun night out. Halfway through dinner I noticed they had an interesting setup for live music. It might be cool to return one night when they actually have someone playing.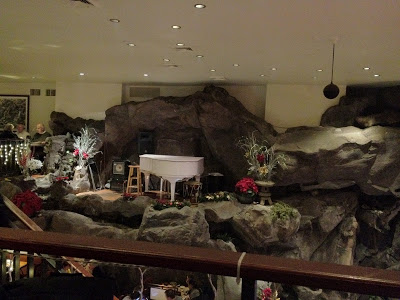 Maybe Hyun Bin? LOL. (Don't watch this video if you don't know who that is, haha!)
Red Mango – a frozen yogurt place. DUH.

Somewhere in K-Town
We wanted to get some ice cream at Kum Gang San, but we were told their ice cream machine wasn't working, so we ended up getting Red Mango frozen yogurt at the food court near there. I had a bit of an "incident" there, for which my sisters teased me to no end, and which also made us laugh 'til our stomachs hurt. I had never experienced piling on frozen yogurt and toppings myself, and I had a bit of trouble getting the yogurt to stop flowing (oopsies). After wondering why I was getting so much yogurt when I had said earlier today that I was going on a diet, my sister realized I was actually panicking as I whined "It won't stop flowing!". She quickly switched the lever off and proceeded to laugh at me. I ended up with an amount of yogurt that would have fit in a cup twice the size that I got. I could barely get any toppings on it due to how much yogurt there was. EPIC. FAIL.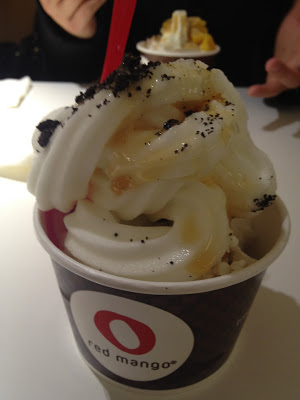 Frozen Yogurt @ Red Mango
Despite having embarrassed myself, I enjoyed the yogurt. After that we said our goodbyes and headed home. Inspired by my very short but fun K-Town outing, I listened to K-pop all the way home on the subway.
I enjoyed it so much that I forgot to switch trains, LOL! I was really on a roll tonight.
In honor of my hilarious K-night, here's the song I was listening to on the train, "Lovin' Ice Cream", from one of my favorite K-dramas, "Lie to Me". You don't have to watch it, but for those who will, I especially like the part where the tape measure attacks the doll. Haha!
And now to end my night, I'm going to watch my current K-drama. Hope some (if not all) of you enjoyed my short entry. 🙂
If you're in the mood for more k-raziness, read my next entry ;). If not, screw you! Just kidding. 😛 I accept that that entry will probably have less hits than any of my other entries, but I'm posting it anyway. COZ I CAN. 🙂