Guest Photographers: Mshel Reyna and Lia Maliwat
Breakfast at Shangri-la Boracay
(Photo on the left: view from the Shangri-la buffet restaurant) Our second day started out a little slow, since our lovely photographer wasn't feeling well, and skipped breakfast. We went to try out the free breakfast buffet at Shangri-la, which was surprisingly better than the lunch buffet we had actually paid for. It was a good mix of Filipino (tapa, longganisa, tocino, corned beef, fried rice), American (omelette station, french toast, waffles, bacon, breakfast sausage) and random non-breakfast food (donuts, salad bar). There were definitely more choices than I've listed here, and it was probably the best breakfast buffet I've ever been to.
I was still trying to stick to a low carb diet, so I tried my best to stay away from carbs and be a little piggy at the same time: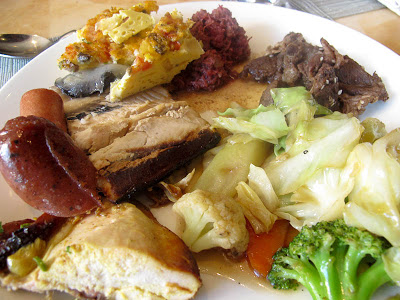 My plate at the Shangri-la breakfast buffet
While my companions tried to keep it balanced:
After breakfast we hung out at our room to check up on Mshel, and gave in to our narcissistic tendencies again.
Then we went over to the Shangri-la water sports office to see about doing some snorkeling or jet-skiing, and we realized that all their activities cost 6 times more than they usually do on the main beach! So we first got some more pretty photos on that side:

 
Then headed over to their cafe/lobby lounge to do some planning, also because I was dying to get some iced coffee.
Shangri-la lobby lounge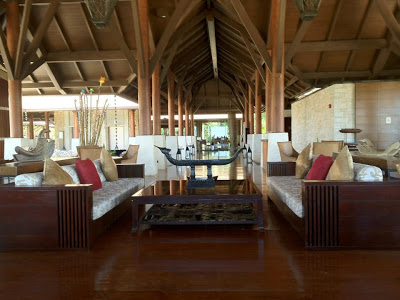 Shangri-la lobby lounge/cafe
While we were there relaxing, we discussed the fact that we didn't want to leave, and became sad that we only booked 2 nights (2 and a half days) there. After a while someone suggested staying another night, which proved to be a really popular idea, so we figured out flight and hotel details as Mshel and I sipped our matching frozen coffees.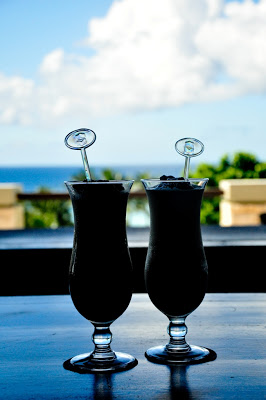 Frozen coffees @ Shangri-la lobby lounge
We decided we wanted to move to a hotel on the main beach so we could appreciate the night life more, so we headed out to Station 1 (there are 3 stations/areas) on the main beach and walked pretty much the entire length of it to figure out where to stay and where to have lunch.
We ended up having lunch at Discovery Shores, which we decided was way overpriced, since a room costs pretty much the same as a room in Shangri-la. The grounds at Shangri-la are a lot bigger, there's so much more to do, not to mention they also have 2 private beaches. That didn't stop us from having lunch at their restaurant though. They serve mostly Filipino food, and we were glad we ended up there because hubby told me it was probably the best Filipino meal he's ever had.
Restaurant at Discovery Shores Boracay
For those who don't know, Filipinos usually order family-style, and appetizers really aren't a must. So we ordered a bunch of food for the table, and of course bowls of rice, which is a Filipino diet staple.
I wanted to try the baked oysters so we ordered that. It was baked with bacon, cheese and onions I believe. This dish was good, although unfortunately for it, the rest of the food was so amazing it kind of got snubbed. The sea flavor that is usually strong in oysters wasn't as obvious in this dish, probably because it was baked, or the bacon somehow overwhelmed it. It was decent, though.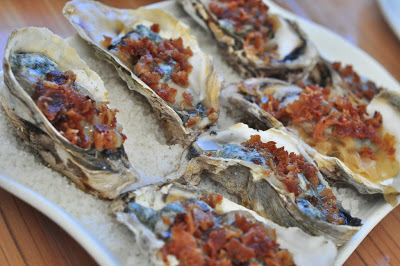 Baked oysters @ Discovery Shores
Kaldereta is one of hubby's favorite Filipino dishes, so I end up ordering it usually as a backup dish in case he doesn't like any of the new things to try. It's a tomato-based stew usually made with either beef or goat. This one was probably one of the best ones I've ever had. The meat was extremely tender, and the flavor was absolutely perfect. I only wish they had a bigger serving.
Kaldereta @ Discovery Shores
Pancit canton is another Filipino dish hubby is a fan of, so naturally we ordered that as well. It's a sauteed noodle dish flavored with garlic, onion and soy sauce. A variety of meats and vegetables are usually added as well such as chicken, shrimp, pork, cabbage, mushrooms, carrots and green onions. It also usually comes with calamansi on the side. Hubby loved this dish, although he had to push some of the vegetables to the side haha! My husband eats like a 10 year old most of the time.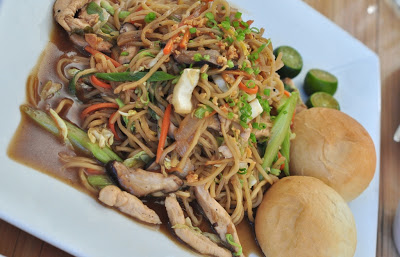 Pancit canton @ Discovery Shores
I've saved the best for last. Bicol express is another favorite of ours, and this one was to die for. Bicol express is a stew made of coconut milk, green chilies, pork and shrimp paste. There are many varieties to it, and the ratio of chilies to pork differs. This one was mostly pork. The spiciness was about medium, though I did need to have a drink of water several times during the meal. The pork was verrrry tender, and the fatty parts melt in your mouth.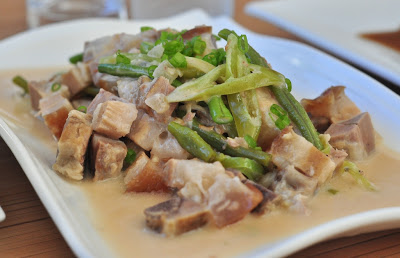 Bicol Express @ Discovery Shores
After lunch, we decided on staying at Astoria Boracay for our 3rd night, so we walked back there and enjoyed the sunset on the main beach.
We did a bit of unsuccessful shopping at D'mall and then I sneakily commented that I needed to have some coffee so that I could keep hubby away while my friends ordered a birthday cake for him so that we could celebrate on our last night. We hung out at Cafe del Sol, which is probably the most prominent coffeehouse in Bora. Their frozen coffee was good, but their mango cheesecake (which I didn't order) is supposedly amazing.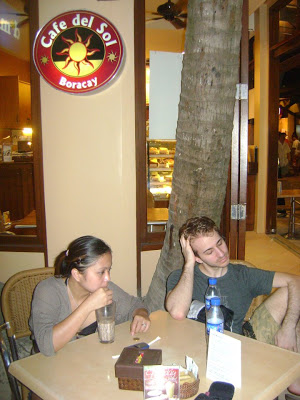 @ Cafe Del Sol
Steakhouse Boracay
We went to Steakhouse Boracay for dinner. It can be found above a dive shop and a clothing store. It's a bit obvious from its name what kind of restaurant this is, but they also serve a variety of German, Austrian and Swiss dishes. They are of course well known for their steaks, which are imported from Australia, but they also have some other good dishes such as pasta (one of them is Mshel's favorite), sausages, schnitzel and even raclette. Hubby tempered his expectations because he really didn't want to expect much from steak that costs around $12, but he didn't have to, since he said the steak he had was on par with some of the decent steakhouses here in NY.
I had some kind of swiss sausage salad, which was made with gruyere cheese, sausages, shredded cabbage, shredded carrots, and some other things that tasted like sauerkraut. I had never had anything like this before, and I absolutely loved it. I'm usually not a fan of salads, but the cheese and sausages made this a perfect, tasty low-carb dinner.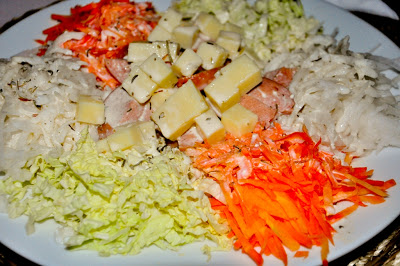 Swiss sausage salad @ Steakhouse Boracay
Lia and hubby had some steaks: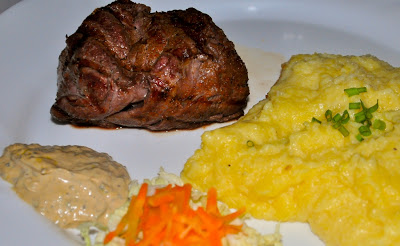 Steakhouse Boracay
Steakhouse Boracay
And Mshel had, as I've already mentioned, her favorite pasta dish. My mouth is watering already just by looking at it, and I didn't even taste it.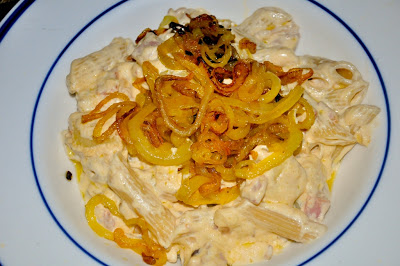 Steakhouse Boracay
Before going to the steakhouse, we told hubby that the last few times we were there we mostly saw foreigners dining. Of course, this time when we came in there was a HUGE group of middle-aged Filipinos, who seemed to be having a reunion of sorts, that overtook the entire restaurant. My dislike for crowds overwhelmed me at the end, so we left a little earlier than we would have normally, however the meal was still fantastic.
Crazy Crepes, D'Mall
On our way to the shuttle to head back to Shangri-la for our last night there, we ran into a crepe store that looked tempting, and as a prize for my low-carbing the first 3 and a half days of our Philippine trip, I finally gave in to temptation (this was my one bad dessert before my friend's wedding, which was the main reason I went home).
Mshel and I, following the trend of our trip, ordered the same thing, some kind of mango parfait. This was made with mangoes layered with whipped cream and topped with vanilla ice cream and what seemed to be graham cracker shavings. Lia and hubby ordered the banana mousse. Hubby was somewhat annoyed that they refused to give him only vanilla ice cream instead of vanilla and chocolate, so that was definitely a minus. The sales guy wasn't very courteous either (*sigh*, when is customer service going to get better there?).  I however, happily devoured mine on our way back to Shangri-la. Philippine mangoes are the best in the world, seriously.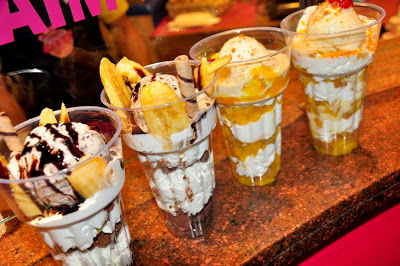 Parfaits at D'Mall
Shangri-la Boracay Resort
Once we were back at Shangri-la, we hung around a bit more to enjoy the hotel since it was our last night.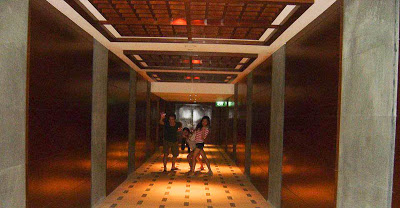 Not sure what we were doing here but seems like we were having fun haha!
We finally ended up at their entertainment center, where you could play arcade games, billiards, foosball, air hockey, table tennis, a variety of board games, and surf the internet for free. They also have an XBOX 360/kinect room (for a fee) and several karaoke rooms (for around 750 per room per hour). You can also order alcoholic beverages and coffee here (I had a cappuccino for fuel).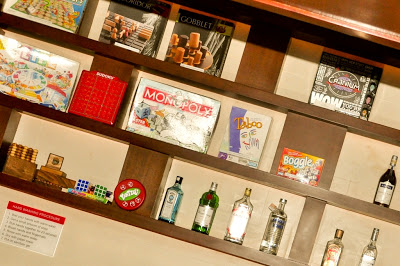 Board games (and booze, coz they go together!) @ Shangri-la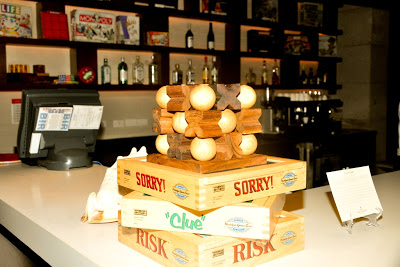 I kinda wish we had played "Sorry!" one of my favorite board games as a kid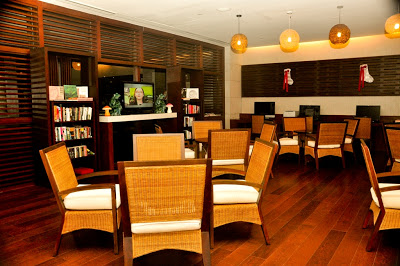 Shangri-la entertainment center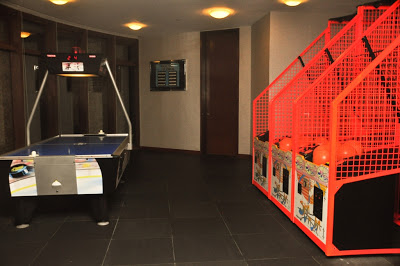 Shangri-la entertainment center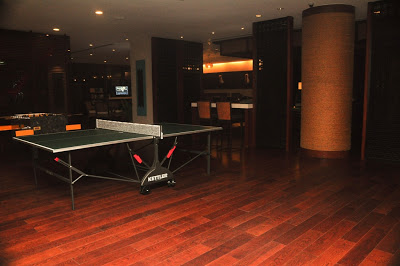 Shangri-la entertainment center
We ended up playing a bit of pool, at which point I pretended to be a badass at it, despite the fact that I'm really terrible:
And so did everyone else:
Except maybe for hubby, who wanted to make faces instead. Tell me this isn't a hilarious desktop wallpaper waiting to happen.
We ended our night with an hour of karaoke, at which point the photo theme became "Mshel looks gorgeous in all photos, Lia and hubby are sleepy, while I clearly care more about singing than anything else."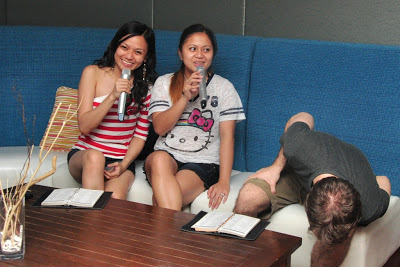 Not sure if hubby is sleepy or laughing
All in all it was another fun day at Bora. 🙂