Boracay is one of the many islands in the Philippine archipelago, and it has become a regular vacation destination for me. I don't usually like to going to the same place more than once, but there are so many things to do in Boracay that every time I go there I end up having a completely different adventure. I almost didn't go this time around, but my husband clamored for us to go to Shangri-la, which he fell in love with from its photos and reviews online, and I'm glad I gave in to his request.
There are things to do for all the party people, for sure. There are many different clubs right on the beach front, and you can even dance on the sand. There's also no lack of bars to drink the nights away, either.
For the more adventurous ones, there are plenty of activities to try. There's an abundance of water sports such as scuba diving, parasailing, cliff diving, jet skiing and plenty more. You can also do some island hopping and/or ride ATVs to explore.
Our vacation wasn't really planned like most of my walks are, and I think it was mostly because I just wanted to enjoy and do whatever I felt like doing at the moment. We ended up having a more relaxed vacation than I usually have at Bora, but it was probably one of the best, if not THE best time I've ever had on the island.
Shangri-la Boracay Resort
We started out by having a completely different welcome experience than I've been used to. Shangri-la is (arguably) the best (and probably most expensive) hotel on the island, and it certainly shows from the impeccable service they show from beginning to end.
When we landed at the airport in Caticlan, we were greeted by a hotel representative who quickly took our bags and ushered us into a van, which drove us to the pier. Shangri-la had its own lounge at the pier, complete with complimentary drinks, wi-fi access and cool towels to keep us refreshed despite the hot and humid weather. We got there ridiculously early, so there wasn't anyone else at the lounge and we were immediately shown to the speedboat that would take us to the actual island. I felt kind of sad that we had to leave the lounge immediately, because it was definitely nice there.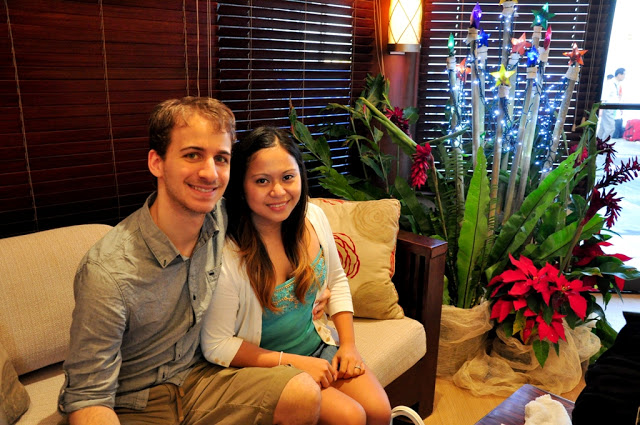 @ Shangri-la lounge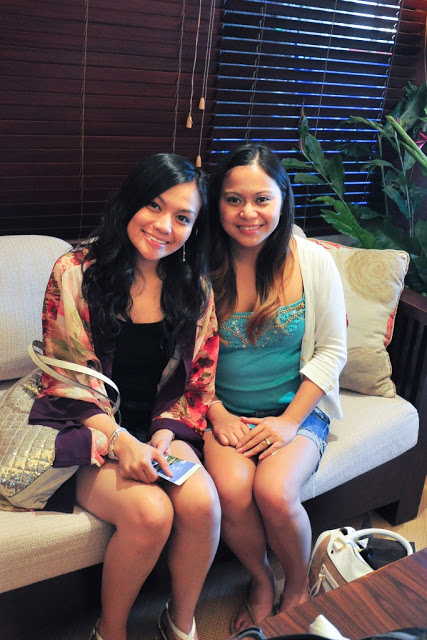 @ Shangri-la lounge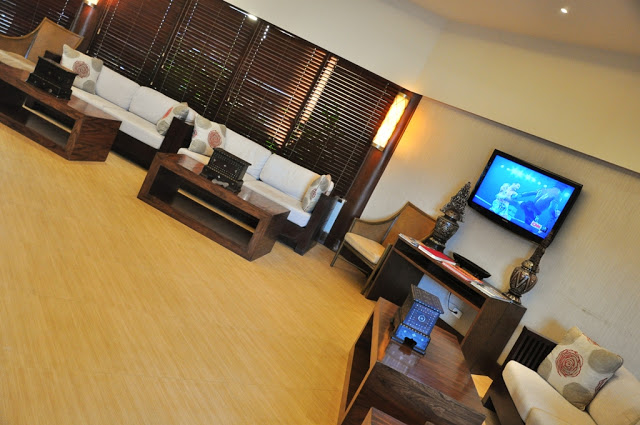 @ Shangri-la lounge
The speedboat ride was quick but fun. It was kind of nice not to be in the slow, crowded boats people usually take to get to the island.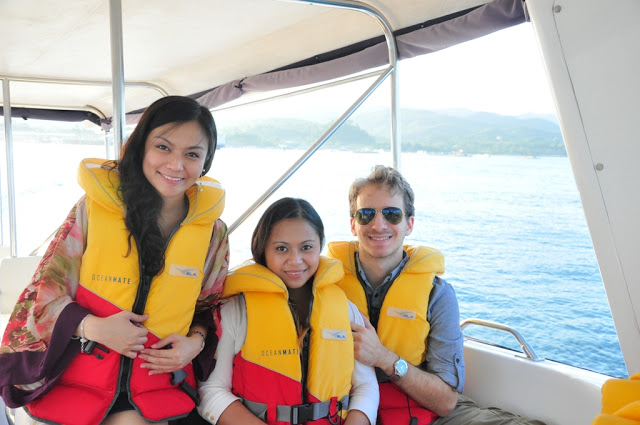 Headed to Boracay Island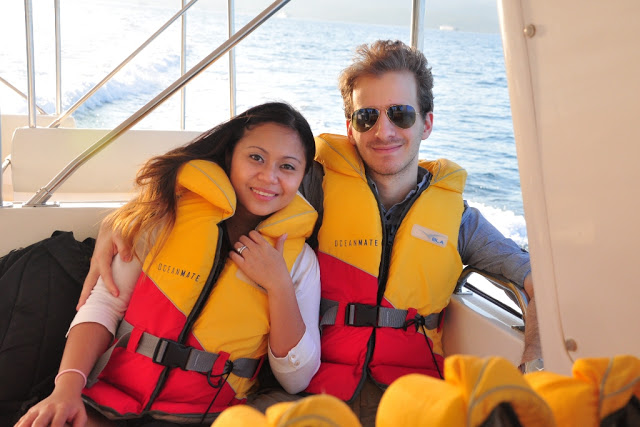 Headed to Boracay Island
The speedboat is excellent for taking better pictures, too. Not that I took any of the awesome photos, courtesy of my friend Mshel ;).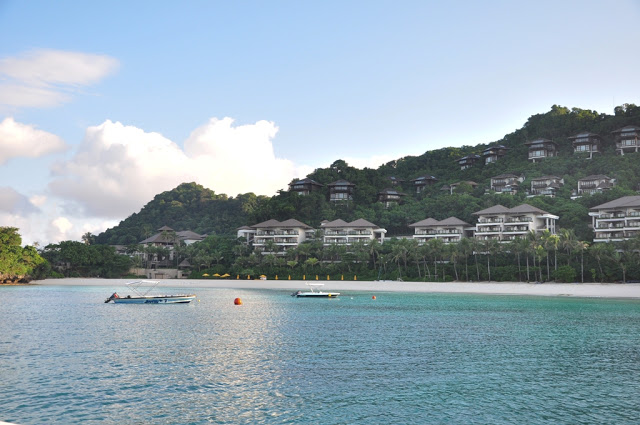 Shangri-la Boracay Resort
Shangri-la is on a completely different part of the island from all the other resorts and restaurants, so it has its own port especially for its guests. We were immediately wowed by the view of its villas nestled into the hills of the island. The decor in the resort is also impeccable and we fell in love with the surroundings.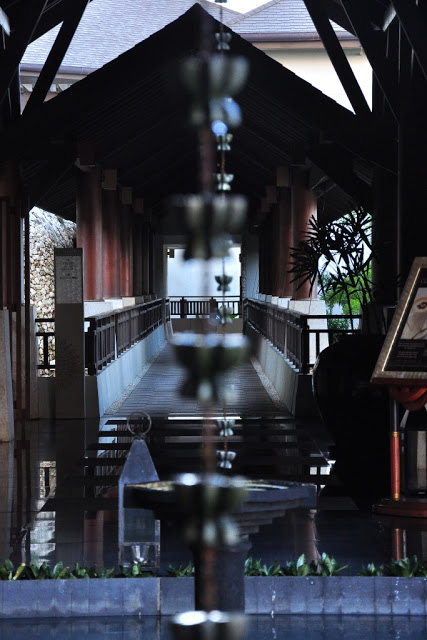 Shangri-la Boracay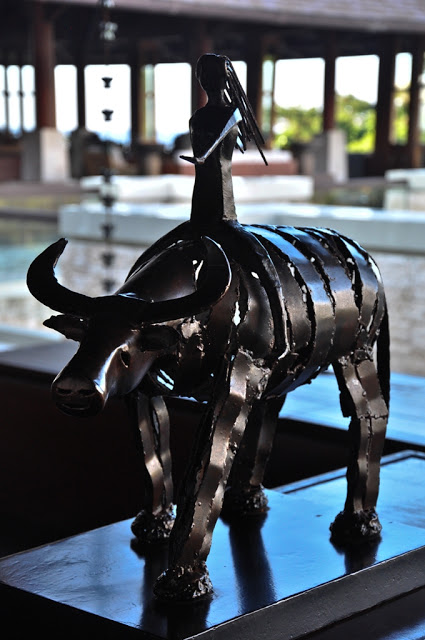 Shangri-la Boracay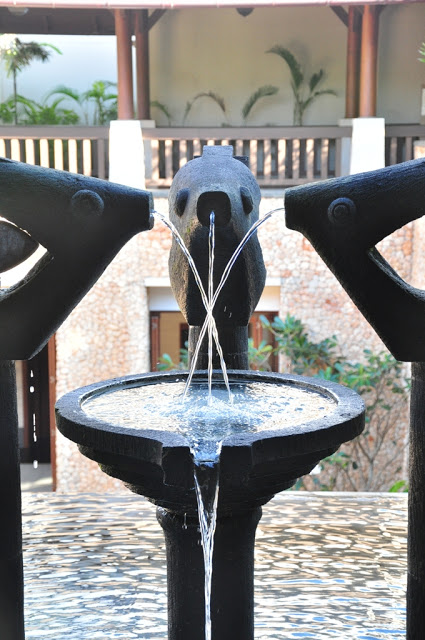 Shangri-la Boracay
Real Coffee
After settling down in our room, we decided to have breakfast while we waited for our other friend Lia, who came in on a different flight. We headed over to the main beach courtesy of the hotel shuttle and had our first Boracay breakfast at our favorite breakfast place, Real Coffee. This place is really nothing more than a big hut made mostly of bamboo, but the native feel adds to its charm, and the food is always delicious. The place was opened by an expat who visited Boracay once, and never left. This is actually a common trend in Bora, which over the years has made the island a great destination for foodies, since there is so much variety in cuisine. The menu at Real Coffee is a mixture of European and American-style breakfasts, with some unique sandwiches and some snack food added to the mix.
We ordered, but the dishes, always made fresh after ordering, took a bit of time to get to us. So, we took the opportunity to take some photos first.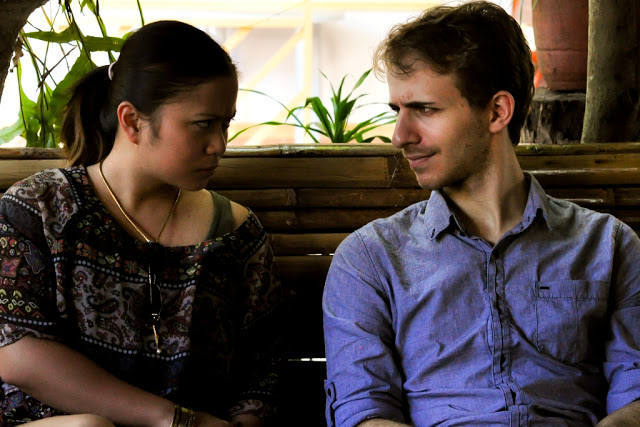 The trademark Meekle-Mashy glare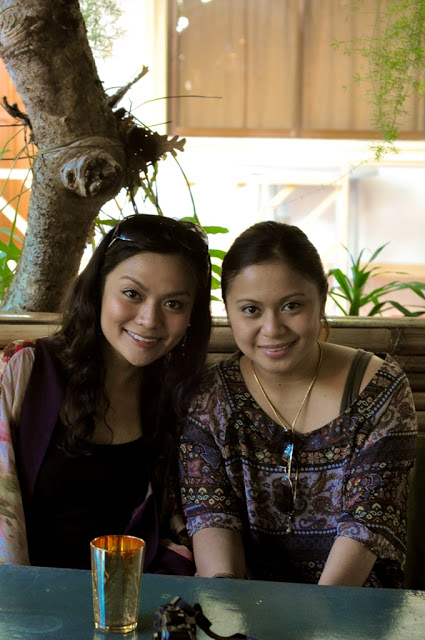 Mshel and me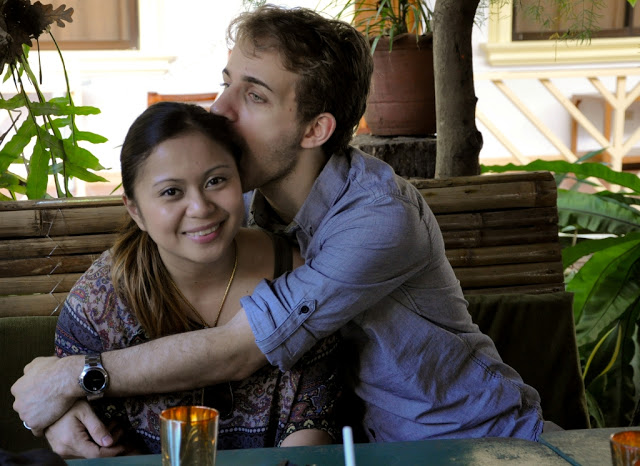 Hehe.
Mshel and hubby ordered the Marc's melt, which is a chicken and cheese melt. They added the pesto option, which you can also add to any of their omelettes. This sandwich is pretty simple (it's exactly what it sounds like) but it never fails to leave me completely satisified. Hubby seemed to like it since he ordered the same thing when we went back for breakfast on our last day.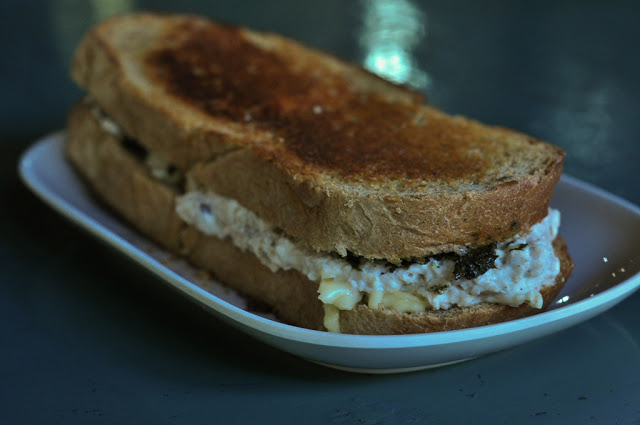 Marc's melt @ Real Coffee
I had the Jack's omelette which is a 3-egg omelette made with tuna, cheese, tomatoes and onions. I also added the pesto option, which always makes their dishes more interesting.  I've never been disappointed with this omelette, and this time wasn't any different. This dish also comes with a side of toast, which I didn't touch this time for dietary reasons, but it's always delicious, especially when served with mango jam. Their bread is freshly made on the premises every day, in fact we saw them take a loaf out and slice it for our sandwiches and toast.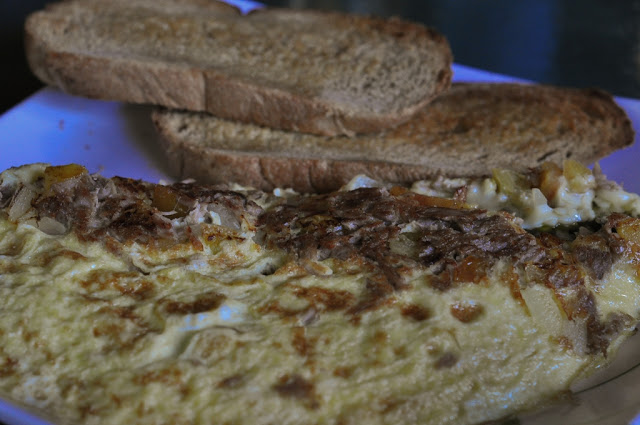 Jack's omelette @ Real Coffee
This place is also famous for their calamansi muffins. A calamansi is a citrusy fruit that is abundant in the Philippines, and is (flavor-wise) a cross between a lemon and a lime. It has a very refreshing smell, much like its larger citrus counterparts, and if you're into lemon muffins or other pastries, these babies are to-die-for.
Mshel caught some shots of them sitting happily in a muffin pan, waiting to be served.
After a great breakfast, we decided we wanted to walk around the main beach for a bit and get some fruit shakes from Jonah's, the best place to get shakes on the island. The shakes weren't as awesome as I remembered them to be (which is probably why we didn't take any photos of them), however our walk gave us another chance to take more silly photos such as this one:
After that we decided to head back over to the hotel to meet up with our friend Lia, and hubby had his first experience riding in a tricycle. For those who don't know what that is, it's a public transportation vehicle used in the Philippines, with a motorbike attached to a carriage, similar in concept to this one in Harry Potter:
Our tricycles aren't as nice looking, but this didn't stop hubby from enjoying the ride.
Shangri-la Boracay Resort
When we got to our hotel room, Mshel wanted to take more photos of the room, but hubby decided to ruin it by pretending that he was planking.
So instead, we took a short nap, waited for Lia, and then proceeded to take way too many pictures on the balcony. I don't regret having taken this many photos, though, because I spent quite a bit of time during this vacation relaxing here.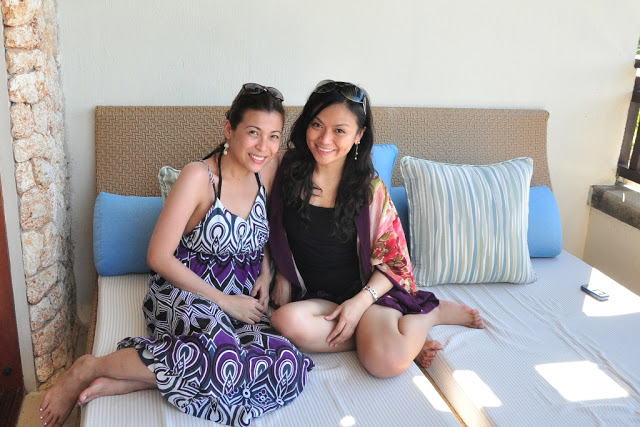 I've been blessed with pretty friends, no?
We went around the resort a bit more after hanging out in our room and planning the rest of our 3 and a half day stay. After which we decided we were hungry again, and headed over to the resort's lunch buffet. The buffet consisted of a wide variety of cuisine, half Filipino and half from all over the world.They had a decent amount of dishes, and the quality was definitely there, but we decided at the end of our stay that we loved their (free) breakfast buffet even more. This didn't stop Mshel from taking pictures, though.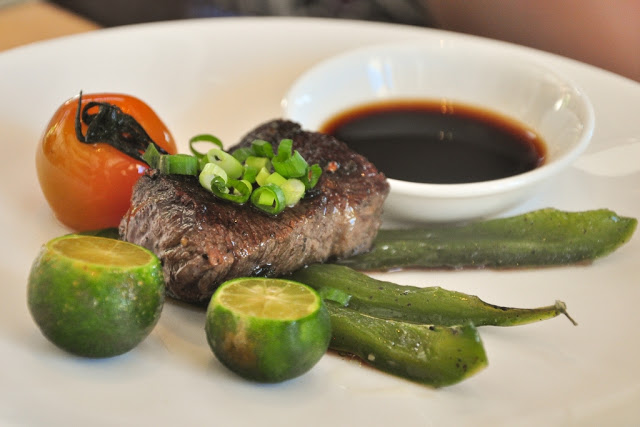 Lunch buffet @ Shangri-la: made-to-order kebabs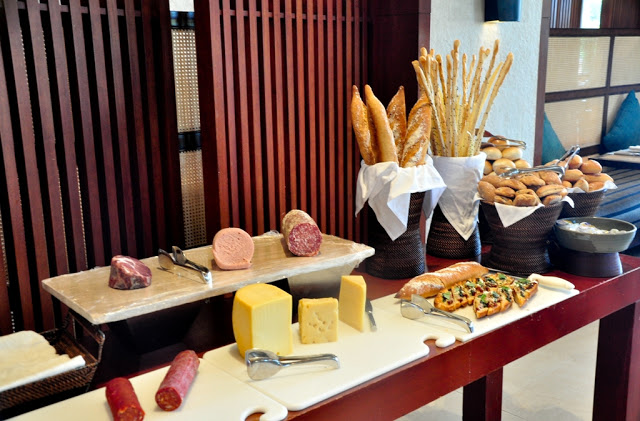 Lunch buffet @ Shangri-la: meat, cheese and bread corner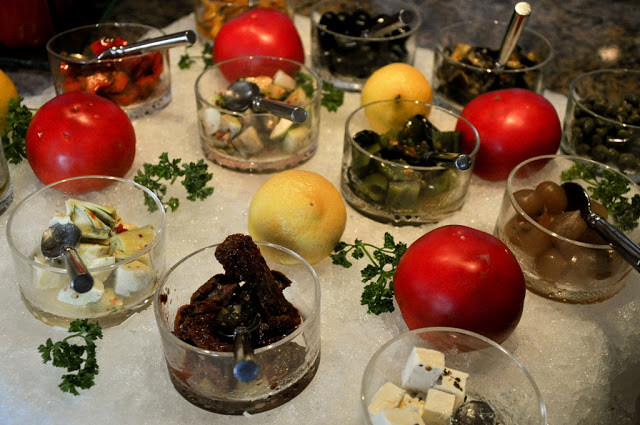 Lunch buffet @ Shangri-la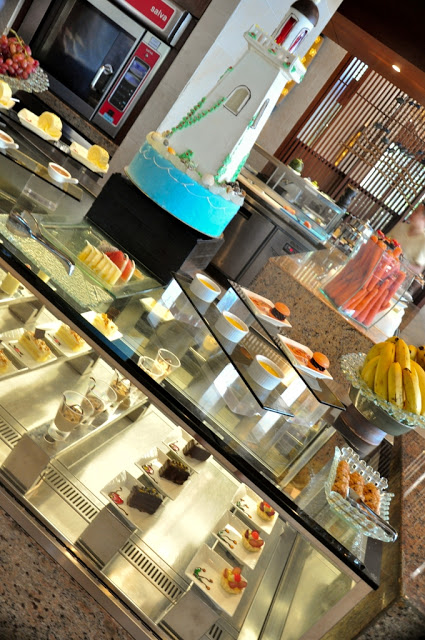 Lunch buffet @ Shangri-la: dessert corner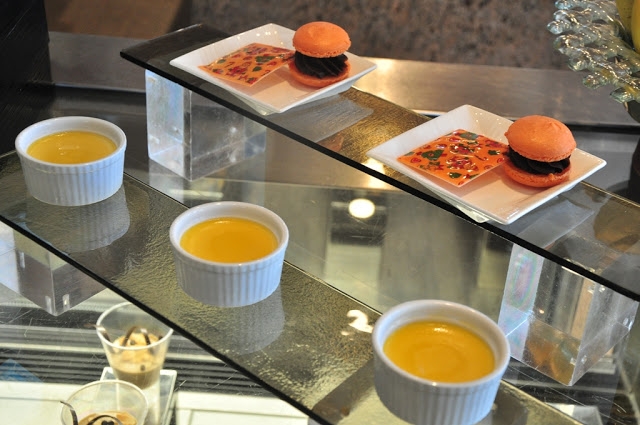 Lunch buffet @ Shangri-la: creme brulee and macarons made to look like hamburgers lol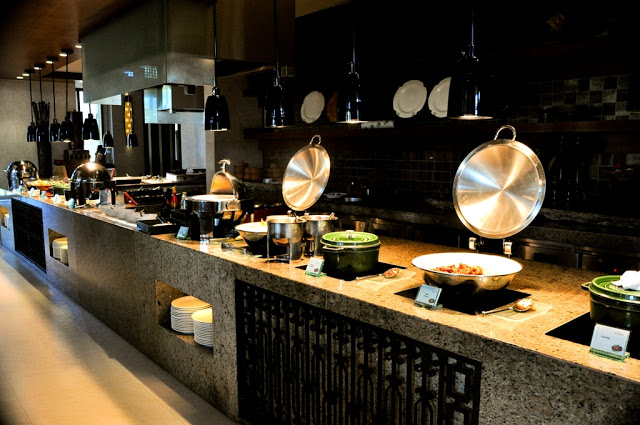 Lunch buffet @ Shangri-la
After lunch we decided we wanted to head over to the private beach and pool area, and Mshel took some more gorgeous photos along the way.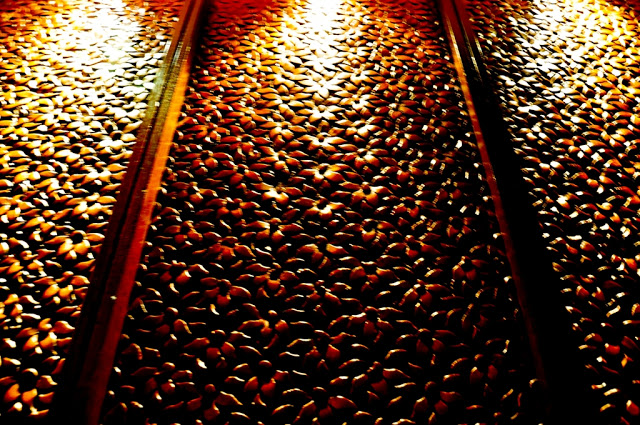 The elevator interior (carved wood paneling) fascinated us.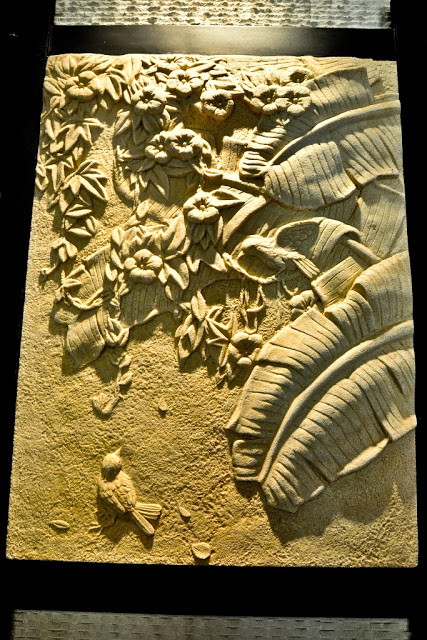 More native decor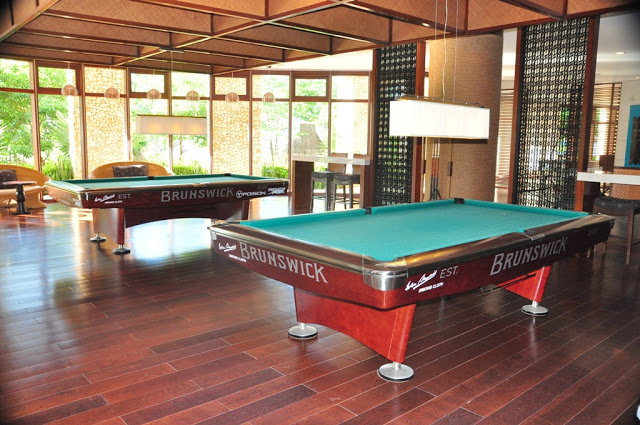 Their entertainment center, where you can play a variety of games (including pool) for free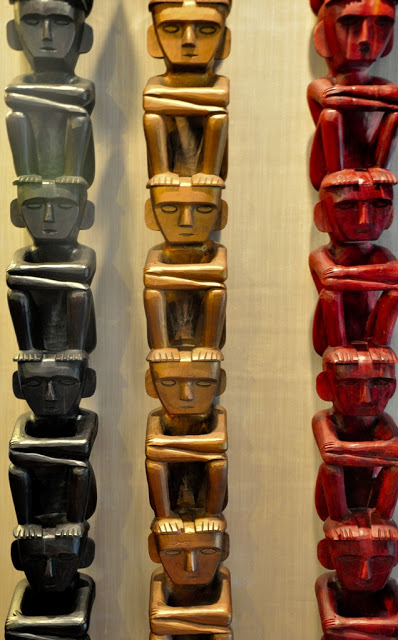 More native decor
When we finally got to the pool area, we decided it was more important to take more portrait photos of us than to go swimming:
Lia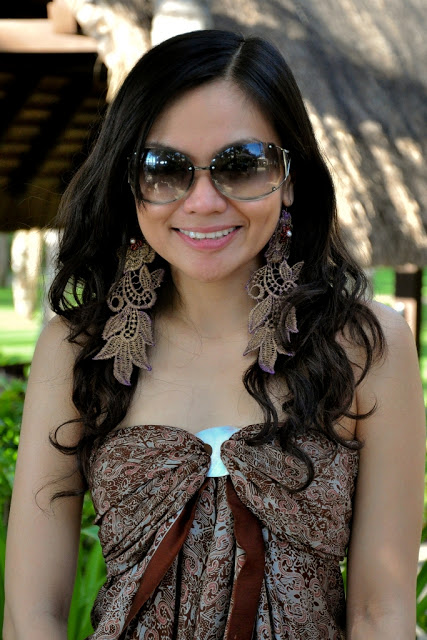 Mshel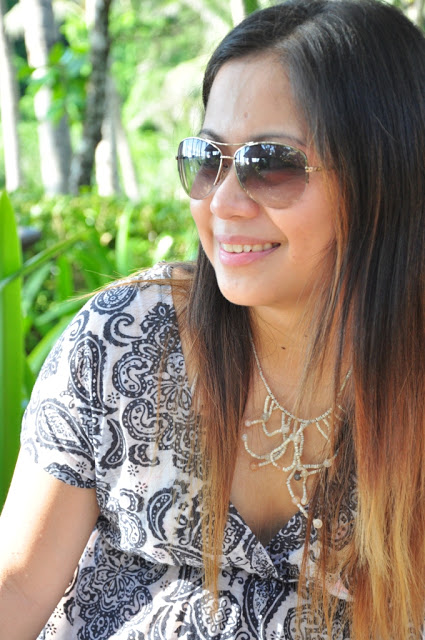 Me
But the water looked so amazing we finally gave in. Here's the view of the beach area from the pool: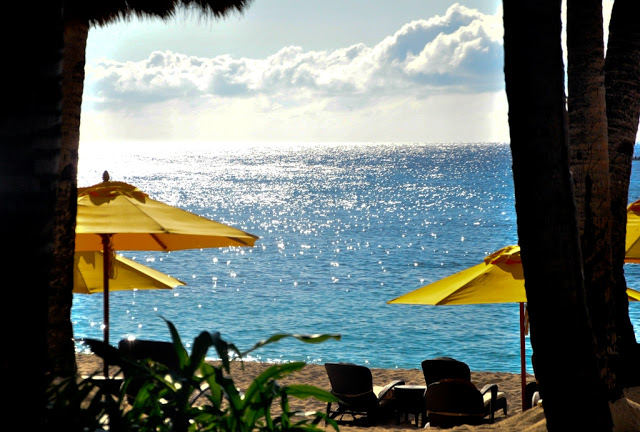 Words cannot describe how pleasant this day was.
Afterwards, we ordered some drinks from the pool bar, and Mshel and I started the trend of ordering the same drink throughout our entire stay.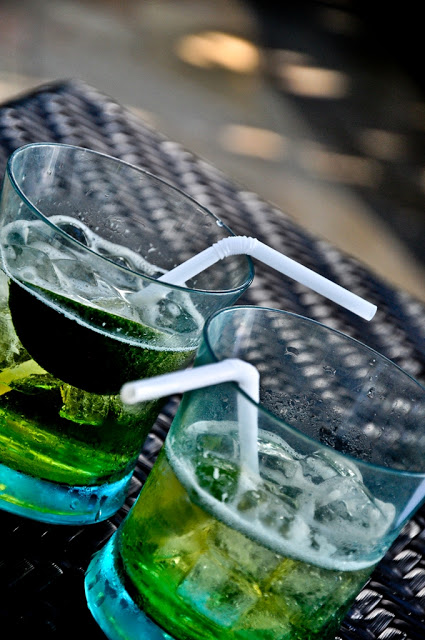 Amaretto sours for Mshel and me
Then we took some time to take more photos on the beach, some of them nice:
And some of them a little ridiculous, because that's just how we roll:
Don't forget the "jumping in mid-air" shot which seems to have become a classic for Filipino vacation photos:
I like to pretend I'm Chun-li. I don't care how tan I am or how large my eyes are.
Then we rested, drank some more cocktails and talked while hanging around the lounge chairs as we waited to see our first Boracay sunset of the trip.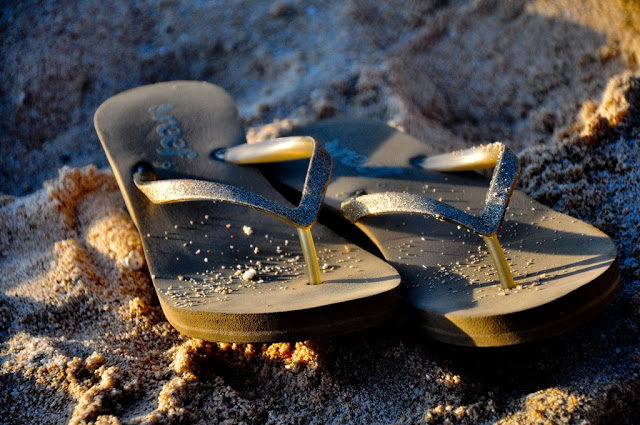 Mshel's flip-flops. I probably would have taken a similar (if not as beautiful) photo
if I hadn't asked Mshel to do all the photos for my Boracay entries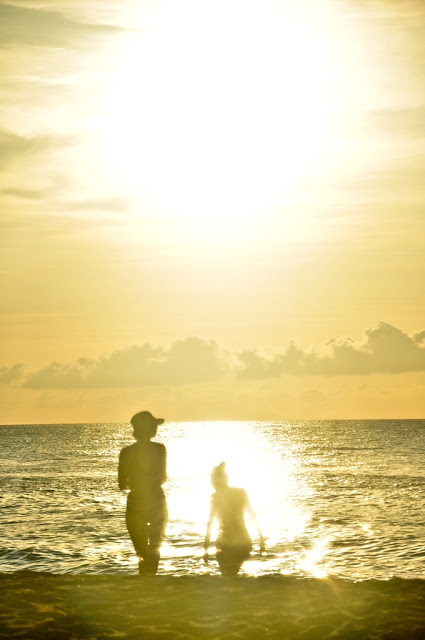 Random ladies, gorgeous sun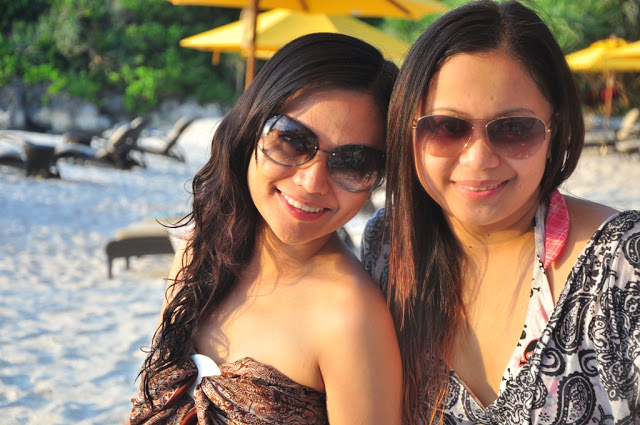 It's a bit hard to be friends with this gorgeous creature sometimes, but I get by 😉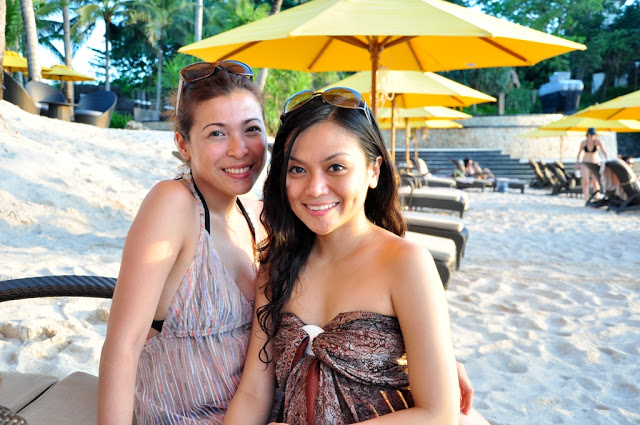 Pretty ladies 🙂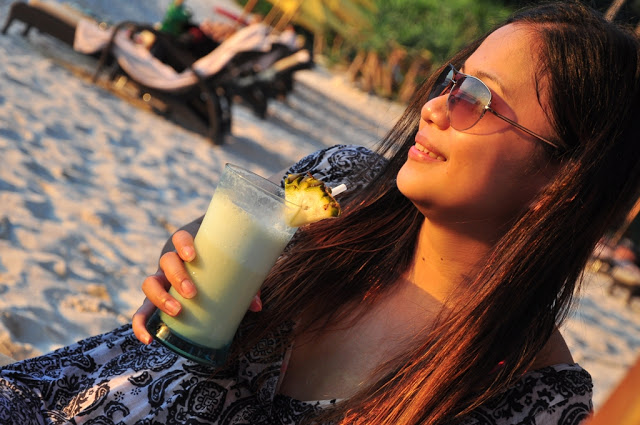 Nothing better than a pina colada at the beach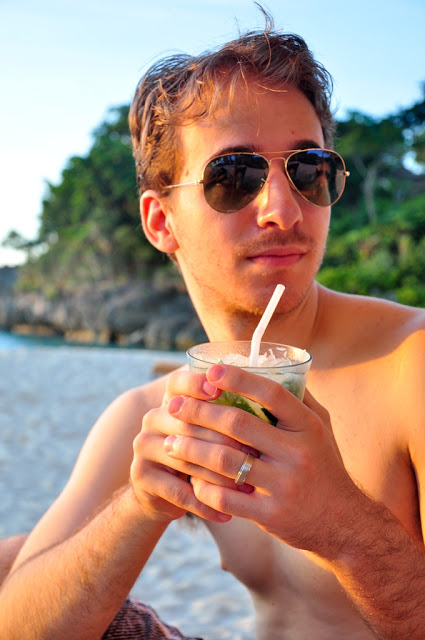 Hubby enjoying his drink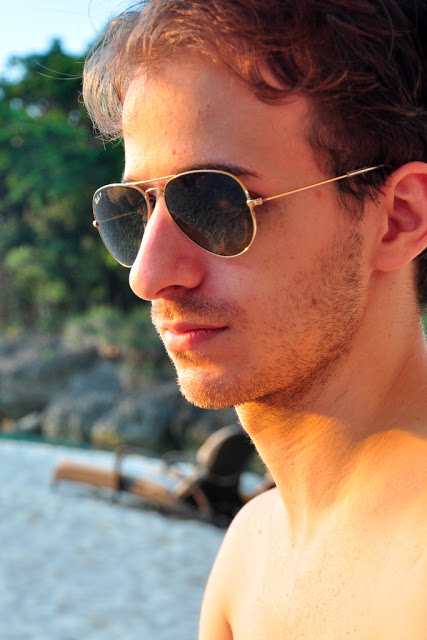 Seriousness.
Finally, the sunset came, and it did not disappoint. I hung out and enjoyed every moment of it as my friends scrambled to capture as much of its beauty as they could. For that I am truly grateful, since no vacation of mine has ever been as well-documented as this one.
Rima, Shangri-la Boracay Resort
I wanted to go somewhere nice for dinner on our first night, so we headed over to Rima, an Italian restaurant on the resort. We ordered a bunch of crazy food, which somehow gave my friends an upset stomach, but did not faze me or hubby at all (weird!). We did have to fight our sleepiness the entire time, though (this was our 3rd day in the Philippines, both of us sick). Of course, as per usual, this did not prevent us from taking a ridiculous amount of photos.
This was our amuse bouche, which seriously tasted like a piece of rigatoni taken from some kind of baked rigatoni dish. It was good, but seemed to me like something a chef would think of if they had to make up an amuse bouche real quick.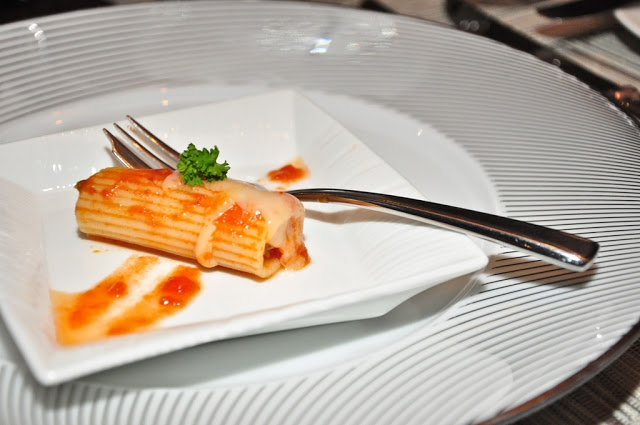 Amuse bouche at Rima
The bread bowl was pretty interesting, though I did not actually try it. It came with three dips, one of which was pesto, another was tapenade, and the last one olive oil and herbs. According to my friends, the bread wasn't anything exceptional, but the dips were great.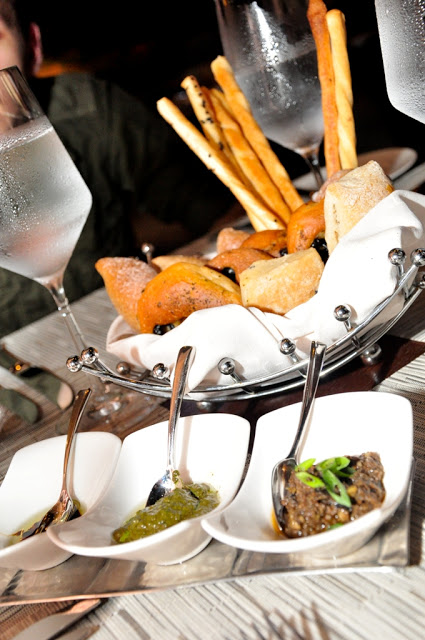 Bread basket @ Rima
Lia had some kind of apple salad, which she didn't rave about so I assume it was just a normal salad.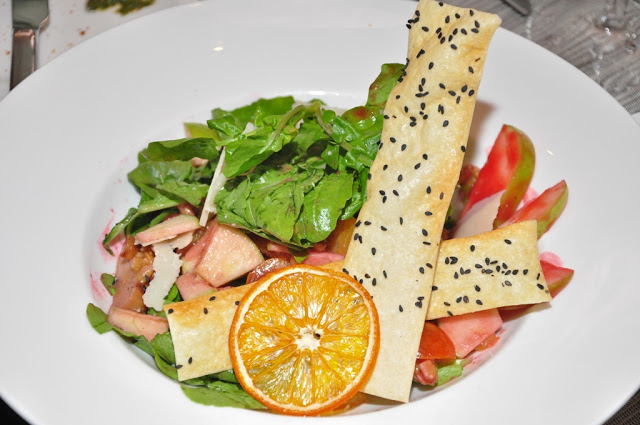 Apple salad @ Rima
I had beef carpaccio with parmesan ice cream to start. I'm sure you can figure out why I ordered this if you've been reading my blog religiously. Yep, you got it. I wanted to try the parmesan ice cream. I'm not usually a fan of carpaccio, but the parmesan ice cream was just soooo delicious and made the carpaccio melt in my mouth, in a heavenly blend of meaty, cheesy and smoky flavors. This was definitely one of my favorite dishes during this vacation.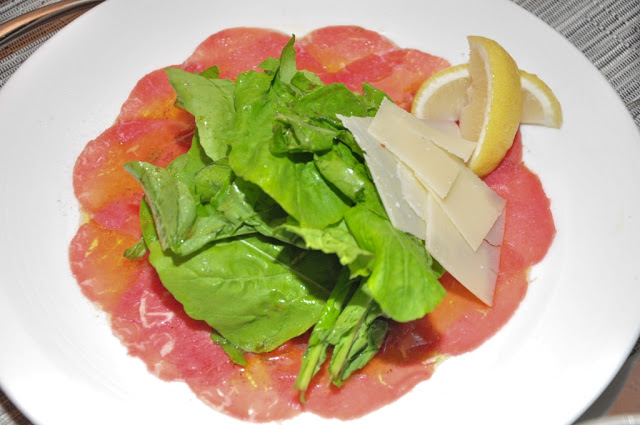 Beef carpaccio with parmesan ice cream @ Rima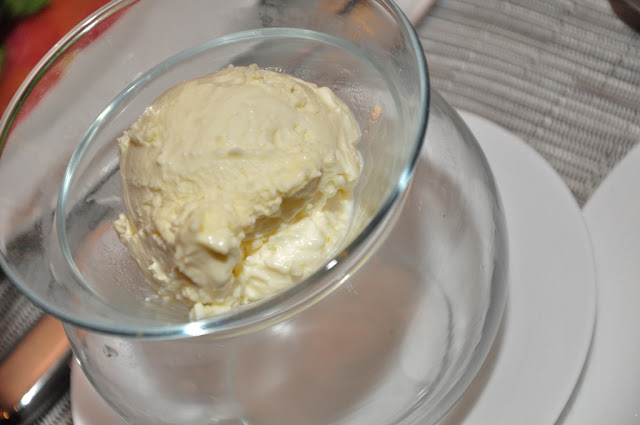 Beef carpaccio with parmesan ice cream @ Rima
Mshel had a trio tartare of tuna, salmon and (I believe) lapu-lapu to start. This dish looked gorgeous but did not sit well with her stomach (at least, we assumed this was the culprit). Too bad, since I would've ordered this in a heartbeat as well.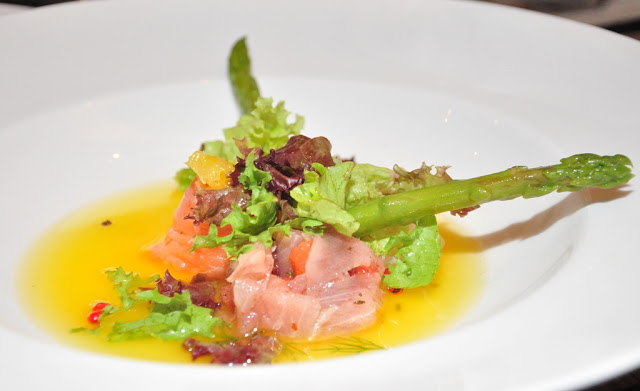 Trio tartare of tuna, salmon, and some other fish @ Rima
For her main dish, she had the pepperoni pizza, which I tried a little bit of as well. I thought it was a little too salty for my taste, although lately I've been noticing I'm really not a fan of pepperoni pizza. I had it at a Mario Batali restaurant about a week ago and also thought it was too salty.
For my main dish I had their rack of lamb, which unfortunately was the worst rack of lamb I've ever tasted in my life. Now, I'm normally a HUGE fan of lamb dishes, and I even like the "lambiness" that overwhelms other people sometimes. But the lambiness in this one was so ridiculous it felt like a punch in the face. Either that or the meat had gone bad. I'm not sure if maybe the meat was undercooked? It certainly was tender, but boy I did not care for the taste. Sorry Rima. At least I liked my appetizer.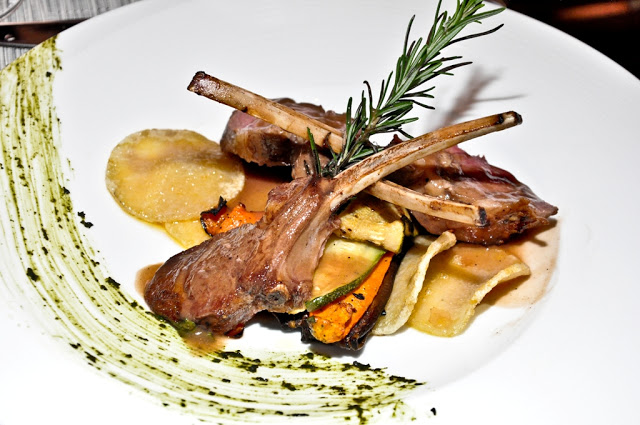 Rack of lamb with potato chips @ Rima
Funnily enough, the waitress, who either heard me complaining about the dish, or just was doing her job normally, asked me how this dish was. I told her I wasn't a big fan, and I felt that the lamb was too undercooked, either that or it just wasn't my style. Then I told her I really liked the carpaccio, though. She stared at me dumbly for a minute and then said, "Ok, thank you.", then walked away. I had a bit of fun regarding this with my friends, because I wasn't expecting such a weird reaction. If you ask me if I like a dish, you better be prepared to respond well to a negative review, is all I'm saying. Later on, my friend noted that maybe she couldn't understand my English, and of course I felt bad. Actually, you know what, that meal was pretty expensive for the Philippines, so no, I take that back :P.
Hubby had their gnocchi with lamb, which he orders a lot. He really liked his dish, which says something since New York is Italian food heaven, and he was basically 75% asleep during this whole meal.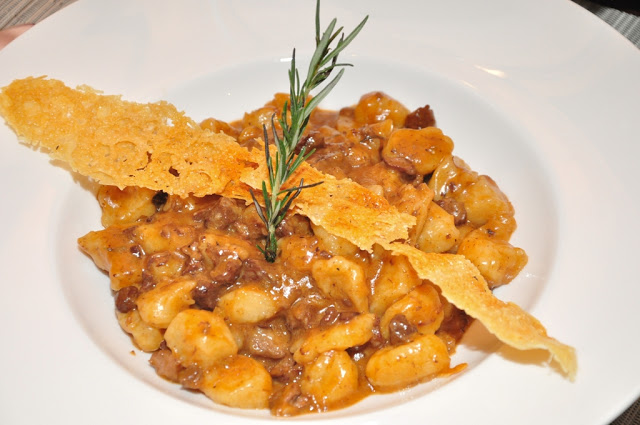 Gnocchi with lamb @ Rima
Despite the meal being less than perfect, we still got a really nice photo out of it :P.
If you haven't noticed yet, our first day at Boracay went pretty well, and I'm looking forward to posting more entries about the rest of our vacation. 'Til then, happy new year everyone!