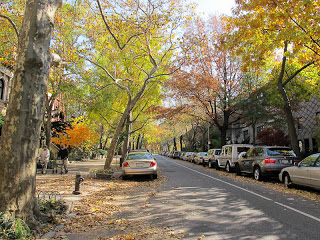 I love doing walks in Brooklyn because most of the neighborhoods there are completely new to me, which was the case with Park Slope. I've read about it a lot, heard about it a lot, and it was, ranked "Best Place to Live in NYC" in 2010 by New York Magazine. That's a BIG deal, knowing how many neighborhoods there are here. It's clearly not just the magazines that love Park Slope either because my current boss lives there, my previous boss used to live there and my friend Katie used to live there. Clearly there must be something about Park Slope, and I set out to find out what that was. It was also a plus that I would finally get to see Prospect Park, which I used to think of as "Brooklyn's Central Park", but no more (although both parks were designed by the same people). This walk was a lot of fun for me, so I hope you have as much fun reading about it. (Pic: Where we parked between Prospect Park West and 7th ave around 4th st).
The Walk
There was a bit of driving involved in this walk, mostly because I was with my husband, but also because we're usually too lazy to take the subway to Brooklyn. But if you really wanted to do this as a walk, it's perfectly doable, and there are several subway lines that go here including the F train. We started out parked at a street between Prospect Park West and 7th ave (around 4th st), then headed toward Prospect Park. I am sooo happy we did this walk right when we could experience the fall foliage because as I am writing this entry I see all the trees outside looking depressed and naked. My husband, who somehow got the idea from his previous work-related treks to Brooklyn that Park Slope wasn't nice, was rendered speechless when we got there. It's just so peacful and gorgeous (and clean!), so different from any of the neighborhoods we've been to. Here are some photos of the park and hopefully I captured enough to show you even just a glimpse of how beautiful this area is.
Prospect Park
Brooklyn
I loooove Central Park and have gone there on many undocumented walks. So it was a pleasant surprise that I found Prospect Park refreshing and even nicer in some ways. It's a lot more peaceful, mostly because there are just less people there. I'm pretty sure we didn't even see the nicest parts of the park, judging from what I've read about it, but the fact that we still loved the walk really says something.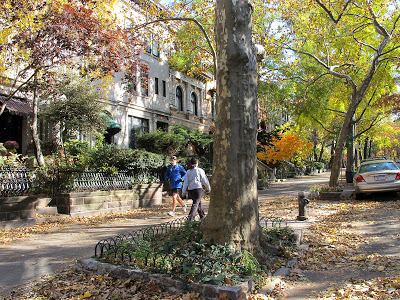 The street we parked at. Love the people jogging/power walking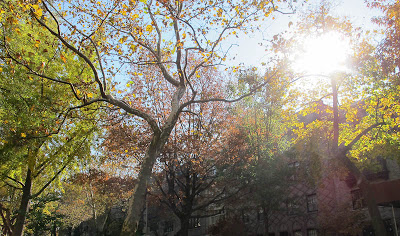 🙂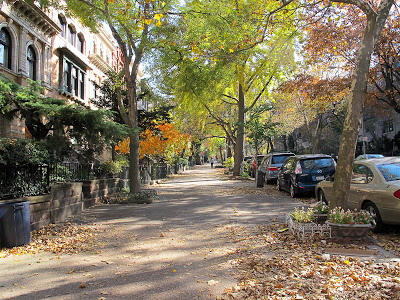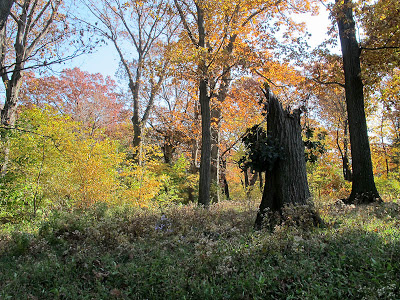 Prospect Park
Prospect Park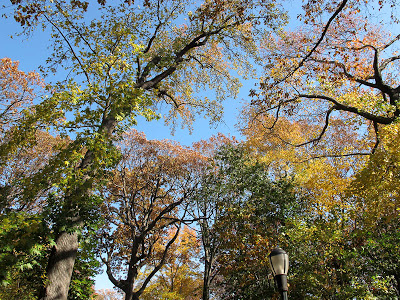 Prospect Park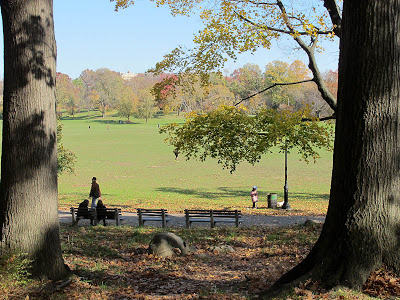 Prospect Park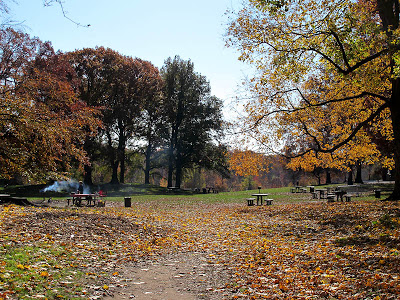 Prospect Park picnic and barbecue area. We wanted to steal food from that guy over there.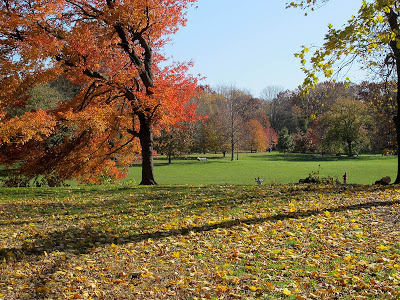 Prospect Park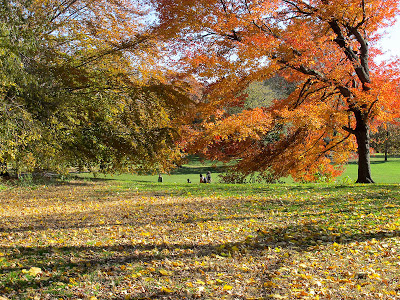 Prospect Park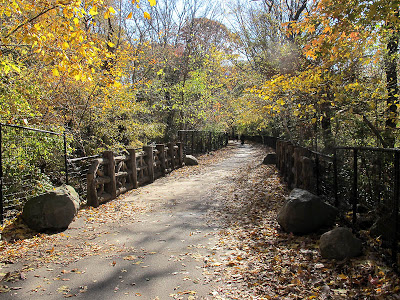 Prospect Park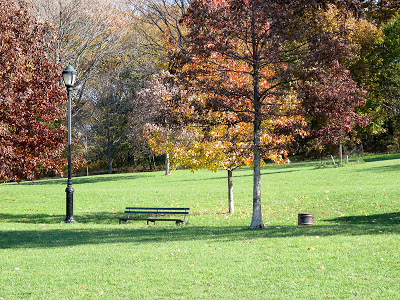 Prospect Park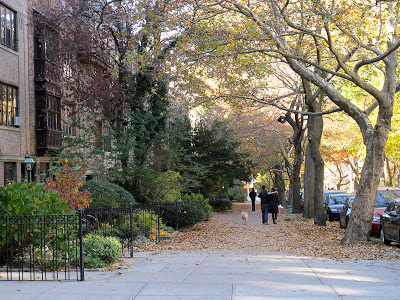 The street we parked at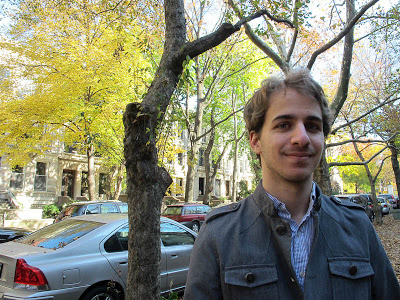 Hubby enjoying fall
We wanted to go to some shops next, but before we could hit the very first one I was drawn into this store:
Scaredy Kat – Cards and Gifts
232 5th Avenue
New York, NY
This store is one of those cute indie stores that sell a variety of unique gift items and trinkets you won't find at regular stores. Here are some of the things I found: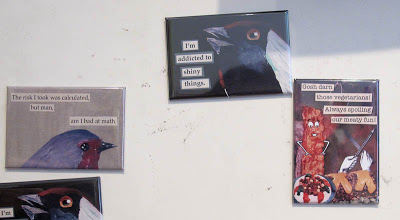 Badass magnets. Mike wanted to buy me the
"Gosh darn those vegetarians! Always spoiling our meaty fun!" one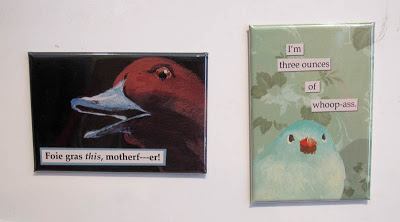 Badass magnets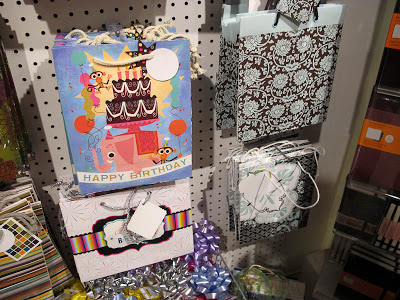 I'm a sucker for cute paper bags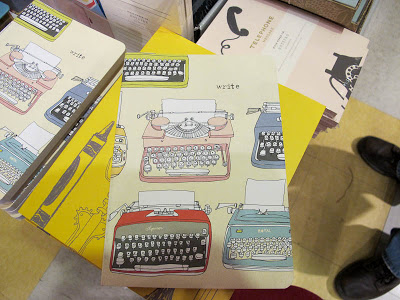 A super adorable journal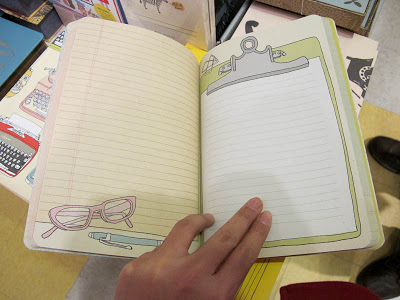 Inside the journal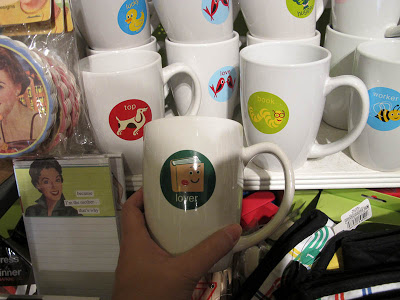 I bought the book lover mug for myself, although the book worm one might be a bit more obvious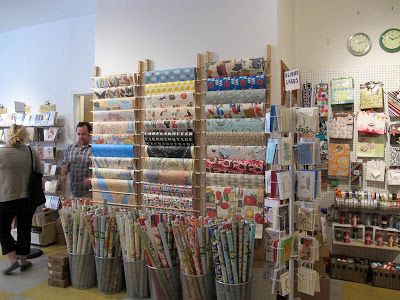 Fun wrapping paper including old maps of NYC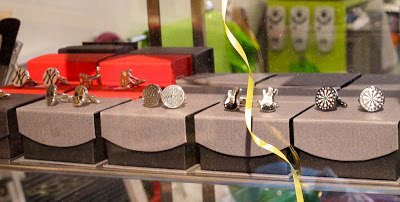 Dart board, guitar and skull cuff links
Star Trek and Yankees cuff links
Community Bookstore and Cafe
143 7th Avenue
Brooklyn, NY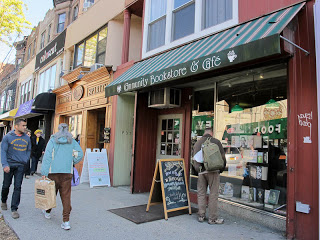 I was drawn to this bookstore by the promise of all sorts of pets walking around to be petted, and the many seats and couches you can lounge and read on. There were no pets when we went, so I assume the description I read pertains to the fact that they do allow you to bring your pets in here. I stayed a bit longer to peruse the books they have.
This is a small bookstore, so don't expect their stock to be like Barnes and Noble's, but what I was amazed at was that I would have been interested in reading 80% of the books in there. Sci-fi, fantasy, crime thrillers, graphic novels, cookbooks, travel books, they had all the genres I love, and I thought the titles they had all seemed interesting. Despite the fact that I am no longer vegetarian, I noted that they had a good selection of vegan/vegetarian cookbooks.
If I were walking around alone and had some time to kill I totally would have sat down to read something. The only complaint someone might have is that this place is as quiet as a library. It felt as though someone would get mad at you if you made noise, but that's definitely good for someone who wants to spend a good amount of time reading.
370 5th Ave
(at 6th St)
Brooklyn, NY 11215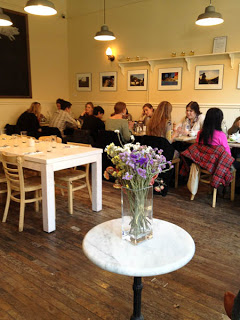 Juventino interior
Our original plan was to try Stone Park Cafe, which has phenomenal reviews on Yelp, but the wait was too long and by the time we got there we were already starving. So we decided to leave and try out this place instead. That ended up being a great idea.
The first thing we noticed about this place is that it's so much roomier in here, and it didn't feel like we were packed in like sardines. There was still about a 15 minute wait, but they had a waiting area and we were pretty comfortable. The decor is simple, and sort-of minimalistic, which also shows on their website. It did have a "homey" vibe though, which was really nice.
I started with an individual-sized French press coffee. I actually hadn't had my coffee for the day, so as you can imagine I was dying to have a cup at this point. I've found most French-pressed coffee are pretty good, and this was no exception.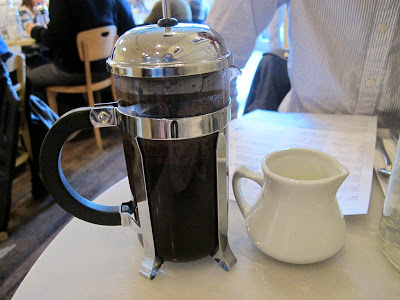 Individual-sized French press coffee @ Juventino
For my meal I had the pork belly with scalloped sweet potatoes, truffle cream and yuzu marmalade. I tried to ask them to substitute the sweet potatoes with green beans, which they were ok with, but the waitress let me know that the dish is really a lot better with the sweet potatoes. I ended up ordering the original dish, just to try a couple spoonfuls of the sweet potatoes, and a side of garlic greens.
Everything about my dish was great. The pork belly was oh-so-good!, although having spent a couple of years away from truly fatty Filipino dishes, I had to slice out the thick layers of fat on it. The flavor of the pork was simple (I think probably just salt and pepper), but that made sense because the truffle cream more than made up for it. The pork was tender and not dry. I had a bit of the sweet potatoes and understood why the waitress let me know that it should definitely be a part of the dish. It was the perfect accompaniment to the pork belly, just sweet enough to add a contrast to the pork without overpowering the flavor. The lettuce wasn't just garnish. It was REALLY fresh and went well with the dish, and I ate the whole thing.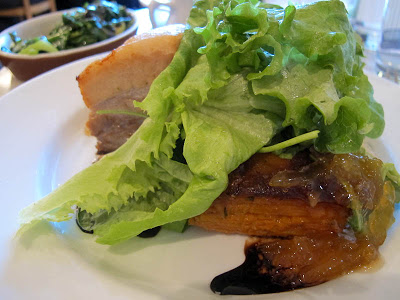 Pork Belly @ Juventino (garlic greens in the background)
Hubby had the egg sandwich on sweet brioche, farmstead cheese and simple salade with chicken sausage. Now, I have to apologize at this point because for some reason, maybe the lack of caffeine earlier in the day, or the fact that I was so enamored by my pork belly, I forgot to take a picture of his dish. I'm sure you can imagine what it looks like though, because it really just sounds like a breakfast sandwich, but hubby loved it, especially the chicken sausage, which they make on the premises.
Even their check holder was cute, and really went with the theme of the place.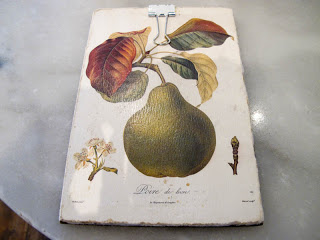 Overall, we loved this restaurant, and wouldn't hesitate to come back.
PS Coffee Tea N Spices – A tea and general merchandise store
368 5th Avenue
Brooklyn, NY
This places was right beside Juventino, so it definitely made sense to at least take a peek. Here are some of their merchandise: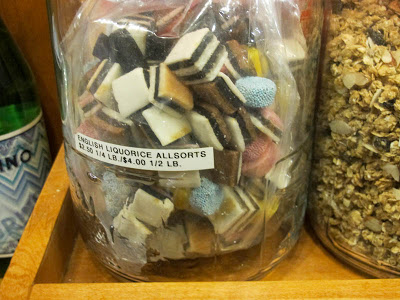 English liquorice. I hadn't seen these since I was a kid and one of my family members
overseas (don't remember who) brought these home.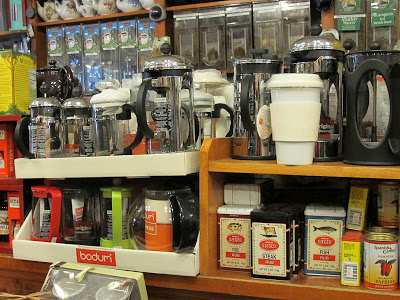 Need a French press? They have quite a collection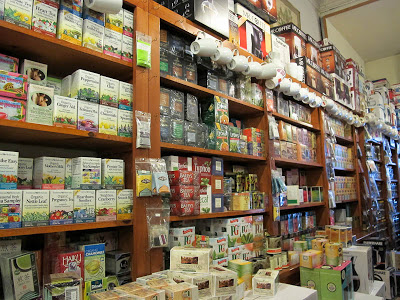 Tea galore!
Trois Pommes Patisserie – a cafe/bakery
260 5th Ave # A
New York, NY
I originally wanted to go to Gorilla cafe, but this place was near our car, looked promising, and had about the same ratings. I loved it. The service was excellent. I asked for my mocha to have no sugar, and they informed me the mocha syrup itself has sugar (which wouldn't have mattered to most baristas I think). They were so warm and friendly. That's not all, though. They have some very unique pastries. Take a look: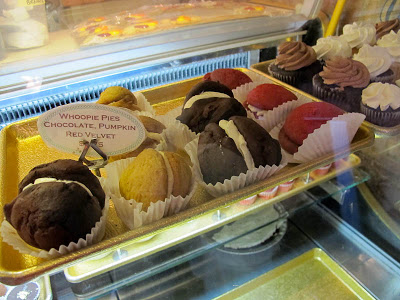 Chocolate, pumpkin and red velvet whoopie pies @ Trois Pommes Patisserie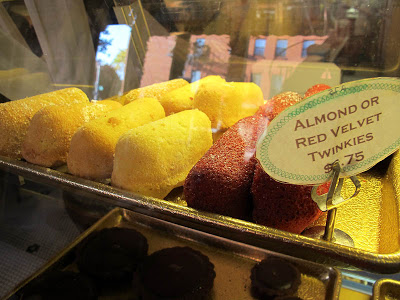 Almond and red velvet twinkies @ Trois Pommes Patisserie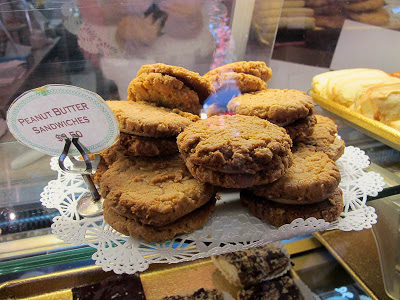 Peanut butter sandwiches @ Trois Pommes Patisserie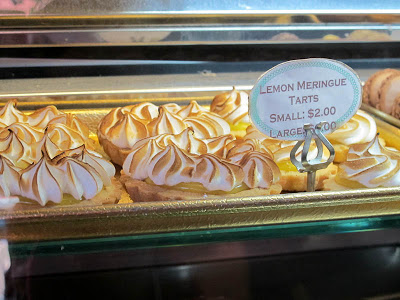 Lemon meringue tarts @ Trois Pommes Patisserie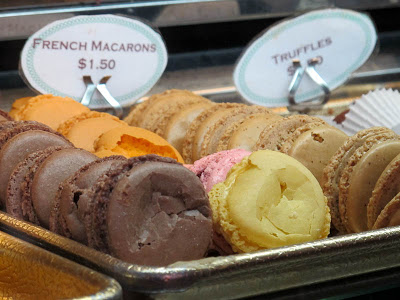 Macarons. I loved that they had these, but felt bad for the ruined ones 🙁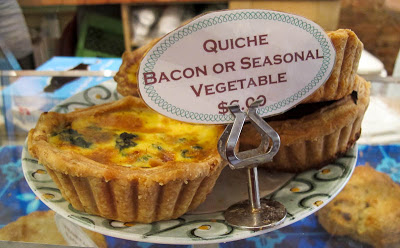 Quiche @ Trois Pommes Patisserie
I didn't get anything, though I was dying to get a red velvet twinkie. Hubby got the lemon meringue tart and chocolate whoopie pie to take home. He definitely raved about the lemon meringue tart, saying it was exactly what he wants a lemon meringue tart to be. He thought the whoopie pie was ok.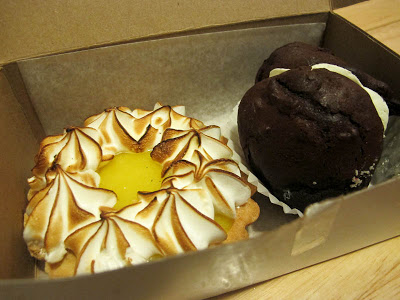 This was definitely a pleasant walk, and was made even nicer by hubby surprising me with roses in the car for absolutely no reason other than that he knows I love flowers. Flowers given for that reason are the best kind. 🙂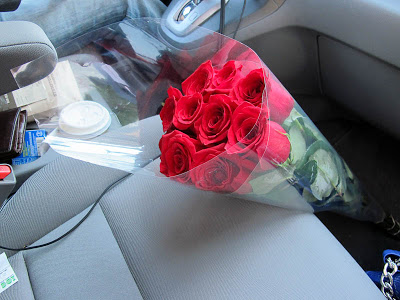 All in all we thought Park Slope was phenomenal, and are considering buying a place here someday, when we're ready.
The Best Thing About This Walk:  Prospect Park and Juventino
The Worst Thing About This Walk: Nothing, really.
Would I Come Here Again?   I want to try more brunch places, and maybe to live here harhar.
What Would I Do Differently? See more of Prospect Park.
Map of this Walk
A: Prospect Park
B: Scaredy Kat – 232 5th Avenue, New York
C: Community Bookstore and Cafe – 143 7th Avenue, Brooklyn, New York, NY
D: Juventino – 370 5th Ave Brooklyn, NY
E: PS Coffee Tea N Spices – 368 5th Avenue, Brooklyn, New York, NY
F: Trois Pommes Patisserie – 260 5th Ave NY