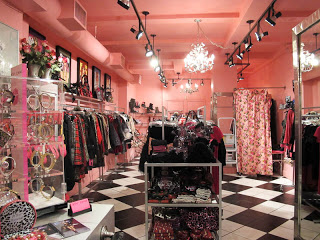 I was soooo pumped to go on this walk because I wanted to focus mostly on shopping and less on places to eat, and judging from the articles Best Indie Shops: Upper East Side and Field Trip to the Upper East Side on Timeout NY, this area appeared to be indie store heaven.
Like on most walks I've done, things didn't exactly go the way I planned. I didn't think about what I've discovered to be the most important consideration of all when trying to shop on the Upper East Side: most shops close at 7 pm. Granted, I did go on this adventure after work, but if I had planned my stops a little better I probably could have visited at least 1 or 2 more shops. This was still a nice walk, though, despite being cut short, and I DEFINITELY, DEFINITELY want to go back and do it properly next time :). (Pic: Interior of Betsey Johnson)
Little Brown – a coffeehouse and bakery, which also has some meal items
1269 Lexington Ave
(between 85th St & 86th St)
Manhattan, NY 10028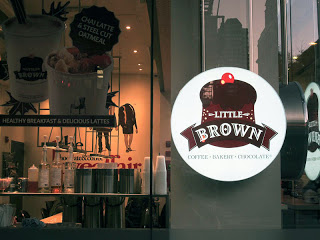 Little Brown coffeehouse and bakery
This wasn't in my original plan, but when I passed by it the place looked inviting and it was filled with people. I quickly Yelped it and found that it had great reviews. It was a little funny to me that right across the street was a Starbucks, which was ALSO full of people. However, if you're bored with your usual coffee, believe me when I say PICK THIS PLACE INSTEAD.
I went into this walk immediately after work so as you can imagine, I was pretty exhausted at the time. I definitely needed a caffeine fix, but before I even got to look at the menu, my eyes were drawn to the huge shelf of chocolate and coffee tins. They're perfect for themed gift baskets!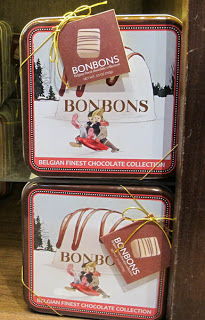 Chocolate tins @ Little Brown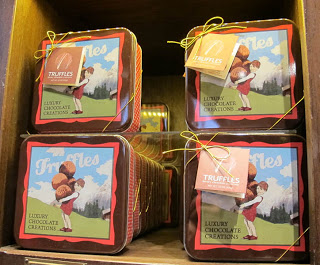 Chocolate tins @ Little Brown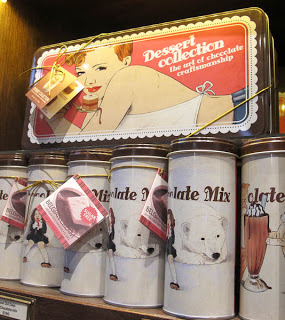 Chocolate mix and dessert collection @ Little Brown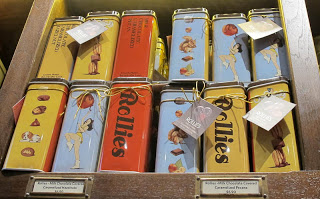 More dessert @ Little Brown
Moving on, I was distracted, yet again, by their pastry displays. Dulce de leche sandwich cookie and oreo pretzel fudge? Are you kidding me? My low-carb heart was broken.
Coffee cake and dulce de leche sandwich cookie @ Little Brown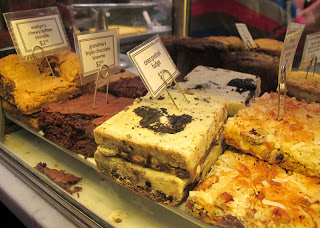 Oreo pretzel fudge @ Little Brown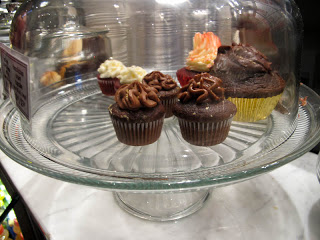 Cupcakes and mini cupcakes (130 calories) @ Little Brown
Despite all the decadent things I saw, they actually have a decent amount of healthy items. The mango coconut frappe in particular sounded interesting to me, but I ended up ordering the skinny frappuccino frappe (sugar free & low fat). It seems as though they have a bit of everything for everybody. All of you calorie-counters might be interested in the 130 calorie mini cupcakes. They have steel cut oatmeal (a.k.a. the healthier kind of oatmeal). They even have some gluten free snacks.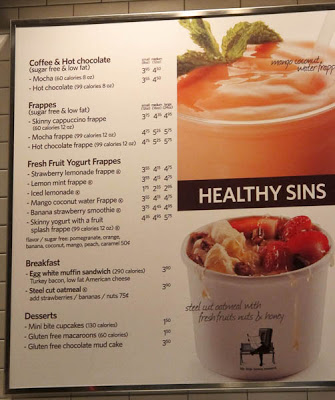 Healthy menu @ Little Brown
Now, remember when I walked in here, I found the unhealthy stuff first. They have even MORE sinful items if you have no interest in dieting.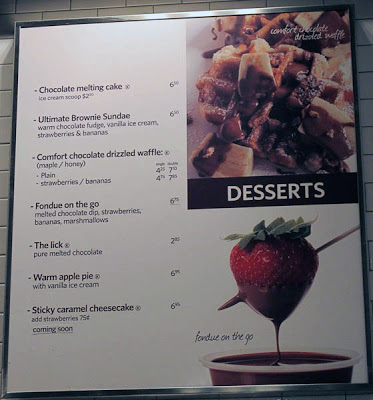 Decadent desserts @ Little Brown
They have fondue on the go! You can even order just pure melted chocolate, which is absolute genius. C'mon, you know you'd totally get it.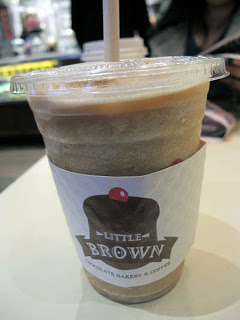 Skinny cappuccino frappe @ Little Brown
My skinny cappuccino frappe hit the spot and was the best skinny frappe I'd ever had. At 60 calories, I couldn't believe it was a diet drink.
The inside of the place is spacious and pleasant. It's a bit brighter in there than the usual coffeehouses I've been to, but I didn't find that to be a problem.
Wa Jeal – a Sichuan Chinese restaurant
1588 2nd Ave
(between 82nd St & 83rd St)
New York, NY 10028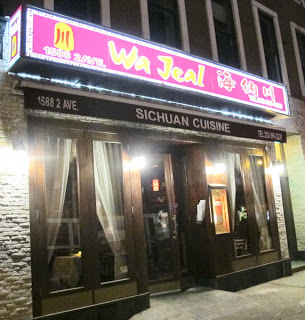 I headed over to 2nd ave not to eat, but to grab some authentic Hungarian paprika (which I've heard good things about) from a Hungarian deli. The deli was closed, and after walking four avenues in the cold and wind, I decided to look for a restaurant because there was no way I was going to make it 10 blocks uptown to where I originally wanted to eat.
Yelp led me to Wa Jeal, which is described by many reviewers as the best Chinese restaurant on the Upper East Side. I definitely tempered my expectations because first of all, it's the Upper East Side, and second, there are so many great Chinese restaurants in the city that it's really hard for one to shine.
Someone described the place as having a mixture of authentic and Americanized Chinese food, both made really well. So I ordered one "authentic" (meaning cannot be found in your usual "Happy Family" Chinese restaurant), and one Americanized dish to go for my husband – General Tso's chicken, what else?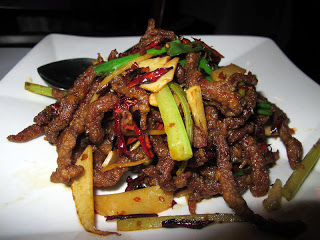 Crispy beef strips w/ chili and bamboo shoot
I ordered the crispy beef strips with chili and bamboo shoots. This actually wasn't on the menu, but the server said it used to be and people keep asking for it again. I should've known the dish wasn't low-carb friendly from the word "crispy" but I have a tendency to panic-order when servers give me suggestions. It was toootally worth it though because it was so delicious and the spiciness was absolutely perfect. I would have loved this even more with rice, but I was already guilty from eating the breading. It's made with thin beef strips, dipped in some kind of breading, made crispy by frying I guess, then tossed with shredded red chilies, bamboo shoots and green scallions. One of the best new dishes I've tried recently.
My husband's General Tso's chicken was really amazing as well. He couldn't stop eating it, and said so about 3 times. In fact I will probably be going back soon to finish my originally planned walk and try other dishes with him.
The ambiance of this restaurant is conducive to romantic dates because it's dimly lit and not over-the-top. The waitress was SUPER friendly, and even gave me suggestions because it seemed like I was overwhelmed with the menu. She was joking around with ladies seated at the table beside me. I don't find this to be a common experience at Chinese restaurants, so I thought it was definitely a pleasant surprise. Another observation is that when one of the ladies asked for a specific cocktail that the waitress was not familiar with, she asked what was in it, and had the bartender whip it up. I know that this is another sort-of stereotype, but this is really based on my own experience, and I usually don't find Chinese restaurants very accommodating of special requests, so it was definitely another plus for them. Overall the Yelp reviews were correct, especially the bit about both the authentic and Americanized dishes being great, and the service and ambiance were both excellent. I would definitely recommend this restaurant.
Betsey Johnson
1060 Madison Ave
New York, NY 10028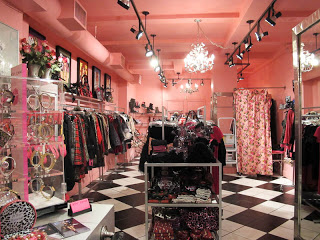 I loved Wa Jeal, but it did take sometime for me to get my food and my bill, so by the time I was done, most of the shops I wanted to see were closed. Betsey Johnson was the only one left open, and they actually weren't open since after coming in I realized their store hours said they were only open 'til 7pm. But the salespeople were very accommodating, and said they weren't leaving the store anytime soon anyway so I might as well take a look around if I want to.
The inside of the store is absolutely adorable. It's painted pink, the perfect backdrop for all the fun dresses Betsey Johnson is well-known for. They also have a good amount of fashion jewelry, and other accessories like scarves, gloves and hats. I went straight for the jewelry (I'm afraid I may have a bit of a jewelry addiction at this point), and got the following: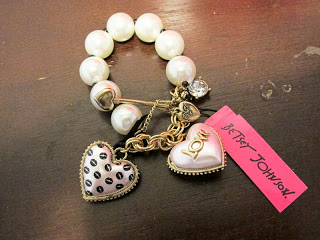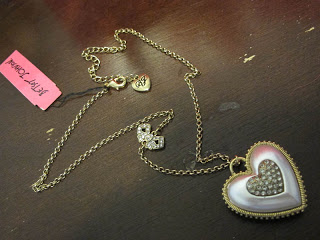 I was definitely happy with this store, and I would have grabbed a dress or two if I had the budget for it.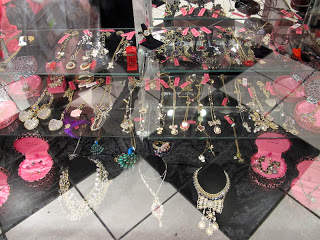 Jewelry @ Betsey Johnson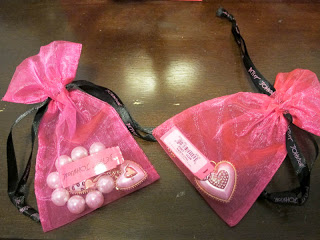 Jewelry @ Betsey Johnson
This walk was short, but this was the first walk that really made me feel like a New Yorker. I started this blog in the summer, and I hadn't really had a walk in the cold weather until this one. Shivering, wind blowing on my scarf and my hair, walking past all the brownstone apartments, it was such a NYC experience. I watched all the young couples entering the rows of apartment buildings and wished I could live around there, come home to a fancy lobby and live on one of these tree-lined streets. But I'm not sure if I can leave the comfort of my relatively huge apartment.
The Best Thing About This Walk:  Wa Jeal. Everything was just great there. Food, service and ambiance.
The Worst Thing About This Walk: Missing out on all the fun shops. Luckily, I'm coming back and doing a second walk here soon.
Would I Come Here Again?  Already in my schedule 🙂
What Would I Do Differently? Shop before eating (if done in the late afternoon/early evening)
Map of this Walk:
A: Little Brown – 1269 Lexington Ave, New York, NY 10028
B: Wa Jeal – 1588 2nd Ave New York, NY 10028
C: Betsey Johnson – 1060 Madison Ave New York, NY 10028