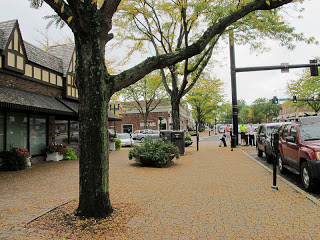 I've complained quite a bit about not being able to travel in this blog, but aside from my walks I do get somewhat mollified by going out to Connecticut (where hubby is originally from), every once in a while. Because of that I've been wanting to do a walk there for a while now, and although this wasn't exactly a "walk" (there was a decent amount of driving involved), I'm happy to finally write my very first Connecticut post.
West Hartford Center
We started our walk pretty early at West Hartford Center. It's one of those commercial areas that have a small town feel, full of cute little indie shops, which I love.
Grant's – An American Restaurant/Bar with French and Italian influences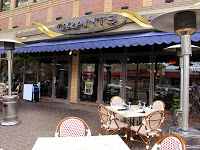 Our first stop of the day was for brunch, and the plan was to drive over and then find something on Yelp. A lot of the establishments were still closed, but luckily we ended up finding one that was open. I couldn't have been any happier with our choice.
Grant's is one of those places that look like they should have a huge menu of random stuff like Cheesecake Factory, but their menu is actually pretty small. This isn't a bad thing, though, especially since everything  we had was wonderful, including THE BEST FRIES I'VE EVER HAD.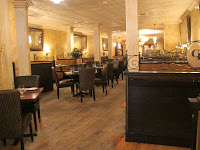 Grant's Interior
The inside of  the restaurant made me think of a nicer Olive Garden, which kind of makes sense because their fare is described as "American-Mediterranean". That's where the comparison stops, though, because the food here is more expensive and definitely worth the extra bucks. It's nice and spacious too, although we were the first people there, so that's not really saying much.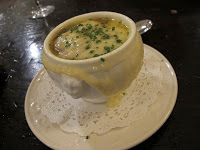 Gratinee of Onion Soup @ Grant's
There wasn't much of a vegetarian selection in the menu, so I opted to order an appetizer and a side dish. I started with the gratinee of onion soup (more commonly known as French onion soup), which was decent. Unfortunately for it, it was very soon overshadowed by the hand cut truffle french fries.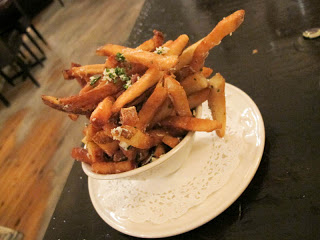 Hand Cut Truffle French Fries @ Grant's
They were a-mazing. I'm not sure if it was the whole "hand-cut" business, but holy cow. I know it wasn't just 'coz of the truffle, because I had the same thing a week later elsewhere, and they were only half as good. They definitely did not skimp on the truffle shavings, because every single bite was packed with flavor and they were fried to an absolute perfect crispiness. I had to fight off hubby to keep him from stealing all the fries. He had some gnocchi with lamb, which he said tasted really good as well. I sampled some of the gnocchi, and I said texture wise it was better than other gnocchi I've had (including the one at Lupa, one of Mario Batali's restaurants), but hubby remembered Lupa's being better.
Oh and I had a mango sangria (for my first meal of the day, DON'T JUDGE). LOL. It was pretty good.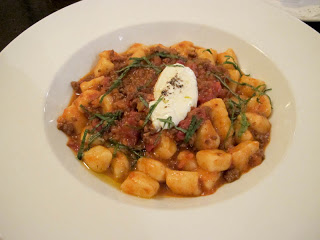 Gnocchi with Lamb @ Grant's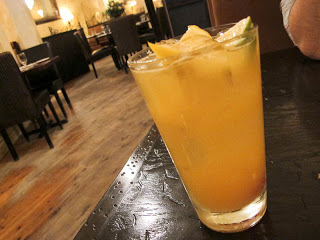 Mango Sangria @ Grant's
Cafe Sofia – A coffee house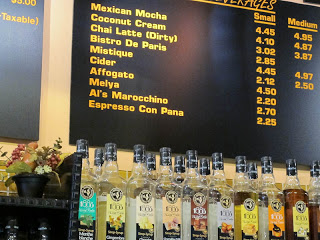 After Grant's I wanted to try a coffee house, since I always need my jolt of caffeine and it seemed more appropriate to have it somewhere else because it was a walk.  We went into Cafe Sofia, which was pretty close by. I appreciated that the menu was unique, although I did not appreciate that the person serving looked at me funny when I asked what made the Chai Latte "dirty". I'm not coming on to you, sir. I'm with my HUSBAND. If anyone's curious, a dirty chai latte is one that has a shot of espresso in it, and I ordered it anyway, just 'coz I've been into chai lattes since my recent visit to Mud. Unfortunately, this one was no match.
Toy Chest
I love indie toy stores because they have more character and I feel as though the owner carefully selected toys that they would have wanted their children to have. This one was no exception.  Here are some cute things I spotted: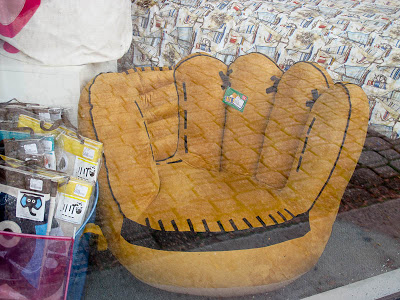 A baseball glove chair!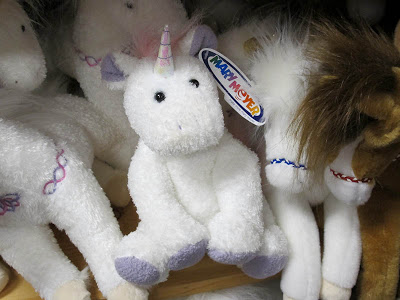 An adorable unicorn I wanted to take home and add to our pet collection.
A few seconds later I reminded myself I'm in my late 20s.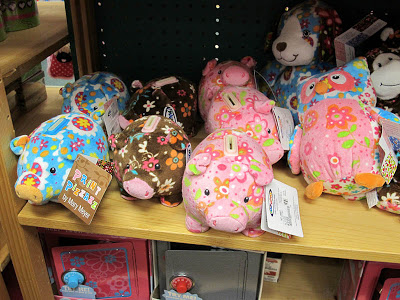 Some groovy pigs.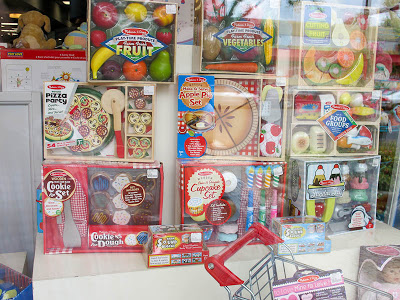 Lots and lots of fake food, which I would've loved to have as a kid.
I noticed the "supermarket cart" at the bottom as I was writing this entry. 🙂
Ten Thousand Villages is an exceptional source for unique, handmade gifts, jewelry, home deco, personal accessories, textiles, art & sculpture representing the diverse cultures of artisans in Asia, Africa, Latin America and the Middle East. One of the world's largest fair trade organizations and a founding member of the World Fair Trade Organization (WFTO), the company strives to improve the livelihood of tens of thousands of disadvantaged artisans in 38 countries.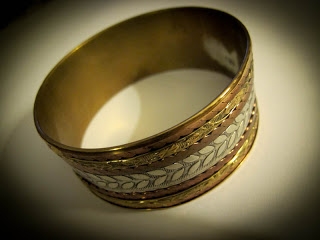 Bangle from Ten Thousand Villages
I walked into this store and instantly fell in love with everything in it. I didn't even know their story until later, and I also found out that the Philippines is one of the developing countries they help out. I loved the concept, but I also adored how tasteful every single item in the store was. It's as if it was a curated gallery, because I didn't see a single accessory I wouldn't have bought for myself. It must have been a daunting task to carefully select what to buy from the 38 countries they get their stuff from, but they're definitely VERY good at it. Their home goods are gorgeous as well, and they have some very unique items, which is as expected.
I didn't notice the prices for the home goods that much, but their accessories are I would say in the mid-range (more expensive than Forever 21, cheaper than Banana Republic). I bought the really pretty bangle above, and a pair of earrings that are now gone because my cat played with them (they weren't destroyed, just lost somewhere in the apartment) :(. I'm definitely coming back for more!
Blue Back Square
Blue Back Square is a combination commercial/residential area that we frequent in CT, mostly because there is a Cheesecake Factory and a New York Sports Club there (yes, in Connecticut). They also have a Barnes and Noble and a Whole Foods. I would probably rent an apartment there if I worked near the area.
Charming Charlie – An accessory store (although they have some clothing)
When she found out we were hanging out in that area my sister-in-law suggested I go to Charming Charlie. She described it as a huge accessory store, with the items arranged by color. Dude. I was not at all prepared for how big and AWESOME this store was. Their prices are great and the quality is decent. This place definitely goes on and on, and one could spend an entire day here if you're not careful (or in a hurry). I spent a ridiculous amount of money here, although I'm proud to say most of it was for gifts ;). I didn't even LOOK at the clothes and shoes because I was already overwhelmed just by the jewelry and bags.
Here's what I bought for myself:
And here are some other cute stuff they had: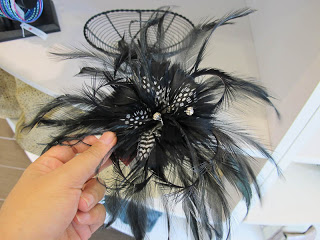 Hair Clip 🙂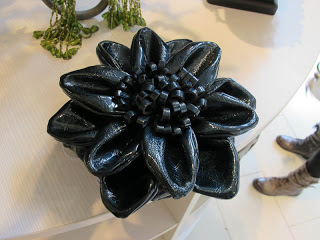 Clutch
Overall (as you can probably tell), this walk was a success. I would want to do a different walk next time I'm in CT, but I'm no doubt going to be tempted to do the exact same stuff (oh truffle fries, you are going in my belly).
The Best Thing About This Walk: Truffle Fries.
The Worst Thing About This Walk: Coffee
Would I Come Here Again? No doubt.
What Would I Do Differently? Find a better coffee house. Get two orders of truffle fries.
I'm not going to map this walk because it was in Connecticut. Leave a comment if you need any addresses :).