I'd actually started doing "walks" even before I conceptualized this blog, in an effort to make my travel-less life less boring. One of those undocumented walks was a trip to the Museum of Natural History with hubby, which quickly bored us and resulted in an Upper West Side/Central Park walk instead.
I'm not going to write much about that walk, except to say that we loved the neighborhood, and we decided to go back soon. We even went so far as to try and see if it's possible for us to move to that neighborhood, since we saw many couples our age walking their dogs. It's just seems like a different city up there. The streets are wide and clean, the shops are nice, the coffee is GREAT (I've had two very good experiences at coffee places here). However, we realized the Upper West Side is one of the most expensive areas of Manhattan to live in, and there are actually more affordable apartments on the Upper East Side. I was really disappointed that we couldn't move here (I'd rather spend money on more walks), but I consoled myself with the fact that we could always come back just to hangout, which is exactly what we did for this walk.
The Walk
The original plan was to have brunch at "Good Enough to Eat", which is one of the more famous brunch places in NYC. Unfortunately, the line looked like this: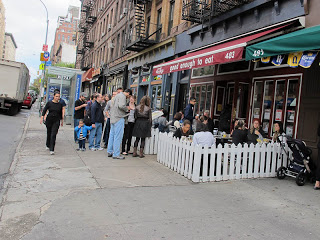 And I was absolutely starving. It's not good for me to be hungry for too long, because I just get downright nasty. So we decided to go to Nice Matin instead.
201 West 79th Street
New York, NY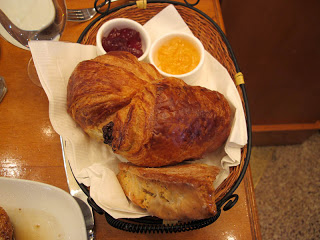 Nice Matin is a nice French brunch place that we discovered a couple of years back. It has so-so reviews on Yelp, but we've never had a bad experience there, in fact every time we've gone we've always liked the food. We hadn't been there in quite some time, so we felt pretty good about going back. We always start a meal there with their bread basket, which is filled with a variety of pastries they have for the day. This time it contained a croissant, pain au chocolat and a lemon poppy seed scone. They were all delicious, in fact I took the scone back home because I felt bad I couldn't finish it. Hubby stole it from me for breakfast the next day.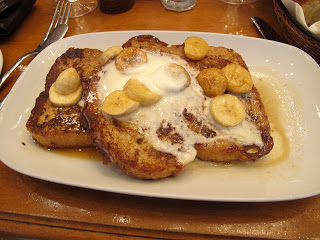 Orange Buttermilk French Toast @ Nice Matin
Hubby had their orange-buttermilk French toast, which is his usual order. Now, he basically orders French toast for brunch wherever we go, so it's not really a surprise that he likes it. I find it has a distinct caramelized orange taste that I like more than the other French toasts I've sampled from his plate over the years.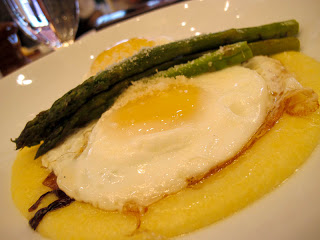 Creamy Parmesan Polenta @ Nice Matin
I'm a huge fan of egg dishes for breakfast, and I usually order eggs benedict. This time around I went for the creamy parmesan polenta with grilled radicchio, grilled asparagus & 2 fried eggs. I was a fan of everything in this dish except for the grilled radicchio, which was EXTREMELY bitter. I'm not sure why they put those in there. When I pushed all of that disgusting stuff to the side, my dish was great.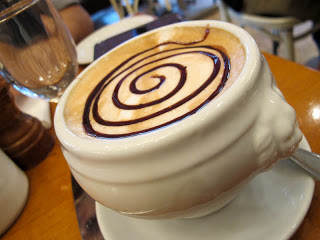 Cafe Mocha @ Nice Matin
I ended my meal with a mocha, which was oddly served in what looked like a bowl for French onion soup. It was delicious however, and the swirl of chocolate made me happy.
Loehmann's
2101 Broadway
New York, NY
I've always been a huge fan of Century 21, which is arguably the most well-known and biggest discount designer store in the city. They have several stores to choose from, too so it's pretty convenient to get to one for the most part. However, if I had one complaint about them it's probably that they have so much stuff but they carry plenty of brands I've never even heard of (and I have 5 fashion magazine subscriptions). Most of these brands are still more expensive than, say Old Navy or Forever 21 even on sale, so why would I spend more money on stuff I haven't proven to be of good quality?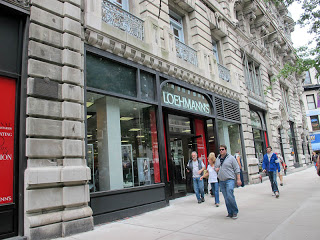 Loehmann's is a smaller, more high-end version of Century 21. They have less stuff, but you'll find more of the brands you'll recognize. They have a particularly good selection of bags, sunglasses (half-off Tom Fords and Ray-Bans!), coats and jeans. They also had a lot of French Connection and Theory clothing when I went. In general you'll find that most of their brands are advertised quite well on magazines. I bought a pair of 7 for All Mankind jeans and Betsey Johnson rain boot liners.
Red Cupcake Bakery
141 W 72nd St
(between Columbus Ave & Amsterdam Ave)
New York, NY 10023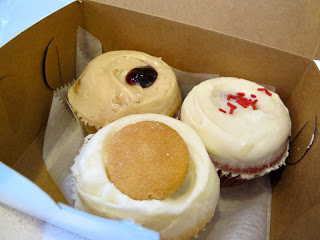 Peanut Butter and Jelly, Red Velvet and Strawberry Shortcake
cupcakes at Red Cupcake Bakery
I was looking for the Buttercup Bakeshop (which had great reviews) and I found that it had been replaced by the Red Cupcake Bakery. It looked a bit sterile inside, and there weren't a lot of people, but I was so excited to get cupcakes that we went ahead and got some anyways.
I got the peanut butter and jelly, red velvet and strawberry shortcake cupcakes. They weren't the best cupcakes I've had by far, but the flavors were there and I didn't feel like I was just eating spoonfuls of sugar, which I find to be a common experience having tried the many cupcake shops here in the city. I would recommend this bakery to anyone who is in the mood for cupcakes and is in the neighborhood. Their red velvet cupcake was pretty decent, if you're curious.
Aroma Espresso Bar
161W 72nd Street
New York, NY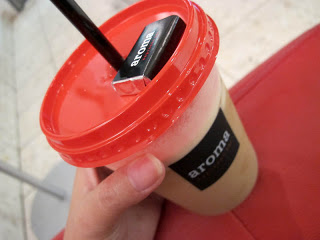 Iced Cappuccino @ Aroma Espresso Bar. Coz one cup of coffee
just ain't enough.
The point of going to this place was to get some good coffee, but it seemed to me like most of the people in there were getting food. At first I got confused by the ambiance, because it looked somewhat like a very busy cafeteria (including a very long line), but it was indeed a coffee place, and also much, much more. I'm not sure how real foodies would feel about this place, but as a vegetarian I was over-the-moon for their menu. You know how health magazines always say a nutritious meal has many colors in it? Well, I saw several different plates of multi-colored healthiness being served up here, and most of them actually looked appetizing. They also have some decent-looking pastries, and they're coffee was also decent. I liked the fact that they give you a piece of chocolate with your coffee, very French.
I would love to post pictures of their food (if I was a good enough blogger I probably would have stolen some shots of other people's food), however I was too full to order anything at the time. Instead, I will list some of the stuff on their menu that I will definitely order next time around:
Aroma All Day Powerbreakfast 2 eggs-any style, mixed greens, cucumbers, cherry tomatoes, tomatoes, carrots, feta cheese, olives, cream cheese, bread and butter
Bureka bulgarian pastry filled with choice of potato, spinach or feta cheese
The Best Thing About This Walk: Loehmann's!
The Worst Thing About This Walk: That I was too full to try anything at Aroma Espresso Bar
Would I Come Here Again? Definitely. At least just to shop at Loehmann's again.
What Would I Do Differently? Eat at Aroma Espresso Bar, although breakfast at Nice Matin is never a bad experience.
Map of this Walk
A: Nice Matin – 201 West 79th Street, New York, NY
B: Loehmann's – 2101 Broadway, New York, NY
C: Red Cupcake Bakery – 141 W 72nd St, New York, NY 10023
D: Aroma Espresso Bar – 161W 72nd Street, New York, NY