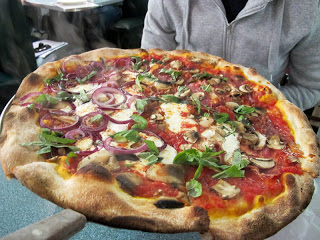 I was going to skip writing about Austin St. because it was such a short walk and I've been a little behind on my posts. However, when I loaded photos from my camera and saw this great picture from Nick's Pizza on the right, I decided I might as well write a short entry on it (which no doubt will turn into a lengthy one).
What Got Me Interested?
I've been a Queens girl ever since I moved to New York. No matter how much I rail against it, or wish it wasn't true, I really am a Queens girl. I know more about it than any other borough. For those who don't know what the boroughs of New York City are, read about them here.
Thinking about it now, I really don't mind that I know so much about Queens. It's definitely low on the coolness factor, but you know what? It shouldn't be. If we only think of NYC as the place we see on TV and movies, the one with all the IT bars and snooty people taking cabs everywhere, then Queens is pretty much useless. But if we think of New York as a melting pot of cultures, a place where you can feel like you're in a different country just by traveling a couple of zip codes away, I believe Queens should be on the top of everyone's list. Almost every neighborhood here is associated with one or more ethnic groups. You won't just find the different ethnicities living in the neighborhoods either, you'll find their travel agents, restaurants, bakeries, doctors, salons and even DVD rental places there as well.
Austin st. is one of the areas I frequent in Queens. It's full of shops and restaurants ranging from the very common (Gap, Loft, Mcdonald's, Starbucks, Barnes and Noble),  to the somewhat unique (Martha's Country Bakery, a creperie, an organic food market, Nick's pizza, a comic book store). It's an ideal street for a walk. You can just go straight down the street and hit a restaurant, a coffee shop, a clothing store, a shoe store, an accessories store, a bar, do some grocery shopping, then head home. There's even a pet store here if you're in the mood to take home a puppy. No need to take several subway rides, it's all right there. The best thing about this place is that it's popular but it's not popular with the tourists. Therefore you can hangout here normally and not get stressed due to the crowds.
The Walk
This walk really happened because I had been thinking of writing about Austin st. for awhile now (I'm not really new to the area, obviously), and also because I was in the mood for some cake from Martha's Country Bakery. I wasn't sure where to have dinner because there are plenty of restaurants in that area, but I finally picked Nick's pizza because hubby didn't want to eat anything weird and there are tons of rave reviews about this place. At least one person said this place has the best pizza in NYC, which seems a bit over-the-top for me, but still I expected it to be good.
Nick's Pizza
108-26 Ascan Avenue
Forest Hills, NY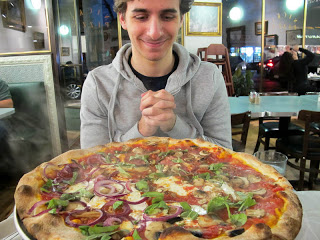 Whole mushroom, half red onion pizza @ Nick's Pizza
Nick's Pizza is technically on Ascan avenue, but you can see it from Austin street. As we walked towards the pizzeria I was immediately taken by the floor to ceiling windows. The inside of it is clean and comfortable and it has a bit of a cafe feel to it. The cost of the pizza is just a tad cheaper than Lombardi's (read about it on my Littly Italy/Nolita walk) but the toppings are priced the same. It isn't cheap but the pizza is excellent, especially the crust. I have to say I liked it more than Lombardi's, although hubby didn't like it as much as I did. We had different views on the cannoli as well. I read a review that said it was the best cannoli they'd ever had, but as always I was a tad wary of any review that says "best". It was a bit expensive ($8 I think), so we were already thinking "this thing better be good!".
The filling was probably the best cannoli filling I've ever had. The outer shell actually was more of a thin waffle than a cannoli shell, and got a bit soggy because we went home before eating it, but I have to admit I'm not a huge fan of the original shell, which always finds its way to my shirt whenever I eat one. All in all I was very happy with Nick's.
Bonelle Pastry Shop
10830 Ascan Avenue
Forest Hills, NY
This bakery was a little strange. I only wanted to go here because the reviews on Yelp were great, but I actually had no idea what to expect. It's one of those places that really make you feel like New York is a melting pot of cultures. First of all, the sales clerk, who I assumed was also the baker from the conversation we had with her, looked like she was South Asian. The store was decorated with hindi statues and other paraphernalia. The actual pastries were mostly French. They had croissants (including almond croissants, which I usually only find at French pastry shops) and even tarte tatin (an upside down pie, usually made with apples), which hubby ordered. They also had a very nice looking individual-sized lemon meringue pie, which I absolutely devoured. They don't have any seating here though, so you'll have to take your goodies elsewhere.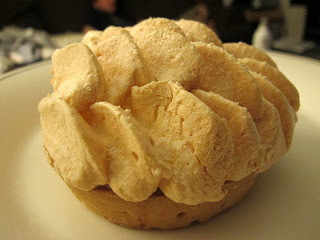 Individual-sized lemon meringue pie @ Bonelle Pastry Shop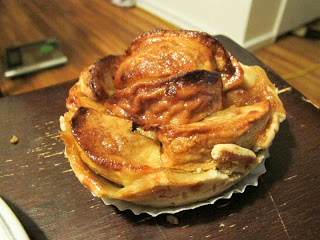 Tarte tatin @ Bonelle Pastry Shop
Martha's Country Bakery
7030 Austin Street
Flushing, NY
I first started to frequent Martha's when I was living in Astoria, at my first apartment. This place has an amazing variety of beautiful cakes and pastries, and also, as I've learned from the many, many bakeries I've been to during my walks, their stuff is cheaper than most. Coming from the place with $8 cannolis, and the other bakery with somewhat expensive pastries, I think we went a little crazy here. I got a strawberry shortcake (reviewed by someone as the best in NYC, and I don't disagree) and German chocolate cake. Hubby had their oreo cheesecake (in his own words: "Awesome!") and the banana pudding (he claims he likes mine more than theirs, but this might be because I'm his wife and he feels obligated to say that hahaha). I also tried their mocha coconut latte because I was dying to have some coffee. People who love Almond Joy and/or coconut patties will love this drink. On our way out hubby spotted some cinnamon buns, which he purchased on impulse. Later on he told me that it was too dry. So take note: Martha's is great, just do not get their cinnamon buns. They have a nice seating area in the back, which is nice for when you're here for breakfast before going on a shopping walk on Austin street.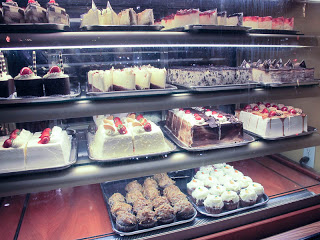 Cakes @ Martha's Country Bakery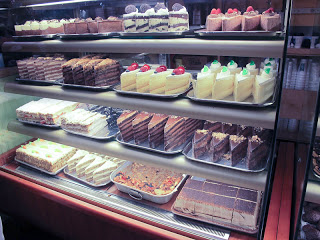 Cakes @ Martha's Country Bakery
Naturals Market
72-56 Austin Street
Forest Hills, NY
We spotted this place earlier on in the walk, but decided to come back later and do our grocery shopping for the week here. I absolutely loved this place. They have a lot of the healthy frozen food I survive on, plus tons and tons of ethnic food items. It's like a smaller version of Whole Foods, with less generic items and more unique international brands. I bought some oyster mushrooms, which are used in the Philippines a lot but can't be found in Stop & Shop (at least the ones we go to). We bought so much stuff that they gave us two free grapefruits (Korean style)!
This was a nice little food walk, but as I mentioned before, there are plenty of other stores to hit. I would have wanted to do some shopping but it was late when we got there and most of the shops were closed. My next Austin street walk will probably involve a lot more shopping bags :).
Map of this Walk
I'm not even gonna bother mapping this walk because we basically walked in a straight line. 🙂