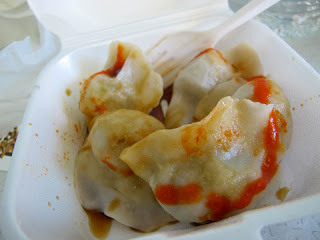 You like how my title is a wee-bit racist? I can say stuff like that 'coz I'm Asian, and also because IT'S TOTALLY TRUE. 🙂
I went through a bit of a phase before I started this blog where I would usually go straight home from work and watch TV or read books, then do more of the same on weekends. It was a comfortable, albeit boring chapter in my life. During that time, Chinatown was one of the few places I would still get off my butt to go to when I felt inspired to leave the apartment. However, I've never really felt like I knew the neighborhood well enough, because I always went to the same old places to get pork buns (siopao) and groceries (the secret to getting me off the couch). I wanted to do a walk at a neighborhood I wouldn't want to bring my husband to because he wanted to stay in for the day (he has some limitations due to his injury), and I decided Chinatown was one such place. As in Flushing this neighborhood is also super crowded and busy, which isn't exactly conducive to walking around with an injured leg. So as always I prepared a list of establishments I've never been to and went on my walk. (Pic: Steamed Vegetable Dumplings @ Prosperity Dumplings)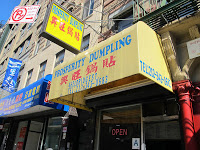 The Walk
Prosperity Dumpling – a hole-in-the-wall dumpling place
46 Eldridge St
New York, NY 10002


Cheap and delicious dumplings? Yes please. An area of Chinatown I haven't been to? Awesome. I usually take either the green or yellow line to Canal St. and then walk to Mott or Elizabeth st. from there, and this place is a lot further east, so it was a good chance to also check out the rest of the neighborhood, which unfortunately, wasn't that impressive. Except for this dumpling place. Well, the food from the dumpling place. This tiny hole-in-the-wall was exactly what I had imagined a cheap dumpling place to be. There are like 4 bar stools inside and you eat on counters. However you can get 5 dumplings for $2.50 and a sesame pancake for $1.25. The dumplings did not impress me that much, although I think this could be blamed on this thing called soy-vinegar sauce. I dumped quite a lot of it (because I thought it was plain old soy sauce) on my dumplings, and I have to say I'm really not a fan. In general I'm not into anything sour, so I guess that could explain it as well. I'll basically eat anything with soy sauce and chili oil on it. Soy vinegar? Not so much.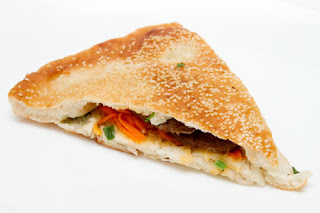 Sesame Pancake @ Prosperity Dumpling
Photo from Serious Eats
Their sesame pancake, on the other hand, which I had tried then for the very first time, was delicious and comforting in a way that only street food can be. It was so good I forgot to take a picture of it and had to borrow this pic from Serious Eats instead (where someone wrote a serious article about this place). Go ahead, read that instead, I won't be offended………
Wait wait wait!!! I was just kidding!
Oh, you're still here?
Whew.
Back to the sesame pancake. The inside of the pancake is light and fluffy and the outside is nice and crispy. It's cut in the middle and filled with either vegetables, meat or both, sort of like a sandwich. It's also bursting with all that sesame flavor that I love.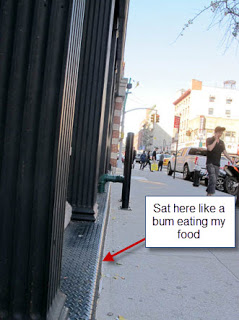 I had some of the dumplings at Prosperity then started walking back towards Mott St. to find a place to eat the pancake that had a better view. I saw some people eating their lunch sitting at the side of a building on Elizabeth St. that had a "stoop" running along its side. I happily sat down and munched on my pancake.
Mei Li Wah – a bakery famous for its baked roast pork buns
64 Bayard Street
New York, NY
The next stop was Mei Li Wah. I've been to this place PLENTY of times. They're known for their delicious baked roast pork buns (or baked siopao), and also for their siu mai that taste similar to the Filipino-Chinese version (these are hard to find in NY). I again had one of those exchanges where I ask for stuff in English and am answered in Chinese. I wanted to get 4 baked roast pork buns and an order of egg yolk buns, but I walked away with just the roast pork buns. The only reason I did was because there was another customer who could speak English and Chinese. This isn't usually the case at Mei Li Wah, but know that if you come here there is a chance it might happen. Oh well, at least I got my husband's order. I felt a little blah about having to repeat my order so many times that I decided maybe I should just hit Fay Da bakery and go home.
Fay Da Bakery
83 Mott Street
New York, NY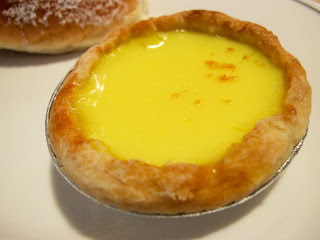 Egg Custard Tart @ Fay Da Bakery
I've mentioned this place before in my Flushing walk. It's a reliable source of all sorts of Chinese baked goods. You can also get roast pork buns here if you're too lazy to go to several places. I bought the coconut cream bun and the egg custard tart (I hastily grabbed one of these before another Asian girl who was exclaiming over them took the entire tray). On my way to the counter I passed by some mooncakes. There were only 2 left, and one of them had the salted egg yolk inside, my absolute favorite! So I took that one and paid for my stuff. The cashier informed be that the mooncakes were buy 1 get 1 free (likely because the mooncake festival was over). I happily took the last one and went on my way. I would later regret eating these two large mooncakes by myself as I lay in a food coma on the couch.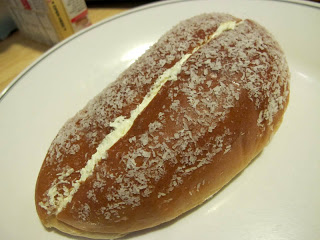 Coconut Cream Bun @ Fay Da Bakery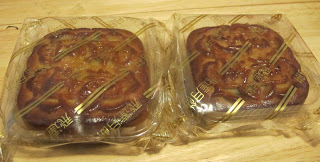 Mooncakes @ Fay Da Bakery


Chinatown Ice Cream Factory
65 Bayard St # B
New York, NY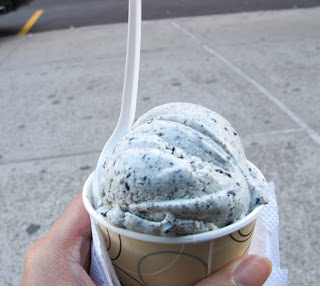 Sesame Ice Cream @ Chinatown Ice Cream Factory
Energized by getting a free mooncake (it really doesn't take much to get me excited, clearly sweets are involved most of the time), I decided to continue doing my walk rather than go home. I was pretty hungry again by this time (I got all the bakery goods to go), so I went for the Chinatown Ice Cream Factory next. It's well-known for carrying all sorts of Chinese-flavored ice cream such as red bean, green tea and sesame. I tried the sesame ice cream because I'm pretty familiar with what red bean and green tea ice cream taste like, plus my experience with sesame-flavored desserts has always been positive. I got one scoop of it in a cup and walked back to the place where I had enjoyed my sesame pancake earlier. This time there wasn't a single person sitting there, but I took a seat and started eating my ice cream anyway. I got several weird looks from people passing by, probably wondering why I was sitting there like a bum (who's carrying a Michael Kors bag), but I kept on eating. I finished my ice cream without anyone bothering me.
Asia Market Corp. – An Asian grocery store that sells Filipino items
71 1/2 Mulberry Street
New York, NY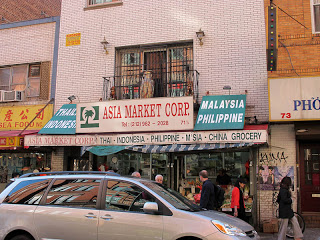 This is another one of the places I frequent in Chinatown, and I thought it pretty funny when I looked up the address and Google Maps had it listed as 71 1/2 Mulberry St. What's up with the 1/2?
This place doesn't look like much. From outside it looks super tiny, but they actually carry quite a bit of stuff. Their sign says they carry thai, indonesian, malaysian and philippine(?) grocery products. It's pretty accurate, and they actually carry a good variety of products considering the amount of space they have for the store. They sell Filipino goods such as:
tocino & longganisa
tablea (chocolate tablets for Spanish hot cocoa)
mango ice cream (Selecta & Magnolia)
Lucky Me instant noodles
pan de sal
Mama Sita's mixes
They also have plenty of other Asian grocery items such as spice mixes for Indian food and Thai food and Korean spicy instant noodles. They even sell Eskinol (a popular astringent brand in the Philippines) which I've never seen anywhere else here in NY. So if you're an Eskinol girl, here's where you can get it in NY.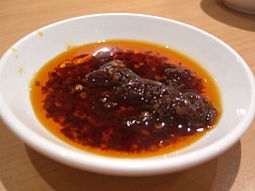 Hot Chili Oil
The usual item that brings me here is the hot chili oil. This is a condiment that is usually found on the tables of Filipino-Chinese restaurants, and I'm quite fond of it. In fact the existence of this condiment is probably one of the reasons I'm still vegetarian. I usually mix it in with any kind of rice dish, or add soy sauce to it to make a dipping sauce, and it makes pretty much anything taste amazing (I guess I've been having this in lieu of bacon). It's not like this condiment is scarce. You can find it in most Asian grocery stores, but the one brand I tried that tasted like the chili oil in the Philippines was the one I used to buy from here. Surprisingly it was actually a Thai brand. The main reason I came back here was to get that chili oil again. Alas, they did not have it this time. It's either it's so popular that they were out, or they don't carry it anymore. I couldn't really ask for it, since the brand was written in Thai.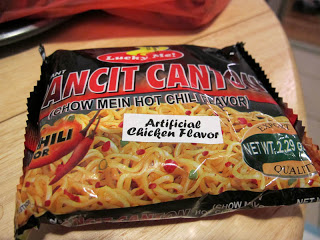 Disappointed about leaving without my chili oil. I grabbed a few packets of Lucky Me pancit canton hot chili flavor instead. I liked how they put a sticker on it that says "artificial chicken flavor" as if they knew a vegetarian would be craving for it and would be turned off by "real" chicken flavor.
New Kam Man – An Asian supermarket. The 2nd floor sells Asian cosmetics, toys and other random non-food items.
200 Canal Street
New York , NY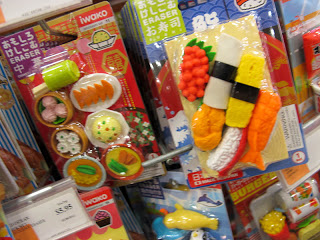 I decided to head home, but I was distracted by this store with a window full of Asian trinkets. Mostly I was interested in the tiny fake sushi toys (I would later discover these are actually erasers). I decided to go in and discovered this place was actually an Asian supermarket. I had just bought a ridiculous amount of food, so I wasn't really that interested in checking that out, but a promising staircase looked like it led somewhere else. It did in fact lead to random Asian stuff heaven!!
Here are just some of the things I found interesting that I probably would have bought if I was not on a tight budget as per usual: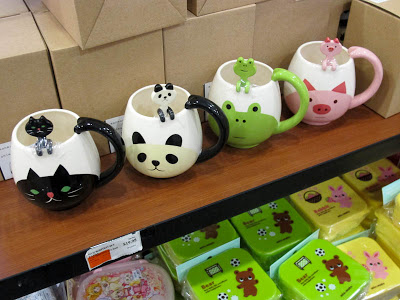 Animal mugs with little animal spoons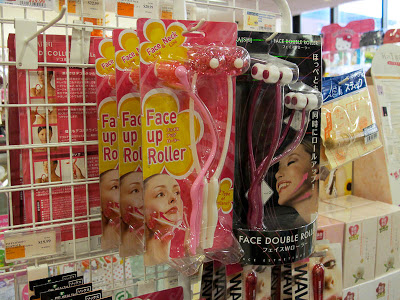 Face Rollers. Apparently it's a thing. I would have to buy this someday and see what the point is.
A crazy amount of Asian cosmetics, some of which don't even have English writing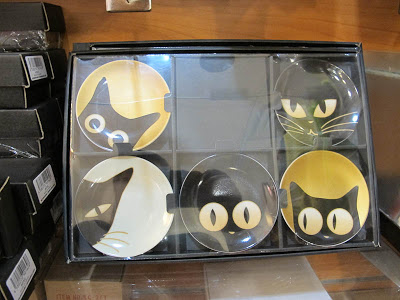 Kitty condiment plates. I'm gonna have to go back for these.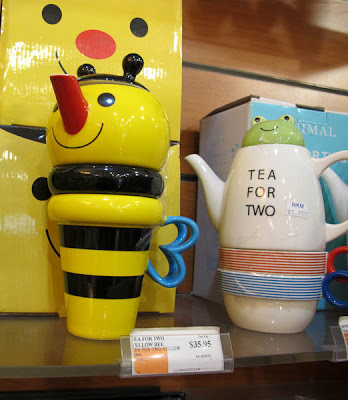 Tea sets that can be arranged into a sort-of cutesy artistic item. These can be split into a tea pot and two cups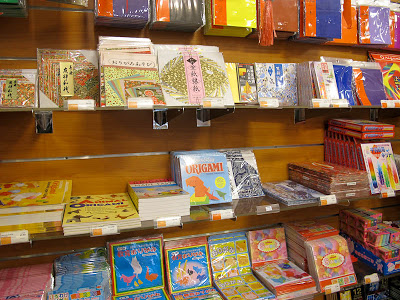 Lots of origami paper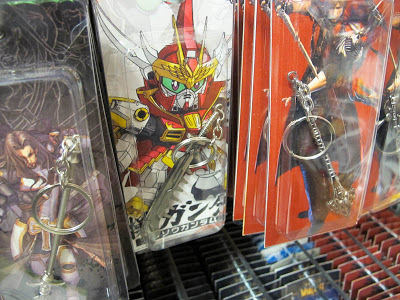 Weapon key chains. Coz it's smart to carry around key chains that look like weapons.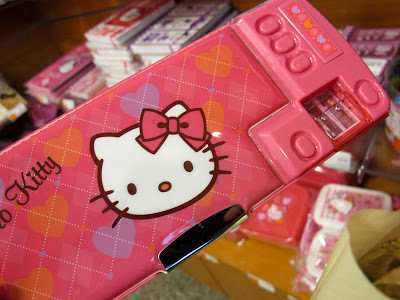 Hello Kitty items (of course) including this pencil case that reminded me of those fancy ones I used as a kid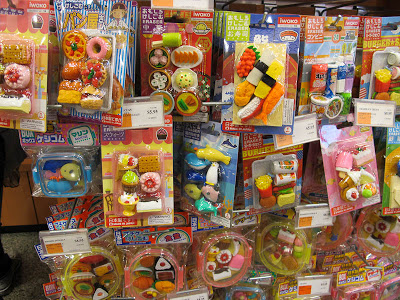 More tiny erasers. Most of them are food items but they have some tiny animals as well.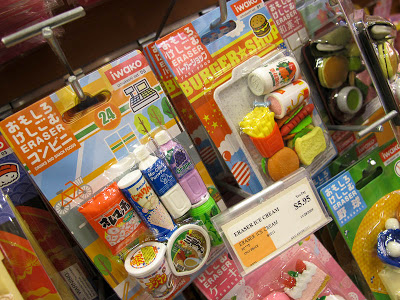 I'm a fan of the grocery items and fast food sets.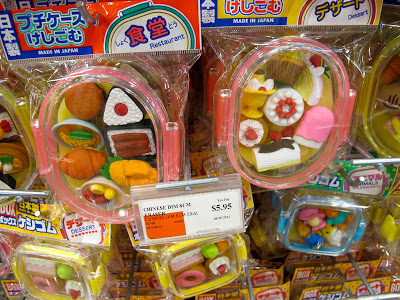 Dessert and Dimsum erasers
The Best Thing About This Walk: The random Asian items section of New Kam Man
The Worst Thing About This Walk: Crowds (I hate crowds.)
Would I Come Here Again? No matter how much I hate crowds Chinatown will always be a part of my life for as long as I live in New York City.
What Would I Do Differently? There's always something interesting to check out in Chinatown, so every time I go I try to look into random stores.
Map of This Walk
A: Prosperity Dumpling – 46 Eldridge St, New York, NY
B: Mei Li Wah – 64 Bayard Street, New York, NY
C: Fay Da Bakery – 83 Mott Street, New York, NY
D: Chinatown Ice Cream Factory – 65 Bayard St # B, New York, NY
E: Asia Market Corp – 71 1/2 Mulberry Street, New York, NY
F: New Kam Man – 200 Canal Street, New York , NY