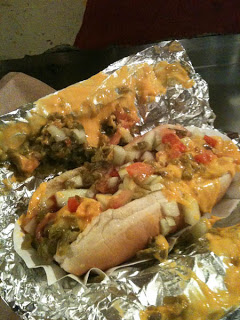 Walking buddy: My friend Hyg
St. Mark's is a few blocks away from where I work, so it's a pretty obvious choice for a mid-week walk. I had originally planned on including the rest of the East Village but once I started looking up places to see on St. Mark's, I was blown away by how much I still haven't explored. This is gonna be one of those areas I'll probably never get tired of.
A New York magazine article describes St. Mark's Place as "…a living reminder of East Village's punk rock past". It goes on to say "Today, the street's grasp on culture lies mostly within its diverse restaurants (frankfurters at Crif Dogs, Israeli cuisine at Hummus Place) and storefronts". The description is pretty accurate in my opinion. You can still find a variety of stores catering to rebellious punk teenagers and teenager-wannabes (like me), tattoo and body piercing parlors, "adult" stores and even quite a few bongs on display, but the biggest draw to St. Mark's now are the many, many restaurants on this street.
The section I was most familiar with was St. Mark's Place between 2nd and 3rd avenue. This is where the bulk of all the restaurants and shops can be found. I discovered later (and now so will you if you haven't yet), that some of the best places to go to are actually further east, near Tompkins Square Park. Trust me on this one.
The Walk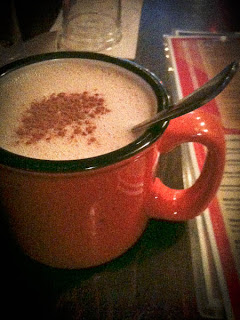 Chai Latte @ Mud
*Warning: I forgot my camera when I went on this walk so the photos are of terrible quality. However, this is one of the best walks I've been on, so hopefully you'll  get over that and just read this entry anyway 😛
Mud – A coffee house
307 E 9th st
Between 2nd ave and 1st ave
New York, NY
There is a Mud truck right in front of the entrance to the subway station near my office. For those who are not familiar with food trucks, they're similar in concept to ice cream trucks, but there are plenty of different ones in NYC that sell other food from actual meals with rice to cupcakes and crepes. I've considered getting coffee from the truck several times, but haven't because there's always a line and I HATE lines. This walk was a good excuse for me to finally try their coffee and since they have an actual coffee shop a few blocks away from the truck, I didn't even have to wander around carrying my drink. This isn't actually on St. Marks Pl, but it's pretty close, so I decided to meet up with my friend Hyg here. I ordered the chai latte, which I usually don't order but decided to this time because there were so many rave reviews about it on Yelp. I was not disappointed. This drink reminded me of hot chocolate. It was creamy and sweet, kind of like a dessert, but with the unmistakable taste of chai. I also loved that they still serve their "to stay" drinks in actual mugs. Mine came in a huge orange one, which somehow added to my pleasant experience.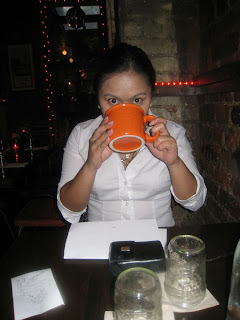 Me enjoying my chai latte.
I actually went in expecting just a coffee house, but they actually have brunch food, desserts, wine and beer. They have an avocado pressed sandwich I'd like to try at some point, but the purpose of this visit was to try the coffee/tea, so I stuck to that. It's pretty easy to come back here anyway. The place is set up really nicely. There are tables and chairs in the back for groups of people, but I liked that they had a table for one. It literally seats just one person, for those like me who enjoy dining by themselves once in awhile, but hate being told to sit at the bar. They have bar stools, for those who prefer that. There's a bench right in front of the store window, for those interested in people watching. Overall I really liked this place.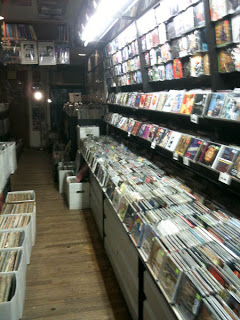 Rockit Scientist Records – A used vinyl record/CD store
33 St. Marks Pl
(between 3rd Ave & Astor Pl)
New York, NY 10003
I've been to a few record stores in NYC thanks to my Not Bored walks, but have never been interested enough to write about any of them. I honestly know I don't have the coolest taste in music. I like what I like, be it showtunes, Nirvana, Snoop Dogg or songs from Glee. I even listen to some classical music once in awhile. I always feel a little out of place in these stores because I'm overwhelmed by the many, many artists I've never even heard of, and the usually somewhat judgemental looking store clerks/owners. This store had the biggest selection of stuff I'd seen so far. The used CDs were definitely more expensive than the ones I'd seen in Brooklyn ($9 instead of $3), but like I said they have a lot more variation. I saw some AC/DC, Nirvana and Beatles albums on vinyl. I read on a Yelp review that someone found a Diana Ross record. Of course, they also had many, many albums I've never heard of. The most important detail to me was that the clerk did not seem snooty at all. He didn't stare at us like we didn't belong there, despite the fact that I was wearing a white button down shirt and pinstripe pants. I am yuppie, hear me roar!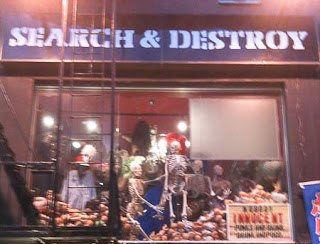 Search & Destroy window display
Search & Destroy – A vintage clothing store, mostly full of punk-rock items.
25 St Marks Pl
between 3rd ave and Astor Pl
2nd floor
New York, NY
If you've been to Search & Destroy before, or are familiar with what kind of a store it is, you'll probably find it amusing (or sad) that I even went in there wearing what I was wearing that day. It's been described as an over-the-top Hot Topic on Yelp. I certainly found it interesting, starting with their window display shown on the right, which features several skeletons in various poses and piles and piles of creepy doll babies. You need to go inside the store though, to really experience how intense their displays are. There's a "life-size" statue of Yoda right by the door, a Ronald McDonald head on top of a rack of shirts and several mannequins in various risqué poses, naked except for some accessories suggestive of s&m. Right beside one of them are beaded and spiked accessories, including what looked like dog collars made for people. You might be wondering why on earth I don't have pictures of anything in there other than the store window. That's because they have a no photography policy and they already had plenty of reasons to hate me, since I walked in there in business casual attire. Basically the only thing I had going for me was my half-blonde dyed hair. The store was too interesting and I didn't want to get kicked out of it.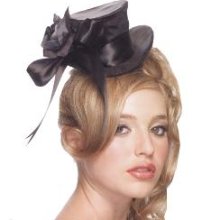 Mini top hat can be found @ Search & Destroy
but also @ NewEgg for $16.99!
If you're a little touchy about displays like these, but really interested in vintage clothing, it's still worth it to just get over yourself and focus on the clothes. They were selling some bags for $20 that I probably would have bought if I hadn't already gone through most of my shopping money for the month. There were some crazy outfits, gowns and hats that would've been perfect for halloween or costume parties. Hyg and I tried on some mini top hats (the kind that look better sitting on your head at an angle), and I found a tiny leprechaun hat selling for $13. They had an entire rack of used leather and motorcycle jackets. They also had plenty of normal, everyday wear punk looking t-shirts. I saw some shoes that I think I've seen on Guitar Hero World Tour. It was a lot of fun to just check out the stuff here, and I'm definitely coming back with my crazy-dyed hair down wearing jeans and a shirt, carrying some money.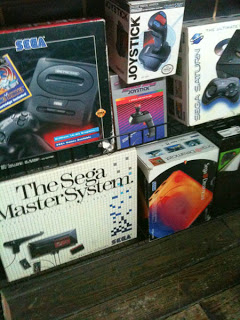 Retro gaming consoles @ 8 bit and up
8 bit and up – A videogame store carrying retro consoles and games
35 St Marks Pl
New York, NY
I'm not gonna say much about this place because we were only in there for a while and I didn't really walk in looking for anything. It has terrible reviews on Yelp, mostly regarding customer service. It's worth noting, though that they carry retro consoles and games for them, if you're ever extremely desperate for anything specific. You'd have to weigh your desperation against the chance that the clerk will give you an attitude.  I have to make it clear though that I myself did not get upset over that since I did not actually interact with the guy.
Crooked Tree – A creperie and cafe
110 St Marks Pl
Between 1st Ave and Avenue A
New York, NY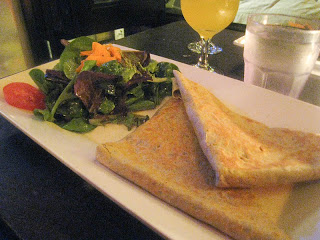 Zucchini, mozzarella, onion and pesto crepe @ Crooked Tree
After 8 bit we headed out to the section of St Mark's near Tompkins Square Park. We walked past an entire block full of apartment buildings on our way there (St. Mark's Pl between 1st and 2nd ave), so I realized why I had never explored that side of St. Mark's. It doesn't really look like there's more to be seen. As I passed by these buildings I thought to myself how amazing it would be to live here. I later looked up on craigslist if we could afford to, and most of the cheaper places (around $1800) are tiny studio apartments made for single people. I'm still not giving up, because I saw some decent looking ones, so I guess we'll see what happens in January. 🙂
This was one of my favorite finds on this walk. They make buckwheat crepes, which I love. There's a good selection of vegetarian savory crepes, but also plenty of options for meat lovers. I had the savory crepe with zucchini, mozzarella, onion and pesto, which was delicious.We didn't try the dessert crepes because we knew we were heading out for more food, but they have an extensive list of those as well. I'd like to try one of the dulce de leche ones when I go back. It's a small but cozy place, and some of the tables look out onto the street, so it's great for people watching.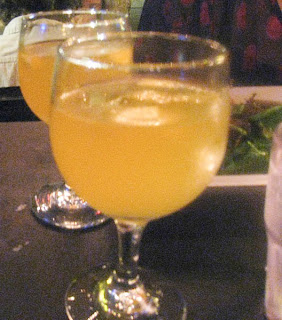 Mango Sangria @ Crooked Tree
Another great find here is the mango sangria. The mango flavor is definitely there, and they put chunks of the actual fruit in the drunk, instead of apples (I did notice my typo of the word 'drink' but I thought it was too funny to correct).
Meal Cost: $14.50 (w/o tax)
Crif Dogs – A customized hot dog joint.
113 St Marks Pl # 2
Between 1st ave and Avenue A
New York, NY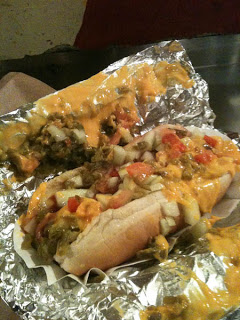 Veggie Special @ Crif Dogs
When I first heard about this place, it reminded me of Pink's Hollywood, which I've never been to but have salivated over whenever I see a feature on it in any food or travel shows. I was a tad depressed at the thought that I'd have to go there and basically want to kill myself as I watch Hyg devour her hotdog while I merely take pictures of it (this sounds a little weird, but just let it go he-he). We walked in and she immediately spotted the Veggie Special on the menu! This is how it's possible for me to be vegetarian. I live in New York, where even hotdog and burger joints have something on their menus for vegetarians. Everything we had was delicious. I had the veggie special, which consists of a veggie dog topped with onions, tomatoes, cucumber & jalapenos. Just for fun I added some nacho cheese in there. The only thing stopping me from ordering this every lunch time at work is because it's a bit of a walk, and I'm always so busy I often eat my lunch while working.
Meal Cost: Around $6-$7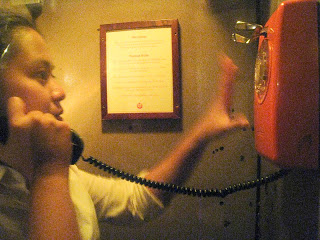 Hello? I'd like a buttered popcorn rum, please.
@ "secret" entrance to PDT (Please Don't Tell)
PDT (Please Don't Tell) – The "speakeasy" style cocktail-lounge annex to Crif Dogs
When we started discussing where to go and I suggested Crif Dogs, Hyg mentioned that there was a bar accessible inside Crif Dogs through a phone booth. This confused me a little, but I figured we were going there shortly so there was no need for an explanation at the time. It turns out she meant what she said. There is literally a phone booth in there which opens into a "speakeasy". Since I've made a rule that shyness is not allowed on walks (I'm still working on this one, but I've made quite a bit of progress), I was the one who went in and figured out what to do. Somewhere in the booth is a note that says either you have to have a reservation, or you could try to get a seat at the bar first come, first serve. There was a sign above the phone that said something like "Dial 1 to speak to the host".  So I did. A few seconds later, the "wall" that had that frame on it (see picture) opened up and the host greeted me. I asked for seats at the bar, to which he replied there are none available and would I like to be put on the list? I asked how long the wait was and it was an hour. It was about 9:30 pm on a Tuesday night, so as you can imagine, I said no thank you. I'm still pretty adventurous, but I'm getting too old for staying up 'til 2 am on a weeknight.
Later that night I looked up PDT online and there's a short article on it in New York magazine. I decided there's no way I'm going to pass on trying buttered popcorn rum and bacon infused bourbon. I'm gonna have to go back here with a reservation.
Tuck Shop – A place to get Aussie meat pies
115 St Marks Pl
Between 1st ave and Avenue A
New York, NY
I always feel like an idiot saying the word "Aussie" because I've never been to Australia and I know very little about the country, except for the fact that it's produced quite a few incredibly hot and talented actors such as Hugh Jackman, Ryan Kwanten (of True Blood) and Jesse Spencer (of House M.D.). Oh, and also that it was originally founded to establish a penal colony. Hot criminals, anyone? Aaaanyway, I only used that word because it's all over their menus, so it seems even dumber to call the pies "Australian". Regardless of what they're called, they're incredibly delicious. They don't look very aesthetically pleasing, so there's a pretty good reason I didn't put up any pictures, but trust me, it doesn't matter once they're in your mouth (umm.. just let that go as well). I got the vegetable pie for myself, and the beef and mac & cheese pies for the hubby. I loved mine, and he loved the beef pie but thought that the cheese they used in the mac & cheese was a little too sharp for his taste (meaning they did not use Velveeta LOL). It's also a great place to hang out if you feel like listening to the clerk speak with an Australian accent. 🙂
The Chocolate Library – A store selling some of the best chocolates from all over the world
111 St Marks Pl
Between 1st ave and Avenue A
New York, NY
I like the concept of The Chocolate Library. Most high-end chocolate stores here sell only one brand. I like the idea that I can peruse (and even try!) the best chocolates in the world in one store like I would ogle packs of KitKat and Twix bars at the local supermarket. My one small complaint is that I feel like chocolate stores should overwhelm me with piles and piles of candy everywhere. This place actually FELT like a library. The atmosphere was a little too sterile, and the chocolate bars were pretty sparsely arranged in shelves, like books. Except it looked a bit like a bookstore that was having a closeout sale. Now, this probably doesn't matter to anyone who's only here to buy hard to find items, but it almost made me walk right out. The good thing about me mentioning this is that you'll know you have to get past this initial impression to get to the good stuff: the chocolate. The clerk (who I believe was also the owner) was very nice and let us try several samples. This was an excellent move on his part because I ended up buying the Valrhona milk chocolate bar (French). Hyg bought the same one, plus the Gnosis Aphrodisia bar, which we had also tasted.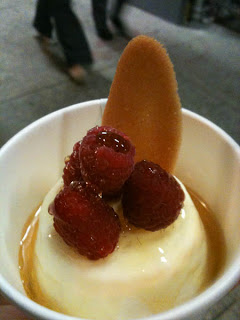 Goat Cheese Cheesecake @ Dessert Truck
I'm not sure where this was actually parked, since we were on our way back home and I wasn't paying much attention anymore to my surroundings (walk radar turned off). It was somewhere between St. Marks on Avenue A and St Marks on Broadway. We ran into the dessert truck, which is another pretty popular food truck in NYC. You'll be happy to know that they now have an actual store at 6 Clinton St., New York, NY.
We ordered the Goat Cheese Cheesecake to share, because no matter how much we wish we had bottomless pits for stomachs, we don't. It had a bit of the tanginess that goat cheese has, but it wasn't overwhelming. The syrup made this entire thing amazing, though. It was just sweet enough that it went perfectly with the goat cheese, but it wasn't so sweet that it overtook the taste of the whole dessert. Definitely trying the warm brioche donut squares next time.
Overall this walk was excellent, and I can't wait to go back. Since this is near my work, you'll probably be reading about more St. Mark's walks fairly soon.
The Best Thing About This Walk: I can't decide. This walk was too awesome.
The Worst Thing About This Walk: The fact that I couldn't take pictures at Search & Destroy
Would I Come Here Again? I went back a couple of days after haha
What Would I Do Differently? I'll probably just try different restaurants every time
Map of this Walk
A: Mud – 307 E 9th st, Between 2nd ave and 1st ave, New York, NY
B: Rockit Scientist Records – 33 St. Marks Pl, (between 3rd Ave & Astor Pl) , New York, NY 10003
C: Search & Destroy – 25 St Marks Pl, between 3rd ave and Astor Pl, 2nd floor, New York, NY
D: 8 bit and up – 35 St Marks Pl, New York, NY
E: Crooked Tree – 110 St Marks Pl, Between 1st Ave and Avenue A, New York, NY
F: Crif Dogs/PDT – 113 St Marks Pl # 2, Between 1st ave and Avenue A, New York, NY
G: Tuck Shop – 115 St Marks Pl, Between 1st ave and Avenue A, New York, NY
H: The Chocolate Library – 111 St Marks Pl, Between 1st ave and Avenue A, New York, NY