What Got Me Interested?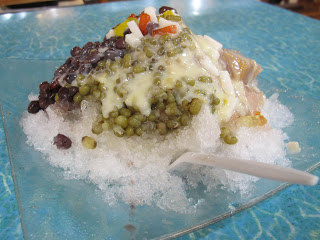 Shaved ice at Flushing Mall
Since I spent a decent amount of my day fixing this blog, I didn't have a lot of time to figure out where to go yesterday. I decided I would go somewhere close so my commute wouldn't take up too much of my time. I initially thought of going to Astoria because I kind of miss my old neighborhood, but ditched the idea due to yesterday's overspending (oops). So my second requirement was that the area had to have really cheap eats. After finally finding where TimeOut NY stashed the other city walks (under "New York Sights"), I got the inspiration to go on the Flushing neighborhood walk. It was perfect because it's only a few stops away on the 7 train, and I could have lunch for $1, a snack for $3.75 and dinner for $3 (hopefully)!
The Walk
One of the most important things to know about Flushing is that it can get EXTREMELY crowded in the commercial areas. Also, don't expect people to move at the same pace as the people in Manhattan. You WILL have several really old Asian people walk in front of you at a very slow and leisurely pace. You WILL find it hard to overtake them because there are people in every direction. Once you've accepted that, your Flushing experience will be a much, much happier one, so try not to come here if you're in a hurry. This is also my excuse for putting up really crappy pictures on this post, since most of the time all I could do was snap a quick one with my phone before the throng of people started trampling me.
Scallion Pancakes
40-40 Main St at Kissena Blvd
Flushing, NY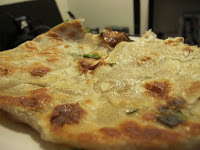 Scallion Pancake
I started off with the previously $1 (now $1.75) scallion pancake that I successfully found "under the elevated train tracks".  It was enormous, and would have made a good lunch if I actually had the time to sit down and eat it. Unfortunately, I did not and so I had it for dinner instead.
For those who don't know what a scallion pancake is (I myself did not know what it was until I moved to the US), here is what it is described as on Wikipedia (seems about right from the recipes I've seen, except maybe for the subtle suggestion that it is a "false" pancake):
A cong you bing (葱油饼; pronounced [t͡sʰʊ́ŋjɤ̌ʊ̯pìŋ]) or green onion pancake is a savoury, non-leavened flatbread folded with oil and minced scallions (green onions). It originates in Chinese culture. Unlike a true pancake, it is made from dough instead of batter. Green onion pancakes are available in China, Taiwan, and other areas of the world with ethnic Chinese populations, in restaurants and as a street food item…
Asian DVDs
Near the scallion pancakes
Under the train tracks you will also find people selling what looks like *gasp* pirated Asian DVDs. The ones right in front of the pancake kiosks looked to be Chinese. As I walked towards Roosevelt Ave to get to the Bowne House, look what I found!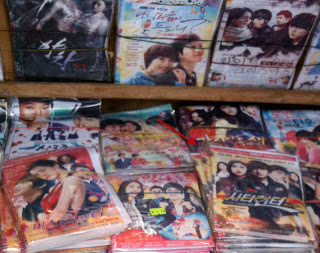 Korean DVDs
It's pretty difficult to make out, but I swear the one on the lower right is "City Hunter". I haven't seen it, but it seems to be popular on Hulu nowadays. I had been wondering where I could find those if I really wanted a particular series, so I'm pretty happy about this discovery.
Shiseido – An Asian skincare/cosmetics brand
Roosevelt Ave
between Main St. and Bowne St.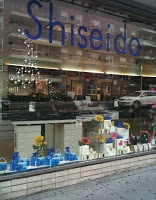 As I was walking towards Bowne House on Roosevelt Ave I discovered a little cosmetics store that had a big "Shiseido" sign on its window. Shiseido one of the more well-known Asian brands for cosmetics. These are pretty easy to find online if you go to Shiseido's official site or on Sephora. But a good selection is hard to find if you're looking for a store where you can actually try their makeup on. I asked about their foundation and the cost was $37, which I guess is just a tad less expensive than Makeup For Ever or Laura Mercier.
Liposuction?
Roosevelt Ave
between Main St. and Bowne st.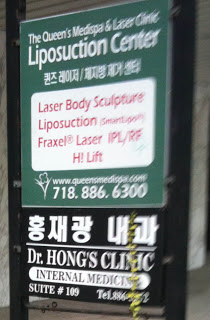 Liposuction: The secret of skinny Asians?
About a block away from the Shiseido store, I saw a sign for a Liposuction center. I thought that was pretty hilarious, because clearly that is something that people living in Flushing are in dire need of. Ummm.. nnyyooo..
Bowne House – If you're not into history, skip this part entirely and go straight to Shaved Ice
37-01 Bowne St
between Northern Blvd and 38th Ave
Flushing, NY
A 1661 Dutch Colonial home that once sat by a vegetable garden and a forest of white oak trees, it's now surrounded by brick apartment buildings constructed in the mid–20th century. (It's currently closed to the public for renovations, though private tours may be arranged.) It was here, in 1662, that John Bowne allowed Quakers to meet in defiance of Governor Peter Stuyvesant's ban on faiths other than the Dutch Reformed Church.
I'm not gonna lie to you. This place was pretty lame. It was closed for renovation, and wasn't even worth taking a picture of. I'm not much of a history buff anyway, and the only reason I went here was because I felt a little guilty going to Flushing just for food and shopping, and also because there was a park near there where I thought I could sit down and eat my scallion pancake (hehe). The park benches were all taken, so like I said, I didn't get to eat it during the walk. Here's my very sad picture of Bowne House: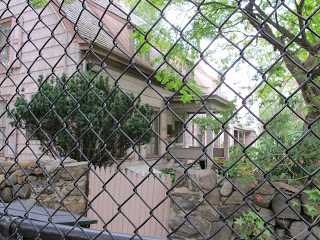 Bowne House
I did find out a pretty interesting thing because of my trek to the Bowne House. Did you know that there was a Freedom Mile in Flushing? No? Well there is.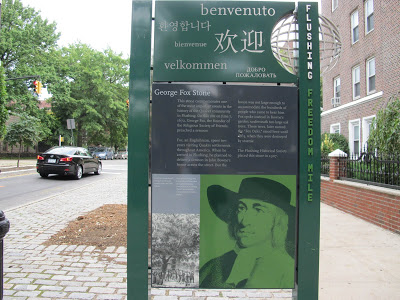 Flushing Freedom Mile
I even took a picture of the map they had for it. As you can see there are quite a few buildings in there: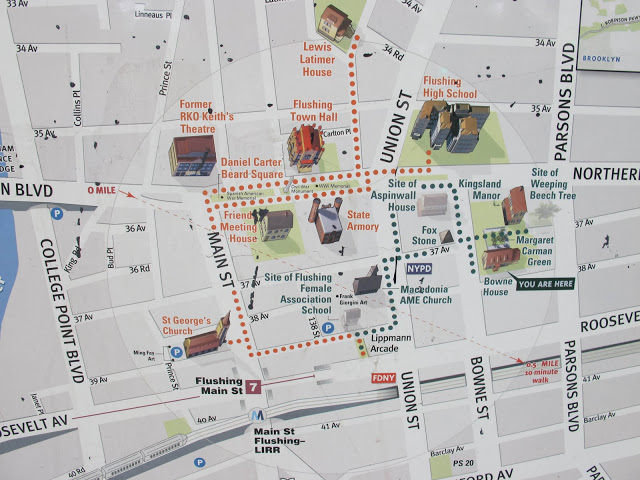 Flushing Freedom Mile Map
Aaannd that's about all I'm writing about that stuff, because by this time I was starving and sweating like crazy. So I decided it was time for:
Shaved Ice @ Flushing Mall – What I think is the generic Asian version of the Filipino Halo-halo
It was quite a bit of a walk to the Flushing Mall, and I was honestly tired and extremely hungry. I almost just tempted to go home already (lame). Luckily, I ran into something/someone that cheered me up.
The Face Shop – A Korean brand of skincare/cosmetics
13662 39th Avenue
Flushing, NY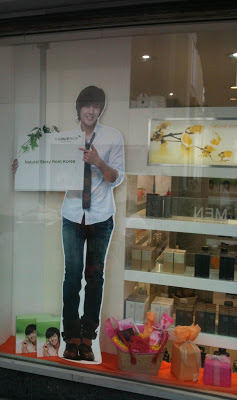 Kim Hyun Joong/The Face Shop
One of Kim Hyun Joong's (KHJ) songs started playing on my ipod as I was starting this section of the post, just to remind me of how weird I am. For anyone who doesn't know him, he's a pretty popular Korean actor/singer. That's all you need to know :). I quickly took a pic of the cutout with my iphone so I didn't embarass myself too much.
Anyway, there he was, (or at least a cardboard cutout of him) begging me to spend my money on Face Shop products. Now, I know this is a bit of a stereotype, but the reason I went in wasn't really KHJ but because I feel like most Korean women somehow have PERFECT skin. I don't feel so bad, because after getting home I looked up reviews of Face Shop on Yelp, and I was surprised to see that a lot of people here in the US buy products from here for that very same reason.
The saleswomen were friendly enough, and as I walked around the store I immediately thought of the one Korean skincare product I've always been curious about. The Korean face mask. These are not like the usual masks or peels you can normally buy at any skincare store here. Here's a description from Yelp:
…they are actual face masks that are extraordinarily large … and look like opaque white ski masks (like the kind people wear to rob banks) when you have them on. My cat didn't recognize me when I had one of these on and tried to bite my face. My husband pretended not to recognize me.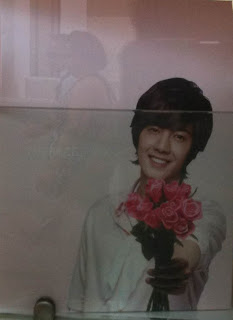 Won't you come in, pretty lady?
I think that was a pretty accurate (and hilarious) description. I see them wearing these all the time in the shows I watch, and from what I can gather it's a pretty normal activity to put these on and start talking and bonding (haha).
So I bought two of the masks for $2 each, and a box of pore strips (which I trust I either don't have to explain to you, or you don't need to know what those are). If you are really curious as to what these things look like, or if you want me to scare you, there's a picture of me wearing one if you scroll down a little… Hehehe.
They have some pretty cheap nail polish as well for $2 each, and a LOT of interesting stuff. Since I was trying to end this walk on a tight budget, I refrained from buying anything else. I've since then made a list of what to come back for.
| | | |
| --- | --- | --- |
| | | |
| The Tea Tree Face Mask | | Did I scare ya? |
Fay Da Bakery – A Chinese bakery specializing in buns
37-11 Main St.
Flushing, NY
This is one of the tried and tested Chinese bakeries my sisters and I go to when we're craving pork or sweet buns. They have some interesting cakes as well. I was tempted but did not go in because I know of at least 2 other locations in Manhattan, and I already know their stuff is good. Here's only some of their yummy stuff:
Shaved Ice @ Flushing Mall – What I think is the generic Asian version of the Filipino Halo-halo
133-31 39th Ave
between Laurence and Prince Sts.
Flushing, NY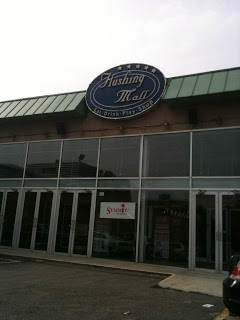 Finally, back to the shaved ice! I went through this entrance of Flushing Mall (on the left). The TONY (TimeoutNY) article described the food court I was looking for as "lively", but all I found was a very depressing place full of empty tables, with 1 or 2 stalls selling only savory items.
MOO.
The only "lively" things I found were these two painted cows: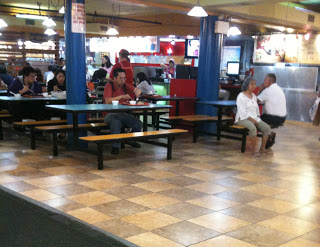 Defeated, yet again, I was about to walk out of the mall when I saw a hallway marked "e-shops" that seemed to lead elsewhere. Just to make sure I covered all my bases, I ventured into this area and found that it led to the ACTUAL Flushing Mall. The place I was at was not it. If you ever want shaved ice here, see the image on the left for what the real food court looks like. The picture quality is not very good, since I took it and then left before anyone could demand to know why I was taking their picture.
Hooray! I was finally there! The only problem now was what kind of flavor to get for my shaved ice. I got the "special" shaved ice which had mung beans, red mung beans, jelly, taro and milk. I just now realized that 'mung' beans are what we call 'monggo' in Filipino. Hahahaha! Don't mind me… Anyway, so you don't get confused AGAIN when you get here, you have to order from the counter by the blue pillar, and then present your receipt to the person making the food. You don't actually order from the stalls. Here are some pics of my well-deserved shaved ice:
This shaved ice reminded me of halo-halo more than the ones I've tried before because of the ingredients. They are very similar in taste. This dish is sweet and refreshing. If you're not much of an eater, you probably have to split this with someone because of how huge it is.
Banzai – A Japanese outlet selling random cutesy things like lots and lots of Hello Kitty items
13690 Roosevelt Ave # A
Queens, NY 11354
I looked into various stores but only found one that was worth writing about at the time, and this was it.
This place has a ton of cool stuff. I took way too many pictures, so please just click on the chopsticks below if you're interested in seeing the gallery. Some items include: lots and lots of "designer" chopsticks (they come in metallic pink!), donut earphones, an old-fashioned washing board (weird?), Korean face masks (yes I found them here as well) and various Sanrio items. I also saw some platform sneakers that looked pretty hilarious, but I forgot to take a picture of them. Oh well. I found it a little funny that I was in a "Japanese" outlet but that they were blaring Korean pop over the speakers (don't ask me why I recognized it was Korean :P)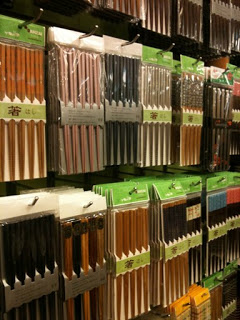 Click me! Click me!
Golden Shopping Mall – A basement "food court". Very hard to spot. It will be a glass door with stairs going downward.
41-28 Main St
between 41st Rd and 42nd Ave
Flushing, NY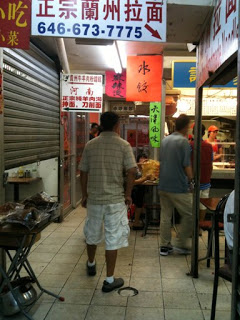 After going around and checking out stores I was kind of hungry again so I headed to the Golden Mall for some dumplings at Shandong Dumpling. I never found out whether one of these stalls was indeed called Shandong Dumpling, because I went in and it seemed like I had been transported to China (except for a blonde guy sharing noodles with an Asian chick in the corner).  None of the stall names had an English translation.
There were some people in front of a noodle shop noisily slurping their noodles. They did not seem to want to be disturbed so I moved on as 5 or so people stared at me as if I was an alien (don't I look like I belong here? LOL). I saw some uncooked dumplings sitting on the counter of a stall and I asked if they hed vegetable dumplings. The person scrambled for someone who can speak English (this became a trend throughout my entire Golden Mall experience). The lady told me the dumplings had vegetables, but also a little bit of meat. Tempted to finally drop my diet, I asked what kind. She said pork. Umm. No.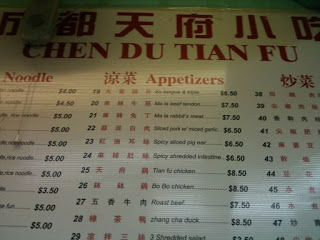 I looked around again, trying to be oblivious to the awkward atmosphere. I found a store that had pictures of their food, and English translations on the menu. I asked the lady if she had any vegetarian dishes (again the scramble for an English speaker). The "English speaker" kept pointing me towards the seafood dishes even though I kept saying "no meat". I sadly shook my head. Finally a lady who was sitting there eating took pity on me and asked me what exactly I wanted. I explained to her, and asked if she thinks the Mapo Tofu had meat in it. She said no. The stall owner was afraid it would be too spicy for me. Hey, I may not speak Chinese but I AM Asian. I definitely don't have problems with spiciness. So I bought that and went merrily on my way. I had the mapo tofu for lunch today and thought it was pretty good.
It was at the Golden Mall that I started thinking it may not be a good idea for me to be vegetarian and write this blog. I don't think most people are interested in what I have to say about food, if all I can write about are meatless dishes. So I think I will be taking my husband with me whenever I feel an important food experience will be missed. Or I can just give up on this craziness eventually. Later on I found out that Anthony Bourdain had gone here on one of his "No Reservations" episodes. I really need to go back and eat some meat!!
Random Street Food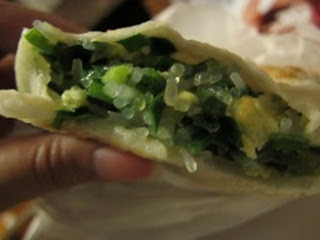 I was exhausted so I started heading back to the train. Along the way I saw a stall that was selling what looked like scallion pancake empanadas. The dough had the consistency of scallion pancakes, and looked like they were filled with green stuff. I asked the lady what was in them (another scramble) and she said vegetables, no meat. So I bought one ($1.75).
When I tried it later, I realized it's also filled with scallions, with some tofu and rice noodles mixed in. I had it with soy and chili sauce, and oh my god it's AMAZING. I don't need any meat with these things around.
The Best Things About This Walk: Asian cosmetics, Asian shopping, and that scallion "empanada"
The Worst Things About This Walk: I hate walking slowly through crowds
Would I Come Here Again: Yes. I need to go back to the Golden Mall with someone who speaks Chinese, and as an omnivore.
What Would I Do Differently: See answer above.