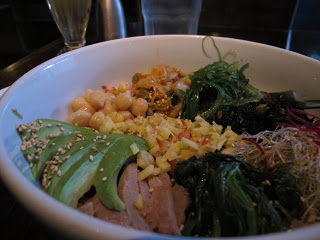 I want this blog to more or less focus on theme or neighborhood based walks, so I started planning my very first trek by looking into the various walks on TimeOut NY. I had looked into these before, but never actually went on one. There used to be a bigger list of walks as well, but they've either been removed from the site or just moved somewhere where I can't find them. I wasn't really into any of the new walks they'd put up, so I ventured into the "Own This City" section. More specifically, the $30 Saturday section (Ha! Yeah right). I finally settled on an article about Boerum Hill. Now, I'm a girl who very RARELY goes into Brooklyn. I don't drive, and I live in Queens, therefore it's a bit of a pain to get there. So when I first read the article, I had no idea where the heck Boerum Hill even was. However, the mention of dimsum and an indie cinema really piqued my interest, especially when I found out they're showing "One Day", which I'd been wanting to see/read for quite sometime. Having had a history of failed excursions in NYC pushed me to look for more things to do in the neighborhood, and my searches led me to the article "Why I love Boerum Hill". It was written in 2009, but most of the places still seemed legit, so I printed out a list of addresses from that as well. You will later find out that most of the things I planned to do did not work out so well, but the most important things I got out of the articles were: a) They got me to go to to that neighborhood and b) I got the impression that it's a good place to shop, which I think is completely true. (Pic: Bi-bim bap at Wild Ginger Vegan Cafe)
The Walk
Clover's Fine Art Gallery – An art gallery that has a cafe inside. This was my coffee stop. I researched it on my own because I wanted some good coffee.
338 Atlantic Ave
Brooklyn, NY 11201
My adventure started somewhat miserably because no matter how much I had planned it, I forgot one very important thing: It is Labor Day weekend. Therefore when I got to what was supposedly my first stop, I was greeted by this sign: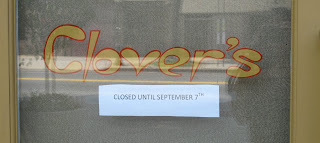 For those who can't read the little piece of paper stuck to the door, it says "Closed until September 7th". I was defeated several times during the day again by stores/restaurants that were closed because of the holiday, but I'm not going into detail because I have a lot more to cover.
B&B Empire Bistro – A bakery that specializes in "Montreal Bagels". Also known as my emergency coffee stop.
200 Clinton St
(between State St & Atlantic Ave)
Brooklyn, NY 11201
Drink cost: $3.81
By the time I got to this place I was already exhausted from walking what I thought was going to be a reasonable distance. Well, I guess NYC-wise it is, but I was lugging around a somewhat bulky camera (for obvious reasons), a Kindle (so I won't seem so lame eating at restaurants by myself), a cardigan (it is ALWAYS cold somewhere, even in the summer) and 2 phones  (because my phone always dies after being on Yelp too much) among other normal things a girl brings when she's out. So I very excitedly ordered a cappuccino. While waiting for the barista to whip up some foam, I discovered this: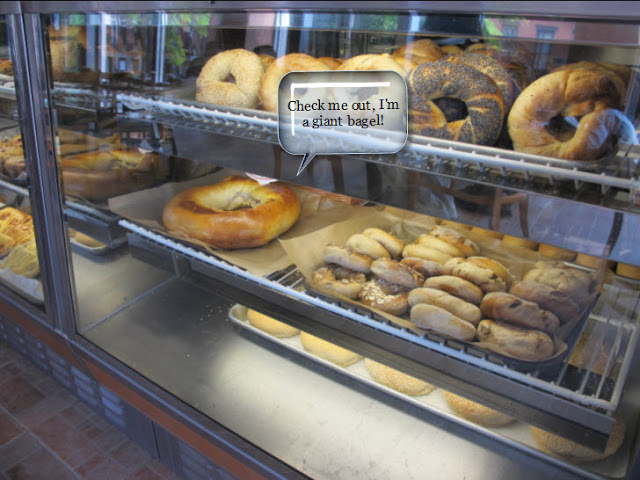 Notice how large the bagel is compared to its little bagel friends on the right. At least there was something interesting at my emergency coffee stop.
194 Atlantic Ave
New York, NY
I saw this store as I was heading to B&B but I was so desperate for coffee that I just vowed to return and check it out later. I'm not going to say much, except that I'd rather buy 14 skirts than 1 of equivalent value :). I listed this anyway, for all you crazy rich kids.
I moved on to a store I initially thought was a one-of-a-kind up-and-coming (you like how I used 5 dashes there?) designer store, and then I saw the sign from across the street after having coffee:
166 Atlantic Ave
New York, NY
For those who don't know, what Urban Outfitters is (I trust that some Filipinos will be interested in my blog.. right? RIGHT?) Here's what urbandictionary.com says about it:
The first Urban Outfitters came from Berkley, CA. It's a clothing store found in urban areas. The clothes range from vintage, hippy, emo, indie, or just strange. Awkward place to shop at if you're overweight or a straight male. Clothes can be insanely priced. Store also contains home products or furnishing that you would most likely find in a college dorm room.

The first Urban Outfitters came from Berkley.Example of t-shirt saying: "Trust me, I'm a (virgin, doctor, etc.)"

Example of furnishings found here: "Beer Refrigerator."
I had always thought this store was a tad overpriced for my taste, and apparently other people think so too, but after looking at prices that almost made me faint, $60 for a dress sounded TOTALLY acceptable. So I bought 10. Just kidding. I bought one, and it was the one that got me into the store in the first place: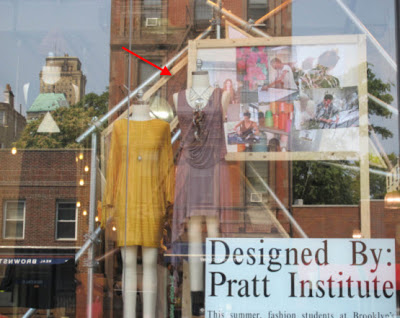 I bought that one! See the red arrow.
229 Court Street
Brooklyn, NY 11201
Meal cost: $14.96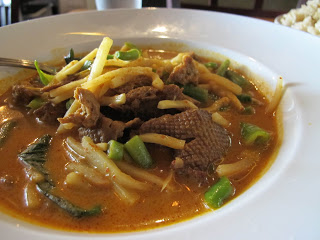 Red Curry with Vegetable Duck + Brown Rice
After actually having bought something, I was now ready to pay attention to the fact that I was starving. The original dumpling place I wanted to try was too far away (or I was too lazy to walk there), and a nearby Japanese place that had good reviews on Yelp was closed (of course). So I settled for the best bet for any vegetarian who hates vegetables: Thai food. That's right. Hide the grassy taste with curry, and then put some pretend meat in it. Doesn't that look like it could be duck? Well, it isn't. I've looked into these things online and they're usually made with soy and/or vegetable protein (whatever that is).
The meal was perfect. The curry had just the right kick to it, and it didn't make me want to fall asleep afterwards. The waitress looked at me weirdly though when I said I wasn't taking home what was left of it (about half the bowl), but really the last thing I wanted was to spill the curry inside the movie theater and have everyone hate me for distracting them from ogling either Jim Sturgess or Anne Hathaway.
LF Stores – A pretty good clothing store. If you're somewhat rich or they're having a sale. At least it wasn't as bad as Barneys.
227 Court Street Brooklyn, NY
My next plan was to see a movie, but I still had about an hour to kill, so I meandered up and down Court Street for awhile looking for anything interesting. I had never heard of L F Stores before, but I passed by it and there was a giant sign saying 60% off already marked down prices in front, and then I saw a mother and daughter come out of it holding a bag of clothes each. Needless to say, I went in.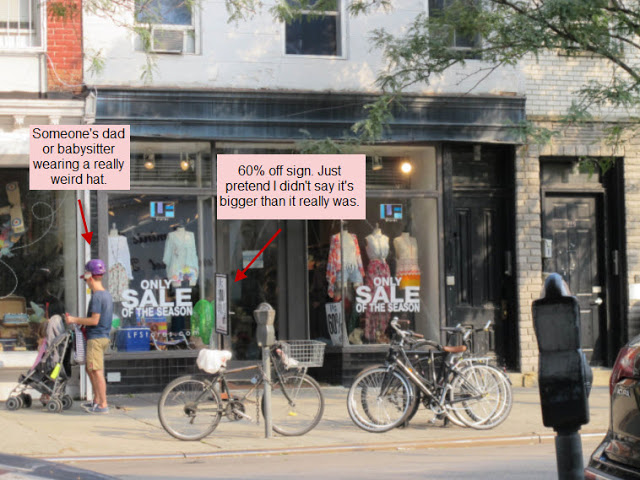 They had some nice items, but I wasn't really shopping for summer, and most of the stuff they had was for warm weather. However, I did find some basic tank tops that looked pretty normal on the rack but great on me. They weren't that cheap, even on sale, but I bought them because it's hard for me to find tank tops that are perfect. I use these a lot for layering in the fall anyway. I later found out that their retail price was $50. If you aren't shocked by that yet, here's what they look like: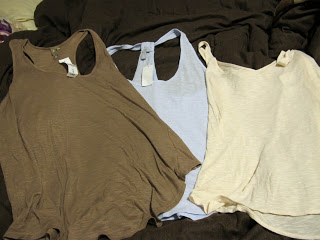 $50?!?!
I would never buy these for $50. Unless I won the lottery.
I also bought some light pink, ripped jeans because they were like, 70% off and I'm not sure I would find it for that price anywhere. I'm too lazy to take a picture of them.
Cobble Hill Cinemas – I saw "One Day"
265 Court Street
Brooklyn, NY 11231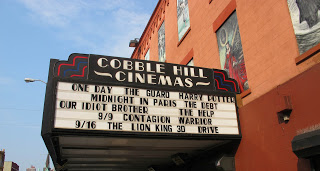 I got into the theater 15 minutes before the movie started, and there was nobody there. I thought it would have been pretty cool to be the only person there, and even took out my camera to take a picture. As I was about to 'click', a middle-aged woman walked in and I hastily put my camera away. I have to admit I was somewhat embarrassed to be caught taking a picture of an empty theater. 10 seconds later a middle aged man came in (they were not together, as I thought at first). I was starting to feel a little lame, watching a movie with two single older people in the middle of the afternoon, but eventually the place filled out and there were even some women my age.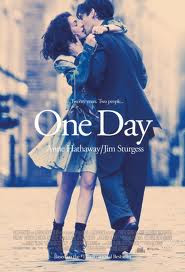 In case you were wondering and didn't click my link to IMDB, the movie got terrible reviews. I didn't find out about it until about an hour ago, when I wanted to see if people felt the same way about it as I did. I didn't actually read any of the reviews because I didn't want them to ruin the fact that I ABSOLUTELY LOVED THE MOVIE. There, I said it. Maybe I'm just not a sophisticated enough moviegoer. Maybe it's because I've only read like 15 pages of the book. Judging from what little I had read, I know it's a lot grittier and maybe a little less dream-like than the movie. However, I thought the big screen version had its own charm. Mainly Jim Sturgess. Just kidding. No I'm not.
Jokes aside, I found myself teary-eyed, crying and even sobbing (or choking down sobs) at least 10 times during the movie. I'm not exaggerating about the sobbing, I'm talking about the unable to breathe type that I usually reserve for REAL heartbreak in my actual life. Most of the tears weren't even for the scenes where the couple was together. I tried to hold it in as much as I could, although maybe I didn't have to since the woman behind me had no such reservations.
I really thought Jim Sturgess was excellent in it, and it's not just his British accent since I saw "Across the Universe" and thought his character there was 'okay'. He was charming and sexy when he needed to be, then annoying and a downright jerk when it was called for. He was confident one moment, then helpless and pathetic the next. I don't know how much of it was his acting and how much of it was the directing or screenplay, but they somehow wrapped up the character so neatly even with all his clashing traits without making him seem fickle or unrealistic. Maybe it was because the timeline of the movie spanned more than a decade, so it was more believable for his character to change so drastically.
I thought Anne Hathaway was okay. I don't know a lot of British people (in fact I don't think I know ANY British people), so I have no idea how her accent sounded. It was believable enough for me. Her character reminded me somewhat of Mia in "Princess Diaries" where you kind of feel sorry and root for her at the same time. I didn't really have a strong reaction to her. I obviously thought she was good enough not to distract me from the fact that I loved the movie. I don't know if she was perfect for the role, but I also wouldn't have an answer if you asked me who could've played it better. Anyway, as Mary from "So You Think You Can Dance" would say, 'Respectable!'.
I think the reason I loved the movie so much is it isn't just about a boy and a girl. It's about a boy and a girl, everyone around them, and how life can be painful not just for them but for everyone. It's about life not having a happily ever after, but having beautiful and joyful moments in between the pain and hardships. I'm starting to sound a little cheesy. So I'm moving on.
Sweet Melissa Patisserie – Sweets after a bittersweet movie
276 Court Street
Brooklyn, NY
Meal cost: $2.50
I had heard of Sweet Melissa from somewhere and told myself I'd get something after seeing the movie, since it was pretty much right across the street. I originally wanted a cupcake, but this thing that looked like a petit four (but was called something else) immediately caught my attention.The outer shell was all sugar glaze and the inside was almond cake with a layer of preserves. It was a little too sweet for me, but I still ate most of it since I felt like I needed to recharge after all the crying. I enjoyed my "petit four" on a nice bench in front of a laundromat. If you're wondering about that kind of thing, there are benches scattered here and there on Court st. for when you're tired of shopping.
Butter Consignment by Eva Gentry – A high end vintage consignment store
371 Atlantic Avenue
Brooklyn, NY
As I mentioned earlier, I was originally drawn to this area by the promise of seeing a good movie and shopping. This store was described in the "Why I love Boerum Hill" article as "Brooklyn's answer to Century 21, minus the hordes of tourists and anxiety attacks". Century 21 it is definitely NOT, as it is tinier than even just the shoe section of Century 21. However, I did find that the brand names there were a little higher end than what I'm used to seeing at C21. I found some green Hunter boots and Lanvin pumps for around half of what they originally cost. Neither of them were my size. I saw a Kate Spade bag but I didn't like it enough to ask how much it cost. There were some decently priced dresses as well, but I didn't fall in love with any of them. If you love brand names for less and would be willing to make the trek to Brooklyn (or if you live in Brooklyn), it might be worth going.
102 Smith Street
Brooklyn, NY
I had already passed by this store 3 times before I finally decided to come in. I wasn't sure if I wanted to even LOOK at stationery, because in the past I've wasted so much money on cutesy stuff that I never use. However, I'm always on the lookout for a planner for the next year, and they had a sign for them up on the window (yes, I found an excuse). I saw some that I liked, but wasn't sure I wanted to spend my money on them, so I didn't buy anything. An hour later I returned to look at some scrapbooking stuff because I wanted to start compiling albums for my 'walks'. Sad to say, they were already closed. Luckily they have an online store, so if I'm too lazy to go to Brooklyn I can always order from there.
Something Else – A clothing/shoe store. Something Else is not a brand, but a store that has a collection of clothes/shoes from random brands such as Super Dry, Kenneth Cole and Steve Madden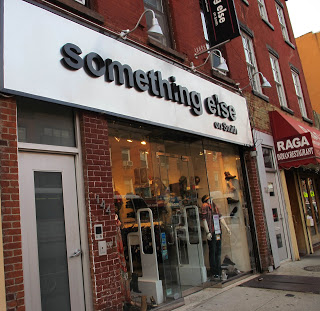 I love, love LOVED this place. I would wear most of the clothes I saw in there, but didn't buy them because I was drawn to the pair boots that I've wanted for three years now, but couldn't find anywhere: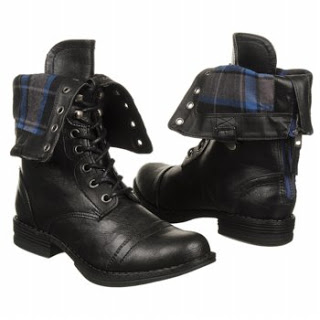 If you think it's a little ridiculous that I haven't found these before, that's because it IS. They're always in magazines but somehow I always find ones that have high or wooden heels, or stupid straps. I wasn't even looking for the 'convertible' ones like in the above picture, just plain old black lace-up boots. Well, now I've found them ++. Yay!
I found some shoes and clothes that would've fit my husband as well. So I might take him there sometime.
Flight 001 – An adorable little store catering to road warriors and casual travelers alike
132 Smith Street
Brooklyn, NY
The only reason I didn't buy anything from here was because I felt I had already spent too much. But, boy did they have some unique stuff in there.
I remember constantly bugging my aunt to buy me an adapter for the hair straightener that I bought from the Philippines but was imported from Hong Kong. Well, I found it there. They have stuff ranging from luggage, to travel toiletries and in flight comfort products. I was tempted to buy other things as well.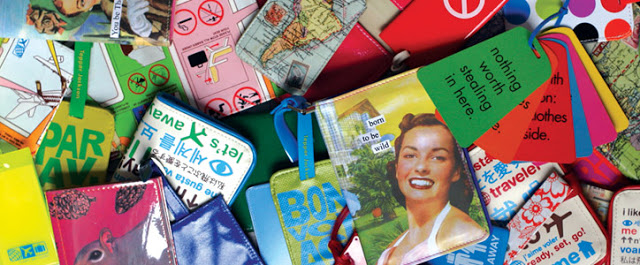 Cute passport covers and luggage tags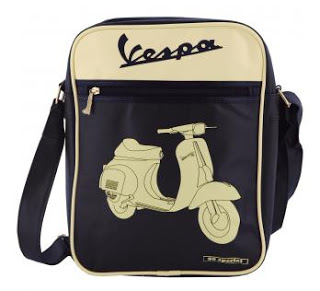 A Vespa bag that looks pretty similar to one I had before that had a Superman logo on it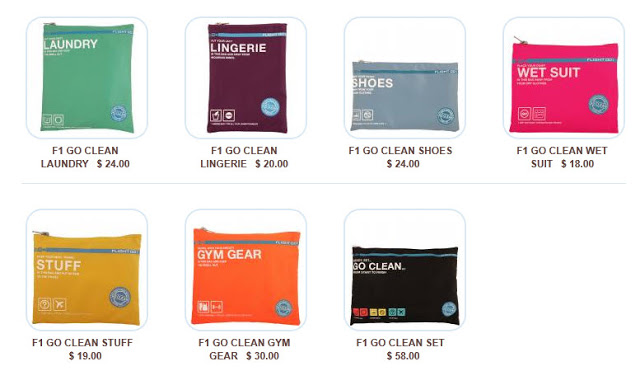 Containers I think I would only buy if I had OCD. Haha.
They have another store in Manhattan on Greenwich Ave. and West 12th. Or if you're really lazy, there's always the online store.
Wild Ginger Vegan Cafe – A pan-asian vegan restaurant. I'm sure that's pretty obvious from its name.
112 Smith Street
New York, NY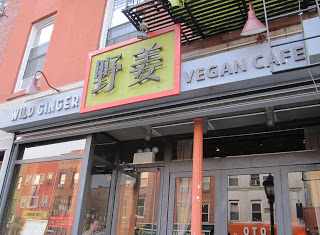 My husband will probably be scoffing at me while he's reading this (he likes meat, people, and I don't blame him), but yes I did go to a vegan cafe. As some of you already know, I recently started an experiment in which I decided to see how long I could last as a vegetarian.  It's been about a month now, which is the longest I've ever been on a "special diet" in my life. I put in the quotes because I haven't eaten any meat, but it's not like I'm losing that much weight what with all the ice cream I've been eating (no, I am not vegan).  So I decided to try out this place because it was rated well and the best time to go to a vegan cafe is when I'm not with my husband, who will sit there and eat nothing. As I was taking a picture of their sign, the owner saw me. When I went in he asked "Did you come in for a close up?" and started posing. Of course, awkward person that I am I just laughed. And then I asked for a table for 1, when I should've asked to take a picture with him. I am THAT lame. Maybe once I've gone on several walks I'll know what to do.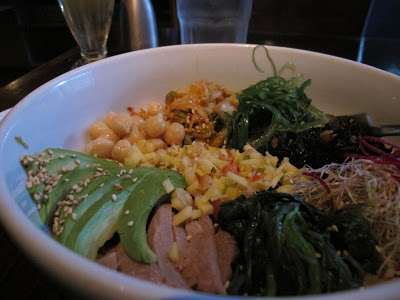 Bi-bim bap/Bibimbap
I ordered the bi-bim bap (I'm a little fuzzy on the spelling for this). It consists of soo many ingredients that I've decided to just post a picture of the description on the menu. I also got an iced green tea, just coz I like to pretend I'm trying to be healthy.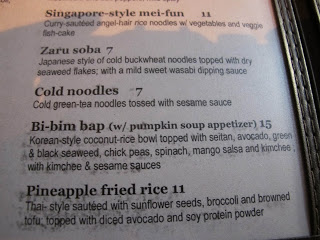 Admittedly I was originally interested in this because I kept hearing about it in the korean dramas I've been watching. However, it was also reviewed well on Yelp (oh Yelp on Iphone, what would I do without you?), and it turned out to be extremely good. So good that I brought home half of it, since I couldn't finish it (I usually don't take food home coz it sits there and festers for a week). If you order this, don't leave out the green seaweed because it makes it even more amazing. In fact, just mix everything in, unless there's something you know you don't like specifically.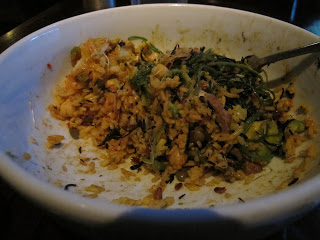 My half-eaten bi-bim bap
I also ordered a dessert that people kept mentioning on Foursquare called the "Peanut Butter Bomb". It's basically chocolate cake with layers of peanut butter mouse, coated with chocolate. This sounds really awesome, but I wasn't that impressed. It was a little too peanut buttery for me. I ate like two bites, but took it home coz I felt bad leaving the entire thing. If you want to find out how peanut buttery it is relative to others, I order the Adam's Peanut Butter Cup Fudge Ripple from Cheesecake Factory All the time and have no problems with it.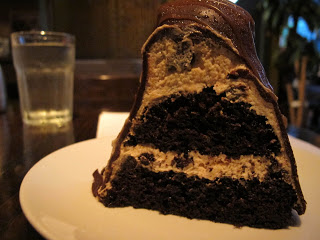 Peanut Butter Bomb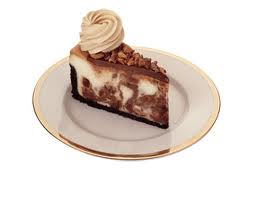 Adam's Peanut Butter Cup Fudge Cheesecake. Just cause.
As a perfect ending to my very first Brooklyn neighborhood adventure by myself, I took the G train for the very first time. It was ok. All in all, I had a blast :).
The Best Things About This Walk: Shopping and Bi-bim bap!
The Worst Thing About This Walk: Forgetting to call establishments ahead of time on a Holiday weekend
Would I Come Here Again? YES!
What Would I Do Differently? Maybe take a car if I'm doing some shopping again. If not I'd probably stay either on Smith st. or on Court st. and not move around too much.